Last week could've gone much better and I expect more out of my picks — especially with all summer to study and think about it. I typically do a deep dive, but there's no need do that. As Bill Belichick says, "we're on to Week 2."
Let's ride!
QUARTERBACKS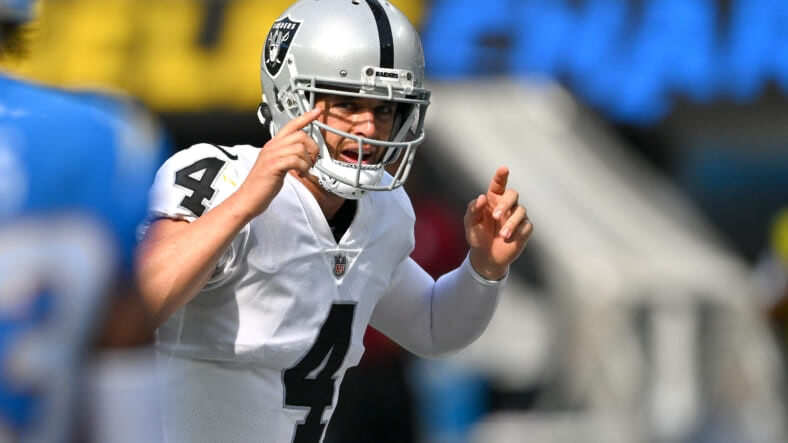 Derek Carr $6,200 (vs ARI)
Plagued last week by three interceptions, Derek Carr still finished with 16.8 DK points and was five yards short of hitting the 300 passing yard bonus. This week, he's getting a plus matchup at home against the Cardinals. Arizona's defense looked atrocious as it was picked apart by Patrick Mahomes and the Kansas City offense. This poses a great bounce-back spot for Carr in his home opener.
Marcus Mariota $5,600 (at LAR)
I don't know how frisky you're willing to get this Sunday, but perhaps a naked Mariota play this week could get your plums tingling. Mariota actually looked decent throwing the ball last week despite not scoring any touchdowns through the air. While he's no Josh Allen, the Rams secondary took a beating last week which should give Marcus some hope heading into Week 2. The upside though comes from his legs. Mariota ran the ball 12 times last game, majority of those were designed QB runs which is a huge positive that the coaching staff is drawing up plays for him. The absence of Damien Williams also opens up more opportunity for Mariota to run the ball.
Other intriguing options:
Kyler Murray $7,500 (at LV), Carson Wentz $5,800 (at DET)
RUNNING BACKS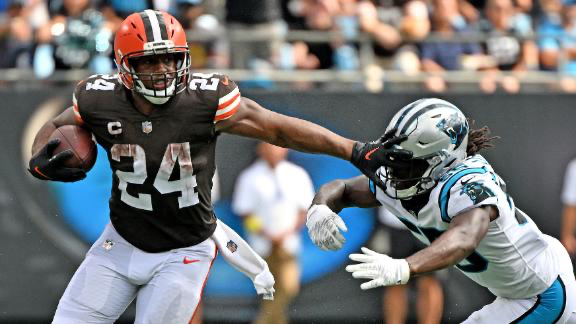 Saquon Barkley $7,300 (at CAR)
He is officially back folks! Good lord, we got vintage Saquon Barkley last week as he tore up the Titans' defense. He had elite usage, with 18 carries and six catches on seven targets and it's clear Brian Daboll and Daniel Jones will lean on his workhorse.
That much was driven home on the winning two-point conversion handoff to Barkley. But, now the Giants are favorites against Carolina, who were shredded by both Nick Chubb and Kareem Hunt. A huge day could be in store for Barkley, assuming his usage remains elite.
Nick Chubb $7,100 (vs NYJ)
With Jacoby Brissett under center, the Browns have leaned heavily on their running game. Nick Chubb was great between the tackles but couldn't reach the end zone and did little in the receiving game. Basically, he performed well in an average to below-average game script.
Now Chubb and the Browns are big home favorites over the Jets. This is a huge positive game script that should have the run game once again heavily featured. With Hunt scoring twice last week, one would think the pendulum swings back towards Chubb in this one.
Darrell Henderson $5,700 (vs ATL)
In a somewhat surprising move, Darrell Henderson dominated snaps and usage for the Rams backfield over Cam Akers. Henderson looked solid, and we all know how McVay treats his RB1s. The Rams are big home favorites over Atlanta this week, pushing Henderson into a plus game script. His heavy receiving usage out of the backfield is also a huge plus for Henderson who looks to be a bell cow back once again at a very cheap price for this type of usage.
Other intriguing options:
Jonathan Taylor $9,900 (at JAX), Joe Mixon $7,200 (at DAL), James Conner $6,900 (at LV), Javonte Williams $6,500 (vs HOU), Antonio Gibson $6,200 (at DET), Michael Carter $5,200 (at CLE), Jeff Wilson Jr $5,100 (vs SEA)
WIDE RECEIVERS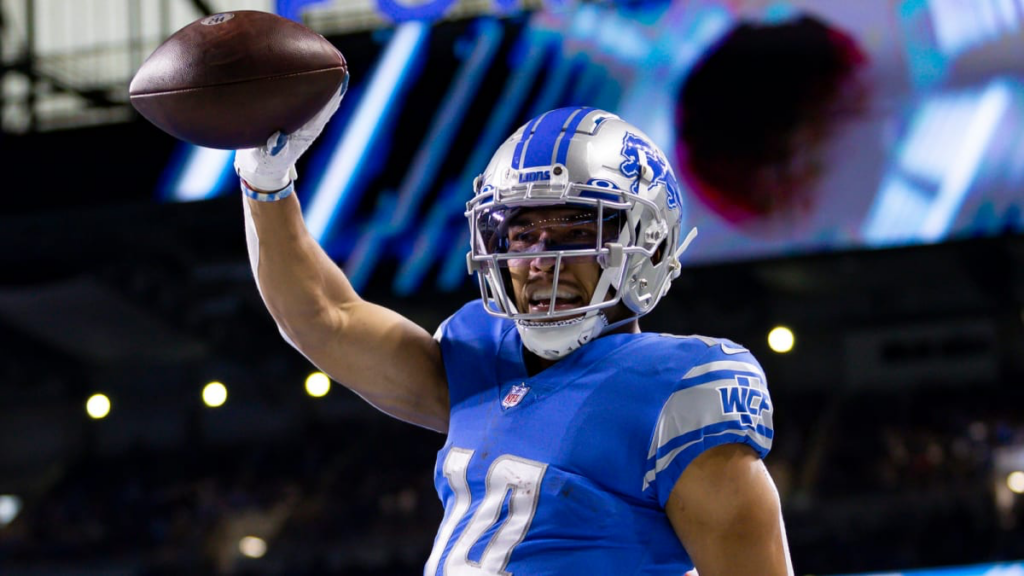 Davante Adams $8,600 (vs ARI)
New uniform, same results. Davante Adams was possibly looking at a downgrade in target share with Darren Waller and Hunter Renfrow around. But, it's clear he's still a target hog and the power of friendship really is that strong. I mean, the man had 17 targets last week and carved up one of the better secondaries in the league. Now, he gets a juicy Cardinals defense, meaning his upside is limitless.
Amon-Ra St. Brown $6,500 (vs WAS)
For all the preseason talk about how Amon-Ra St. Brown wouldn't see as much of a target share and shouldn't be valued as high, he came right out and was an alpha once again with 12 targets on the day. He is by far the clear No. 1 option for Jared Goff, on a team that'll be trailing the majority of the time it seems. The Commanders' defense shouldn't pose much of a threat for St. Brown and he's looking at another high-volume week.
Parris Campbell $3,700 (at JAX)
With Michael Pittman ruled OUT for Week 2 along with Alec Pierce, the target share is now wide open for Campbell to run wild as the WR1 this week for the Colts. The rest of the receivers are nobodies, and while the backfield duo of Jonathan Taylor and Nyheim Hines are likely to get more touches now, the boost Campbell gets climbing up to the WR1 role is extremely valuable with Matt Ryan heavily targeting his top wideout.
Other intriguing options:
Ja'marr Chase $8,000 (at DAL), Terry McLaurin $6,600 (at DET), Michael Thomas $5,800 (vs TB), Tyler Boyd $5,400 (at DAL), Drake London $5,200 (at LAR), Brandon Aiyuk $5,100 (vs SEA), Elijah Moore $5,000 (at CLE), Curtis Samuel $4,600 (at DET), Greg Dortch $3,900 (at LV)
TIGHT ENDS
Pat Freiermuth $4,400 (vs NE)
This should be a low-scoring game, but the Steeler offense has shown to be limited with Mitchell Trubisky under center. He won't be slinging it deeply, and the Patriots generally look to take away your top option, aka Diontae Johnson. This could open up more work for Freiermuth, who already saw 10 targets last week against the Bengals. He's also a very valuable red zone weapon and he might be in #revengegame mode against the Patriots.
Hayden Hurst $3,600 (at DAL)
Hayden Hurst popped back onto the scene last week with eight targets and is looking at an expanded pass-catching role with the potential absence of Tee Higgins from a concussion. Higgins missed practice on Thursday, which isn't a great sign as of right now. That would vault Hurst to the third option behind Ja'Marr Chase and Tyler Boyd. This offense struggled early last game before turning it on late and you'd think they'd look to come out firing and get some momentum fresh off a devastating loss.
Other intriguing options:
Kyle Pitts $5,400 (at LAR), Tyler Higbee $4,200 (vs ATL), Logan Thomas $3,400 (at DET)
DEFENSE
Pittsburgh Steelers $2,800 (vs NE)
I expect this to be a low-scoring game this week. Last week, the Steelers forced five Bengals turnovers en route to a win, as they have true playmakers all over the field. The loss of TJ Watt hurts a lot, but the Patriots' offense looked downright putrid so it may not even matter.
Cincinnati Bengals $2,200 (at DAL)
This price must have been set before the Dak Prescott injury because it just makes no sense. Cooper Rush will be under center in Dallas for an offense that couldn't get anything going with Prescott at the helm. Now, this career backup comes in and you'd expect anything more?
Other intriguing options:
New Orleans Saints $2,400 (vs TB)