Player Stock Ticker
Amari Cooper 2022 Fantasy Outlook Hinges on the Deshaun Watson Suspension But He Drips in Late Season Upside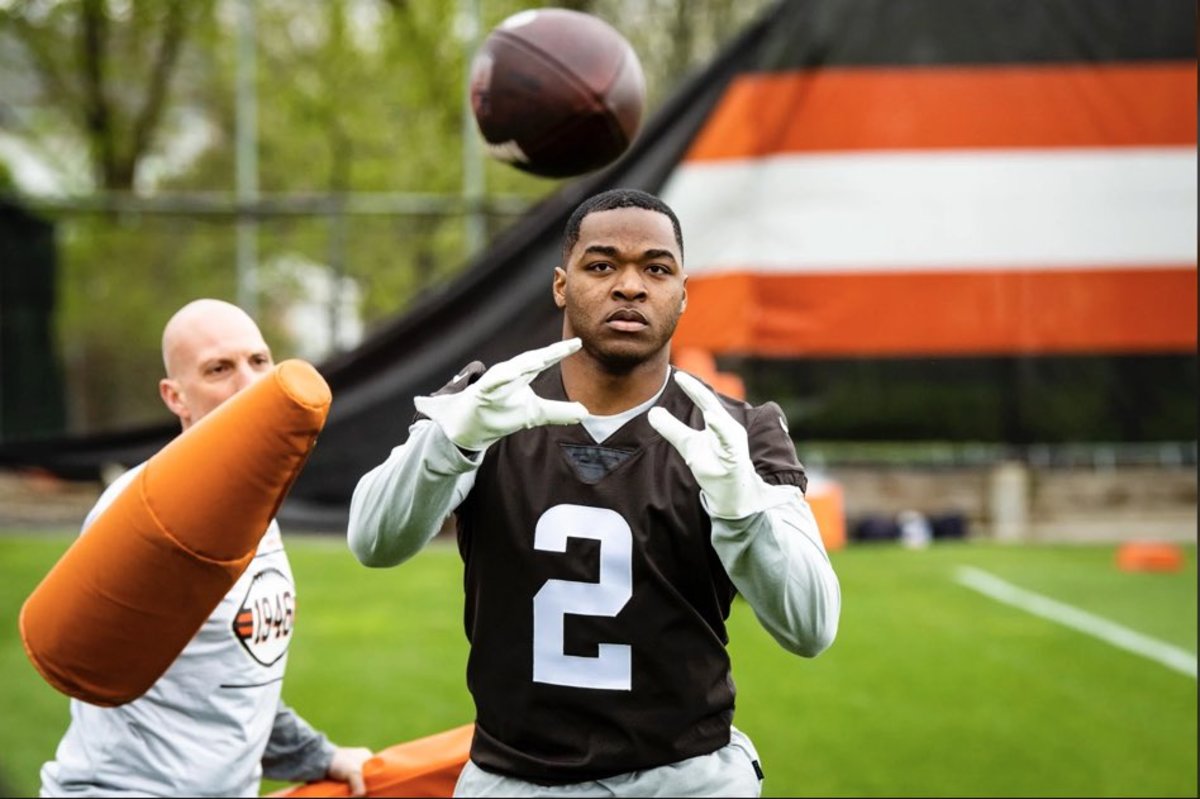 Career trajectories can realign player destiny in the NFL. Some like Odell Beckham Jr. are dealt the lottery ticket and join the eventual Super Bowl winning team during the season. Other times, players just hitting their stride with their team are abruptly traded to a less impressive organization.
After the Dallas Cowboys opted to trade Amari Cooper this offseason, analysts are now scratching their heads trying to understand the implications of Cooper joining a team with one massive question mark — the availability of Deshaun Watson.
After Cooper was traded from the Raiders to the Cowboys in 2018, he was in a great spot. He upgraded to Dak Prescott, and the Cowboys could rely on Ezekiel Elliott and their elite offensive line to assert themselves on the ground to open up space for receivers down the field. Clearly, the Cowboys had their new alpha receiver after parting ways with Dez Bryant.
All Cooper did in the following years was produce. In the 11 games on Dallas in 2018, he finished with 896 yards, followed by 1,189 and 1,114 yards in 2019 and 2020, respectively. However, this past season, Cooper exhibited frustration about his role.
"Yeah, we're winning, but the defense is playing a huge part in that," Cooper said. "We're not really as explosive as we should be. We're not converting a lot of their turnovers into touchdowns. A lot of them are field goals. And, I feel like I could be a huge part of that, so that's what frustrates me. I think I can do more in the red zone if I get some targets. I can do more on third down if I get the targets."
Some fans and analysts interpreted these comments, while arguably coming from a place of goodwill, to highlight the souring relationship between Dallas and Cooper. After a disappointing Wild Card loss to the 49ers, the Cowboys traded Cooper to the Browns for a 2022 fifth-round pick and a sixth-round pick swap.
While Cooper's fantasy stock initially surged following the acquisition of Watson, much uncertainty surrounds his 2022 fantasy prospectus. The team awaits the results of an NFL hearing regarding a resolution to Watson's 15-month saga of sexual harassment allegations. Watson has already settled 20 of the 24 cases, but it still isn't clear what action the NFL will take against him. After rumors swirled that Watson would receive an indefinite suspension, a report came out Tuesday from ESPN Cleveland that Watson would only receive a four-to-six game suspension.
With Watson certainly expected to miss at least a few games, Jacoby Brissett will fill in at quarterback after the team dealt Baker Mayfield to the Panthers. Historically, Brissett at QB has not translated to overwhelming fantasy results for his top receivers.
Despite the uncertainty surrounding Watson's looming suspension, Cooper expressed his confidence in Brissett throwing him the ball.
"One thing I do know now that you forced me to [think about it], I think the personnel department here is great just like everywhere else," Cooper said. "I'm supremely confident in all the guys the department has brought in, so we'll be ready."
The real question for Cooper is clear: when Watson comes back, whenever that is, can Cooper return to his dominant form? Can Cooper and Watson recreate the lethal connection that Watson had with DeAndre Hopkins in Houston?
The following statistic may leave you very interested in Cooper. Last year, the Browns' offensive line ranked 11th in pass blocking, according to PFF. This compares similarly to the 2020 Texans offensive line (last time Watson played), which was ranked the 8th best. In addition to Watson's 4,823 passing yards and 33 TDs, he peppered Brandin Cooks with 115 targets for over 1,150 yards (finished WR16). The year before, Watson connected with Hopkins for 119 receptions and 1,373 yds on 168 targets (finished WR9).
Entering 2022, the Browns' only true perimeter threat to take targets from Cooper is Donovan Peoples-Jones. Assuming reports are true, and Watson will be back before the midpoint of the season, Cooper must power through Hurricane Brissett to ultimately see the shiny blue sky after the storm.
For fantasy purposes, Cooper is currently ranked as the WR31 on Underdog Fantasy behind players like Amon-Ra St. Brown, Darnell Mooney, and Chris Godwin. Given the positive news that Watson may only be out four-to-six games, Cooper seems cheap given the proven results both he and Watson have.
Cooper's multiple 1,000-yard seasons with the Cowboys and the significant results that Cooks and Hopkins produced with Watson are strong indicators that Cooper and Watson may be able to create something special. Cooper can be trusted ahead of the aforementioned players since he is not new to the scene or on lower octane offense like St. Brown and Mooney, and won't be coming off a torn ACL like Godwin. Cooper's upside later in the season can elevate a fantasy roster to elite levels, and he can be accessed later in drafts.
On the contrary, it's relevant to acknowledge how much the Browns run the ball. The Browns' offensive line was ranked 4th in run block efficiency last year and they have two bonafide running backs in Nick Chubb and Kareem Hunt. Expect the Browns to heavily rely on them, especially throughout the Watson suspension. This will limit Cooper's ceiling, and justifies him being drafted at 68 overall.
Follow the news on Watson, since Cooper's success is directly correlated to whether his quarterback is a journeyman backup or a world-class star. Also, carefully assess Cooper's potential when mixing him with other receivers. But once Watson is back, count on Cooper to provide matchup-winning performances as he builds chemistry with his fellow all-pro quarterback.
As of now, Cooper is ranked WR34 (-12 vs ECR) on The Wolf's 2022 Fantasy Football Rankings.
Take advantage of Cooper's discounted price tag before the Watson decision is finalized. Download the Underdog Fantasy app, use promo code RSJ or click the link, get a 100% first deposit match up to $100, and dominate their season-long best ball tournaments.