Player Stock Ticker
NFL DFS: DraftKings Week 11 Sleepers, Value Plays Featuring Cam Newton, Michael Gallup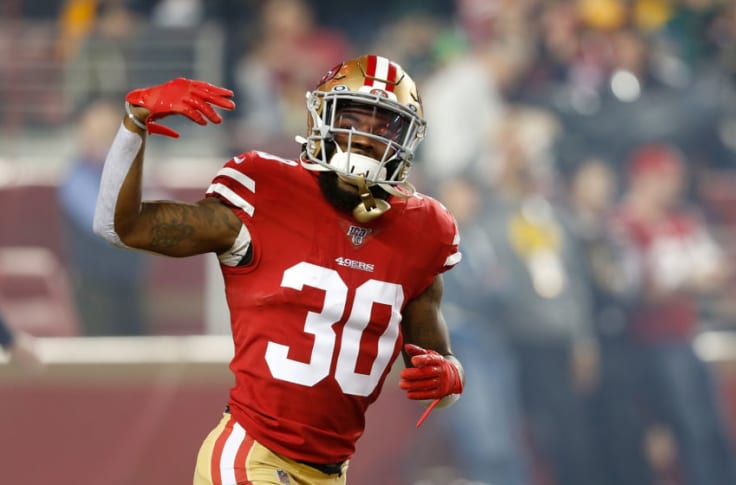 Hello folks, welcome to another addition to our DFS rotation where we look at the DraftKings Week 11 sleepers and value plays that can help take your lineups to the next level. Here, we take a look at some guys you can round out your roster with after spending up for guys like Christian McCaffrey and Davante Adams.
Generally, I would consider value plays as QBs under $6k, RBs under $6k, WRs under $5k, and TEs under $4k.
QUARTERBACK
Cam Newton $5,100
I feel gross. I never want to endorse starting this human but DraftKings is being a little bitch and shoving an extremely discounted price in my face for a Konami Code QB1 facing a relatively weak defense. Newton threw four passes last week, one of which was a goal-line touchdown to Robby Anderson. He also rushed three times for another score. Obviously, his red-zone presence and rushing upside often result in points/touchdowns, so the upside is there. He also has an upgrade in weapons around him compared to last season that I have permanently removed from my memory, Men in Black style.
RUNNING BACKS
Jeff Wilson $5,100
While Eli Mitchell is fighting to get back onto the field after suffering a broken finger, you would expect the 49ers to lean more on Jeff Wilson. Mitchell missed Wednesday's practice and if he sits out Week 10 against the lowly Jaguars, Wilson would hit lineup lock territory. Give Wilson the lead role with pass-catching upside as a heavy favorite and that's a great game script you'd want to follow.
D'Onta Foreman $4,900
It hasn't been pretty, but D'Onta Foreman has been the 'lead back' getting the most carries out of the Titans' backfield. Foreman out carried AP 11 to 8 last game and definitely looked sprier as he should — compared to an old man. Foreman also caught two passes for 42 yards and was involved on third down. The big note here is that pass-catching back Jeremy McNichols is dealing with a concussion and not practicing. That absence would boost Foreman's value this week, not to mention being a heavy home favorite against the terrible Texans.
WIDE RECEIVERS
Michael Gallup $4,200
It was a dull return to the lineup for Michael Gallup in Week 10, but with a big matchup coming against the Chiefs, the upside for Gallup raises. Even though the numbers weren't there, he had five targets last week, which only trailed CeeDee Lamb (7) and Tony Pollard (7). He's shown in the past to be able to produce at a high level and he could definitely beat the Chiefs' secondary for a bomb or two. Let's ride the hot Cowboys' offense with Dak under center.
Albert Wilson $3,100
The YAC god himself, Albert Wilson showed his elite playmaking ability once the ball got into his hands. Unfortunately, just getting him the ball is a challenge in itself. But, when that happens, he's one of the most elusive guys out there and just makes people miss like he has no regard for human life. This week with the Jets on schedule, there shouldn't be much push back, and hopefully, the absences of DeVante Parker and Will Fuller allow Wilson to play a more significant role.