Player Stock Ticker
Taysom Hill Has a Season-Winning Fantasy Outlook Following the Jameis Winston Injury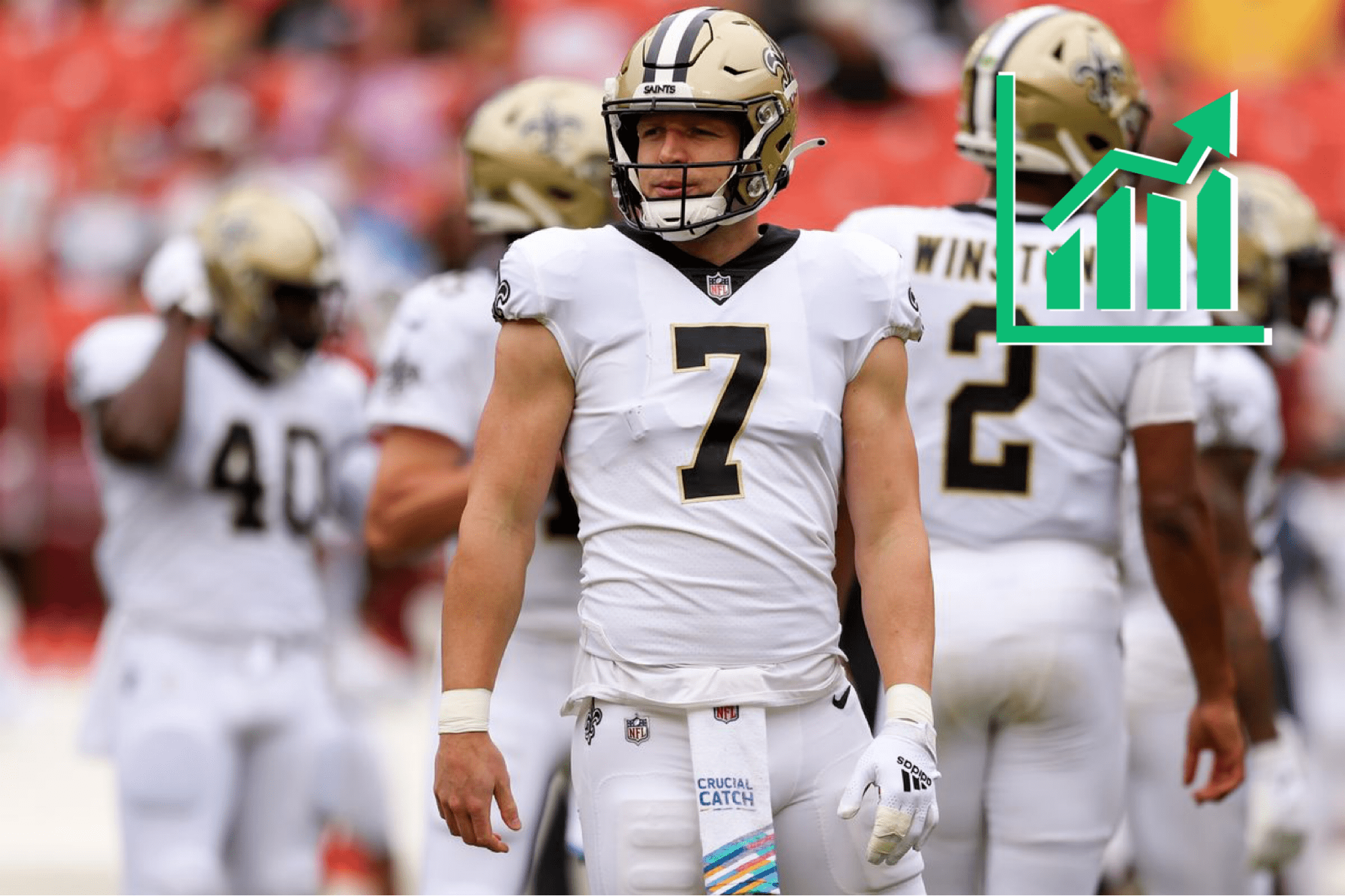 Jameis Winston's season came to an abrupt and unfortunate end on Sunday when Devin White dragged the quarterback down from behind, ultimately tearing his ACL in the process. Winston, who was having a terrific season thus far throwing 14 touchdowns to only three interceptions, will likely hand the keys to the offense over to Taysom Hill. The quarterback turned Swiss-Army Knife turned quarterback turned Swiss-Army Knife turned quarterback returned to practice on Wednesday after he suffered a brutal concussion just weeks ago.
While Hill's Week 9 status is unknown, it would make sense for Hill to start at quarterback for the remainder of the season over Trevor Siemian, whose ceiling is capped as a sixth-year journeyman.
While I'm the President of the Taysom Hill Hater fan club, I have to admit he exceeded my expectations as the Saints' starting emergency quarterback in 2020.
From both a real-life and fantasy perspective, Hill won games for the Saints and for his fantasy owners. He surprisingly completed over 72 percent of his passes in three of his four starts and accounted for eight total touchdowns during those four games. He also averaged over 20 fantasy points per game during that starting stretch.
Hill's dual-threat skill-set makes him a weekly fantasy starter with legitimate QB1 upside for the remainder of the 2021 fantasy season.
IMPACT ON SAINTS WEAPONS
Even if Hill is under center, his cast of pass-catchers will present a speed bump on his way to QB1 status.
Sean Payton wanted no part of adding a legitimate wideout during the last two WR-heavy NFL drafts, so the Saints are shit out of luck with Michael Thomas now out for the season. Hill will throw to the likes of Tre'Quan Smith, Marquez Callaway, Deonte Harris, Adam Trautman, and other no-names.
If Hill is under center, it leads me to believe Payton will roll with a ground-heavy attack featuring Hill, Alvin Kamara, and Mark Ingram. However, Hill under center will not be good news for Kamara owners.
Once a candidate for 2020 Fantasy MVP, Kamara fell off a cliff after Taysom took over.
In the first game without Brees, Kamara put up a paltry 10.50 half PPR points and then followed it up with a pathetic 5.70 fantasy points in the next game. Although he sort of recovered with 16.70 and 18.90 outings over the last two games, he was never the bonafide cheat-code that he was with Brees under center — mostly due to Hill's inability to check down to the running back.
With Michael Thomas shelved, Taysom Hill's starting odds just increased x1000.

A killer for Alvin Kamara's receiving?
Per game splits w/ Brees v. Hill (2020):
Tgts: 8.89 v. 4
Rec: 7.44 v 2.5
ReYds: 72 v. 12.7
FPs: 27.4 v 14.2

But who else will Hill even have to throw to?

— Wolf of Roto Street (@RotoStreetWolf) July 23, 2021
"Hill did a good job of reading the field and getting the ball out," Saints beat writer Nick Underhill wrote after the Saints' first practice. "His touch on a screen to Kamara was a sign of growth, and he was smart to recognize a mismatch on a quick pass to Callaway with linebacker Pete Werner in coverage."
On the other hand, Mark Ingram could now be a viable fantasy stash after returning to New Orleans last week. The Saints have proved they could make two running backs viable fantasy options in the past and it could happen again for the rest of the season.
SUMMARY
"The bigger issue right now is figuring out what happens next at quarterback," Underhill wrote on Monday. "Word is that Taysom Hill should be back in action soon, perhaps as even as early as this week, and there was some thought that he could have been ready to play on Sunday if all parties wanted to push it.
"If back from his concussion, Hill could be the choice to start next week against Atlanta. He competed for the starting job all summer and put together enough good moments to keep it close until Winston separated himself during the preseason."
If Hill is ready, I'd fire him up this week against the leaky Falcons defense. Hill's upside is immense, which is why he's QB9 (+7 vs ECR) on The Wolf's Week 9 Fantasy Rankings.