Player Stock Ticker
Don't be Spooked. Start Jerry Jeudy in Fantasy Football Week 8 vs the Washington Football Team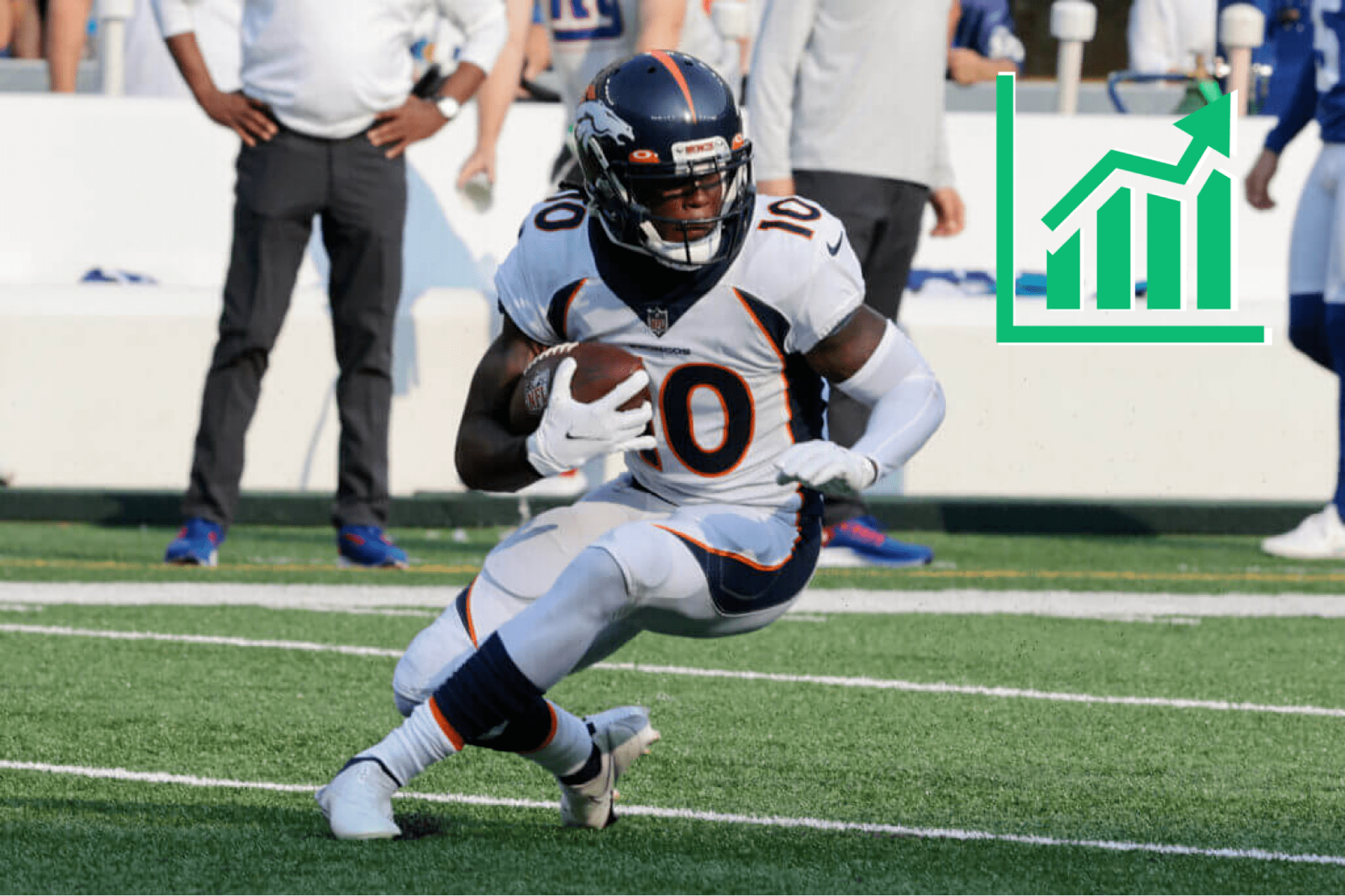 Jerry Jeudy was one of our favorite mid-round receivers to target in fantasy drafts this season. Our call looked great for about a half, or 33 snaps to be more accurate, until the second-year wideout was lost for the next six weeks with an ankle injury. Now poised to be activated off injured reserve for the Broncos Week 8 matchup against the Washington Football Team, Jeudy is ready to make a fantasy impact for the remainder of the season.
Jeudy, who's been in the majority of his drafter's IR slots over the last seven weeks, will make an instant impact in a juicy matchup and should be inserted into starting lineups right away.
#Broncos @jerryjeudy running well. No reason based on what I saw tonight that he can't play and play well vs Washington next week. He had been sorely missed #Denver7 pic.twitter.com/Eg5r1PDKkS

— Troy Renck (@TroyRenck) October 21, 2021
"I feel good," said Jeudy, who racked up 72 yards on six receptions in Week 1. "… I'm excited to finally get back on the field."
With Jeudy sidelined, the offense has been blah, to say the least. The group ranks 24th at 20 points per game and they've been unable to move the chains consistently with Courtland Sutton, Tim Patrick, Noah Fant, and the two running backs.
Talking about Sutton, this will only be the second time that he and Jeudy have been 100 percent healthy together, which should not only boost their respective fantasy outlooks, but also Teddy Bridgewater's streaming status.
"The Broncos are hopeful the next 10 games will provide their first significant evaluation of Jeudy and Sutton as a wide receiver duo," The Athletic's Nick Kosmider wrote. "They played only one half together during Jeudy's rookie year in 2020 before Sutton suffered the ACL injury. Jeudy's ankle injury in the third quarter of the season opener against the Giants this year further delayed that on-field partnership."
When Sutton was sidelined last year, the rookie from Alabama was forced to play outside against the oppositions' top corner. Jeudy kicked inside to the slot in Week 1 and caught five of his six receptions. Jeudy, one of the league's crispiest route runners, should feast in the slot and take some attention away from Sutton — and vice-versa.
"He'll be very helpful with just his ability to win," Bridgewater said. "I would say his deceptiveness in his route running, that stands out. It'll open some things up for everyone in this offense, having a guy like Jerry back. We're excited that he's going to be out there."
The Wolf is all about Jeudy's return, ranking him WR26 on his Week 8 Fantasy Football Rankings.