Player Stock Ticker
Latavius Murray Plods His Way to the Ravens RB1 Job, 2021 Fantasy Outlook Gets Significant Boost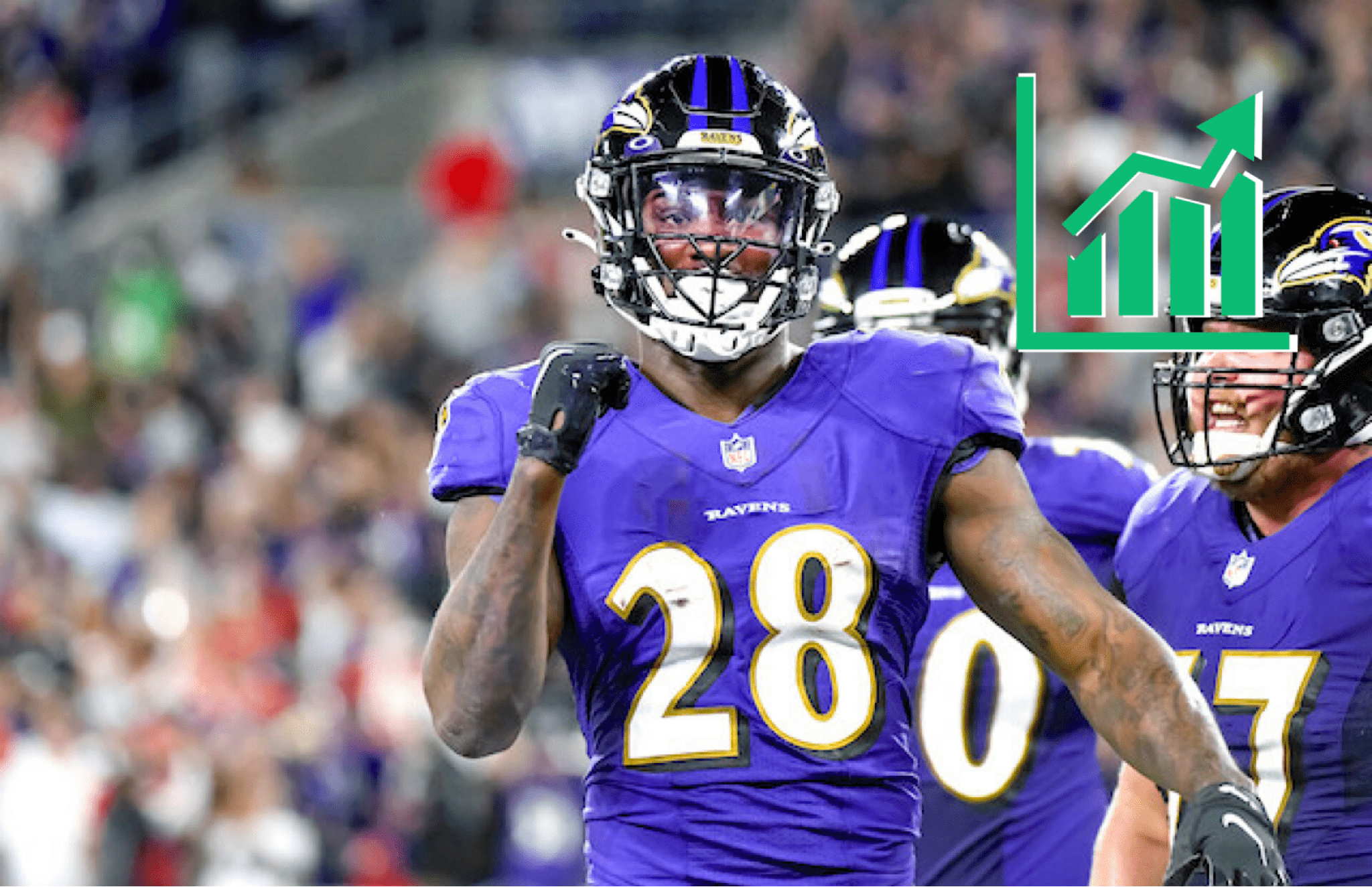 The Ty'Son Williams era lasted three weeks before it *poofed* abruptly. Reports surfaced on Sunday morning that Williams would be a healthy scratch and Latavius Murray would carry the load for the Ravens' Week 4 clash against the Broncos. Murray did Murray things, plodding his way to 59 yards and a score on 18 carries (3.28 YPC). While we don't necessarily agree, it's clear John Harbaugh prefers the veteran over Williams and there is finally some clarity to this vital fantasy backfield.
Ravens RB Latavius Murray is lining up with first team in pregame warmups. Ty'Son Williams, who started the first three games, is inactive.

— Jamison Hensley (@jamisonhensley) October 3, 2021
Murray led the RB room in snaps with 45 to Le'Veon Bell's 20 and Devonta Freeman's six. He also led the group in routes run (16) and saw 18 of the running backs' 23 carries.
Murray isn't what he was last year and both Bell and Freeman have next to nothing left in the tank. However, the real reason we care about this backfield is because of the man calling the shots: Greg Roman
Roman's offenses have pounded the rock more times than any other offense over the past four seasons — averaging 540 attempts per season. They've led the NFL in rush attempts per game for three straight seasons since the Roman arrived, with 33.5, 36.8, and 34.6 per game.
In fact, every Ravens' running back with over 100 carries over the last two seasons has averaged at least 5.0 yards per carry, according to PFF.
The touchdowns will also be there, as Murray has already seen paydirt three times in limited action. Lamar Jackson already has two scores, but the quarterback's legs open up rushing lanes for the running back.
"Finding the end zone; that's what I've got to do if I'm going to in there and be effective," Murray said. "That's something I want to keep doing – finding the end zone. There is no better feeling than that."
Murray was averaging roughly 30 to 36 percent of the team's snaps from Weeks 1 to 3. But, his snap count jumped to 62 percent in Week 4.
Whether we like it or not, it looks like it's Murray's backfield.
Latavius Murray checks in at RB42 (-6 vs ECR) on The Wolf's Rest of Season Rankings. Murray is still available in 52 percent of leagues on the Week 5 Waiver Wire.