Player Stock Ticker
Should You Buy-Low on Clyde Edwards-Helaire in 2021 Fantasy Football?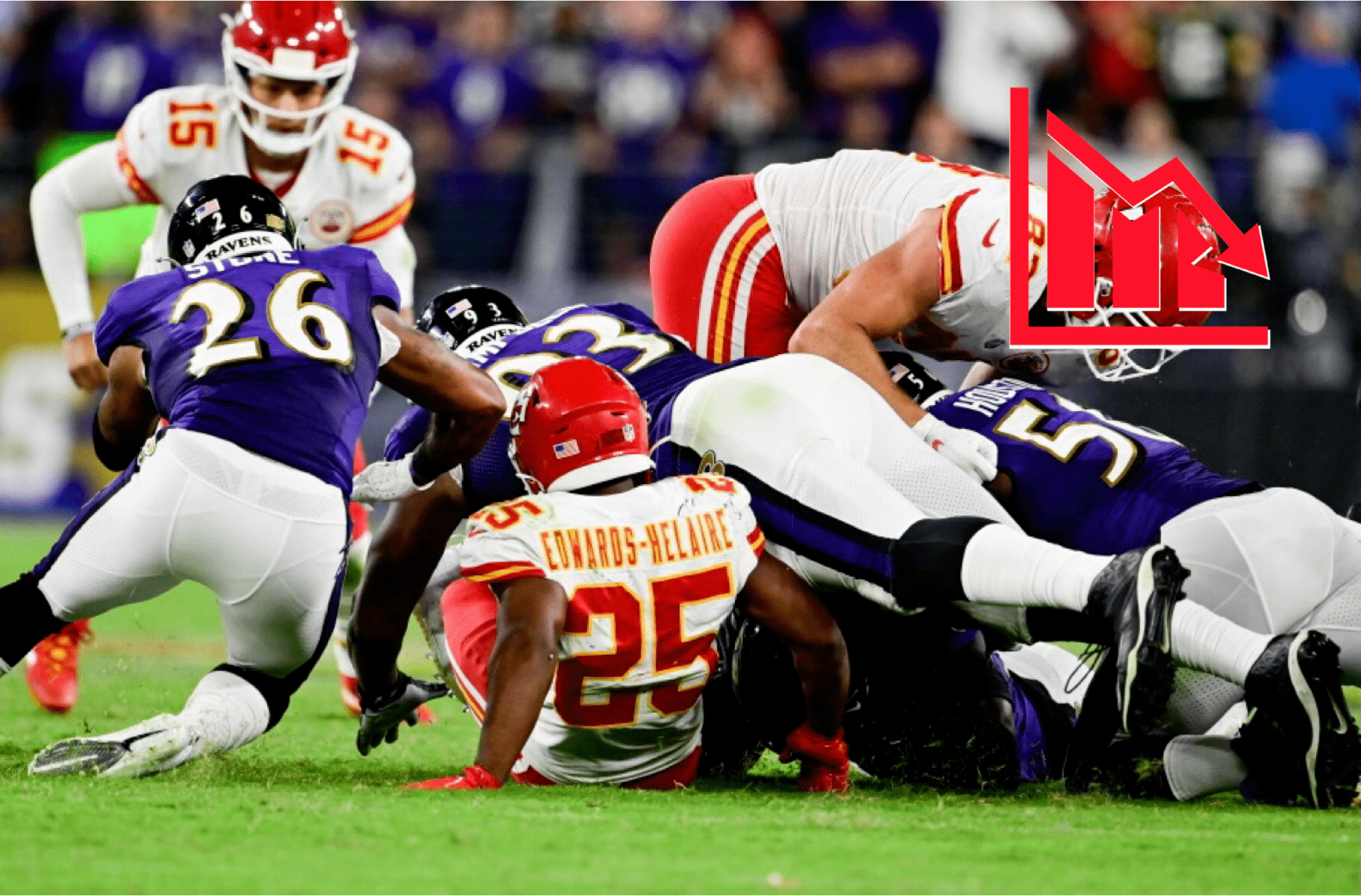 What should fantasy managers do with Clyde Edwards-Helaire? To be blunt, CEH fantasy managers are stuck between a rock and a hard place right now. There was plenty of excitement surrounding Edwards-Helaire going into the 2021 fantasy football season. He is the clear RB1 on the highest-scoring offense in the NFL, was a pass-catching specialist in college, and Andy Reid turns every RB he's ever had into fantasy gold. So, what the hell is going on with CEH? 
After a dismal game on SNF, fantasy managers are stuck deciding if they should buy low or sell low on the Chiefs' workhorse.
WHY YOU SHOULD BUY-LOW
SNAP COUNT
Only 12 RBs are playing a higher percentage of snaps than Edwards-Helaire. 
Week 1 – 72% (47)
Week 2 – 65% (33)
Average – 69% (40)
RUSHING ATTEMPTS
Not only is Clyde dominating the snaps but he's also dominating the RB rushing attempts. 
Clyde Edwards-Helaire – 27 (87%)
Darrel Williams – 4 (13%)
Jerrick McKinnon – 0 (0%)
TOUCHDOWNS
Edwards-Helaire's inability to find the end zone as a rookie has carried over into his 2021 campaign. In 13 games last year, CEH had the 16th-most touches among running backs with 217. He was able to turn that into only five total touchdowns. Of the 20 RBs with at least 200 touches in 2020, Clyde's 43.40 touches per touchdown ranked second to last.
For context:
Alvin Kamara – 12.86 touches per touchdown 
Antonio Gibson – 18.73 touches per touchdown
Jonathan Taylor – 22.33 touches per touchdown
….
Clyde Edwards-Helaire – 43.40 touches per touchdown
Through two weeks, CEH is averaging 15 touches per game. This would put him on a 16 game pace of 240 touches (I know there are 17 games in 2021, I'm just comparing this season's pace to the prior season). Of RBs with over 240 touches in 2020, the fewest number of touchdowns was eight by Ezekiel Elliott.
Since 2018 there have been 42 RBs to receive over 240 touches. Of them, only Le'Veon Bell and Leonard Fournette scored fewer than six total touchdowns. The average total touchdowns for running backs with a minimum of 240 touches were 12.5 in 2020, 9.5 in 2019, and 11.9 in 2018. 
So far, there are no signs of Andy Reid moving towards a running back by committee. As long as CEH remains the RB1 in KC, a positive TD regression is coming — we hope. 
WHY YOU SHOULD SELL CEH
The same concerns that haunted CEH fantasy managers in 2020 are haunting them again in 2021. The second-year back is an afterthought in both the passing game and the red zone. Despite a lack of a clear third receiving option behind Tyreek Hill and Travis Kelce, CEH has yet to make a significant impact in the receiving game. He had three targets in Week 1, but Mahomes targeted him a grand total of zero times in Week 2. It's safe to say that Mahomes is not a check-down QB, so Edwards-Helaire's best trait may never be unlocked in Kansas City.
Your second concern should be red zone opportunities. The Chiefs have run 18 plays inside of the red zone so far this season, and CEH has only been on the field for 10 of them. On those red-zone plays, CEH has only two touches. Reid is just as likely to dial-up a reverse on the goal line than he is to pound the muscle-bound running back into the end zone. 
Then, we have no idea if his game-clinching fumble will throw him into the dog house this week and beyond. We can't trust him until something changes with his role in the offense.
VERDICT
In general, I don't like to sell low. Why sell an asset at its price floor? For that reason, if I had CEH on my roster, I'd be holding. I think he's a great buy-low candidate despite not playing a major role in the passing attack or the red zone. He's on the field too much and bearing too much of the workload to continue to disappoint. Edwards-Helaire is the starting RB for the most explosive offense in the NFL and I'm not ready to give up on him just yet. 
Check out our Week 3 Trade Value Chart to see what you could get in a potential CEH-based trade.