Player Stock Ticker
Tim Patrick, KJ Hamler Premium Fantasy Week 2 Waiver Wire Pickups Post-Jerry Jeudy Ankle Injury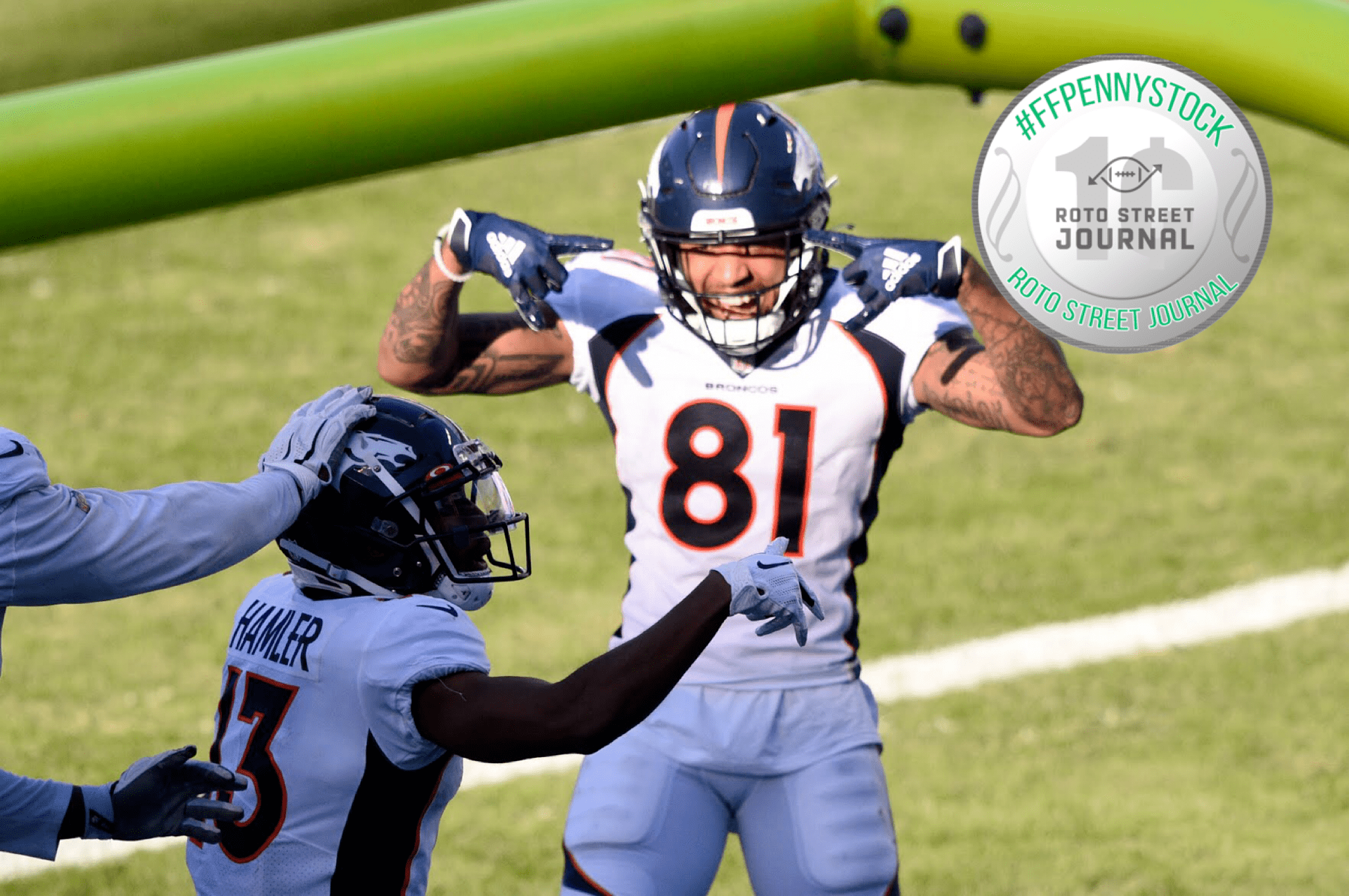 Jerry Jeudy, one of our favorite mid-round receivers, is set to miss four-to-six weeks after suffering a high ankle sprain during the team's Week 1 win over the Giants. With Teddy Bridgewater's alpha sidelined, Mr. Two Gloves will lean on Courtland Sutton, Tim Patrick, and KJ Hamler as his top three wideouts — with the latter two entering this week as premium Week 2 Waiver Wire pickups.
"Tim, Courtland and KJ will get the bulk of (the reps), and (punt returner Diontae) Spencer is a wideout too, so we'll look to see if we make a decision about bringing somebody else up in (Jeudy's) place," Vic Fangio said.
Bridgewater got back to his reliable ways, completing 28 of 36 passes for 264 yards and two touchdowns during his Broncos' debut.
TIM PATRICK
Patrick is one of the most underrated starting receivers in football. Working as the team's starting receiver alongside Jeudy and Sutton, Patrick played as many snaps as Jeudy prior to the injury. Most importantly, he started in 80 percent of the team's two-receiver sets. Patrick caught all four of his targets for 39 yards and a score against the Giants.
Something tells me Tim Patrick is going to make a LOT of future money from his 2022 contract over the next several weeks …

— Andrew Mason (@MaseDenver) September 13, 2021
Patrick is a PFF darling, catching 86 percent of his contested targets 20-plus yards downfield, which ranked first among all 2020 wideouts. Expect Patrick to be a consistent WR3/Flex option filling in for Jeudy after averaging over 10 fantasy points per game through Week 14 last season.
KJ HAMLER
Hamler will get his chance to crack the Broncos' starting lineup when they roll out 11 personnel. The electric young wideout has the highest upside of Bridgewater's bunch, due to his ability to take the top off the defense and take any short throw to the house.
The speedster dropped a would-be 50-yard touchdown last week after burning Adoree Jackson, but still finished with three receptions for 41 yards on four targets. Expect Hamler to be Denver's big-play machine with Jeudy sidelined.
.@AllbrightNFL says you need to prioritize KJ Hamler on waivers with Jeudy out.

"Tim Patrick's going to be the third-down guy, contested catch guy, but K.J.'s going to be the playmaker."

Listen to my full 21 Q's interview w/Ben on @ActionPodcasts' Fantasy Flex pod tomorrow! pic.twitter.com/9aqOsME9jr

— Samantha Previte (@SamanthaNFL) September 13, 2021
The speedster showed off his jets during the preseason, racking up 107 yards and two touchdowns on only three receptions, highlighted by an 80-yard score. The former Nittany Lion averages 12.8 yards per reception on 33 career catches.
Hamler could provide a spark off of your fantasy bench, but is a weekly boom-or-bust fantasy option.
SUMMARY
Last season, despite having pedestrian stats and horrible TD production, Bridgewater sustained three top-25 fantasy WRs with the Panthers. Even without Jeudy, the passing offense looks to be on another level with Bridgewater and he could definitely make all three wideouts' fantasy relevant.
Sutton sits at WR32 (-3 vs ECR), while Hamler (WR72) sits a spot above Patrick (WR73) on The Wolf's Rest of Season Fantasy Football Rankings. Personally, I think The Wolf is a bit low on Patrick.