Player Stock Ticker
Trey Sermon Dynasty Value & 2021 Fantasy Outlook to Shine in Kyle Shanahan's Zone Scheme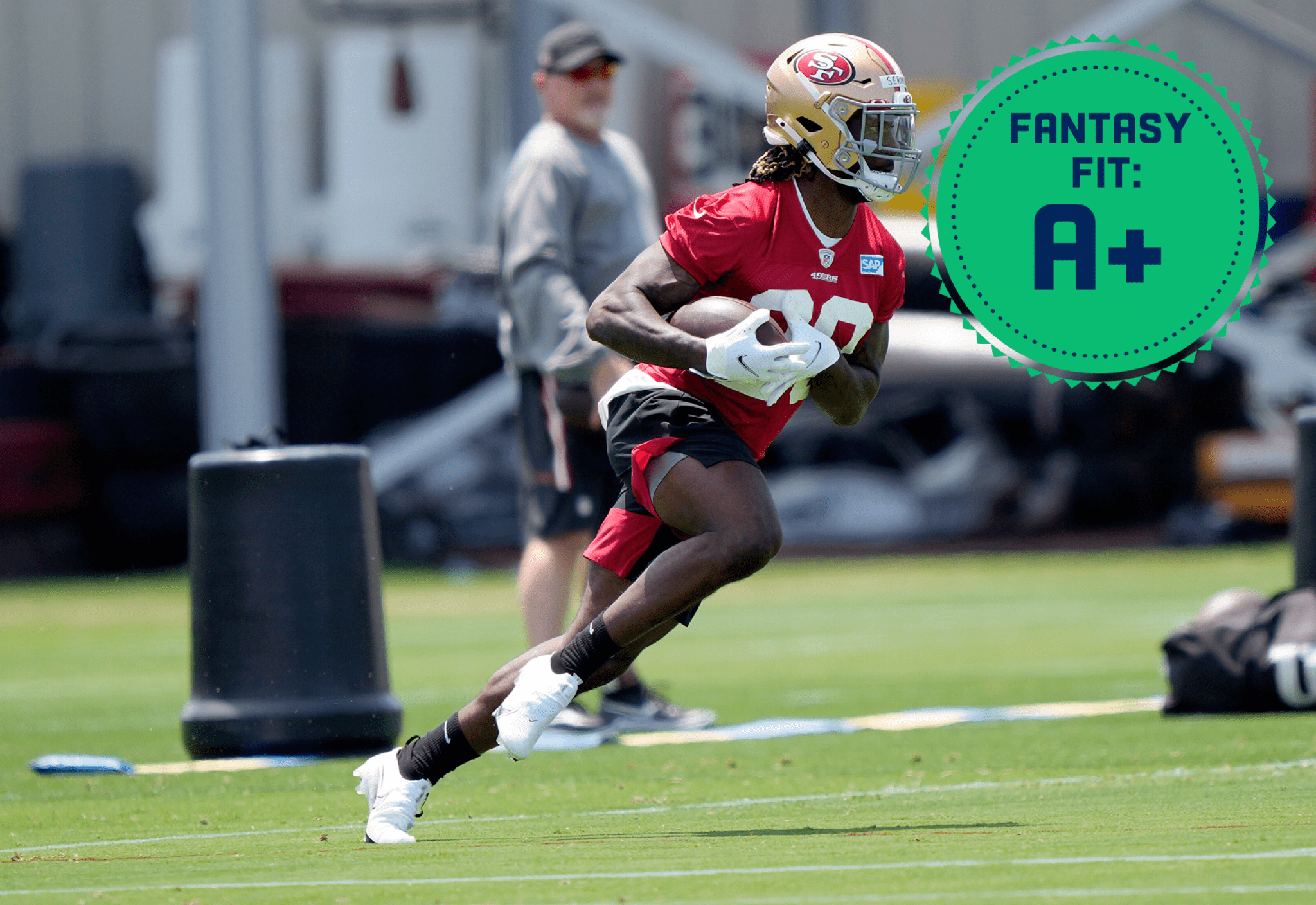 Kyle Shanahan and John Lynch answered fantasy owners' prayers when they moved up to select Ohio State running back Trey Sermon in the 2021 NFL Draft. Sermon, who was created in a lab for Shanahan's zone running scheme, has all the tools to flourish in the 49ers' lethal offense.
"I think he's a good fit for what we do," 49ers GM John Lynch said. "It was exciting. Kyle and I started this morning kind of watching the backs and it was fun to be able, and I think the move was prompted by just a growing feeling that Trey was a really good fit for us. And I think we stayed patient, but when we felt like, all right, our luck's about to run out, we made the move and we're happy to be able to do so."
Sermon's 2021 fantasy outlook might be a bit cloudy but his dynasty outlook could not look better as the team's likely future workhorse. There are a few question marks, yet the Sooner-turned-Buckeye landed in his ideal fantasy landing spot under one of the league's top offensive minds.
Kyle Shannahan to Trey Sermon: "We couldn't wait til our pick, we've been wanting you for a while so we came up and got you. You're in the right spot man."

Sure is. Glovelike fit for the zone-blocking scheme. Meh competition. Sermon could rush for 1,200+ as a rookie. LOVE this

— Wolf of Roto Street (@RotoStreetWolf) May 1, 2021
SOONER –> BUCKEYE
After compiling over 2,000 rushing yards in 2.5 years as an Oklahoma Sooner, Sermon tore the LCL in his left knee. The 6-foot 215 lb running back was already stuck in a committee at Oklahoma with Kennedy Brooks and Rhamondre Stevenson, which made his decision to transfer to Ohio State for his final season quite simple.
Due to injury recovery and COVID-19 practice restrictions, Sermon decided to watch NFL film of teams that deployed an outside-zone run scheme. We'll get to the scheme fit in more detail in a bit, but the 49ers were one of the main teams that he watched to get ready for Ryan Day's offense.
"When I was making the transition to Ohio State, I was looking at a lot of outside zone," Sermon told NBC Sports Bay Area. "The 49ers were definitely one of the teams that I looked at. Just going through the progressions and the reads because I knew when I got to Ohio State we were going to run a lot of that."
Sermon, who was working off rust and adjusting to a new team in a shortened season, was stuck behind Master Teague for a few weeks until Teague went down with an injury. However, the transfer proved his worth and exploded down the stretch during the team's most significant games.
Over his final three games, Sermon utilized his elite cutback vision and quickness to terrorize defenders in Ryan Day's zone run scheme. Sermon totaled 636 rushing yards, 9.1 yards per carry, and found paydirt four times during that stretch. Not to mention he broke Eddie George's single-game school record with 331 rushing yards against a tough Northwestern defense.
Sermon cranked out 870 rushing yards on only 116 carries (7.5 ypc) and finished at the team's leading rusher. He also improved in the passing game, when he commanded an 8.4 percent target share after never eclipsing 4.6 percent at Oklahoma.
PERFECT SCHEME FIT
In our 2021 NFL Draft preview, I noted "Sermon should flourish if he lands in a zone-run scheme." And boy, did he land in the absolute perfect zone-run scheme with Shanahan's 49ers.
Throughout the draft process, Sermon had a number of conversations with 49ers' running backs coach Bobby Turner and he saw a scheme fit with the team after dominating the likes of Clemson and Northwestern in Day's similar run scheme.
"It is very exciting," Sermon said. "Just being part of this organization, it's a great team. I feel like this is a great fit for me and I'm going to be able to have a big impact. I know I fit in well with what they do. I know they love the outside zone a lot and that was our bread and butter at Ohio State."
#OhioState RB Trey Sermon —

Zone runner — with contact balance. Can find open daylight. That's a good fit in Shanahan's offense. #49ers pic.twitter.com/4TvDt40qQL

— Matt Bowen (@MattBowen41) May 1, 2021
The 49ers were not in attendance for Ohio State's first pro day when Sermon posted an underwhelming 4.59-second 40-yard dash. But Sermon impressed Lynch and Shanahan with his 1.49-second 10-yard split. He gets up to speed very quickly and has the ability to break a tackle or make a defender miss before hitting the second level.
"You look at our backs in the past and I think one common element is the speed," Lynch said. "You may look at his 40 time and say he doesn't really fit, but sometimes 40 times can be deceiving.
"I think what speaks to us is that his (10-second split) time was very good, and you can see that burst. You see that ability to stick his foot in the ground, break tackles and hit it in a hurry, and then he's very adept at making the free safety or second-level defender miss. He's very good out of the backfield in the pass game, as well. I think he's a good fit for what we do."
Not only does the scheme fit with Sermon, but the scheme also produces big-time numbers. Under Shanahan, his team has finished top-16 in rushing yards and rushing attempts. The 49ers also ranked top-10 in rushing touchdowns in three of the last four seasons. Not to mention these milestones were hit without a true workhorse running back.
SHANNY'S CROWDED RB ROOM
Although the scheme is a match made in fantasy football heaven, the 49ers' running back room is loaded with veteran runners, such as RSJ love child Raheem Mostert, Jeff Wilson, Wayne Gallman, and JaMycal Hasty. Still, Shanahan and Lynch were so enamored with Sermon's tape that they traded two fourth-round picks to select the Buckeye at No. 88 overall.
Wilson, though, will start the 2021 season on the PUP list after tearing his meniscus in May.
"We always look for guys we think can play as a starter, whether they are or not," Shanahan explained. "If you look at our third back, the last couple years, they've had like 38 percent of our carries because of injuries or rotation. That's been by far more than anyone else in the NFL.
"So, you add him to the mix and see how it unfolds. We have some good guys we believe in, but we also have gone through about four backs every year but my first year (in San Francisco in 2017)."
It would make sense to see a healthy Mostert get the starting nod, while Sermon is deployed as his RB2 until eventually taking over.
DYNASTY OUTLOOK
While Sermon will most likely not be a day-one workhorse (barring injury), his dynasty outlook is tremendous. Looking beyond 2021, the 49ers only have Sermon and fellow 2021 draft pick, Elijah Mitchell, under contract. Meaning Mostert, Wilson, Gallman, and Hasty will all hit free agency after this season.
Furthermore, his dynasty outlook will shine even brighter with dynamic QB Trey Lance under center. Lance accumulated over 1,300 yards and 18 touchdowns on the ground in only 19 games at North Dakota State. He could steal some touchdowns away from Sermon, but his threat to run, along with a lethal zone-read combo, will open up rushing lanes for the running back.
There are two question marks surrounding Sermon's long-term outlook: he's been a career committee back and has endured a few injuries.
As noted, Shanahan has had a knack for employing a committee over the past three seasons, with no single running back eclipsing 153 carries in a single season. This would align with Sermon's career carry average, which is just a hair over 10 per game over his 45 career college games.
However, if given a three-down workhorse, the head coach isn't opposed to riding a lead runner in the past.
In Shanahan's first season with the Niners, former Buckeye Carlos Hyde carried the rock 240 times and finished RB9 in half-PPR. He also produced four other top-10 fantasy RB seasons over his first nine seasons as the OC for the Texans, Redskins, Browns, and Falcons. If Shanahan feels Sermon could handle a full workload, it could definitely be in the cards.
From an injury standpoint, he suffered a grade 2 ankle pain in 2018 and two knee patella sprains in 2018 and 2019 — the latter ending his season and requiring surgery. At Ohio State, he suffered a major shoulder injury on the first drive on the national championship against Alabama, which threw off their offensive gameplan when Sermon was sent to the hospital.
The fourth-rounder is poised to be Shanahan's next great running back outside of those few question marks.
SUMMARY
There will be immediate veteran competition and Shanahan's does love himself a good committee, but everything looks great on paper for Sermon to be a 2021 stretch run hero and a future dynasty horse.
As a lover of the zone-blocking scheme, The Wolf is all-aboard the Sermon train. The rookie checks in at RB28 (+9 vs ECR) on his 2021 Fantasy Rankings and RB25 on his Dynasty Rankings.