Player Stock Ticker
Michael Carter's 2021 Fantasy Outlook Takes Massive Hit Amid Jets 4-Headed Committee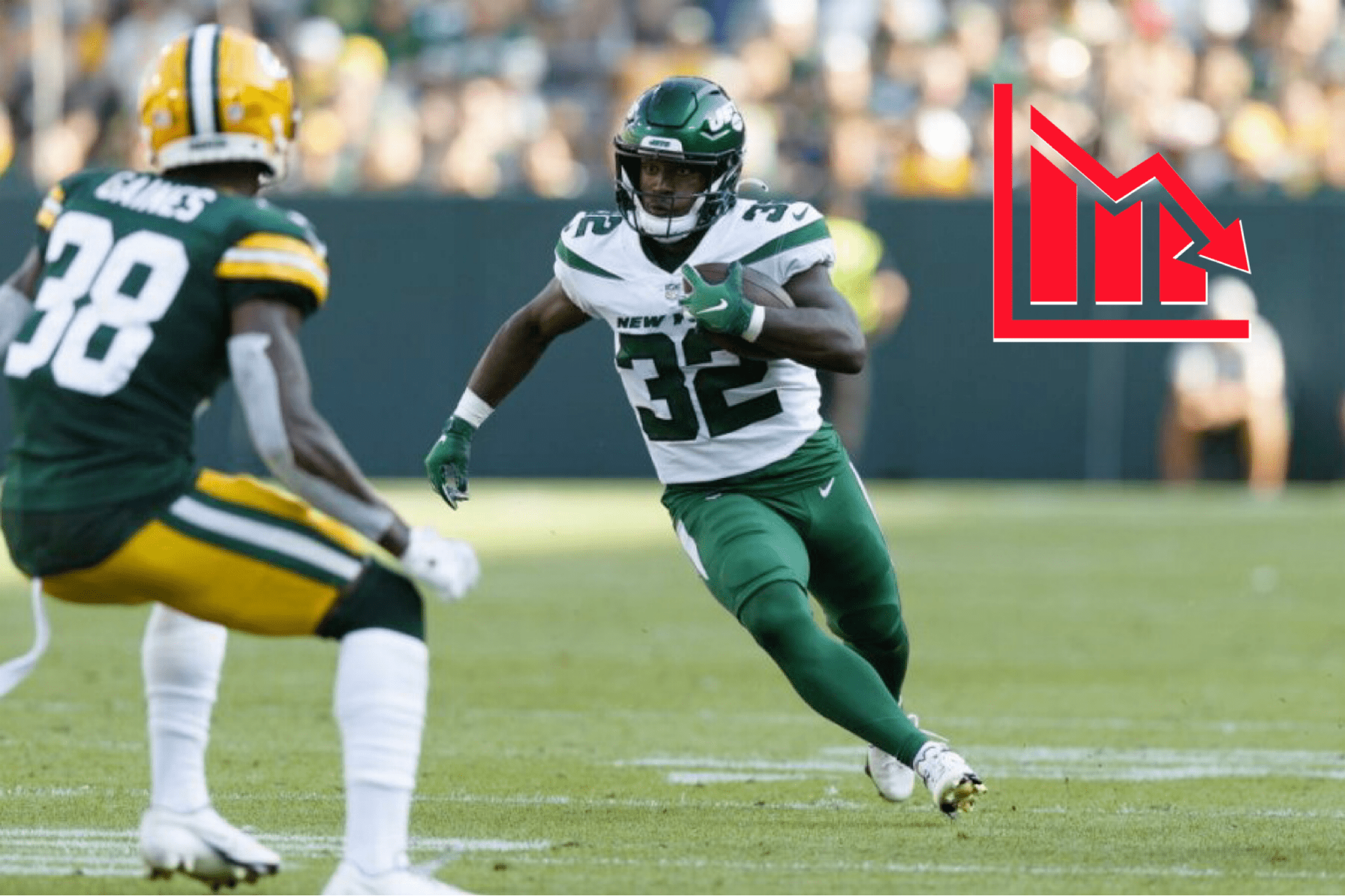 One of the most important parts of fantasy football is being able to take a step back, reevaluate an opinion you have held all summer, and realize that the way you projected a certain player was just flat-out wrong.
This weekend, I had to swallow that pill with Michael Carter, as he received zero first-team snaps in the Jets preseason game vs the Packers. Yes, Carter watched from the sideline while Tevin Coleman and Ty Johnson formed a 19-play committee next to Zach Wilson.
Carter actually looked solid with the second-team offense, rushing 10 times for 52 yards. This obviously must be taken with a grain of salt, as it honestly looked like our own RSJ writer Kendall Brown could have rushed for 25-30 yards against that defense on 10 touches.
The real story here is that contrary to popular belief, Carter has not separated himself from the pack in the Jets RB room. Coleman and Johnson split first-team carries in Saturday's dress rehearsal, indicating that the Jets coaching staff views this as a dreaded 3-to-4 headed committee complimented with Carter and La'Mical Perine.
"It's an unknown group in that people look at the names and assume there's not much there,'' Jets HC Robert Saleh said about his RB group. "They all have a dynamic trait to them that can be pretty good in the system and the way the zone scheme works. We're excited about this group.''
While I expect Carter to gain snaps as the regular season gets underway, it is becoming increasingly clear that Carter is not going to emerge as the clear 1A of this committee.  The ceiling that numerous fantasy pundits have drooled over is not what we now project it to be and his current seventh-round ADP is simply not worth the investment.
If your draft transpires in the near future, steer clear of all of these Jets' backs, and let them cannibalize each other's value and reliability.
The best course of action, however, is to let the Carter owner become increasingly disappointed in him early in the season and then make a lowball offer in hopes of acquiring him for almost nothing. At that point, he becomes a lottery ticket for a rookie second half of the year breakout in case of a Coleman or Johnson injury.
"Not having the same [back on every play] is key,'' Jets OC Mike LaFleur said. "The defense gets used to hitting someone and all of sudden the tempo changes. It keeps the defense honest.''
If you want a piece of the Wilson-led offense, Corey Davis and Elijah Moore are your guys.
Carter fell to RB40 (-7 vs ECR), while Coleman jumped to RB48 (+3 vs ECR) and Johnson raised to RB58 (+18 vs ECR) on The Wolf's 2021 Fantasy Rankings.