Player Stock Ticker
Corey Davis' 2021 Fantasy Outlook Soaring as Zach Wilson's Clear Target Hog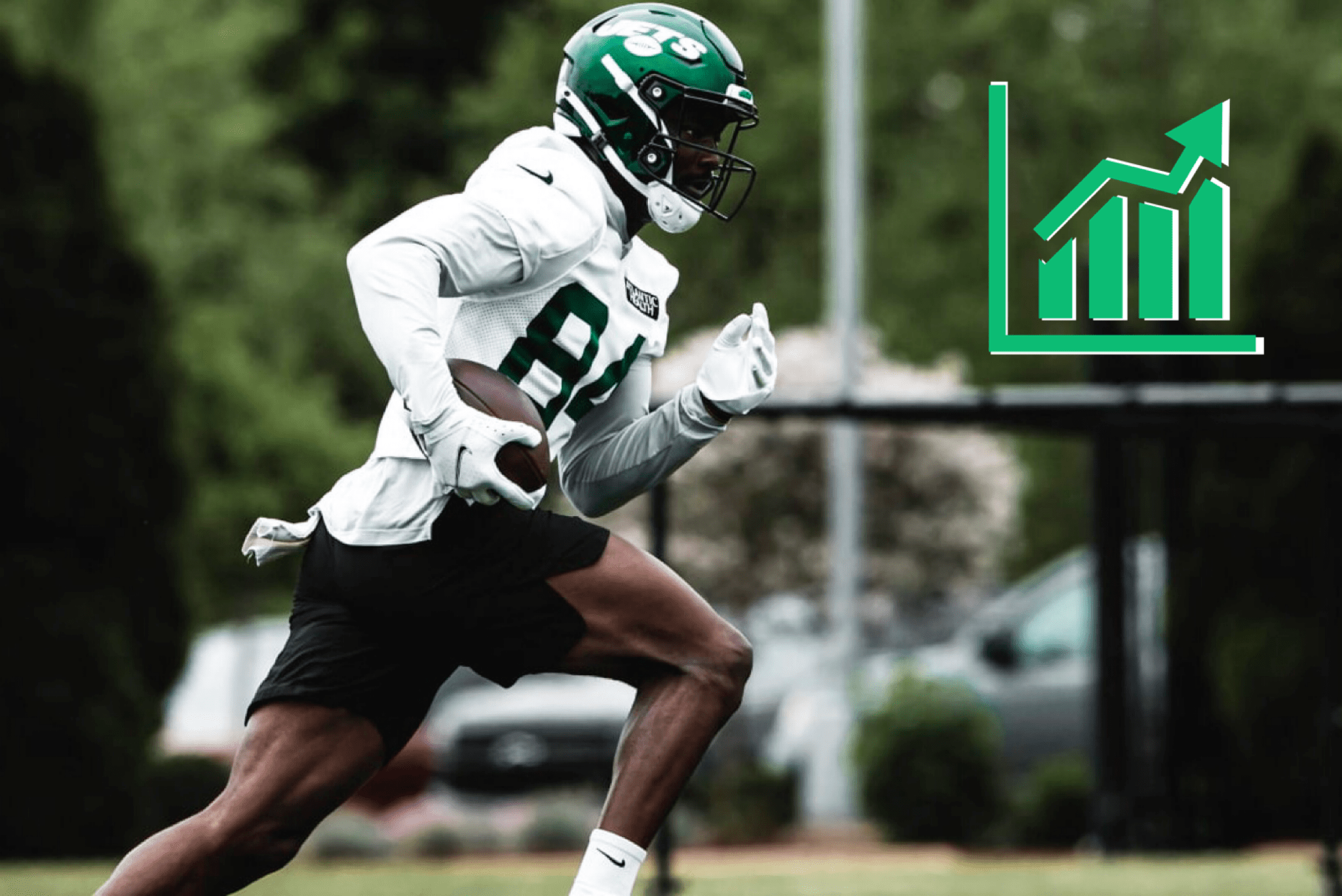 In the past, the name Corey Davis elicited fury from the fantasy community (including our own Wolf). Yet, through roughly a half of preseason action, Davis has seen 10 targets on his 13 routes run, acting as Zach Wilson's clear Alpha WR1.
Given Wilson's live arm, Mike LaFleur's impressive scheme, and the deluge of targets coming his way, Corey Davis' 2021 fantasy outlook is skyrocketing. With Davis' current PPR ADP of WR47 (116 overall), he is a mid-to-late round WR target with league-winning upside.
Corey Davis: A Rocky Fantasy Career Thus Far
Through four seasons, Davis has largely been a disappointment as the fifth overall selection in 2017. This is especially punctuated by the talent selected after him:
Granted, the Titans weren't in the QB market. Additionally, neither of the other top-WRs (Mike Williams or John Ross) have panned out. Still, it stings to see Patrick Mahomes following Davis, among other All-Pros like Jamal Adams, Christian McCaffrey, Marshon Latimore, and Deshaun Watson.
Following a non-existent rookie presence (6.5 FPPG, WR78), Davis has been incredibly streaky, mixing a handful of "booms" with a vast majority of busts: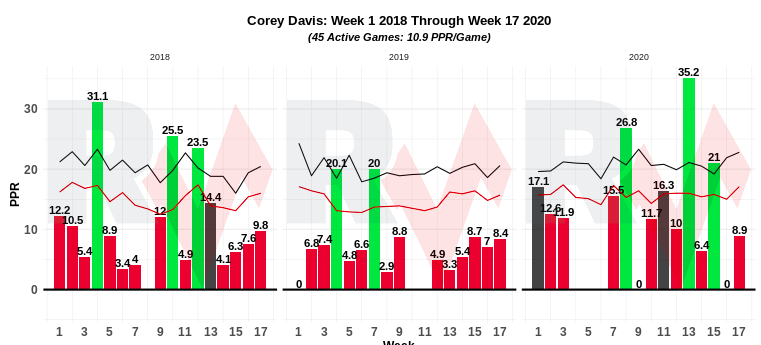 Just 25% of his active games have been Top-24. This number spiked to 35% last year, however, and Davis topped 10+ PPR FPs in 10/14 games last year. Of course, this was mixed in with two zero-point week-losers (including Week 16).
This inconsistency has led many to swear Davis off for good. That could be a grave mistake.
During 2020, Davis flashed the traits of, at worst, a high-end WR2, with glimpses of Alpha WR1 upside throughout his 2020 campaign; a solid Eric Decker impression, if you will.
Davis commanded 23% target share, and was even more productive from a weekly yardage standpoint than teammate AJ Brown: 
Corey Davis had more 100 yard games last season than A.J. Brown.

— Nathan Jahnke (@PFF_NateJahnke) August 22, 2021
With a team featuring Brown and leaning heavily on the gargantuan workhorse Derrick Henry, Davis had to make the most of his limited opportunities. As a whole, Davis caught 65 of his 92 targets for 984 yards and five touchdowns, finishing with 11.8 Half PPR PPG (WR28).
Yet, fantasy isn't about last year's stats. It's about what lies ahead.
Corey Davis 2021 Fantasy Outlook: Target Hog for a Young, Live Arm?
Davis' impressive 2020 efficiency with his limited opportunities earned him a lucrative three-year deal with the New York Jets.
Enter Zach Wilson. Wilson, the second overall pick in the draft, has frequently shown off his impressive arm talent this preseason. As mentioned at the top, Wilson has targeted Davis 10 times on the receiver's 13 preseason routes:
Corey Davis has been targeted on 77% of his routes run this preseason

He is the only WR above 50% 🤯 pic.twitter.com/hcJNQ7T34D

— PFF Fantasy Football (@PFF_Fantasy) August 23, 2021
A lot has been made about the Wilson-Davis connection, and rightfully so.
Against the Packers, Wilson hit Davis with four of his nine completions and targeted Davis on six of his 11 pass attempts, accumulating 4 catches for 70 yards. Through roughly two preseason quarters, Davis has six catches for 88 yards.
He's getting open at will, not only because of improved route-running and his ability to out-position defenders to create windows; additionally, Mike LaFleur has done implementing his 49ers-inspired scheme:
Mike LaFleur, who was SF's WR coach, has done a really nice job with coaching up the details in his offense. Spacing in between routes is always excellent in Shanahan's offense and you could see it in the Jets first two preseason games.

— Ted Nguyen (@FB_FilmAnalysis) August 21, 2021
When asked about his new WR1, Wilson didn't hold back his praise. "He's a great player," Wilson said. "I just have a lot of trust in him and all of his one on one routes that he's going to get open."
Often, Rookie QBs find the one target they love, and they latch on. We originally expected this to be impressive rookie Elijah Moore, but a quad injury opened the door for Davis to secure locked-in Alpha Status.
By all accounts, he has done just that. As The Athletic's Connor Hughes notes:
"It took a little bit to get going, but what you saw Saturday is what has been happening time and time again during training camp. Wilson ramped up his Davis targets once Elijah Moore was sidelined with a quad injury, and that extra time practicing together is clearly paying dividends."
Davis noted his improvements on creating separation and getting open and he was equally quick to complement Wilson's development in the offense.
"Zach is a lot more comfortable in the pocket, he's delivering the ball really accurately," Davis stated.
Davis pointed out that the two had really "made a lot of huge strides" during the last two weeks. Most intriguingly, Davis suggested there's room to grow even further, noting: "we're definitely getting there."
Having a quarterback that possesses as much arm talent as Wilson, we could be in line to see a lot more passes like this one, below.
The @ZachWilson to @TheCDavis84 connection is heating up. 🔥

📺: #NYJvsGB on @nflnetwork (or check local listings)
📱: https://t.co/cpzdYUarjZ pic.twitter.com/NEQwy8tX9e

— NFL (@NFL) August 21, 2021
Corey Davis leaped from WR50 all the way to WR33 (+8 ECR), and now ranks 77 overall on The Wolf's 2021 Big Board. He could be showered in 120+ targets, and I project him at around 85 catches, 1,200 yards and 6-8 TDs — in line with The Wolf.
As of now, Davis looks like the best bet, alongside perhaps Marquez Callaway, of the Round 9 and beyond WRs to possess genuine Top-15 upside. He's currently a fantasy football steal.
Check out all the Preseason Week 2 Risers & Fallers, plus bookmark our Fantasy Stock Watch to stay up-to-date on all the latest news & stats!