While discovering a late-round fantasy football league winner or nailing the top draft day values may get all the glory, knowing who to fade in fantasy is equally crucial. 
Note: I have nothing against these players. In fact, some are studs (re: top of the list). Rather, this list is meant to illustrate opportunity cost. I believe that, by selecting the players on this list at their current prices, fantasy owners will be passing up on better options.
Of course, a player could always fall far enough where they shift from a fade to a target. Yet, if ADP (from FantasyPros) holds true, I will be avoiding Alvin Kamara at his current 4th overall (RB4) average draft position (ADP).
In most of your drafts, Kamara will be selected within the first 4 or 5 overall picks. As alluded to in the intro, the opportunity cost when drafting a player that early is so high that we need that player to smash. But there are some seismic shifts that are going to happen with this Saints offense in 2021 that give me cause for concern. 
Let me start by saying that Kamara has been nothing short of spectacular in his first 4 NFL seasons. 
Kamara has finished as a top 10 RB in each of his first 4 seasons and has been a model of consistency for fantasy managers. This is in large part due to Hall of Fame QB, Drew Brees, making him one of the most targeted RB's in all of football.

Kamara has averaged 21.8 PPR points per game, on the back of 5.4 receptions out of 6.8 targets per game. This means that 25% of Kamara's fantasy points come from receiving one point per reception. This is so immensely important because, in 2021, Kamara will have a new QB throwing him the ball in either Taysom Hill or Jameis Winston. 
Let's take a look at the splits with and without Brees as his QB.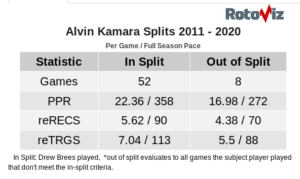 There's an obvious correlation between Kamara's receiving production and Drew Brees being the starting QB. Without Brees in the lineup, while still very solid, Kamara doesn't perform up to the standards that we have grown to expect from him. 
Now, let's take a look at the numbers with Taysom Hill at QB: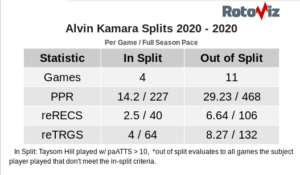 In 2020, with Taysom as the starting QB, Kamara's numbers were way, way down. Both his targets and receptions per game were more than cut in half and he averaged 15 fewer fantasy points per game. I extrapolated Kamara's splits with Taysom as the starter for a full season and just look at how his actual 2020 numbers compare to the "Taysom Hill Pace".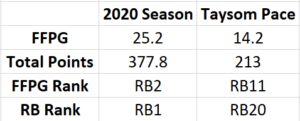 These numbers are astonishing! While I think Sean Payton will find ways to keep Kamara involved and his target rate will not be as low with Taysom Hill in 2021 as it was in 2020, Kamara's utilization in the passing game is bound to decline and that is a major reason for concern. 
Maybe you're of the belief that Winston earns the starting role in 2021. We don't have a sample of Winston as the starter with New Orleans, but since 2009 Winston has targeted RBs only on 16% of throws. This is 11% fewer than Drew Brees who leads all QB's in target rate to RB's since 2009 at 27.1%. Furthermore, Winston targets his outside receivers on 43.1% of his passes which is the second-highest rate since 2009 only behind Ben Roethlisberger.
There is no doubt that Kamara is one of the most talented RBs in the NFL. If history tells us anything, he will certainly be an RB1 in 2021, but with all the questions at QB I think he'll finish more in the RB7 to RB10 range. If you draft Kamara 4th or 5th overall and he finishes in the RB7 to RB10 range, you will likely be disappointed.  
PLAYERS I PREFER
I prefer the likes of Aaron Jones, Austin Ekeler, and Ezekiel Elliott over Alvin Kamara. 
All three of these players have similar ceilings to Alvin Kamara in 2021. Meaning, if everything were to go right for these players, I could see each of them finishing inside the top 5 at their position. Because they all have similar ceilings to me, this early in my draft I like to target players with fewer question marks surrounding them. 
Firstly, Aaron Jones. Despite what I believe to be the lack of respect shown to Jones in the fantasy football community, Jones is as safe an option as you can find at RB. In his last two seasons in Green Bay, Jones has finished as a top 24 RB in 76% of games. The Jamaal Williams' departure leaves 34 vacated targets in the backfield and Jones will be the primary beneficiary of that. Similar to Kamara, Jones has a massive touchdown upside. Both Jones and Kamara were drafted in the 2017 draft and Jones has only scored six fewer touchdowns (37) than Kamara (43) in six fewer games over that time.  Jones has finished as a top-five RB each of the last two seasons and with Rodgers coming back for one last season, Jones is locked in as an RB1. 
Next up, we got Zeke.  Assuming everything is fine with Dak Prescott's shoulder injury, Zeke will feast again this year. Last season, the Cowboys had a lot of bad injury luck losing half of their offensive line and their starting QB. In the 5 games that Dak started before going down to injury, Zeke was averaging 23 PPR points per game and was on a target pace of 106 targets (which would have been 3rd among all RB's). Zeke has been one of the most durable RB's in the NFL since entering in 2016, having played 15 games or more in 4 of his first 5 seasons (played 10 in 2017 due to suspension). With a healthy offensive line and one of the leagues worst projected defenses, this offense will be one of the highest scoring offenses in the league. He's never finished a season outside the top 12 RBs and has finished inside the top 5 in three of five seasons. 
Last but not certainly not least, we have Austin Ekeler. Ekeler is of a different breed from these other RB's as the majority of his damage comes through his receiving work. In 2019, we saw Ekeler's ceiling when he finished as the RB4 in PPR formats with Phillip "dump off" Rivers as the QB. In that season, Ekeler had only 132 carries but made up for it with 92 receptions for 993 yards and 8 touchdowns. After returning from injury in week 12, Ekeler averaged 8 targets per game (17 game pace of 13 targets). He's by no means a bell-cow, but his high target rate and efficiency in his career are what makes this pick so attractive. Not to mention he's running behind a rebuilt offensive line, led by Corey Linsley. Ekeler is a lock for over 100 targets and has shown he doesn't need much work on the ground to perform for your fantasy team. The sky is the limit for Ekeler with Justin Herbert at QB. 
Are you fading Kamara in 2021 fantasy drafts?