Player Stock Ticker
David Montgomery 2021 Fantasy Outlook After Matt Nagy Calls for True Workhorse Role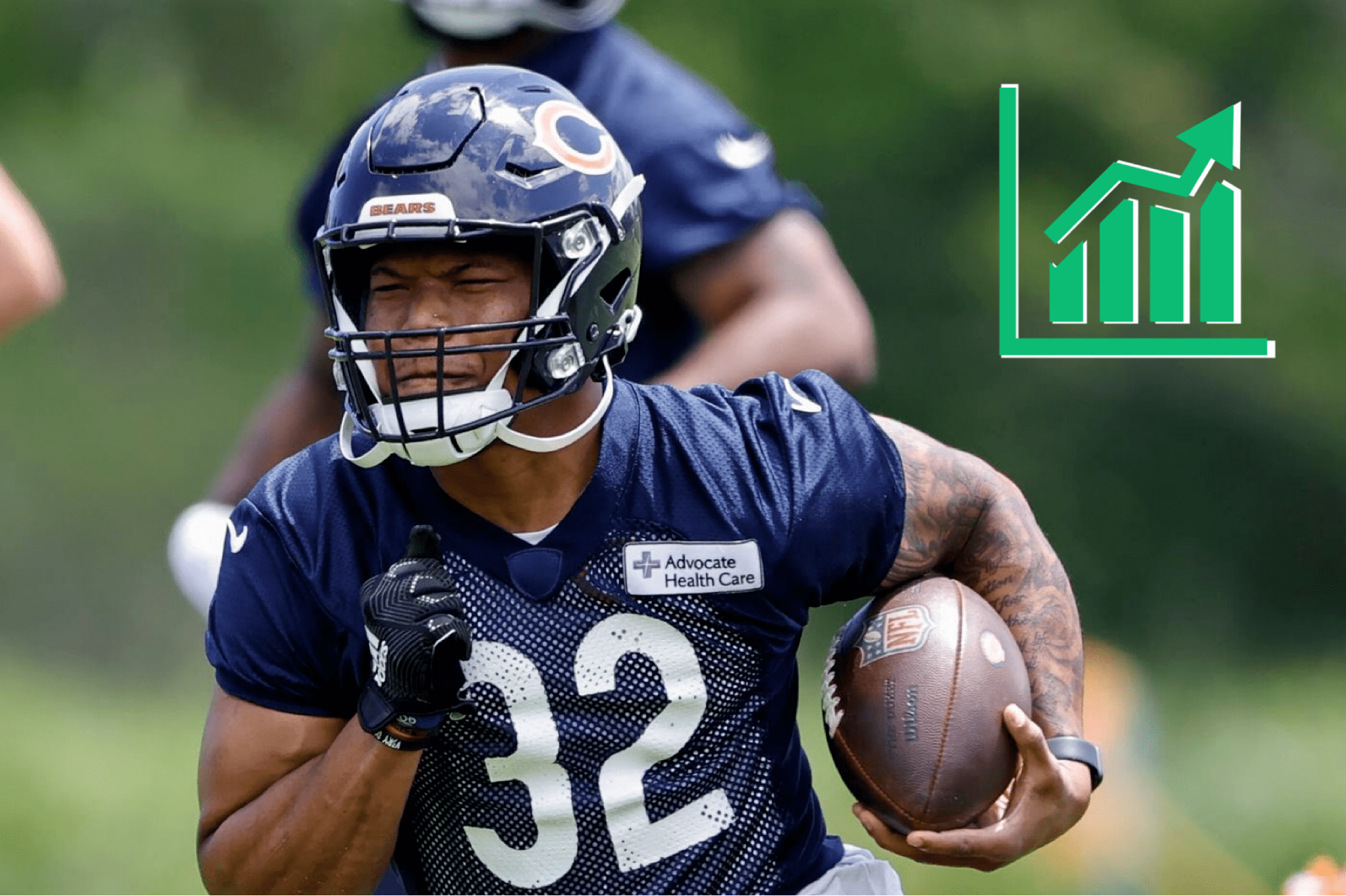 Matt Nagy has had a better-than-average defense to lean on throughout his tenure in Chicago. However, he's had a history of abandoning the run game too early and underutilizing David Montgomery. But during the 2020 stretch run, Nagy fed Montgomery like a workhorse when the team needed to win games to make the playoffs. In the last three games of the season, Montgomery carried the ball 32, 23, and 22 times, respectively, and Nagy prefers that to continue in 2021.
"Depending on what the game is, what's happened the last couple years and why some of David's carries — which aren't low — haven't been quite as high is a lot of guys get it in to four-minute mode in the fourth quarter," Nagy said to the Under Center Podcast. "That's where they can get those extra four or five carries, which can bump them into the top five, you know, with 20 rushes a game. That's our goal."
The last three games skewed the numbers a bit, but only Derrick Henry (23.6), Dalvin Cook (22.3), and Josh Jacobs (18.2) averaged more carries than Montgomery's 16.5 last season. Montgomery also demonstrated to the haters that he might actually be good after grinding out over 1,000 yards on the ground.
"We want to have the lead so that we can give him the ball, so he has touches," Nagy continued. "Because you know from just seeing him run the football, that guy in four-minute mode it takes more than one guy to bring him down. He's one of my favorite players on the team.
"I love his work ethic. He cares so much. He's, I guarantee you every single day, he's out here working. He wants to have a great year. He's motivated."
And boy, he's taking the meaning of motivation to a new level after getting pissed about some meaningless CBS running back rankings:
Monty's ready to trample the league after only getting ranked the #25 RB

"It's cool though, at the end of the year I'm gonna make them all pay" pic.twitter.com/mbvufcdTE6

— Barstool Chicago (@barstoolchicago) June 30, 2021
Still, things could get dicey when Nagy turns his offense over to Justin Fields. While Fields will most certainly bring the offense to a new level, he is a dynamic runner who will take some carries away from Montgomery. Moreso, Tarik Cohen tore his ACL in Week 3 last season and should return to his third-down duties.
According to SI, Montgomery averaged over 17 carries in the Bears' eight wins and that number dipped to 15.6 carries in their seven losses. If Fields can continue his winning ways and prove he's a massive upgrade over what Mitch Trubisky and Nick Foles brought to the table last year, then the Bears can play with the lead and feed their workhorse. But, if Nagy actually sticks with Andy Dalton for a few weeks or Fields comes along slowly, then Montgomery's carries will dwindle and we'll be seeing a lot of Cohen in catch-up mode.
Then there's Damien Williams, who may or may not be the ultimate thorn in Montgomery's side. If Williams looks like the player who eclipsed the 100-yd mark in Super Bowl 54, then Monty's 2021 fantasy outlook could be in jeopardy. But if he looks like a player who opted out of a full season, then Monty should be just fine.
All in all, Montgomery is no longer the "Krispy Kremes of Fantasy." The Wolf is right on par with the consensus, ranking Montgomery RB19 in the 2021 Fantasy Rankings & Big Board, right behind Chris Carson and above Mike Davis.