Player Stock Ticker
Justin Fields' 2021 Fantasy Outlook: Bears Set to Unleash Fantasy's Next Konami Code Weapon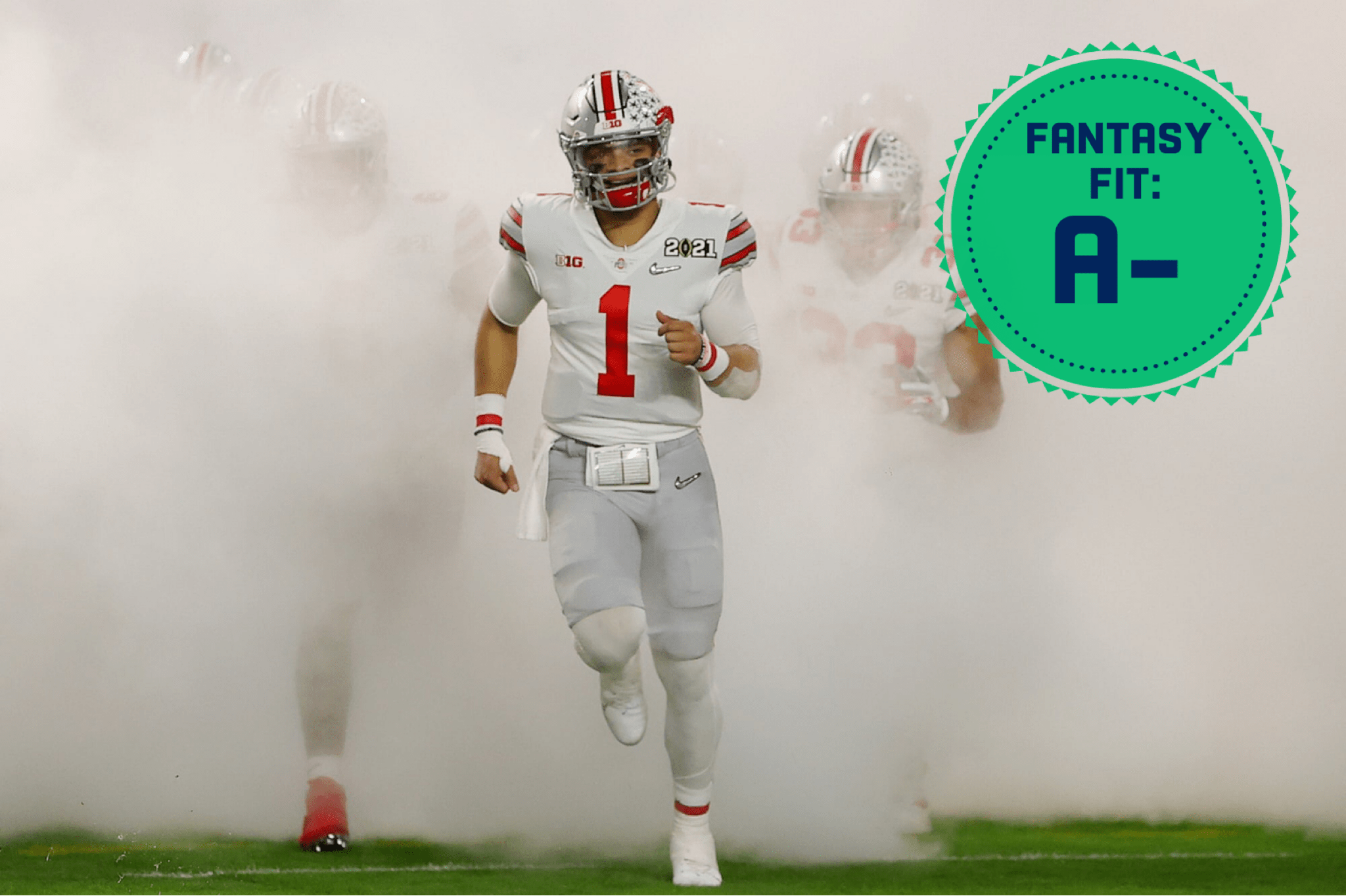 It took decades, but the Bears have finally found their franchise quarterback and they did so by trading up to select Justin Fields out of Ohio State. Equipt with a rocket arm and speed (4.46 40-yd dash) to leave defenders in the dust, the 6-foot-3, 225 lb quarterback will be fantasy football's most lethal Konami Code.
As a two-year starter (22 games) at Ohio State, Fields threw 63 touchdowns to 9 interceptions. He also added 1,133 yards and 19 touchdowns on the ground throughout his career — even though most Buckeye fans wished he scrambled more often.
What Justin Fields Brings to the Table
If you're not a college football guy or gal, you have to pop in Fields' tape against Clemson in the 2021 College Football Playoff. After taking a brutal hit that somehow didn't smash every rib in his body, Fields put it all on the line to revenge his 2019 season-ending interception against the Tigers. As a result, he made big throw after big throw (6 touchdown passes) out-dueled his long-time rival, Trevor Lawrence, to advance to the national title against Alabama.
According to PFF's Anthony Treash, Fields put up a career big-time throw rate of 8.4 percent, the highest mark by a Power Five quarterback since PFF College's inception in 2014. And since 2018, Fields ranks first in uncatchable-pass rate on throws over 10 yards and second to only Joe Burrow in accurate-pass rate on those same plays. AKA throws that Mitchell Trubisky, Nick Foles, or any of the other garbage that Matt Nagy has trotted out there, could never make.
Furthermore, per Football Outsiders' Derrik Klassen, who has charted QB prospects over the past five years, Fields' adjusted accuracy score was the highest he's ever charted at 83.2 percent.
"To every level, Fields' accuracy is simply phenomenal," he explained.
RD 1 | PICK 11 – Justin Fields QB, Ohio State

The predictive NGS Draft Model likes Fields' upside. The Ohio State QB enters the draft with the highest Pro Bowl probability of any prospect in the 2021 draft class (37%).#NFLDraft pic.twitter.com/Lj7K3tfpbm

— Next Gen Stats (@NextGenStats) April 30, 2021
Additionally, Fields had one of, if not the best deep ball in the 2021 NFL Draft class. He led all of the top QB prospects with 70 percent of his passing yards coming before the catch (air yards). He took deep shots often and completed on them at an impressively regular rate. In a COVID-shortened 2020 season, Fields completed nearly 60 percent of his deep shots (20-plus yards) to the tune of nine touchdowns to only two interceptions.
Fields will undoubtedly be Allen Robinson's most talented quarterback he's ever had and should be in for a career year. He will also give a significant fantasy boost to Mooney, tight end Cole Kmet and the rest of the offense.
It was mostly Ryan Day's scheme that funneled the offense to the two elite wideouts, but Fields absolutely peppered his top two targets, KJ Hill ('19), Chris Olave ('19 & '20), and Garrett Wilson ('20). In 2020 alone, Olave and Wilson (two future first-rounders) combined for 93 of Fields' 158 completions in eight games.
Either way, screw #DraftTwitter and clueless "anonymous scouts." Fields will be the answer to the prayers of every Bears fan and every fantasy owner who hitches their wagon to the dual threat.
How long until Fields unseats Andy Dalton?
Since 2010, 19 of the 23 quarterbacks drafted within the top ten started at least ten games. But, the Bears are Da Bears, and their leadership could completely mess this up from day one.
Following the draft, GM Ryan Pace addressed the elephant in the room: When will Fields overtake Andy Dalton?
Of course, the GM wouldn't crown the rookie over the veteran without ever even stepping onto the practice field. But, Pace did mention Matt Nagy's experience with the Chiefs when they let the raw, yet super talented Patrick Mahomes sit behind the veteran Alex Smith for a season.
"Getting him is one thing, but for us to surround him and develop him is the other thing," Pace explained. "We talk about, you can draft the players, but you have to develop them the right way. And that's what I love about the environment that we have. And Matt … he has the blueprint. They did an awesome job with Patrick coming into Kansas City, and Matt and I have talked about that a lot. That year and how it was handled. He kind of has a blueprint on how that whole situation went down."
"What I love about our environment is the veteran quarterbacks that we have in that room. I don't know if you look around the league how many teams have that kind of experience in the room," Pace continued.
If Dalton ends up being legitimate enough to win some games early on, then Fields could ride the bench for a few weeks. But, we know what the ceiling is with Dalton and both Nagy and Pace are on the proverbial hot seat, meaning the Red Rifle will likely have a short leash or even be traded if Fields lights it up during training camp.
Luckily for Fields, he has QB whisperer, John DeFilippo, as his position coach and passing game coordinator.
DeFilippo is most widely remembered and celebrated for his impeccable work with Carson Wentz and Nick Foles back when the Eagles won the Super Bowl. And, deservedly so. Wentz broke Eagles records with 33 TDs in only 13 games, while Foles took home Super Bowl 51 MVP honors following a historic postseason run few could ever predict.
Even as the Browns' OC in 2015, Josh McCown, journey-man extraordinaire, was on pace for 4,218 yds, 24 TDs, and only 8 INTs before suffering a season-ending collarbone injury.
Simply put, the man knows how to maximize his signal-callers and he's one of the best in the game.
"Flip, he is one of the best coaches in the league at developing quarterbacks; I really believe that," Pace said. "And he is so excited and [Bill] Lazor's excited and Matt's excited about the opportunity to (develop Fields), but at the right speed. Because that's what matters, developing this guy and the process of how we do that is important."
It's also significant that Day said Nagy and Pace have been enamored with the signal-caller for some time now.
"He was one of the better guys I've been around just asking questions," Day said. "I've got to give Matt credit, Ryan Pace credit, everybody in the Bears' organization, I thought they did an unbelievable job in this process, not only asking all the right questions, but I think this is a great fit."
SUMMARY
Outside of Justin Herbert, the rookie quarterbacks that have had top-12 fantasy outputs since 2010 were all dual-threats, or had some running ability (Cam Newton, Andrew Luck, RGIII, Dak Prescott, Russell Wilson, and Kyler Murray). Furthermore, the likes of Josh Allen, Lamar Jackson, Deshaun Watson, Daniel Jones, and Jalen Hurts also showed blow-up potential as rookies, mostly due to their Konami Code upside.
Everything will be based on when Fields' will take over the starting gig, obviously. But as of now, The Wolf has Fields ranked as his QB19 (+2 vs the ECR) on his 2021 Fantasy Football Rankings and QB2 on his 2021 Fantasy Dynasty Rookie Rankings. But don't be shocked for a top-ten fantasy season if Fields gets the starting nod early.