Player Stock Ticker
Kyle Pitts' 2021 Fantasy Outlook to Reach New Heights Amid Likely Julio Jones Trade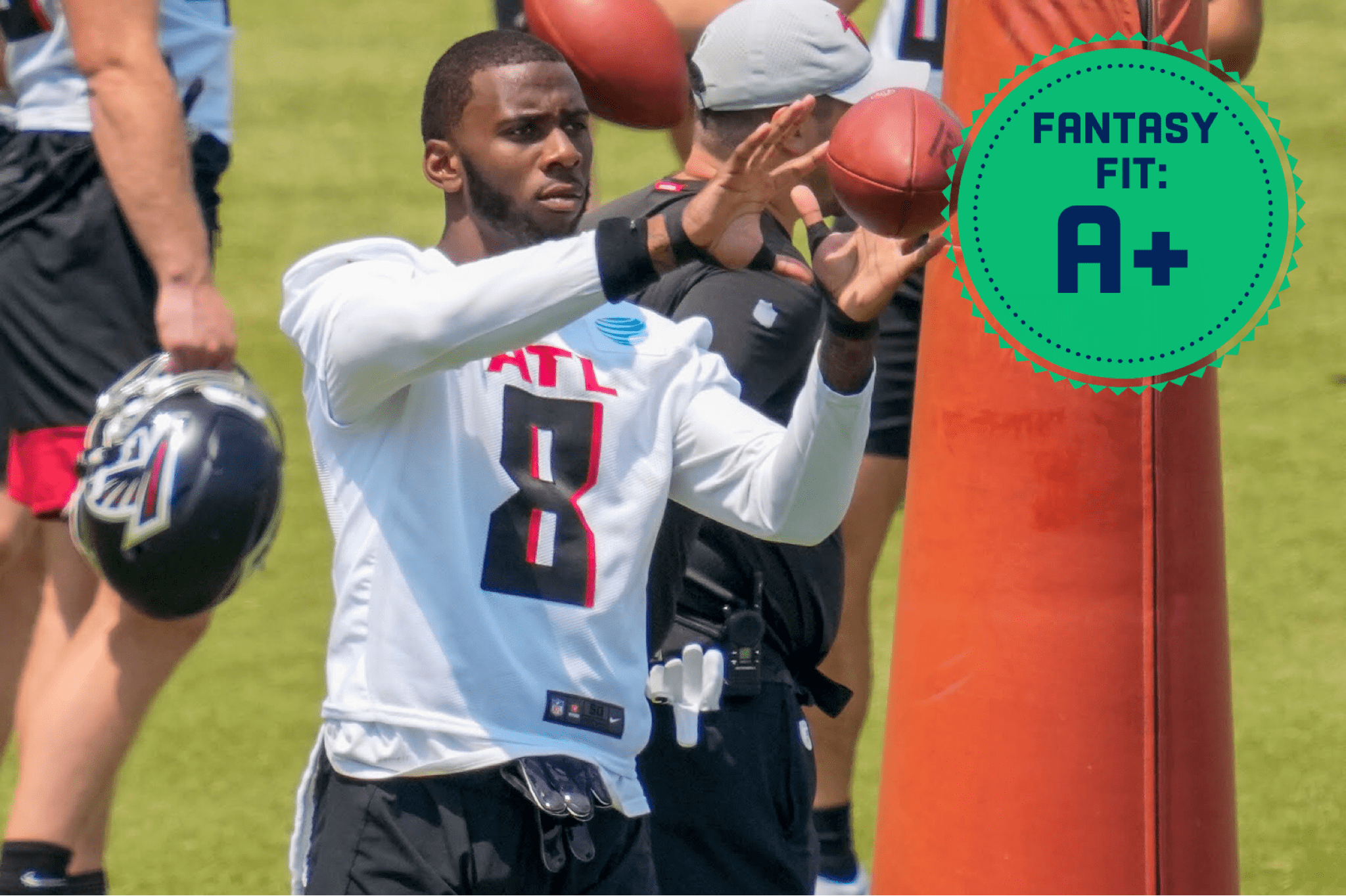 Standing at 6-foot-5, 245 lbs, Kyle Pitts was built in a lab to utterly dismantle NFL defenses. What's even scarier is Pitts ran a 4.40 40-yard dash and paired that with a 33.5 inch vertical. His long arms and elite catch radius (7 ft wingspan) make him unguardable downfield, while also easing life for his quarterback.
From a fantasy perspective, Pitts landed in the perfect situation in Atlanta with a top quarterback, play-caller, and surrounding cast.  But Pitts' 2021 fantasy outlook could reach the next level if/when the Falcons deal their alpha wideout, Julio Jones.
If any rookie tight end could be a fantasy outlier and make an immediate impact, it would be Florida's, Kyle Pitts.
"Pitts is 95 percent Megatron… but he has longer arms," explained Thor Nystrom, NBC Sports Edge, on Ep. 203 of the Fantasy Fullback Dive. "The ball skills are the same thing. If you watch the tape it's the same thing, he's just a slightly less athletic version of [Calvin Johnson] him. He can't be defended downfield. He gets higher than everyone, he gets down there faster than everyone, he's more fluid than everyone, and then it just becomes a basketball thing where he's by himself. What are you going to do?"
After lacking concentration in 2019 (six drops), he improved his hands and concentration in 2020 by dropping zero catchable targets. Those absurd measurables and the elite skill-set culminated in a 96.1 overall PFF receiving grade this past season.
According to Mel Kiper, Pitts would not only be the No. 1 wide receiver in this draft, but he's the best tight end he's graded throughout his entire 43-year career.
"You saw him run routes like a wide receiver, you saw him block in line, you saw him run the seam, you saw him make contested catches," Mike Renner, Pro Football Focus, said to the NY Times. "You've seen everything that the guy is going to do in the NFL"
If one thing is certain, he'll absolutely destroy opposing safeties and he'll quickly be one of the league's most significant mismatches. He can line up in the slot and on the outside, and played under Dan Mullen at Florida, who notoriously asks a lot out of his tight ends.
Out of his 409 snaps in 2020, Mullen lined up Pitts all over the offense. The Swiss Army Knife saw 261 snaps at the inline spot, 79 snaps in the slot, and 69 snaps out wide. He made a similar impact wherever he lined up and will do the same in the NFL.
FALCONS FIT
The Falcons' initially selected Pitts to pair him with the lethal duo of Jones and Calvin Ridley. The three together would have made NFC South defensive coordinators break out in cold sweats. But with Jones' future with the Falcons looking less likely by the day, Pitts could become Matt Ryan's 1B target to Ridley.
"When the pick went in, that was the big [moment]," Ryan told Sports Illustrated's Albert Breer. "To the organization's credit, they were very up-front about that from the start — 'Hey, we're gonna pick whoever we think is the best person to help us moving forward.' And they said they had a lot of belief and all those things, but they were up-front from the start about that. So I knew when Kyle got drafted that Kyle got drafted."
Not only did that pick confirm the Falcons would not be selecting Ryan's heir, but it meant he would have another lethal weapon added to his arsenal.
"I was fired up!" Ryan told Breer. "I mean, I watched this guy play through college, so it was like, 'Oh, alright, let's go!' I was watching it with my wife, and I think she was probably more fired up than me."
Rookie tight ends rarely put up big fantasy numbers (only Rob Gronkowski and Evan Engram put up TE1 numbers as rookies since 2010) but Pitts should be able to make noise right away — with or without Julio on the perimeter.
With Jones, Pitts could see roughly 90 targets. But without Jones, Pitts could see over 115 targets. That number would have placed him third in tight end targets last year, behind only Travis Kelce and Darren Waller (145).
It also helped that the Falcons hired Arthur Smith, one of the league's top play-callers, as its head coach.
Last year, Smith's Titans ranked second in the league (34.3 percent) in 12 personnel (1 RB, 2 TE) usage and his tight ends accounted for 29.6 percent of the team's targets, which ranked fourth in the league. Furthermore, Ryan Tannehill attempted the second-most passes off play-action last year with 169.  Pitts was PFF's second-highest graded pass-catcher off play-action throws last season.
The former Gator should also dominate the red zone and end zone areas. Jonnu Smith tied Corey Davis for the most 2020 Titans end zone targets with 10 and Jonnu ranked first in end-zone target rate (46 percent) at his position. At Florida, Pitts not only graded the highest out of all receivers in end-zone targets, but also gathered college football's highest end-zone target rate (59 percent).
It would have been great to watch Jones, Ridley, and Pitts all work together to dominate opposing defenses, but Pitts' 2021 fantasy outlook will skyrocket once the team trades its alpha WR1.
SUMMARY
All-in-all, Pitts will soon become fantasy's next cheat code at the tight end spot.
History has told us that year-one is not always generous to tight ends, but Pitts has a chance to change that narrative in 2021. And from a dynasty perspective, the former Gator is a no-brainer.
"Start at a high level and keep increasing every year and being able to do other things that other tight ends aren't doing," Pitts described himself. "I feel like I'll be the best to ever do it."
Pitts will be in the elite tight end tier in the very near future and he currently resides at TE6 on The Wolf's 2021 Fantasy Football Rankings & Big Board.