Player Stock Ticker
Myles Gaskin 2021 Fantasy Outlook Shines After the Dolphins Pass on Top Rookie, Free Agent RBs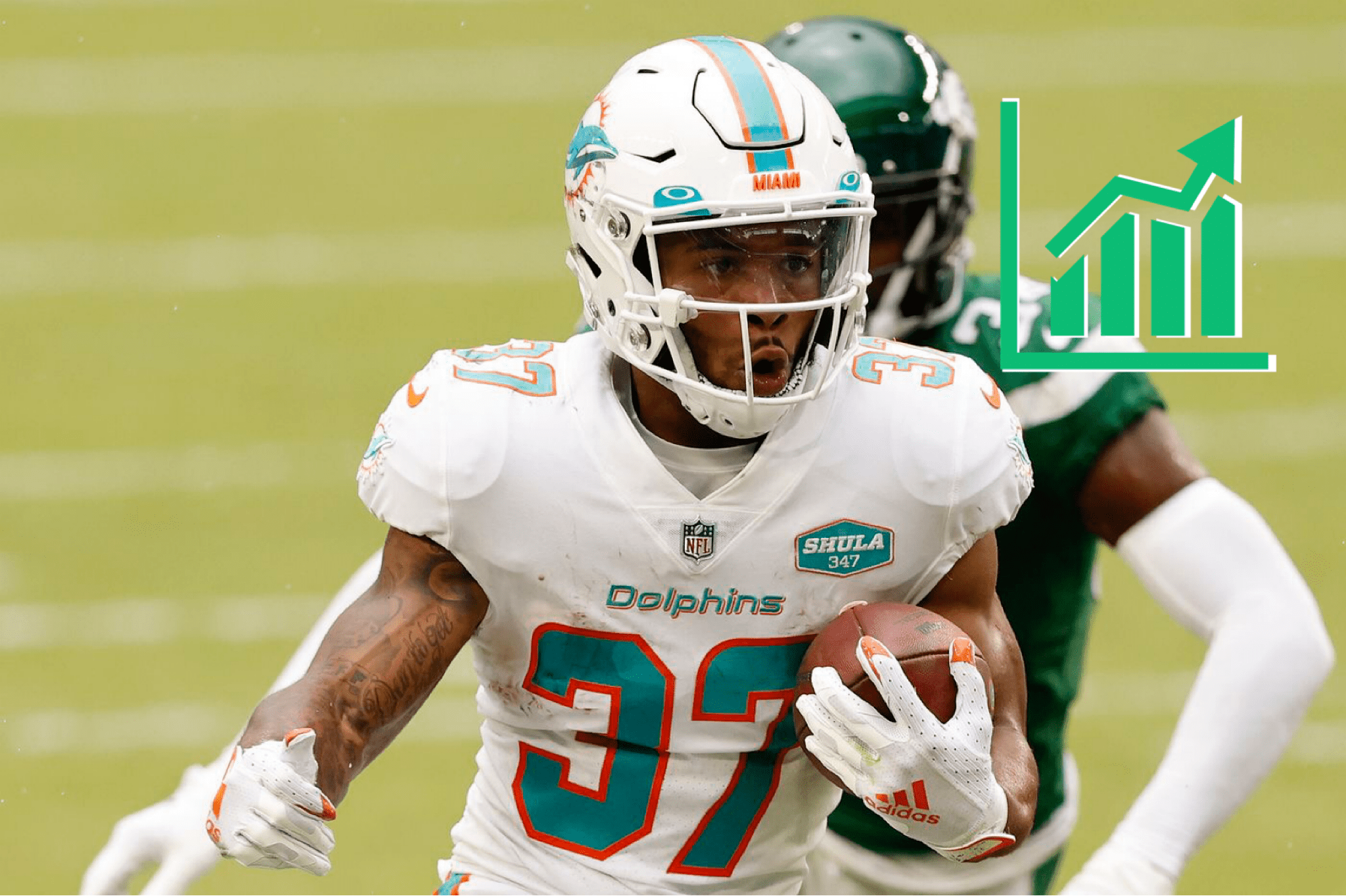 Myles Gaskin was one of 2020 fantasy football's most notable surprises. Although he missed six games, Gaskin finished as fantasy's RB27, among the likes of Miles Sanders and James Conner. Looking at his weekly fantasy points average, Gaskin finished as the 2020 RB12 with 14.4 points per game. However, most experts expected the Dolphins to upgrade its running back spot in the draft or in free agency, and ultimately move Gaskin and his former college teammate, Salvon Ahmed down the depth chart.
The Dolphins added Malcolm Brown to the running back room, but he won't challenge Gaskin the way Javonte Williams, Travis Etienne, Trey Sermon, or a high-priced free agent would have.
Head coach Brian Flores clearly likes what he's seen from Gaskin, who has improved every season as a professional.
"I think I saw a lot of growth from Year 1 to Year 2," said Brian Flores. "I think we all saw that. When he goes in the game, he's productive. He missed a number of games last year due to injury, but when he was in there, he was productive in the run game and the pass game and the protection game. Same thing with Ahmed. He's going to have to get his feet wet a little bit, but he got better over the course of the season. And then we add Malcolm Brown.
"But I think as far as specific to Myles, he's a hard-working kid. It's important to him and he's going to do everything possible to get every bit of production out of himself."
Gaskin proved to Flores and Dolphins decision-makers that he was more than serviceable as a three-down back during last season when he wasn't dealing with a knee injury or COVID-19. As a result, he's taken his training to the next level to stay on the field in 2021.
"At the end of the day, I liked how I was playing, but I did miss those games," Gaskin said. "You never know what happens in those games, so I appreciate that just kind of being brought to light. But that's my point of being healthy. I'll just do as much as I can. Obviously, football is football and things happen, but just trying to do as much as I can to make sure my body is able to go through a 17-plus-game season with the playoffs."
In 10 games, Gaskin finished with 584 yards (4.11 YPC) and three touchdowns on the ground and added 41 receptions, 388 yards, and two receiving touchdowns.
Had Gaskin remained healthy, he was on pace to finish with 1,555 all-purpose yards, which would've ranked fourth behind only Derrick Henry (2,141), Dalvin Cook (1,918), and Alvin Kamara (1,732).
Not to mention the 'Fins also added elite vertical speed on the outside, which should also help open things up for Gaskin. In free agency, the team signed Will Fuller and in the draft, they selected the electric Jaylen Waddle to keep safeties out of the box. If Tua Tagovailoa can put it all together, it'll only work wonders for Gaskin and the run game.
After avoiding the potential 2021 offseason mines, Gaskin is currently sitting at RB21 (+1 vs ECR) on The Wolf's 2021 Fantasy Football Rankings & Big Board.