Player Stock Ticker
Travis Etienne 2021 Fantasy Outlook as Urban Meyer's New Offensive Ferrari
Imagine being lost in the abyss as the foundation around you begins to crack beneath your feet. All the lights go out and, after a moment of frantic searching, a small bead of light begins to emerge. All of the sudden, a pathway out of the abyss opens up. Trevor Lawrence and Travis Etienne have provided signs of life to the Jacksonville Jaguars franchise that were on the brink of fading into obscurity and irrelevance.
What about James Robinson?
Quarterback prospects like Lawrence don't come around often. In fact, Lawrence is the first quarterback prospect of his caliber in a decade… the first since Andrew Luck. Lawrence spear-headed a lethal offense during his three years with the Clemson Tigers. A key part of that dynamic offense was the explosive Etienne and his game-changing speed and acceleration.
James Robinson was the lone bright spot on an otherwise awful football team. Last season, the undrafted running back put the Jaguars on his back and carried them through the season. While only playing 14 games, Robinson accounted for 1,414 total yards and 10 touchdowns. Etienne's selection with the 25th pick in the draft was completely expected, right?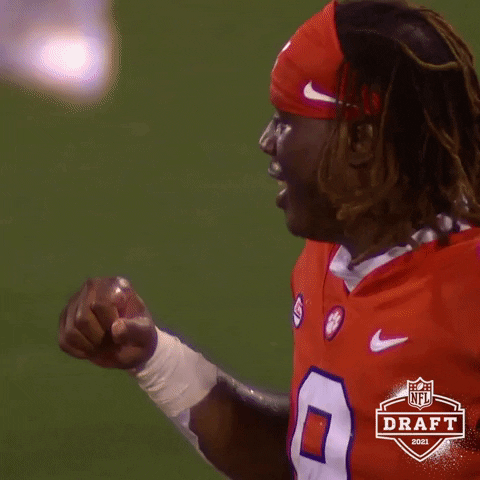 So, Why Etienne?
What makes Etienne so important for the Jaguars? While not a direct comparison, just look at the straw that has stirred the Saints passing cocktail the last four seasons.
One of Etienne's most popular player comps coming out of college was Alvin Kamara. Kamara offers a unique blend of dynamic playmaking through both the rushing and receiving games. While Kamara certainly doesn't possess Etienne's speed, Kamara does share Etienne's insane burst and acceleration. Kamara tested in the 95th percentile in his draft class in burst score. This is the same draft class the consisted of Christian McCaffrey, Joe Mixon, and Dalvin Cook.
Etienne's best trait is his ability to explode, stop on a dime, and then accelerate to top speed almost instantaneously.
Aside from being the all-time leading rusher in ACC Football history, Etienne drastically improved his receiving game ten-fold. In a spectacular twitter thread, Ron Stewart of RotoUnderworld laid out how spectacular of a pass catcher Etienne became:
SIDE NOTE: I've been hearing some comps to Kamara and from a receiving standpoint there's for sure some merit to this

This is a chart via @campus2canton comparing their receiving yard market shares over their final 2 seasons
*ETN had to compete with Higgins, Ross, Rogers, etc pic.twitter.com/1Lu82sbwjH

— Ron Stewart (@RonStewart_) May 10, 2021
Schematic Fit in Urban Meyer's Offense
Etienne's combination of speed, acceleration, and power are best suited for an outside zone blocking scheme. This makes him a perfect fit for the zone spread offense that new head coach Urban Meyer is expected to install in Jacksonville.
In fact, Fantasy Points' Graham Barfield pointed out in his "Yards Created" write-up on Etienne that he is one of the highest-graded outside runners ever. Etienne's 7.53 yards created per attempt (YC/A) on the outside ranks only behind Cook (7.66 YC/A) and Ezekiel Elliott (7.63 YC/A). Elliott was one of the most prolific rushers in college history while playing at Ohio State… with Urban Meyer.
Etienne certainly doesn't profile as a running back that will thrive between the tackles, unlike Robinson. According to Barfield's write up on Etienne, is a 19th percentile running back on inside carries (3.47 YC/A). Etienne's knack for dominating through the air and on the outside makes him a perfect candidate to fill a Kamara-style role.
The new Ferrari in this dynamic new Jaguars offense projects to be a steal in the early-mid rounds of fantasy drafts. With his talent, draft capital, and familiarity with his NFL quarterback, Etienne is uniquely suited to offer league winning upside this season.