Player Stock Ticker
2021 Fantasy Football Dynasty Rookie Rankings: Ja'Marr Chase, Jaylen Waddle Top Loaded Rookie WR Class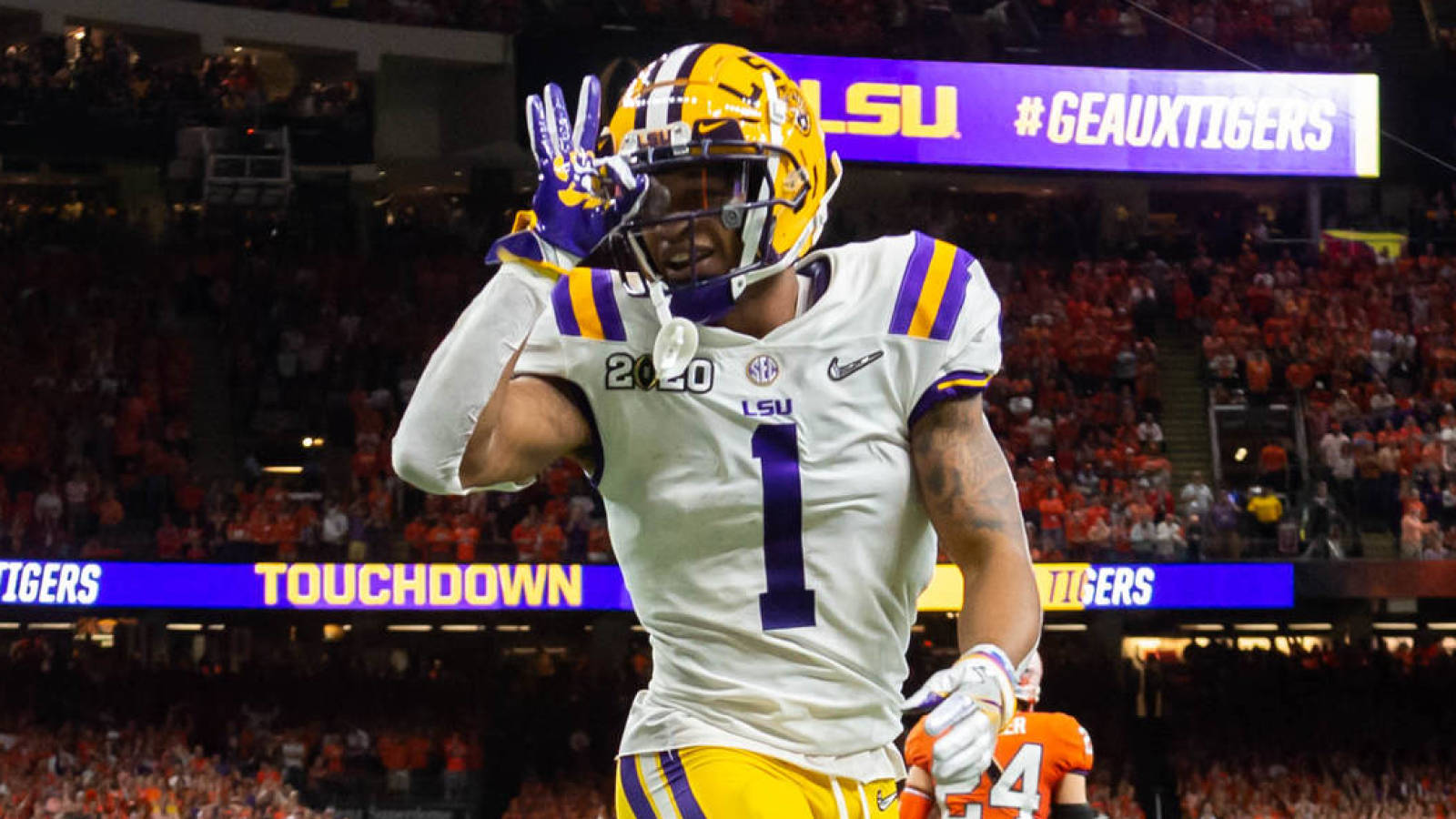 Once again, the rookie wide receiver class LOADED from top to bottom. In 2021, Ja'Marr Chase leads the bunch but is closely followed by two Alabama studs, Jaylen Waddle and Devonta Smith. Some experts even have Waddle at WR1. Either way, there's a good chance five or more rookie wideouts make an immediate fantasy impact, while another handful will likely make a dynasty impact. From speedsters, to slot guys, to red zone terrors, the 2021 wide receiver draft class has it all.
Outside Chase and the Alabama wideouts, see which receivers lead our 2021 fantasy football dynasty rookie rankings. Be sure to check out the other positions below.
Quarterbacks | Running Backs | Wide Receivers | Tight Ends
(H/T to The Athletic's Dane Brugler and his 2021 NFL Draft Guide: The Beast for in-depth scouting reports of 415 players)
1. JA'MARR CHASE, LSU
Ja'Marr Chase was the focal point of LSU's record-breaking offense in 2019, but after opting out of the 2020 COVID-19 season, it seems like "experts" and football fans forgot how damn good he is as both a wide receiver and an overall playmaker.
His mind-boggling sophomore season was utterly ridiculous and it resulted in Chase winning the Biletnikoff Award over CeeDee Lamb and Michael Pittman. Against a loaded SEC schedule and in the College Football Playoff, Chase racked up 1,780 yards and 20 receiving touchdowns on 84 receptions from Heisman winner Joe Burrow.
What makes those numbers even more impressive is he did it alongside the likes of Justin Jefferson, Terrace Marshall, Clyde Edwards-Helaire, and a number of other young studs.
Chase is an all-around stud. He has elite toughness and body control as a 6-foot-3, 200 lb wideout. He's also excellent in traffic and constantly wins one-on-one battles downfield. The former Tiger is also a beast after the catch, leading all 2019 receivers in YAC with 411 yards after contact and 23 broken tackles.
All-in-all, Chase can lineup inside and outside, can win every one-on-one battle, and will be a fantasy stud in year one and beyond. He's arguably the 1.01 in dynasty drafts.
"Overall, Chase creates separation with his gear-changing acceleration and is an elite finisher with his physical ball skills, displaying equal parts competitive toughness and playmaking skills to be an NFL No. 1 receiver." – Brugler
2. JAYLEN WADDLE, ALABAMA
Although Jaylen Waddle only played six games in 2020 due to a fractured ankle, the experts who have Chase as their WR2, have Waddle as their WR1. I disagree, but it's easy to see why some people are infatuated by Waddle's electricity with the ball in his hands.
Whether he lines up inside, outside, or even as a returner, the former 'Bama stud can take the ball to the house from anywhere on the field. Waddle averaged 18.9 yards per catch during his three-year career and 52.7 percent of his career receiving yards came after the catch. Not to mention he also averaged 19.3 yards per punt return.
"Phenomenal competitor," Nick Saban said about Waddle. "He's one of those guys like Allen Iverson, Kobe Bryant, Michael Jordan. They can make plays when nobody else can make that same play. He's one of those guys."
all these current NFL WR coaches really like DeVonta Smith… with obvious size questions as expected…

but they all drool over Jaylen Waddle pic.twitter.com/qmW2059qAJ

— Warren Sharp (@SharpFootball) April 21, 2021
Waddle put up those numbers even with Jerry Jeudy, Henry Ruggs, and Devonta Smith by his side for most of his career — not to mention his ankle injury that cut his final season short.
Is Waddle the next Tyreek Hill? Some scouts believe so. Even if he's not, he should be targeted in year-one re-draft leagues and especially in dynasty leagues.
"Overall, Waddle doesn't stand out for his size or seasoning, but he is a special athlete with the sudden movements and acceleration to be an NFL playmaker in the Tyreek Hill mold. He projects as scheme-versatile receiver and dynamic return man." – Brugler
3. DEVONTA SMITH, ALABAMA
Outside of maybe Justin Fields, no one has received more criticism from #DraftTwitter and NFL scouts than Devonta Smith. In fact, I could add another 500 words to this article if I just listed Smith's accomplishments at Alabama. But, everyone wants to point at Smith weighing in at just over 6-feet and 166 lbs. Yes, that's extremely small, and history hasn't been kind to sub-170 lb receivers, but Smith is on another level.
Size didn't prevent Smith from putting up astronomical numbers during his three-year career with the Crimson Tide. He became the first wide receiver since 1991 to win the Heisman, and the 22-year-old led the nation by wide margins with 117 receptions, 1,856 yards, and 23 receiving touchdowns in 2020.
He's a route-running tactician and his size never hindered him to get off press coverage throughout his career. Some compare him to the great Marvin Harrison, which is quite lofty. Furthermore, Smith is tough to bring to the ground after the catch, with 51.3 percent of his yards coming after the catch last season. He also recorded 44 catches of over 15 yards that same season.
DeVonta Smith is fast enough to win a vertical route tree/get off press and attacks the ball well in open & contested situations.

Concerns with his size (6-1, 172), athleticism and age (22) are valid, however.

He'll be an outlier if he blows up in the NFL, but maybe he is one. pic.twitter.com/J9IEs8g5Rc

— Austin Gayle (@PFF_AustinGayle) January 16, 2021
NFL teams would be dumb to let the undersized wideout fall too far in the draft. And you would also be a dummy let Smith fall too far in your re-draft or dynasty drafts.
"Overall, Smith doesn't have an elite size/speed profile, leading to legitimate durability concerns, but his explosive athleticism, instinctive route-running and natural hands are what make him a polished playmaker in the Marvin Harrison mold. He projects as a starting Z receiver with Pro Bowl potential." – Brugler
4. RASHOD BATEMAN, MINNESOTA
Rashod Bateman was an integral part of turning the Minnesota football program around and balled out during his time there, amassing over 2,300 yards and 19 touchdowns in 2.5 seasons.
Often compared to Stefon Diggs, Bateman is a savvy route-runner who can beat defenders both inside and outside. He possesses strong hands to make contested catches and can get off the line of scrimmage against any defensive back.
COVID-19 (lost 20 lbs) didn't allow him to replicate his monster sophomore year, which saw him post a 60-1,219-11 line (20.3 yards per catch) while playing across from Tyler Johnson.
Rashod Bateman: 46 RECs on 10+ yard throws in 2019

Most in CFB 🥇 pic.twitter.com/8km1L1uSP5

— PFF Draft (@PFF_College) April 22, 2021
Some scouts thought Bateman would run a slow 40-yard dash, but he ended up clocking a 4.43, which should quiet the doubters.
Now fully healthy, Bateman should make some fantasy noise as a rookie and will most certainly put up numbers in the future.
"Overall, Bateman isn't a sudden athlete and needs to improve his finishing skills in contested windows, but he is a good-sized target with the detailed route-running to leverage coverage. He will compete for NFL starting snaps as a rookie." – Brugler
5. TERRACE MARSHALL JR., LSU
The talented Terrace Marshall was forced to play not second, but third fiddle to both Ja'Marr Chase and Justin Jefferson during LSU's dominant 2019 run. However, he still found a way to amass 671 yards and 13 touchdowns on 46 receptions during that time.
The 6-foot-2, 205 lb receiver plays bigger than his measurables, which often showed in the red zone, where he caught 23 touchdowns in only 20 career starts. Marshall ended up opting out of the Tigers' abysmal 2020 season, but still led the team in receiving (48-731-10) in only seven games.
Some may question his overall athleticism, but he recorded two touchdowns of 70-plus yards and another two touchdowns of 50-plus yards last season.
However, separate foot and leg fractures in high school, along with opting out prior to the LSU-Alabama game will give NFL teams a pause on the beastly wideout.
Terrace Marshall Jr.: 59.5 career contested catch %

Best in the 2021 NFL Draft🐯💪 pic.twitter.com/Wa6y9GUnDl

— PFF (@PFF) April 22, 2021
I'm willing to overlook healable injuries and "quitting" during a useless COVID season to rank Marshall higher than the majority of NFL Draft experts and #DraftTwitter. Take a dice roll on the physical receiver and watch him find the end zone throughout his rookie season and in the future.
"Overall, Marshall faces an adjustment period as he develops his separation skills vs. NFL coverage, but he is a field-stretcher who can climb the ladder and give his quarterback a large strike zone. He projects as an inside/outside NFL starter if the medicals check out." – Brugler
6. KADARIUS TONEY, FLORIDA
For a variety of reasons, Florida's Kadarius Toney is one of the most intriguing prospects in the draft.
A series of off-field incidents, a number of injuries, and only one year of production could keep NFL teams away, but the talent and skill-set are off the charts.
Toney's athleticism will never be questioned after he ran a 4.37 40-yard dash and a 6.88 3-cone. He uses his low center of gravity to stop on a dime and break ankles out of cuts. After three years of mediocrity, he put up a 70-984-10 statline and seemed unguardable next to Kyle Pitts.
"He's so electric," Kyle Task said of his former WR. "The cuts he makes are out of this world. I've never seen anybody cover him 1-on-1 and be able to stick with him. It's pretty much impossible."
Florida HC Dan Mullen moved Toney around like a young Percy Harvin, whether it was in the backfield, the slot, or outside.
UF vs Ole Miss is on ESPNU right now and I was just reminded of this silly Kadarius Toney highlight pic.twitter.com/hh49xOAKoI

— Zach Goodall (@zach_goodall) April 27, 2021
If/when Toney puts it all together and if he lands in a creative offense that will utilize his unique skill-set, watch out. I personally won't be eyeing him in re-draft, but he could be something special in fantasy once he acclimates to the league and his new surroundings.
"Overall, Toney is still more of a gadget player than polished receiver (and his off-field and durability will be debated in war rooms), but he boasts the one-step burst, body balance and underrated toughness to be a big-play ignitor. He projects as a versatile NFL weapon on offense and special teams." – Brugler
7. ELIJAH MOORE, OLE MISS
A handful of guys in this class can play the slot, but Elijah Moore might be the best pure slot receiver of them all.
After putting himself on the map in 2019 with 67 receptions for 850 yards and six touchdowns, he became the focal point of new HC Lane Kiffen's offense. In his final season, Kiffen force-fed him the football to the tune of 86 receptions for 1,193 yards and eight touchdowns… in only eight games. He led the nation in catches (10.8) and receiving yards (149.1) per game, and set the school record for receptions.
Although Moore was set up to succeed by dominating the short and intermediate game (jet sweeps, slants, and screens), he also proved to be a precise route runner and a burner (4.35 40-yard dash). It also doesn't hurt that he only had one drop out of 101 targets in 2020.
Elijah Moore: 1,738 yards from the slot since 2019

Ranks 1st in college football🔥 pic.twitter.com/pVgFIu7BWH

— PFF (@PFF) April 25, 2021
Some might say Moore is more of a gadget player, but he could play a Deebo Samuel–esque role in the NFL. This future PPR monster might take a little to find a specific role on his next team, but if he lands in a creative offense, he'll put up numbers.
"Overall, Moore doesn't have the tape of a well-rounded receiver, but he is an athletic and controlled route runner with strong hands. He projects as a flexible chess piece who can be as productive as his volume." – Brugler
8. RONDALE MOORE, PURDUE
If you want to see the most dominant performance maybe by any receiver in this draft class (considering the circumstances), pop in the tape of 18-year old freshman Rondale Moore against No. 2 Ohio State (below).
The 5-foot-8, 180 lb receiver was a consensus All-American… as a freshman at Purdue. In that season alone, he recorded 114 receptions, 1,258 yards, and 12 touchdowns. Although injuries and a COVID-shortened season didn't allow Moore to replicate that special season, he proved right away that he's an electric factory with the ball in his hands.
Moore put defensive backs on skates on the regular and then placed them in a blender after the catch — racking up 906 yards after the catch as a freshman, which is the second-highest in a single season by an FBS wideout over the last five seasons.
Even though he's small in stature, he looks like an action figure under his pads and isn't afraid to lower the shoulder after the catch.
His size, recent injury history, and lack of all-around receiver traits could let him fall to the second day, but Moore should be a best-ball and dynasty target due to his immense play-making ability and upside.
"Overall, Moore is unpolished in areas and needs to stay on the field, but his explosive lower body, play strength and competitive edge are playmaking ingredients. He projects as a starting NFL slot receiver who can be as impactful as his workload." – Brugler
9. TYLAN WALLACE, OKLAHOMA STATE
Some receivers might have a better skill-set or toolbox for the league, but I'll ride with the player who dominated on a yearly basis in Stillwater.
In only 30 starts, Wallace secured 205 receptions for 3,434 yards and 26 touchdowns. Wallace proved he could handle being an alpha for one of the nation's top passing attacks and only had three drops on nearly 180 targets over the last two seasons.
Wallace is especially impressive in the middle of the field, where he fought for the football in traffic and came down with contested catches. He also flourished downfield as one of the nation's top deep ball trackers.
If Wallace's knee can stay healthy (2019 ACL tear, 2020 knee sprain), he'll be a steal for whichever NFL team spends a day two pick on him.
For a player that moved the chains or found the end zone on 74 percent of his collegiate receptions, Wallace will be a future fantasy stud.
"Overall, Wallace has only average size and speed, but he is a route technician with the play strength, body control and catch radius to make plays at every level of the field. He projects as an NFL starter if his knee stays healthy." – Brugler
10. DYAMI BROWN, NORTH CAROLINA
Dyami Brown is facing similar questions that surrounded DK Metcalf out of college, and that's without the muscle-bounding frame (6-foot-1, 190 lbs) or the elite vertical speed (4.44 40-yd dash).
Brown was weirdly only utilized on the left side of the formation at North Carolina and basically only ran verticals and double moves throughout his career. However, he put up back-to-back 1,000-yard seasons and averaged over 20 yards per catch during those two seasons.
He's a big play waiting to happen (five receptions of 50-plus yards last season) and still corralled over 100 balls during his last two seasons while running a limited route tree.
Dyami Brown on "Go Routes" since 2019:

🥇15 RECs (T-1st)
🥇606 Yards (1st)
🥇8 TDs (T-1st)

Is he being underrated? 👀 pic.twitter.com/XpT581vB1D

— PFF Draft (@PFF_College) April 22, 2021
Can a coaching staff utilize his elite quickness and separation skills to improve his limited route tree? Or will he be a one-trick pony who will be the key to fantasy owner frustration for years to come? I think he might be the latter, but the talent is there.
"Overall, Brown isn't as reliable (yet) as Stefon Diggs, but he has similar size, speed and fluid adjustment skills. He projects as a starting-level NFL receiver with the big-play ability to rack up touchdowns." – Brugler
Others to keep an eye on: Amon-Ra St. Brown (USC), D'Wayne Eskridge (Western Michigan), Amari Rodgers (Clemson), Nico Collins (Michigan), Tutu Atwell (Louisville), Seth Williams (Auburn), Simi Fehoko (Stanford), Cade Johnson (South Dakota State), Trevon Grimes (Florida), Jaelon Darden (North Texas),  Tamorrion Terry (Florida State), Marquez Stevenson (Houston)