Player Stock Ticker
2021 Fantasy Football Dynasty Rookie Rankings: Kyle Pitts is the Rookie Tight End King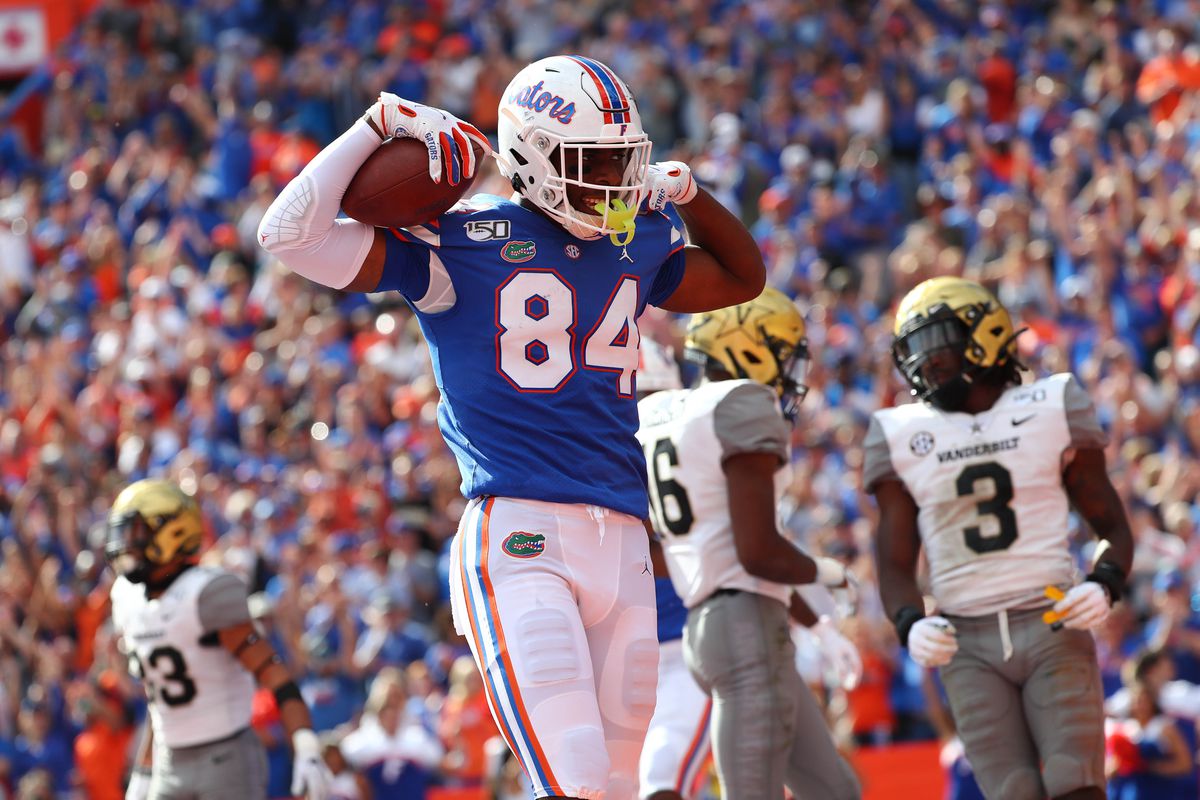 The 2021 NFL rookie tight end class is headlined by the once in a generation type player in Kyle Pitts, but don't sleep on Pat Freiermuth, Brevin Jordan, and Hunter Long as potential future fantasy standouts in the rookie class. It's always tough to judge rookie tight ends in fantasy, but outside of Pitts, there are a few with elite passing game potential.
Outside of Pitts, see which tight ends lead our 2021 fantasy football dynasty rookie rankings, and be sure to keep an eye out for our wide receiver dynasty rookie rankings, which will be unveiled before the 2021 NFL Draft.
Quarterbacks | Running Backs | Wide Receivers | Tight Ends
(H/T to The Athletic's Dane Brugler and his 2021 NFL Draft Guide: The Beast for in-depth scouting reports of 415 players)
1. KYLE PITTS, UNIVERSITY OF FLORIDA
According to Mel Kiper, Kyle Pitts would not only be the No. 1 wide receiver in this draft, but he's the best tight end he's graded throughout his entire 43-year career.
At 6-foot-5, 245 lbs, Pitts was created in a lab to destroy NFL defenses. What's even scarier, is Pitts ran a 4.40 40-yard dash and paired a 33.5 inch vertical at that size. His long arms and elite catch radius (7 ft wing span) eases life for his quarterback and his hands improved from 2019 to 2020 (six drops to zero drops).
"You saw him run routes like a wide receiver, you saw him block in line, you saw him run the seam, you saw him make contested catches," Mike Renner, Pro Football Focus, said to the NY Times. "You've seen everything that the guy is going to do in the NFL"

Pitts skipped his senior year but still shattered the Gators record for receiving yards by a tight end with 1,492.
If one thing is certain, he'll absolutely destroy opposing safeties and he'll quickly be one of the league's most significant mismatches. He can line up in the slot and on the outside, and played under Dan Mullen at Florida, who notoriously asks a lot out of his tight ends.
All-in-all, Pitts will soon become fantasy's next cheat-code at the tight end spot.
History tells us that year-one is not always generous to tight ends, but Pitts has a chance to change the past in 2021. From a dynasty perspective, the former Gator is a no-brainer.
"Start at a high level and keep increasing every year and being able to do other things that other tight ends aren't doing," Pitts said about himself. "I feel like I'll be the best to ever do it."
Pitts will be in the elite tight end tier in the very near future.
"Overall, Pitts boasts special athleticism to separate in coverage and the elite pass-catching skills to be a mismatch playmaker similar to Darren Waller. He projects as a unique "move" tight end and one of the best talents in this draft." – Brugler 
2. PAT FREIERMUTH, PENN STATE
Entering the 2020 campaign, "Baby Gronk" was 1A or 1B to Kyle Pitts. But after missing his final five games to injury and Pitts playing like an absolute alien, Freiermuth is now locked in as TE2 of this class.
But just because the former Nittany Lion is TE2, it doesn't mean he's not a baller.
Standing at 6-foot-5, 250 lbs, Freiermuth caught 92 balls for 1,185 yards and 16 touchdowns — in only 26 career starts. Furthermore, his reliable mitts only dropped three catchable balls (out of 99 targets) over his final two seasons.
What stands out the most is Freiermuth's toughness both before the catch and after the catch. He craves contact and loves to bully defenders (see below).
Penn State's Pat Freiermuth is a bully, probably best to just get out of his way.pic.twitter.com/q8KdQYcwNa

— Austin Gayle (@PFF_AustinGayle) June 4, 2020
Thus, Freiermuth is the total package at tight end and he'll be a long-term starter at tight end. He's electric to watch and most importantly, he'll be electric on your fantasy roster.
"Overall, Freiermuth doesn't have the overwhelming traits, mainly as a blocker, to live up to the "Baby Gronk" moniker given to him in college, but his athletic, competitive and dependable play style is why he projects as a high-floor NFL starter." – Brugler
3. BREVIN JORDAN, UNIVERSITY OF MIAMI
Brevin Jordan terrorized opposing defenses as a slot mismatch during his three years as a starter at the U. Jordan recorded 1,358 receiving yards and 13 touchdowns on 105 career catches and was a terror for opposing defensive backs to cover.
Moreso, all he did was move the chains. Fifty-two of his 73 receptions over the last two seasons gained first down yardage and his 365 yards after the catch led all college football tight ends in 2020 — including Pitts. Miami's array of average QBs also targeted the seam stretcher 13 times on "money downs" (third or fourth down), which resulted in nine first downs or touchdowns.
Although he isn't a mauler in the ground game, Jordan blocks well on the perimeter and is a solid lead blocker if he's asked to do so.
My favorite part of the interview with Miami TE Brevin Jordan was asking him what type of TE he is.

"You can put me in-line on a DE or LB and I'll get it done. I also can be out wide and play in the backfield."

The Week 0 game against Florida last season is a great example. pic.twitter.com/8LXAKvVF0A

— Jordan Reid (@Jordan_Reid) June 26, 2020
On top of his receiving and YAC chops, Jordan's effort as a blocker will get him on the field in no time. The former Hurricane should make a decent fantasy impact in 2021 and has some real dynasty upside looking forward.
"Overall, Jordan needs to become more detail-focused as a blocker and route-runner, but he has the athleticism and ball skills to be a three-level pass-catching threat. He projects similar to Irv Smith as a "move" tight end prospect." – Brugler
4. HUNTER LONG, BOSTON COLLEGE
Hunter Long is a reliable and consistent pass-catching tight end who possesses similar measurables to the great Jason Witten. Long led all tight ends with 57 receptions in 2020 and added 685 yards and five scores to his second-team All-American resume.
Long is extremely reliable in the passing game and only dropped four of his 101 catchable targets over the last two seasons.  After blocking for his first three years in Steve Addazio's prehistoric offense, he was asked to line up inline and in the slot in Boston College's new pro-style offense — where he shined in 2020.
Long isn't going to break ankles as a route runner, but he's smooth, finds ways to get open, and uses his big catch radius to corral passes.
Long should get early playing time and could be a real red zone weapon for a tight end-needy team. His pass-catching and fantasy upside are there to be a weekly fantasy fixture in the future.
"Overall, Long isn't a dynamic athlete, but he is a functional blocker and smooth pass-catcher with the reliable hands to quickly earn the trust of his quarterback. He projects similar to an Austin Hooper-style tight end." – Brugler
5. TOMMY TREMBLE, NOTRE DAME
Tommy Tremble did a little bit of everything as a three-down tight end in South Bend. He'll make his money in the NFL as a savage run blocker, but that also means he'll see a lot of snaps in both the run and the passing game. Stuck behind a handful of solid tight ends throughout his career, led by Cole Kmet in 2019, Tremble was unable to put together a prolific pass-catching season, but he definitely made his mark in a big way.
"Tremble was an elite blocker for the Irish this season, and there isn't another tight end on the roster that brought anywhere close to the value he brought in the run game," explained Bryan Driskell of Sports Illustrated.  Tremble was rarely targeted in the pass game, but when he was he was effective. He has a unique combination of power, athleticism and speed."
"The story with Tremble was more about what he could have been if used properly, and now Notre Dame won't get a chance to see what it could have done with him in the pass game," Driskell continued.
Here is a video of Tommy Tremble making plays in the passing game, if you are interested in that via @sharpereview pic.twitter.com/54PNARlAUv

— Marcus Mosher (@Marcus_Mosher) February 18, 2021
Tremble only caught 19 passes for 218 yards in 2020 after hauling in 16 passes for 183 yards and four touchdowns in 2019. But, his all-around ability will find him on the field early and often. He's a solid upside dynasty stash at 20 years old.
"Overall, Tremble is unrefined in areas as he was underutilized as a passing target in college, but he is an ascending talent and displays the point-of-attack skills to be an asset as a blocker. He will be a better pro than college player as he continues to develop." – Brugler
Others to keep an eye on:  Jacob Harris (UCF), Kenny Yeboah (Ole Miss), Ben Mason (Michigan), Tre' McKitty (Georgia), Tony Poljan (Virginia), Zach Davidson (Central Missouri)