Player Stock Ticker
Cam Newton's Intriguing 2021 Fantasy Upside After Patriots' Aggressive Free Agency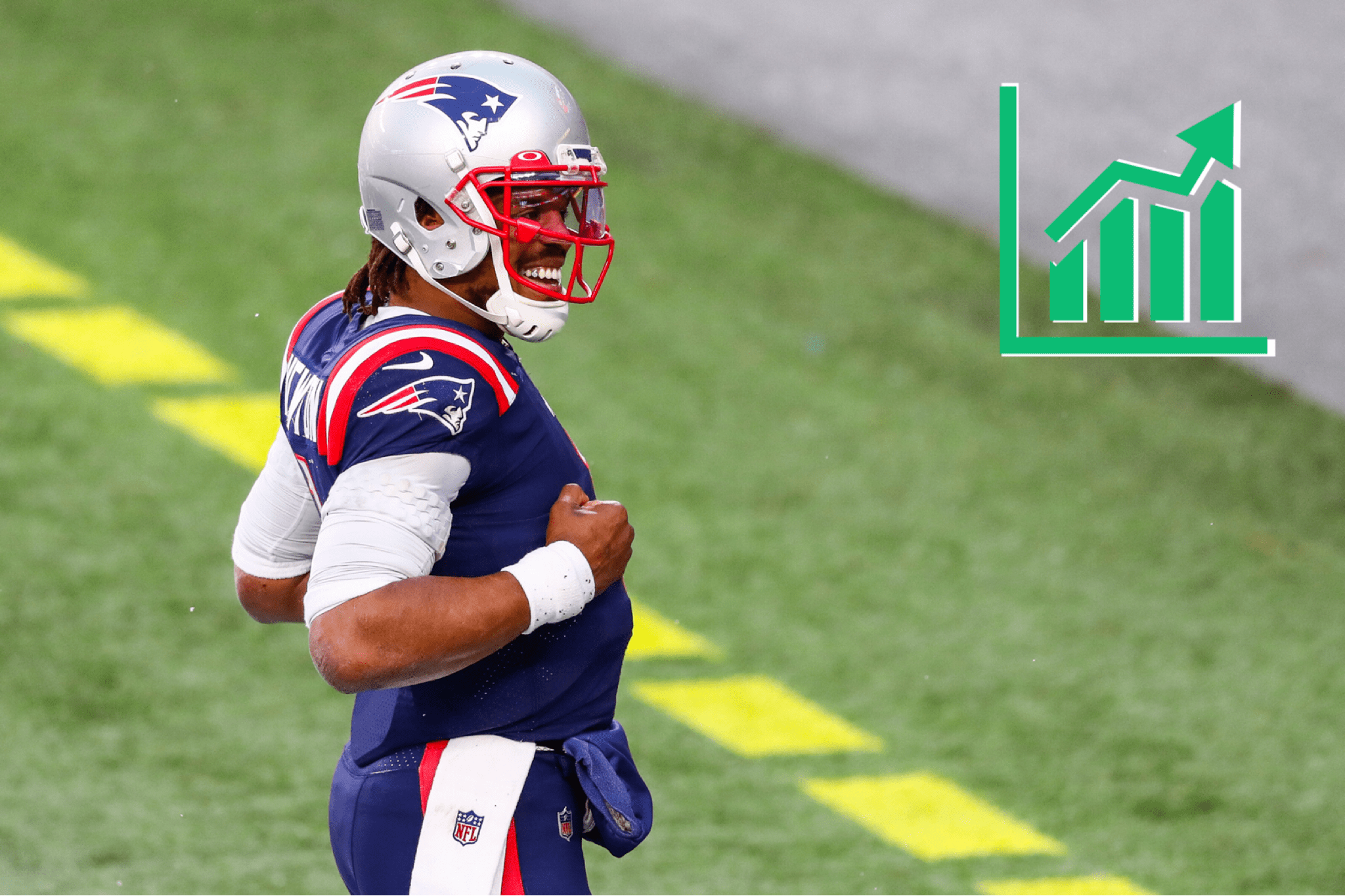 If you're in your mid-20's, all you've known your whole life in the NFL world is Brady-Belichick-Brady-Belichick-Brady-Belichick, to you, the dynasty saturated your past and your present. If you're in your 50s, maybe 40s, you certainly know some pre-Brady-Belichick Patriots teams. But if you're in the middle, like me, you saw Tom Brady's emergence in real-time just as the NFL world was evolving from child-like awe to something more invested and detailed as a teenager.
Maybe you watched Ohio State football, and hated Michigan, because Michigan sucks, watching some scrawny, awkward guy backing up star Wolverine QB Drew Henson. And maybe you had no idea how bad it would sting as a Browns fan, to not only see your city have to restart a franchise from scratch because the previous one decided to win its Super Bowls in Baltimore but then, the coach that was there before the move, Bill "I really screwed that thing up in Cleveland, Ernie" Belichick takes a shot on this scrawny, awkward backup from stupid Michigan while your team hitches its boat to Spurgeon Wynn.
And all you can do is bitterly watch as the success of Brady-Belichick never… goes… away… eating away at two decades of your best adult years.
And then suddenly…it stops. The dynasty's foundation splits. The scrawny, awkward kid wins a championship somewhere else and you actually feel… happy for him. You recognize that it's time to give respect where it's due. This, as Bill goes 7-9, trying to revive the career of a QB who's become a shell of his former MVP self in Cam Newton.
7-9…what is this? Something in the universe is off here. 7-9??????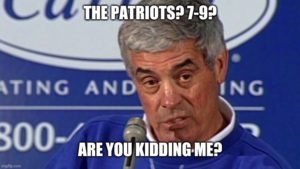 And the Browns won a playoff game? The hell is going on?! This isn't the world I've come to know so well…and by god, does that make it intriguing. If you've followed the NFL, the New England Patriots in 2021 have got to be intriguing just about no matter what age you are, or what team you root for.
Bill Belichick has fueled that intrigue more than anyone else, as he's been one of the busiest in the first few weeks of 2021 free agency. As of this writing on April 2nd, the Patriots' 31 acquisitions are tied with the Las Vegas Raiders for second-most acquired/re-signed players, behind only the Houston Texans' ridiculous 32.
Those players are:
OT Trent Brown (via trade w/Raiders)
TE Jonnu Smith
DT Davon Godchaux
DB Jalen Mills
LB Matt Judon
WR Nelson Agholor
WR Kendrick Bourne
DE Henry Anderson
TE Hunter Henry
C Ted Karras
LB Kyle Van Noy
DL Montravius Adams
LB Raekwon McMillan
LB LaRoy Reynolds
Re-signed
QB Cam Newton
RB James White
C David Andrews
DT Lawrence Guy
DE Deatrich Wise
S Justin Bethel
K Nick Folk
Before even having a single thought about what kind of team Belichick is trying to build post-Brady, tight ends Hunter Henry and Jonnu Smith jump off the page. Immediately, flashbacks emerge of the days of Gronk and Aaron Hernandez — and the intrigue continues on.
Is the next great one-two punch at TE really what Belichick is going for? Let's not forget that we got a Wikileaks-style insight into Belichick's mind when Daniel Jeremiah tweeted out this priceless gem:
I think you'll enjoy this… We were given this handout during a scout school from my time with the Ravens. Coach Belichick has held true to almost all of this over the years. pic.twitter.com/pWB3oqo5JU

— Daniel Jeremiah (@MoveTheSticks) March 31, 2020
I apologize in advance for all the early 90's Browns players I'll be referencing, as Belichick did in this gameplan for success in 1991.
Back To Tight End Greatness?
For tight ends, the Ozzie Newsome-types "#1 [have] to be a catcher", and Bill will "take what we can get from [them] on the blocking." The latter part makes a lot of sense, since Pro Football Focus ranked Henry and Smith 47th and 65th, respectively, out of 71 qualifiers in pass-blocking. These "6'3, 235 [pound] minimum type" guys have the natural size to "just [get] in the way and tie up" for all Belichick's looking for in the blocking game.
Run-blocking was better, with Henry ranking 17th and Smith 34th. And with Smith and Henry ranking 10th and 26th in receiving, their collective value in that area clearly reflects Belichick's priority in having receiving TE's, a role that no TE's on the Pats' roster could seem to fill in 2020.
Furthermore, Bill indirectly admits to finding his "good measure" in a tight end's ability "with the ball after the catch," a trait he assigns to Jonnu as "probably the best in the league" during a press conference before the Pats' 2020 playoff game vs the Titans (you can skip the lip-smacking and find it at the 7:50 mark).
Deciphering The Plan At Offensive Line
In '91, Belichick was willing to sacrifice a bit of athleticism for size, since a "quick five-step passing game" was the design. It's hard to argue that that's changed much since the Pats have ranked the same or higher in run blocking than pass blocking since Pro Football Focus began grading offensive lines in-depth for all 32 NFL teams in 2006. And while New England's pass-blocking grades have been all over the place in that time, run blocking only ranked below 15th in one of those seasons, with 11 seasons finishing in the top-six.
New England lost a starting tackle and starting guard this offseason, and intuition says that's a recipe for instability. But first, by "starting tackle," I mean a guy who would've been starting if not for opting out of the 2020 season, in Marcus Cannon. Cannon got shipped off to Houston, and a big reason, if not THE reason for that, was the play of sixth-round rookie Michael Onwenu, who filled in most of the year at right tackle and greatly exceeded expectations, despite not playing that position at all in college.
Of all the moves Belichick's made so far, the only player he's acquired through trade is tackle Trent Brown, who spent a year sabbatical with the Raiders before returning to New England. Brown's arrival can allow Onwenu to play the guard position he'd been previously accustomed to, and it softens the blow of losing guard Joe Thuney, who signed with the Chiefs.
Along with Brown, center Ted Karras was another one of three players (along with LB Kyle Van Noy) that returns to New England as Bill gets the ol' band back together. The re-signing of center David Andrews allows Karras' return to provide nice depth along the o-line interior, and so even after losing starter-caliber linemen in Cannon and Thuney, this unit could potentially not miss a beat. Still, I'm trying to figure out if the "slightly dumber" offensive linemen Belichick's willing to work with was just a 1991 thing.
O-Line Stability to Set Up a Consistent Ground Threat
If you got too caught up in the Pats' struggles last season, you might've missed how dominant Damien Harris was with the ball in his hands. He averaged a stellar 5 yards-per-carry, and when we look back at Belichick's 1991 recipe for success, the way Harris did it looks like no accident.
"[Kevin] Mack is ideal, tuff inside, [north/south] guy, has enough to bounce it outside, has to be able to step up & take on the blitz"
Harris was a serviceable 4.2 yards-per-carry when bouncing it outside the tight ends last year, but much of his damage was dealt running north/south, up the middle.
Damien Harris 41 yard run #GoPats pic.twitter.com/qpbJbJRkSu

— Roto Street Journal (RSJ) (@RotoStJournal) October 6, 2020
And a big part of his 2nd-highest ranking for RBs by PFF was his 5th-highest pass blocking ranking for the position.
New England backs can be hard to trust in fantasy because Bill utilizes three, sometimes four of them. His "3rd down back like [Eric Metcalf]" in James White returns for another season, and as usual, it's wise to keep tabs on every Patriots' back. Harris has shown enough that it'd be no surprise to see him carve out a primary role, but you never know what might happen with guys like Sony Michel and JJ Taylor.
No matter the exact usage these backs see, the ground game is in position to be a strength. In particular, it's set up to "make defenses defend the middle of the field first" the way that Bill's '91 gameplan idealized.
Of course, we all know it's not technically a running back keeping Damien Harris from being a workhorse.
Implications of Cam Newton's Return
In ten games last year, Harris had 137 carries. Newton had as many carries in his fifteen games, two less than his career-high in 2017. And so, with the intrigue of Bill never coaching a player like Newton before, we see a clear adaptation of coaching style to a player, and a healthy Cam whose rushing ability shows no sign of being held back.
The Pats brought back Newton for one year, $5 million guaranteed with incentives that could make it up to $14 million. It's a contract that former NFL GM Mike Tannenbaum said offers "a ton of flexibility" so that he's paid "a reasonable salary as a starter or backup."
It isn't a deal that screams confidence in Cam, nor does it tell him to enjoy holding a clipboard all year. In fact, it gives absolutely zero help in trying to figure out if Newton will be starting this season. In-tri-guing. Maybe we can go back to Bill's '91 blueprint for some more clues, check the QB section. How 'bout that last line, "QB has to be able to throw the ball with accuracy".
Newton? Accuracy?………bruh?
Indeed, if Cam stuck to his career average 59.6 completion percentage it wouldn't have ranked in the top 32 starting QBs last season. But, his first year in New England saw his second-best completion percentage of his career, 65.8. That was better than Tom Brady's 65.7, by the way.
Let's go back to the '91 blueprint. That first line, "#1 is to make good decisions", is another line that isn't synonymous with one of the more turnover-prone QB's in the league. Newton couldn't buck that trend last season, throwing INTs on 2.7-percent of his throws, the same as his career average.
Not counting his 2019 season where he only played two games, Newton never had a year throwing fewer TDs than INTs, until last year's 10 INTs to 8 TDs.
Addressing the Wide Receiver Core
Say what you want about the lack of receiving weapons, Jakobi Meyers and Damiere Byrd got decent separation from defenders. According to Next Gen Stats, the yards of separation-per-catch for Meyers (3.4) and Byrd (3) compared to Davante Adams (3.2) and outdid guys like AJ Brown (2.4), Allen Robinson (2.3), and DeVante Parker (1.7). Also, Jakobi had a healthy 72.8-percent catch rate, good for 19th among receivers.
However, this team had a red zone problem. If not already evident by Cam's mere eight TD throws, New England's 4th-worst scoring offense was driven in large part by their 9th-worst red zone TD scoring percentage.
The Athletic's Jeff Howe highlights Belichick's attempt to right this wrong in particular, and not just with his TE signings. Newcomer Kendrick Bourne has 11 career receiving touchdowns, ten of them from inside the 20, as a "lightning-footed, possession-style receiver who should take advantage of defenses that place their priorities elsewhere."
Fellow newcomer Nelson Agholor is no stranger to red zone scoring either, with thirteen scores from there since 2017. He also brings an element of versatility, with eight of his 26 career TDs going for over 40 yards, and as SBNation's Bernd Buchmasser highlights, "among the NFL's 107 players who caught more than 40 passes in 2020, no one had a higher yards-per-catch average than Agholor's 18.7."
So… Will it be Cam Under Center?
When the Patriots re-signed Newton, they left the door open for someone else to possibly take the starting job, as Tennenbaum recently stated.
If Cam gets beat out by a rookie, consider the following. I think it's safe to assume that NFL players and coaches have such a better grasp of the game than we the common folk do that when we get their perspective, we should probably yield to it.
For example, take this article, which debated who would be a better fit for the Jacksonville Jaguars, Hunter Henry or Jonnu Smith (before they signed, obviously). It has amusing one-liners, like "they'll only sign one though."
Particularly… intriguing… is Henry's comments about where he'd prefer to sign next:
"Playing with a good quarterback always makes things better," Henry said. "You gotta look at both. You gotta look at some of the financial stuff, but not dive too deep into it that you go chasing it because I also want to play with a good quarterback."
It seems pretty clear that Hunter's decision to sign with New England was about more than money and you won't convince me that it's about whatever quarterback he might think the Patriots draft.
No insight about what people who should have better judgment than us about Cam Newton is more valuable than, who else, Belichick's. His biggest quarterback decisions have been nothing short of news-worthy. And how did they turn out? Well, he was clearly right to bench 100 million dollar man Drew Bledsoe for Tom Brady. And when he cut Browns' hero Bernie Kosar in mid-season '93, guess what? Bernie, ultimately, said he was right.
Belichick cut Kosar to roll with a thing called Todd Philcox, with 12 career NFL passes and a guy this Browns fan didn't even know about until I read it like five minutes ago. If Newton's skills are truly diminishing, would Bill even bother bringing him back?
Belichick took his own advice from '91 and was "aggressive on all fronts." Now, Cam will get to shoot his shot at least, and I for one am very, very…well, you know.
The Wolf intriguingly has Cam as his QB20 (+3 vs ECR) in the 2021 Fantasy Football Rankings And Big Board. That's behind names like Ryan Fitzpatrick, Ben Roethlisberger, and Carson Wentz. Does Cam click with Bill in year two? And if so, where do you think he ranks among the 2021 fantasy quarterbacks?