Player Stock Ticker
Clyde Edwards-Helaire 2021 Fantasy Outlook Reinvigorated After Damien Williams Release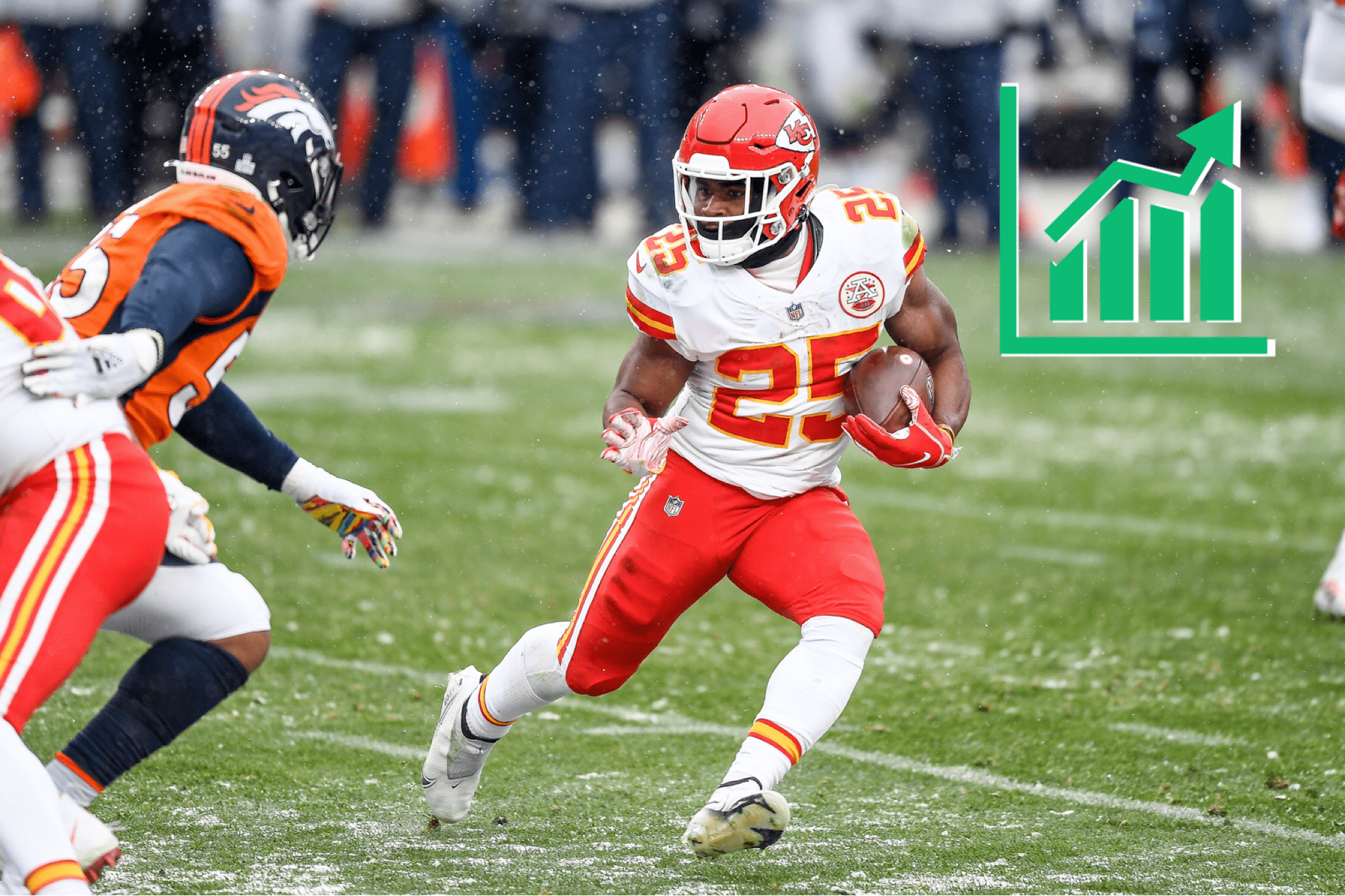 From Kareem Hunt, to Jamaal Charles, to Larry Johnson, to Priest Holmes…the Kansas City Chiefs' recent history of running backs has been one of the richest in the NFL. The team made solid producers and frequent fantasy starters out of backups when called upon, like Charcandrick West, Spencer Ware, and Damien Williams.
News of the latter's release creates a complicated situation for many, in what to do about Clyde Edwards-Helaire for the upcoming 2021 fantasy season.
The magic that has happened for so many recent KC running backs didn't happen for CEH in 2020. His 13.5 PPR ppg were low-end RB2 numbers.
Not many, if anyone, projected fellow Chiefs running back Darrel Williams to carve out as much of a role as he did, as Williams returns for 2021 on a one-year deal. But even then, Darrel only saw 26.5 percent of the snaps between the two. That's hardly a reason to account for CEH missing out on his own hype train.
The Chiefs really must've abandoned the run this past season. Right?…
Chiefs Run Play Percentage Under Andy Reid, By Season:
2020 – 38.1
2019 – 38.4
2018 – 38.9
2017 – 41.1
2016 – 41.6
2015 – 45.7
2014 – 43.7
2013 – 43.0
2018 was the season Patrick Mahomes replaced Alex Smith as the starter for Andy Reid's Chiefs. The corresponding drop in run play percentage clearly correlates with Mahomes' ability to succeed slinging the rock. But, offenses run roughly 1,000 plays during an NFL season, and the difference between 2018 and 2020's run play percentage is only around eight plays-per-thousand. Kareem Hunt played at the RB8 pace in '18. So, that ain't it.
CEH's 4.2 targets-per-game isn't a crazy high number, per se, but the only years where a back saw more targets in the Reid era are when Jamaal Charles did it in 2015, and when Charles and Dexter McCluster did it in 2013.
So then what kept an exciting rookie, whose coach even eluded to as an elite talent, stuck in fantasy mediocrity?
The Impact of Chiefs' Backfield TD Regression
Chiefs backs scored 13 TDs on the ground in each 2018 and 2019. That number was just eight in 2020.
Hunt led the charge with seven out of the twelve receiving touchdowns by KC backs in 2018, while Damien Williams' two TDs in 2019 accounted for half of the KC backs' scores through the air that year.
The CEH-led backfield more resembled 2019, with Edwards-Helaire scoring one of the only three receiving touchdowns by KC backs.
The difference between 25 total touchdowns by KC running backs in 2018 and the eleven accounted for in 2020 is 84 fantasy points, equivalent to 5.25 ppg. If CEH gets just half of the scores that make up that difference (seven out of 14), he moves from 2020's RB22, to the RB11.
An Inconvenient Truth
The Chiefs didn't get stellar running back production last season. Yet, they still made another Super Bowl run and finished with their best record in franchise history. The offense kept humming along, despite leaning more and more toward the passing game.
KC, perhaps more than any team in the NFL, just hasn't needed to count on their backfield to carry them. But, there are pathways to higher running back usage for 2021, not the least of which is their offseason situation at offensive line.
An O-Line in Flux
Kansas City and general manager Brett Veach have the challenge of replacing three starting offensive linemen. Granted, they've mostly created the challenge themselves. They released both tackles Eric Fisher and Mitchell Schwartz, and reportedly aren't likely to re-sign center Austin Reiter.
Fisher and Schwartz's absence due to injury were felt during the Chiefs' 31-9 loss in the Super Bowl. Filling that void isn't a guarantee. Add to that the prospect of losing the anchor role that a center plays on the O-line, and the entire Chiefs offense could potentially be thrown off.
Tackle Lucas Niang has shown promise in workouts while opting out of his rookie season, but that means he still hasn't seen an NFL snap.
Former Patriots guard Joe Thuney was a nice free agent signing, but guards aren't typically tasked with fending off opponents' best pass rushers.
Offensive lines normally need time to gel, and all the personnel movement on KC's O-line isn't good for getting in sync quickly.
It was no secret that the Chiefs' Super Bowl gameplan was to get the ball out quick, and they still had a very difficult time doing it. If that game was a snapshot of next season, then the liability of the O-line will force KC to scheme quicker decisions. And quicker decisions mean fewer deep shots, and deep shots were on Mahomes mind a lot last season. Even as PFF gave their final 2020 grades for offensive lines, they made sure to mention that 53 quarterback pressures that the Chiefs received were Mahomes' responsibility, not the line's. No other QB was responsible for more pressures received.
The Chiefs backfield is a clear beneficiary of more looks this season if the offensive line forces quicker throws from Mahomes.
Other Possibilities
If future defenses sell out even more than before to try to contain Tyreek Hill and Travis Kelce, maybe that leaves more space for a player like CEH to work and build off his rookie production.
Maybe another year under Andy Reid will get CEH some trick plays of his own, like say, "Catching Clyde"?
Conclusion
A repeat of 2020's production is glaring as Edwards-Helaire's floor this upcoming season. That's granted the Chiefs don't add any notable names.
Any possible sign of positive TD regression will be a welcome sight for CEH stockholders in an offense that's still set to be a points factory.
For 2021 drafts, CEH is a prime candidate to be a back who you won't need to reach for but still has some legitimate top-5 fantasy potential at his position.
Andy Reid doesn't have a recurring history of so-so running back production…
In 12 of the last 15 seasons, Andy Reid's RB1 has finished top-eight among running backs in fantasy points per game.

— Scott Barrett (@ScottBarrettDFB) September 2, 2019
And history tends to repeat itself…
Prior to CEH, LeSean McCoy was the highest-drafted rookie RB under Reid.

His Rookie / Soph. Szns:

195 touch (40 rec), 945 YFS, 4 TDs /
285 touch (78 rec), 1672 YFS, 9 TDs

Could mean absolutely nothing. Could mean a lot. Regardless, I'm buying Helaire hard.

— Wolf of Roto Street (@RotoStreetWolf) March 23, 2021
The Wolf's 2021 Fantasy Rankings reflect his enthusiasm, as Clyde currently sits as the RB13, +6 vs ECR