Player Stock Ticker
2020 Fantasy Football Strategy: Week 17 Buy Low, Sell High Using Expected Fantasy Points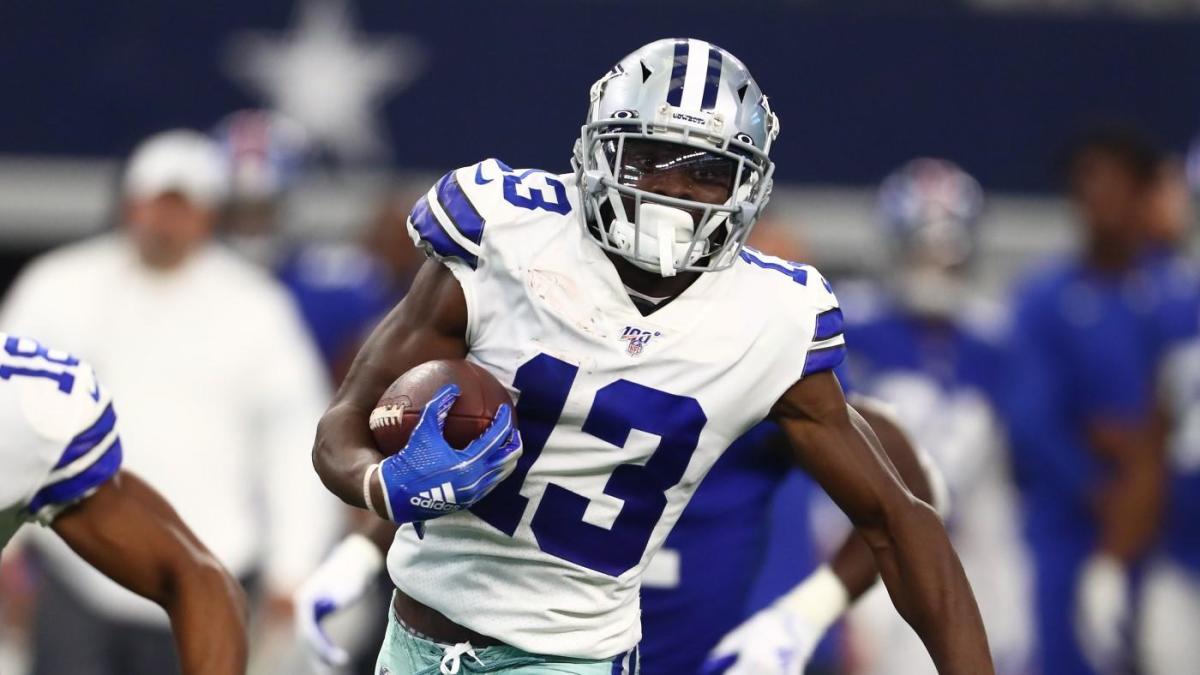 Welcome to the Week 17 Expected Fantasy Points Report! If your league has a Week 17 championship, you might be scrambling as the Chiefs and Steelers have announced they are resting players including Patrick Mahomes and Ben Roethlisberger. A few other teams could also rest key players, but don't worry. Below, you can find some emergency options to help replace any starter.
If your league is finished, you can still use expected fantasy points to help with Week 17 DFS and 2021 prep. Next week, I will recap the fantasy season and suggest players who are likely to be under/overvalued next year, so be on the lookout for that!
If you have any questions or feedback, let me know @RSJ_Jackson on Twitter!
All data in this article uses full PPR scoring. A sample of the data through Week 16 is pictured. The PDF hides the weekly data for Weeks 1-11 to save space, but all data is still factored into the season averages. For the full data, click the links below.
**DOWNLOAD THE EXCEL VERSION!**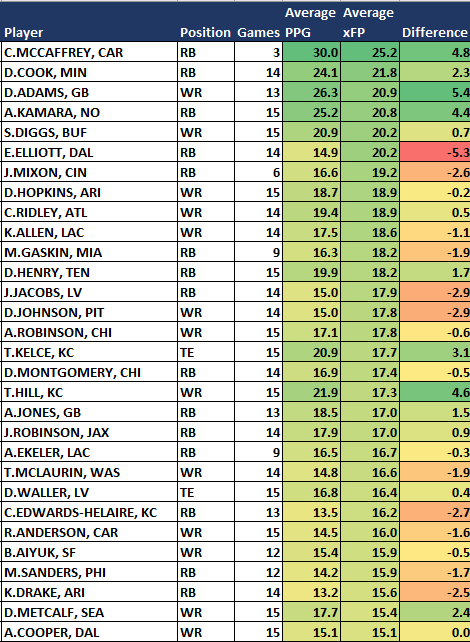 Expected Fantasy Points
I built the model based on a metric called Expected Fantasy Points (xFP). A player's xFP is calculated based on the value of each target or carry, using historical data attributes that correlate highly with actual fantasy points scored. You can find a more detailed breakdown of how this works here.
Expected Fantasy Points essentially show what an average player would have done with the opportunities seen by any given player. We can then subtract the player's actual fantasy points scored to arrive at the difference, a key metric.
How to Interpret Expected Fantasy Points
The difference between expected and actual fantasy points comes from two sources:
Talent/Situation
We would expect the most talented players in the NFL to score more fantasy points than their expected fantasy points. That's pretty obvious since xFP is based on the averages of all players. Also, a given coach or scheme might lead to a sustainable difference in actual over expected points. A carry in Kyle Shanahan's offense will typically produce more points than a carry in Adam Gase's offense. A carry behind an elite offensive line would be more valuable than a poor one.
These are all sustainable ways for a player to consistently outperform or underperform their expected points. Because of these differences between players, we should not assume that the difference between expected and actual points will always regress to zero. In other words, don't blindly buy any player with a negative difference. Don't sell every player with a positive difference.
Luck
The main reason to use expected fantasy points is to identify players who are experiencing very bad or very good luck. Unlike the previous differences, luck will even out over a long period. We want to buy players who are having bad luck and sell players who are having good luck.
Separating differences that are sustainable from differences due to luck can be tricky. It's not an exact science. However, most players will score within a few points per game of their expected fantasy points for the season. The players with the largest differences are the ones most likely to be benefitting or suffering from luck.
Week 16 Expected Fantasy Points Leaders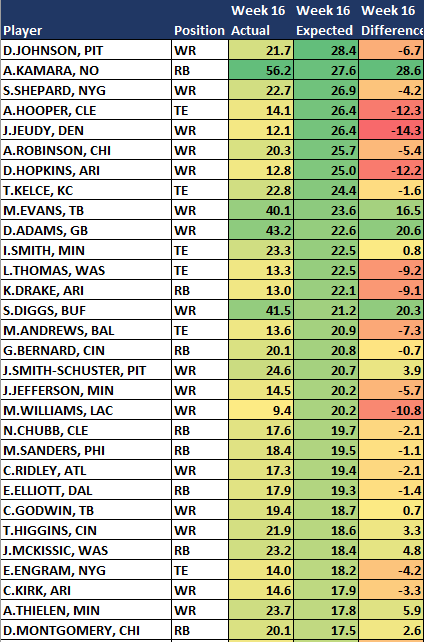 Emergency Options for Week 17
At this point in the season, you probably have a good idea of who you want to start. However, you should still prepare for the unexpected.
Running Back
Like last week, emergency running back options are looking pretty thin. Current starters Giovanni Bernard and Jeff Wilson Jr. are still available in over 30% of ESPN leagues. First, make sure they are not available in your league if you need a running back.
Gus Edwards is playing about half of the snaps for the Ravens and turned 15 carries and two targets into 15.5 xFP and 14.3 PPR points last week. Last week, Edwards out-touched JK Dobbins 17 to 12, and looked great putting up 122 all-purpose yards. He's going against the Bengals in Week 17, so the Ravens should be able to run the ball and put up points.
If Edwards is gone, I would pay attention to injury reports and inactives and take a chance on a guy who appears to be in line for the majority of touches. Right now, not many teams have indicated who will sit in Week 17, but a few guys will likely emerge later in the week.
Wide Receiver
Like last week, I don't see too many available receivers I would be thrilled about starting, but if you find yourself in a pinch, I suggest looking at Sterling Shepard or Michael Gallup.
Shepard pulled in 9 of his 12 targets in Week 16 for 77 yards and a score. He finished second among all wide receivers in xFP with 26.9 in Week 16, but he did sustain a rib injury. Assuming he can play, Shepard is averaging 7.3 targets per game this year and has a relatively decent floor.
Gallup was left for dead by fantasy managers early in the year but has quietly been solid recently. He caught 6 of 8 targets in Week 16 for 121 yards and 2 touchdowns and is averaging a healthy 7.4 targets over the past five weeks. Gallup leads all Cowboys receivers in both PPR points per game (15.5) and with xFP per game (14.2) over that stretch.
Hopefully, you have a lineup full of studs and don't need to rely on any of these guys. But if you find yourself in a pinch, one of them could help you bring home the title!