Player Stock Ticker
Baker Mayfield, Mitch Trubisky Top Fantasy Week 15 Waiver Wire QB Streamers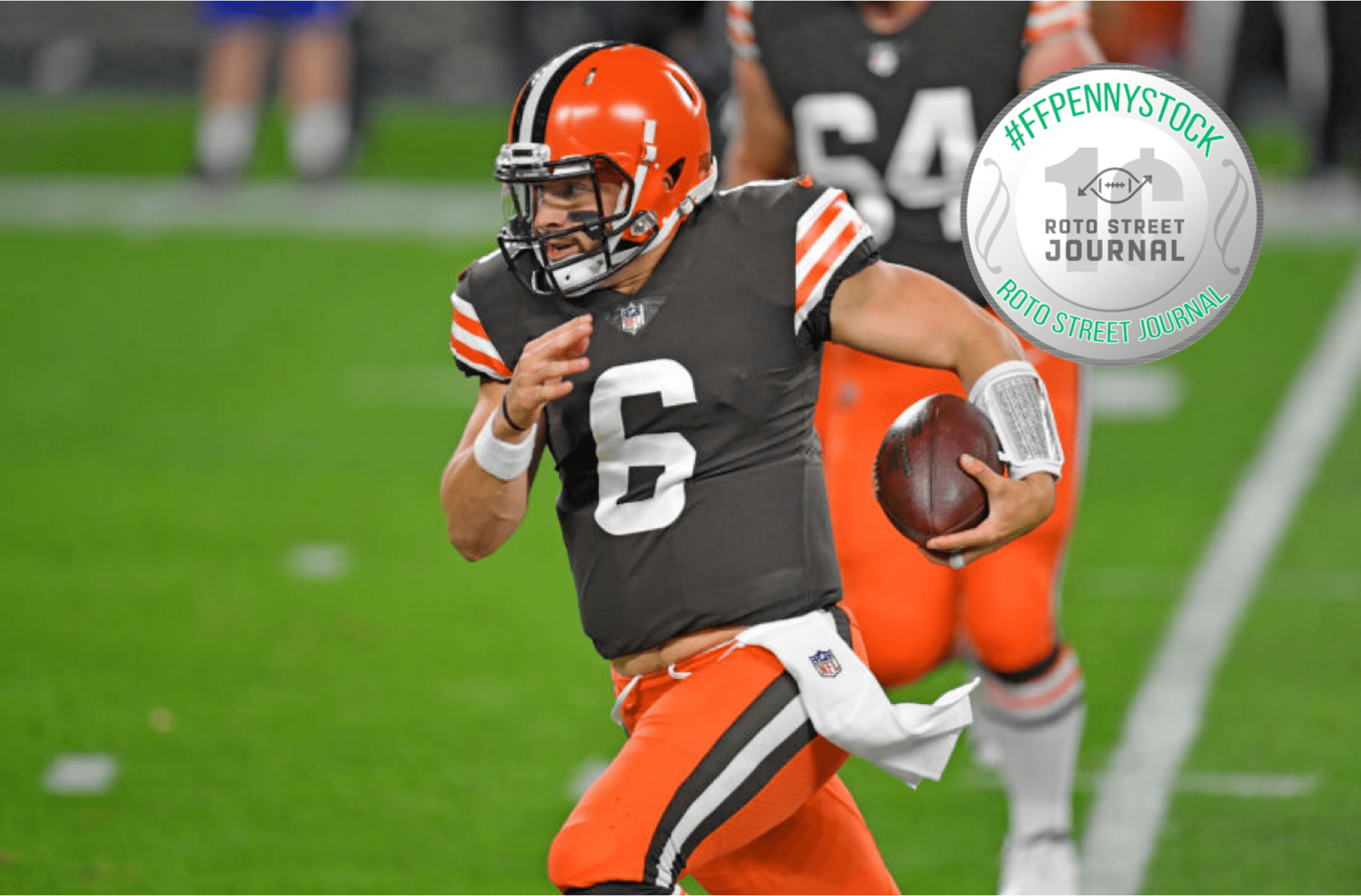 With the fantasy playoffs in full swing this weekend, each move has to be calculated and every roster spot has added value.  The most valuable position for me these coming weeks is the QB spot – an interesting take for sure, but production around the 30 point mark this late in the season is only really found in guys that can throw it around.  And believe me, the difference between 15 points and 28 points at the top of your lineup WILL make or break your games. 
If you drafted a QB early like Pat Mahomes or Aaron Rodgers, then there likely hasn't been any changes to your top guy.  However, if you gambled on Dak Prescott or Drew Brees, or have even gone the streaming route and rolled with Ryan Tannehill, Tua, or even Taysom Hill, then you've sweated out the last few weeks. 
If that is the case for you, or you had a tough day from guys like Tom Brady or Justin Herbert, perhaps it's time to stream a bit off the Fantasy Week 15 Waiver Wire at the QB position.
Baker Mayfield
(29% rostered)
In what has been considered the best game of the year so far, Baker Mayfield dazzled but came up just short against last year's MVP in a close divisional game on Monday Night Football.  Baker ended with 343 passing yards, three total touchdowns (plus a 2 point conversion), and even added 23 ground yards, culminating in a tasty 30.02 points. 
This marks the second week Baker passed for more than 330 yards, and it hasn't really slowed down Cleveland's ground game.  Plus, he seems to be taking care of the ball enough, with only two turnovers in his past three games, and only one interception in the past six games. 
These types of numbers put Baker in interesting territory for the fantasy semifinals, as he comes in at QB17 on The Wolf's Rest of Season Big Board. Mayfield gets the Giants in Week 15.
Mitch Trubisky
(25% rostered)
I really want the Bears to be good.  I really want Mitch to be good, but with their current roster, there's really no hope for him or anyone on the roster with its current offensive makeup.  All that being said, after the Bears pissed away a 5-1 start, lost six straight, and blew any shot to make the playoffs most likely, Mitch Trubisky has finally been playing like a respectable fantasy quarterback. 
Remember last year when he was one of the preseason favorites in Vegas to win MVP?  Sorry to all those futures bettors who liked their odds there.  Even after being benched in Week 4 (where the Bears were 3-0, I may add), Trubisky has come back and played a solid QB the last two weeks. 
Throwing for more than 247 yards over the last three contests with seven scores, Trubisky certainly won't lose you any games.  He plays the Vikings next week, who boasts a mediocre pass defense.  Considering this is a conference game late in the season, things will be a little tense, but if Chicago's defense holds their own against KIRK COUSINS, I bet Mitch gets Allen Robinson and Darnell Mooney involved heavily.
I would hold my breath starting him in the fantasy semifinals, but it's time to give credit where credit is due. Trubisky checks in at QB19 (+2 vs ECR) on The Wolf's Rest of Season Big Board.