Player Stock Ticker
2020 Daily Fantasy Football: DraftKings NFL Week 14 Picks, Sleepers
We didn't soar as high as we did in Week 12, but Week 13 still had plenty of success in another high scoring week for the boys. We're done with bye weeks, and there won't be five primetime games taken off the main slate, so we have plenty of options on the table to sift through. Your season-long team might be done for, but that doesn't mean that you have to stop winning when there's money to be made through DFS.
Make sure to tune into The Fantasy Tailgate every Sunday at 11 AM EST for last-minute advice as a lot happens between writing this now and Sunday morning.
Anyways, onto the DraftKings NFL Week 14 Picks & Sleepers.
Let's ride.
QUARTERBACKS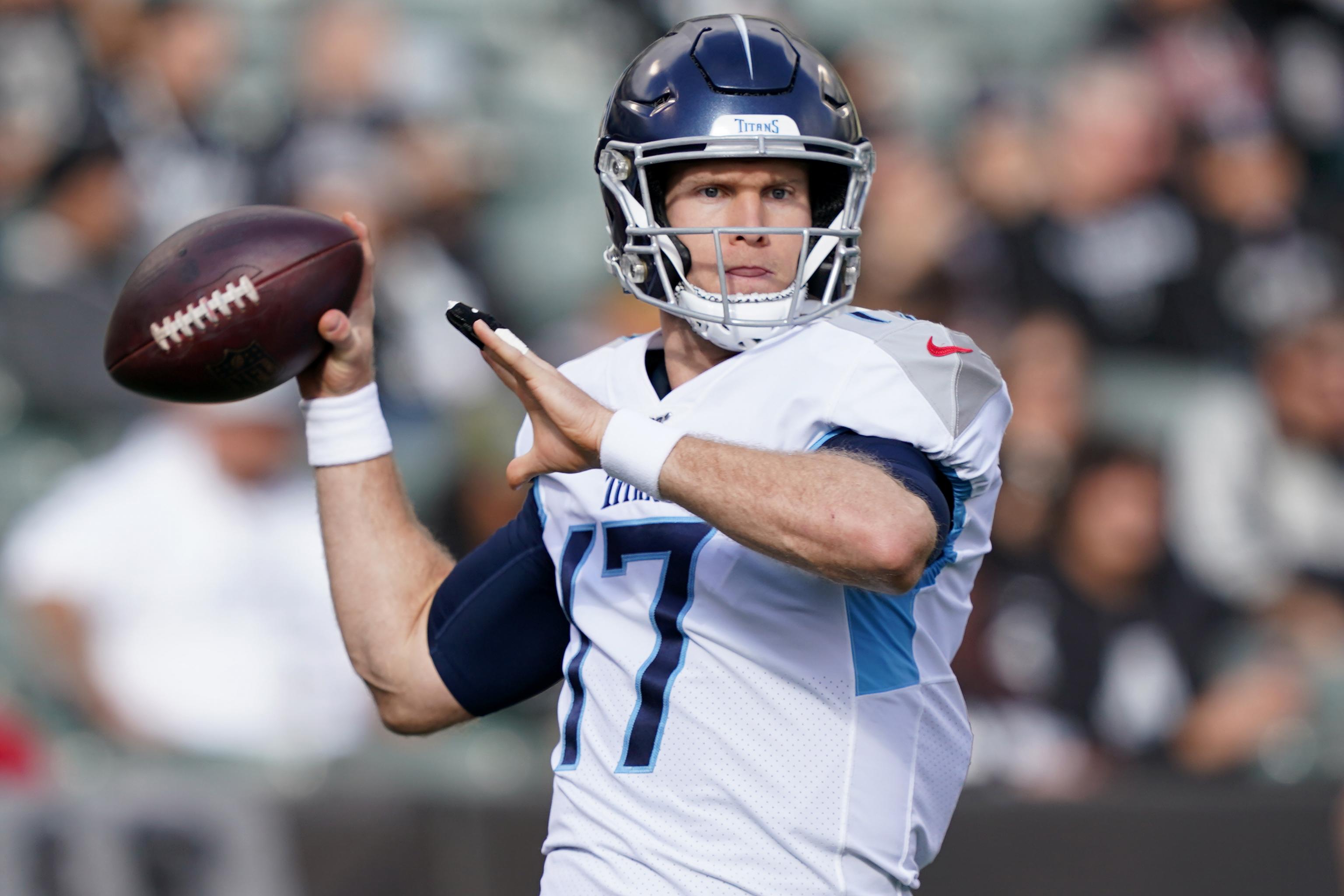 Aaron Rodgers ($7,500)

Rodgers saw a price bump from his 6.8k last week and rightfully so. Few QBs are playing better than Rodgers right now, and this week he gets a laughable Detroit Lions defense to toy with. I'd prefer to have the hot hand in Rodgers in Detroit's dome than the struggling Russel Wilson against the Jets, which is still a very solid play/matchup.

Ryan Tannehill ($6,700)

In a shootout with the Browns last week, Tannehill posted 31.56 DK points. He's averaging 24.52 points over his last three games and now gets a premiere matchup against the awful Jaguars defense. With AJ Brown and Corey Davis playing at a high level it should be another productive week for Tannehill and the Titans.

Matt Ryan ($5,700)

Ryan's struggled over his last three performances, but two of those were against one of the better defenses in the Saints and a blowout win over the Raiders. Now we get a matchup between two teams who can produce on offense but have struggled on the defensive side of the ball. With Ridley and Julio back in the fold, I like Ryan to get back to his normal form and take advantage of the Chargers' struggle to contain opposing offenses.
RUNNING BACKS
Derrick Henry ($8,700)

After a drastic jump into the 9k price range, Henry was lost in Week 13's game script where Tennessee fell behind huge early into the game. Now with a lower salary, he finds himself against the Jaguars defense. It's a fantastic matchup that Henry has historically dominated. Add in that it's late in the season where Henry generally wears down the opposition, and we're looking at Henry getting back to his normal ways.

Aaron Jones ($7,600)

A 77-yard touchdown run really helped pad Jones' numbers last week, but with Detroit on deck, another smash spot appears to be in line for Jones and the run game. He doubled Jamaal Williams in snaps last week and has been hovering around 15 carries per game. Pair his usage in the running and passing game with a favorable Week 14 matchup and Jones looks like a solid play here.

David Montgomery ($6,500)

After a pretty lackluster season, Montgomery appears to be hitting his stride with over 20 points in back to back games. He's looking much better as a runner and has been converting at the goal line when it matters. With the Texans' defense up next, Montgomery can keep the hot streak going.

Myles Gaskin ($5,600)

Gaskin returned from the IR and assumed his lead role right away for Miami. He has scored double-digit DK points in all but one game this year, showing extreme consistency in the Dolphins' offense. Fresh off of 20 carries, Gaskin gets to face the Chiefs defense next, which has been pretty porous against the run. The only worry is that Miami is forced to throw it more than 30 times and has to abandon the run game if Kansas City goes up big.

JD McKissic ($4,900)

With Antonio Gibson in doubt for Week 14, McKissic's stock is on the rise as he out-snapped Peyton Barber 53-24 last week. McKissic had 10 targets and caught all 10 of them, showing his receiving prowess. He's been a target hog for Alex Smith's dump-offs and should see even more work this week.
WIDE RECEIVERS
Davante Adams ($9,300)

Davante Adams has scored a touchdown in seven straight games now. Hee is on absolute fire and has been on the same page as Rodgers all year. Seemingly operating as the Option A, B, and sometimes C for Green Bay, his usage is at an insane rate and he's backing it up with elite production. Nobody on Detroit will be capable of slowing him down.

Keenan Allen ($7,700)

The Chargers offense as a whole put up a collective stinker as Belichick and the Patriots defense shut them down in Week 13. There was a silver lining though. Allen managed 11 targets on the day and continued his elite target share. Now with the Falcons on deck, we're looking at Allen getting back to double-digit targets and receptions while being a great candidate to find the end zone.

Julio Jones ($6,600)

DraftKings is seemingly daring me to play Julio this week, flashing that mid 6k price tag in my eyes. For a guy who is almost always in the low to mid 7k range, they're just flashing a "sale" tag right at us. Regardless, Julio is coming off a 10 target game, and is due for some serious positive touchdown regression. Facing a leaky Chargers defense, I'll find it almost impossible to pass on Julio at this price.

Robby Anderson ($6,200)

He scored his first touchdown since Week 1 against the Vikings in Week 12, but this week is shaping up very nicely for Anderson in Carolina's offense. Both DJ Moore and Curtis Samuel are listed on the covid list, while Moore also battles an ankle injury. The opposing Broncos defense is facing a suspension to their best corner, AJ Bouye, and is seemingly scraping the bottom of the barrel in fielding a secondary. The stars are aligning for a Robby A explosion.

Jamison Crowder ($5,400)

With Sam Darnold back, it only makes sense that Crowder returns to WR1 form resulting in 21.7 DK points. It also helps that Perriman is currently banged up, giving a higher target share to Darnold's target-hog. Crowder has that chemistry with Darnold, and now gets the Seahawks defense that should allow the two to continue their success this week.

Collin Johnson ($3,600)

The biggest winner of Mike Glennon becoming the starter in Jacksonville has been Johnson, who has now put up double-digit performances in Glennon's two starts. With 14 targets over that stretch, he's been good for about 16 DK points per Glennon start, and gets another great matchup with the Titans defense.
TIGHT ENDS
Travis Kelce ($7,400)

After Waller's explosion last week, I'll defer to Kelce here in a better matchup facing Miami as opposed to Indy. While Mahomes practically makes any defense irrelevant, Kelce has been the most consistent pass catcher in the offense while racking up crazy yardage numbers. With Miami's talented corners on the outside, give me Kelce against safeties and linebackers.

Robert Tonyan ($4,200)

Big Bob Tonyan delivered last week with another consistent showing of 5 targets, catching 4 balls and reaching the end zone on one of them. While Adams continues to feast, Tonyan works as another reliable weapon for Rodgers, especially in the red zone.

Cole Kmet ($2,900)

The rookie has taken over the reins from Jimmy Graham, out-snapping him 54-34, which resulted in a 5-37-1 stat line. With Houston on deck, the Bears' offense shouldn't be slowing down. If Kmet keeps this snap count up and gets another 5-6 targets at a sub 3k price, he looks like great value against a weak defense.
DST
New Orleans Saints ($3,800)

The Saints have been one of the best defenses in the league this year. They control the clock with their offense and severely limit the opposition defensively. Now Philly has turned to Jalen Hurts as the starting QB this week so it could get ugly for the rookie facing one of the best teams in the league this week.

Carolina Panthers ($2,900)

The Panthers have had their rough moments defensively, but they've been rock solid the last two weeks when it comes to DK scoring. First, a shutout against the Lions and then two defensive scores against the Vikings has them averaging 18 points over the last two weeks. Now, Carolina gets the Broncos offense which has just bled points to opposing defenses with all their sacks and turnovers.

New York Giants ($2,600)

The secret surrounding the Giants defense might be over. But, DraftKings apparently doesn't know this yet. This team just shut down former MVP front runner Russell Wilson and the Seattle offense, en route to a win, and now they welcome Arizona and Kyler Murray who has been struggling to create for himself recently. Teams have contained Murray and taken away a good chunk of his rushing upside, which makes the Cardinals offense much easier to defend.