Player Stock Ticker
Jalen Hurts Fantasy Week 14 Waiver Wire Stash After Eagles Bench Carson Wentz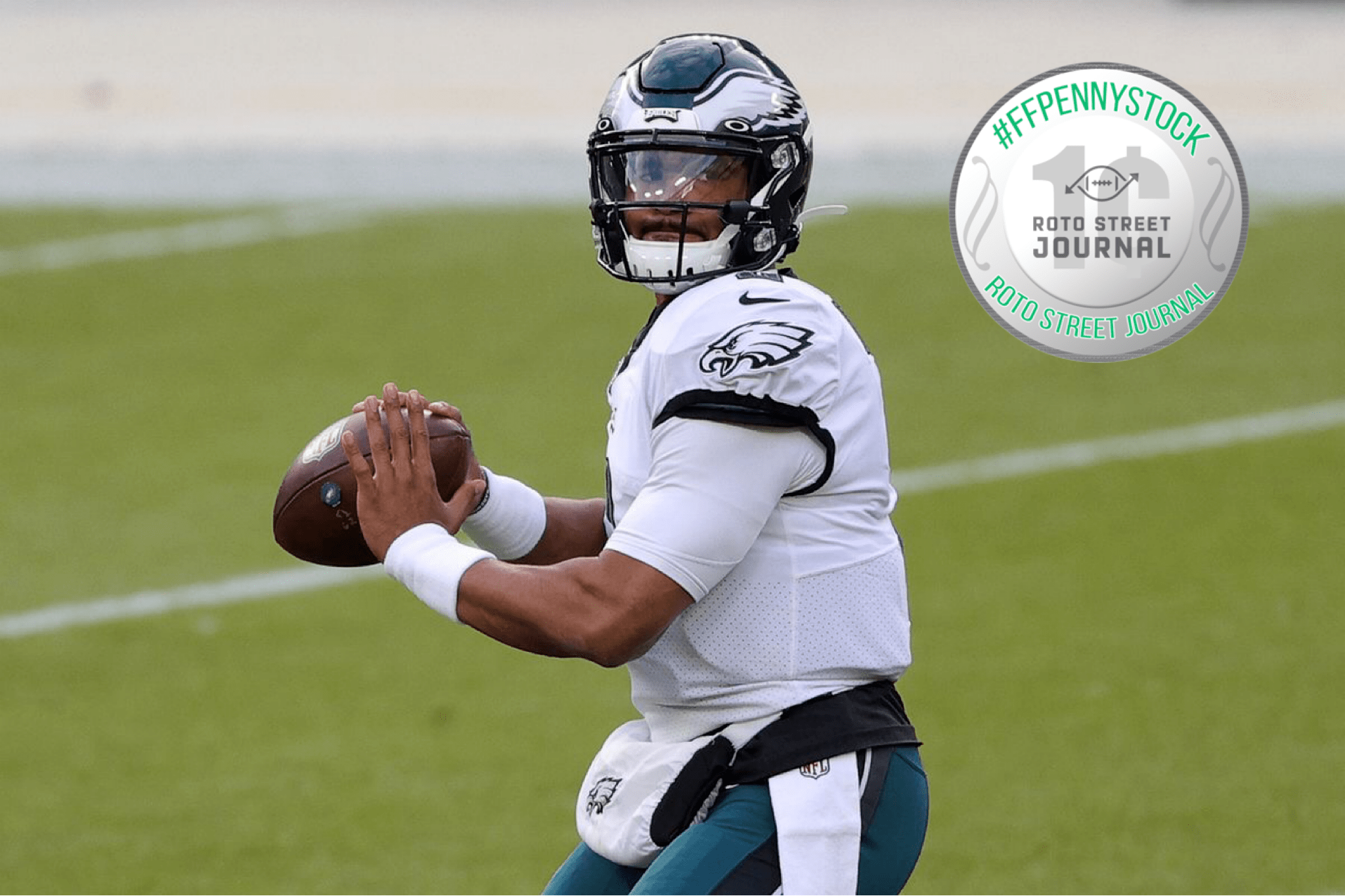 For the second game in a row, Jalen Hurts relieved awful Carson Wentz. However, this week the rookie did remain in the game and did not just enter for a series or two. In fact, he made the game somewhat competitive. Hurts completed 5 of 12 passes for 109 yards and a touchdown to Jalen Reagor. The dual-threat also added 29 yards on five carries. While this performance won't make anyone's entire fantasy league blow the remainder of their Waiver Wire FAAB load on the rookie quarterback, he did just enough for Doug Pederson to name him the Week 14 starting quarterback and he does drip in some Konami code upside.
"We're not where we want to be as an offense," Pederson said this week. "I looked at the whole thing and decided that for this week to look for that spark again to try to get the team over the hump, to try to get everybody playing better."
Hurts began his collegiate career at Alabama, leading the team as a freshman to the National Championship against Clemson, where they fell to Deshaun Watson and the Tigers. He followed that season up with a terrific sophomore campaign, once again landing in the title game against Georgia. However, after failing to put much together on offense, Hurts was replaced by freshman Tua Tagovailoa at halftime.
Tua took over the starting job and after sitting behind Tua as a junior, he transferred to Oklahoma, where he put up 52 touchdowns and finished second in Heisman Trophy voting behind Joe Burrow.
This year, the second-round pick played 33 snaps over the Eagles' first 11 games, mostly as a gadget player. After seeing some action against the Seahawks in Week 12, it was clear Wentz was on thin ice. Hurts entered last week's game, unlocked Reagor, and got within a score of the Packers before Green Bay iced the game.
"Any experience and any opportunity to touch the field, it only kind of raises the value of that player. It's kind of has been that way all year, and today Coach gave me that opportunity," Hurts said after Week 13. "With all my heart, I had every intention of coming in and getting it done and winning the game, but we came up short, and that only lights a fire in everybody moving forward."
No one is going to confuse Hurts with Burrow, Justin Herbert, or even Tua. But, he can make plays with his legs and has a capable deep ball that'll make him a boom or bust option off the Week 14 Waiver Wire. We'll let Pederson make the tough decision of benching their highly paid quarterback, but Hurts gets a tough matchup with the Saints, before potentially landing two favorable matchups with the Cardinals and Cowboys.
Hurts comes in at QB17 (+4 vs ECR) on The Wolf's Week 14 Fantasy Football Rankings.