Player Stock Ticker
2020 Fantasy Football Week 14 Waiver Wire: Ty Johnson, TY Hilton, Keke Coutee Lead the Waiver Wire Priorities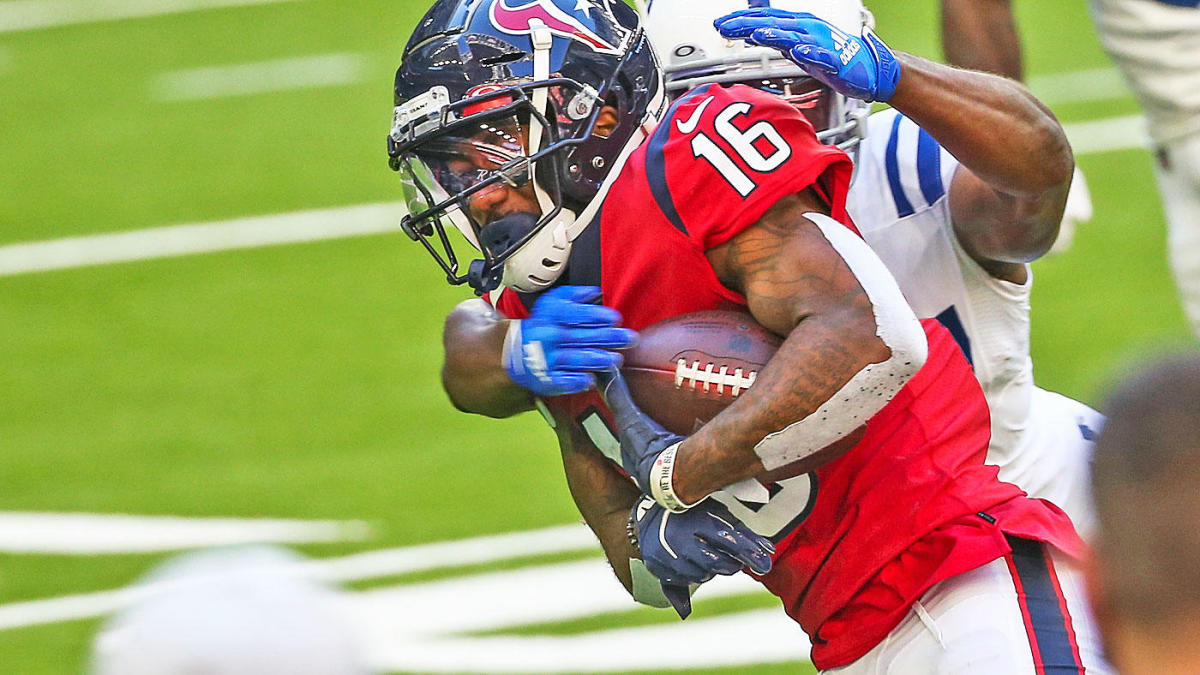 Welcome to the Fantasy Football Week 14 Waiver Wire: Start, Stash, Stream, where we breakdown the fantasy free agent landscape and give you the best picks for the short and long haul.
We have our three groups of 'starts' 'stashes', and 'streams.' The starts can be inserted into your lineup immediately, the stash guys add depth to the end of your bench and can provide longer-term benefits, and the streamers are generally D/ST's and QBs that are matchup dependent.
Let's look back at Week 13 and see our future prospects for the Fantasy Football Week 14 Waiver Wire.
Note: Ownership % based on Yahoo and must be under 50% owned
START
Ty Johnson, RB New York Jets (2% owned)
JD McKissic, RB Washington Football Team (48% owned)
TY Hilton, WR Indianapolis Colts (45% owned)
Keke Coutee, WR Houston Texans (27% owned)
Logan Thomas, TE Washington Football Team (40% owned)
Despite Frank Gore getting the start, he lasted two snaps and Ty Johnson assumed bell cow duties the remainder of the game. He out-snapped Adams and Gore 39-19-2, and finished with 104 rushing yards on 19 carries with a score. Easily the best numbers we've seen from a Jets RB this year. If we can add a running back off waivers getting 15+ carries and put up yardage at this pace then he's a fantastic add right as the fantasy playoffs begin.
Antonio Gibson went down early in Monday evening's game with a toe injury. From there Peyton Barber got majority of the carries, but JD McKissic was back being a target hog for Washington. He had a 10-70 line catching all ten of his targets. If Gibson were to miss time in the fantasy playoffs, McKissic would be in line for a huge boost as a pass catching back.
Looks who's back from the dead. TY Hilton returned with an 8-110-1 line on 11 targets to once again destroy the Houston Texans secondary. It's his favorite thing to do, and now he's put up double-digit fantasy scores in back to back weeks. With the Raiders and Texans in Weeks 14 and 15, those are fantastic matchups for Hilton to explode while he's riding this hot streak.
With all the change to Houston's pass catchers, Keke Coutee stepped into a lead role and finished with 8-141 on 9 targets. It helped that Brandin Cooks missed time with a concussion, but Coutee was already lined up as the WR2 and now could be featured even more if Cooks happened to miss any time. He figures to be a high target guy for the Texans offense.
Monday night marked a huge night for Logan Thomas to knock off the undefeated Steelers. He finished with 9-98-1, easily his highest-scoring game of the season. With McLaurin being locked up by the Steelers secondary, Alex Smith was forced to work through the tight end and other dump offs throughout the game. He's been super consistent in regards to the team's target share, generally being towards the top. He's proved he can be a weapon for a struggling offense.
STASH
Tim Patrick, WR Denver Broncos (21% owned)
Nelson Agholor, WR Las Vegas Raiders (40% owned)
Rashard Higgins, WR Cleveland Browns (8% owned)
Jakobi Meyers, WR New England Patriots (46% owned)
Baker Mayfield, QB Cleveland Browns (38% owned)
Cole Kmet, TE Chicago Bears (1% owned)
Adrian Peterson, RB Detroit Lions (48% owned)
Peyton Barber, RB Washington Football Team (1% owned)
Anthony Miller / Darnell Mooney, WR Chicago Bears (17% & 12% owned)
Jalen Hurts, QB Philadelphia Eagles (3% owned)
Collin Johnson, WR Jacksonville Jaguars (0% owned)
Denzel Mims & Breshad Perriman, WR New York Jets (11% & 24% owned)
Chad Hansen, WR Houston Texans (0% owned)
The Silent Assassin, Tim Patrick had a great game with his limited targets on Sunday night. He finished with 4-44-2 catching all four of his targets. Patrick showed he's a very good receiver and has been consistently scoring around double-digit fantasy points this season. His ceiling isn't relatively high, but his floor appears to be one of the higher ones in the league.
His final numbers weren't sexy, but Nelson Agholor drew a whopping 11 targets against the Jets. He's always a big-play threat in the offense and generally acts as the team's second-leading pass catcher behind Waller. With the way Vegas' defense has been operating, Carr has needed to throw the ball a lot, especially with Josh Jacobs recently sidelined.
Rashard Higgins has been featured in this article in the past, but his inconsistencies plague him as an every-week fantasy option. Higgins is coming off a 6-95-1 game against the Titans, yet he could be a complete flop in Week 14. Baker Mayfield trusts Higgins, we just need more out of him to warrant a start in the fantasy playoffs.
While the Patriots haven't been throwing the ball well or often as of late, their playoff hopes are running thin as the competition is set to step up. There's no question Jakobi Meyers is the unquestioned WR1 in the offense so he'll get the majority of the team's targets, despite how low that number may be. Once New England gets to the likes of facing the Rams and Bills, New England won't be able to run it 30+ times and will have to air it out Meyers' way.
After finally getting some decent weather for a game, Baker Mayfield has finally been able to throw the ball and he's been looking excellent over his last two games. 258-2 and 334-4 his last two games, Mayfield has scored 20+ in both against prime matchup defenses. Next week against the Ravens should be a little more difficult, but he's looked great and does have the Jets if you can make it to Week 16.
There's a new sheriff in Chicago's TE town and it's Cole Kmet. The rookie got the start over Jimmy Graham and out-snapped him 54-34 while finishing with a 5-37-1 on 7 targets. We know Mitch has limitations as a QB, but he has the ability to spread the ball around and tight ends are generally the main benefactor of his dump-offs.
Insurance for D'Andre Swift in the event that his injury pops back up or keeps him out any longer, Adrian Peterson has capitalized, getting 15+ rushes and 2 touchdowns in both games Swift has been out. Green Bay and Tennessee are good matchups for RBs so AP would make a great fill-in should Swift not be able to go.
Antonio Gibson owners wept on Monday night when their stud rookie exited the game early with a toe injury and never returned to action. JD McKissic was peppered in targets (10) in Gibson's absence, but the plodding Peyton Barber led the team with 14 carries. Of course, he only put up 23 yards and a score on those 14 carries, but if Gibson misses the next week or so, Barber has some disgusting Flex appeal for the desperate.
If you look at the Chicago Bears schedule for the fantasy playoffs, they have the Texans, Vikings, and Jaguars which are all VERY good matchups. Yes, Allen Robinson will be the top dog, but don't sleep on both Anthony Miller and Darnell Mooney. They have near-identical stats over the course of the season but Miller seems to be the higher floor and higher catch receiver, while Mooney operates as the higher ceiling boom play going deep.
If Doug Pederson made the switch from Carson Wentz to Jalen Hurts earlier in the season, he would be higher up on the 'Stash' list. However, entering the fantasy playoffs, it would be tough to imagine rolling out a rookie quarterback making his first start at this time. In only 22 minutes of action during Week 13, Hurts completed 5 of 12 passes for 109 yards and a touchdown pass to Jalen Reagor, while also adding another 29 yards on five carries. If he gets the start over the pathetic Wentz, then he has some dice rolling QB2 upside, but there are a handful of safer options at the position to start Hurts in a fantasy playoff game.
In the two games Mike Glennon has started, Collin Johnson has posted 4-96-1 and 4-66 with a two point conversion. He's definitely been one of Glennon's preferred targets drawing 14 targets in that two-game span. Should Glennon start once again, Johnson gets the Titans defense which has been really bad and just got shredded by Baker Mayfield.
Jamison Crowder came back into form with 5-47-2, but I'll continue to have faith in the duo of Denzel Mims and Breshad Perriman for the Jets offense. Sam Darnold being back is much better for the offense, and they get Seattle's defense up next.
With the injury to Brandin Cooks, a creature named Chad Hansen (any relation to our savior Scott?) came into the game and finished with 5-101 on 7 targets. Opposite of Coutee, Hansen played well in his first action of the season. If Cooks were unable to suit up in Week 14, Hansen would likely be the WR2 for a Houston offense that's been airing it out.
STREAM
San Francisco 49ers D/ST (49% owned)
Carolina Panthers D/ST (6% owned)
Philip Rivers, QB Indianapolis Colts (40% owned)
Andy Dalton, QB Dallas Cowboys (13% owned)
The 49ers would welcome the Washington Football Team to their friendly confines now settled in Arizona due to California law. Regardless, I'd love the Niners matchup here against that offense.
The Panthers' defense has forced multiple turnovers over their last few games and had the luxury of turning those into defensive scores making them a hot commodity at the moment. With Denver coming up next, they represent an offense that bleeds defensive points.
18+ points in three straight games now for Philip Rivers as he's found a nice groove here in Indy. The next two games for Rivers are against the Raiders and Texans which are fantastic matchups. He can be a viable playoff plug due to any injuries or bad matchups you might be worried about.
Revenge game! Andy Dalton makes his return to Cincinnati to face his old team now sporting a plethora of weapons against a struggling defense in the Bengals. You might be worried about having to start Dalton in a fantasy playoff game, but the revenge narrative might be enough to push you through to the semis.