Player Stock Ticker
George Kittle Injury Outlook: "Very Optimistic," Pick Up on any Waiver Wires Now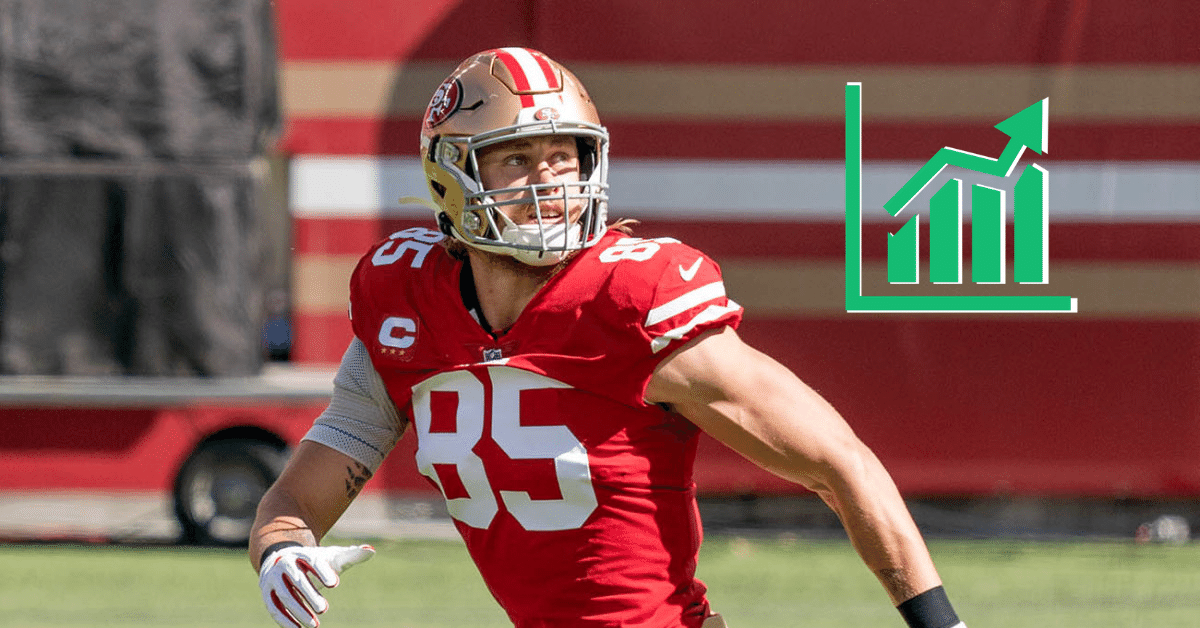 Could we have tragically seen the last of George Kittle in 2020? Possibly. If the 49ers are out of the hunt within a week or two? Almost certainly.
Still, the mere chance that Kittle plays even a single game means he should 100% be rostered in all fantasy formats. Kittle remains available in 46% of leagues, and is absolutely the top Week 13 Waiver Wire option if you're among any of those.
The likelihood Kittle returns is on the rise after he labeled himself "very optimistic" to return in 2020:
"They said eight weeks; I said six," said Kittle, who sustained the injury on Nov. 1. "And I'm excited. These last couple days have definitely progressed forward and made me very optimistic about returning to the field of play.
Kittle is now four weeks into his recovery. If his six week self-diagnosis holds, this would have him on the field in Week 15, the fantasy football semifinals for most.
Of all players, the tenacious Kittle would be among my top bets to smash an original diagnosis and return earlier.
You don't need me to spell out the barren wasteland that TE has been. Unless you have Travis Kelce, Darren Waller, or TJ Hockenson, you've been tossing out TD-or-Bust prayers on a weekly basis.
Only Kelce can match Kittle's week-winning upside and resume. In fact, in only five full games, Kittle already has 32.6 and 20.4 fantasy smashes, alongside a fine floor.
Meanwhile, Kittle's playoff slate looks delicious. Week 14 is a longshot, but the Washington Football Team ranks 15th in most points allowed, while Week 15 would bring the Cowboys – the 12th most generous team. The Cardinals, Kittle's Week 16 opponent, have been stingy, but matchups don't matter for a beast like #85.
At this point of the season, with Bye Weeks all but over, depth means far little. The upside of a week-changing TE needs to be your first, second, and third priority on the late Week 13 Waiver Wire, IR-spot or not.
This is George Kittle we're talking about. You shouldn't need any more convincing. Go place those top Waiver Wire picks and 40% or more of your FAAB.
Even if Kittle doesn't return, the presence he'll bring to your fantasy locker room is well worth the stab.
Stay up to date on all the Fantasy Football Value Swings! Bookmark our Fantasy Stock Watch. Even better, consume them in our cleanest format by downloading the Roto Street App.