Player Stock Ticker
George Kittle Injury: Likely Done for 2020, Jordan Reed & Other Waiver Wire TE Fantasy Replacements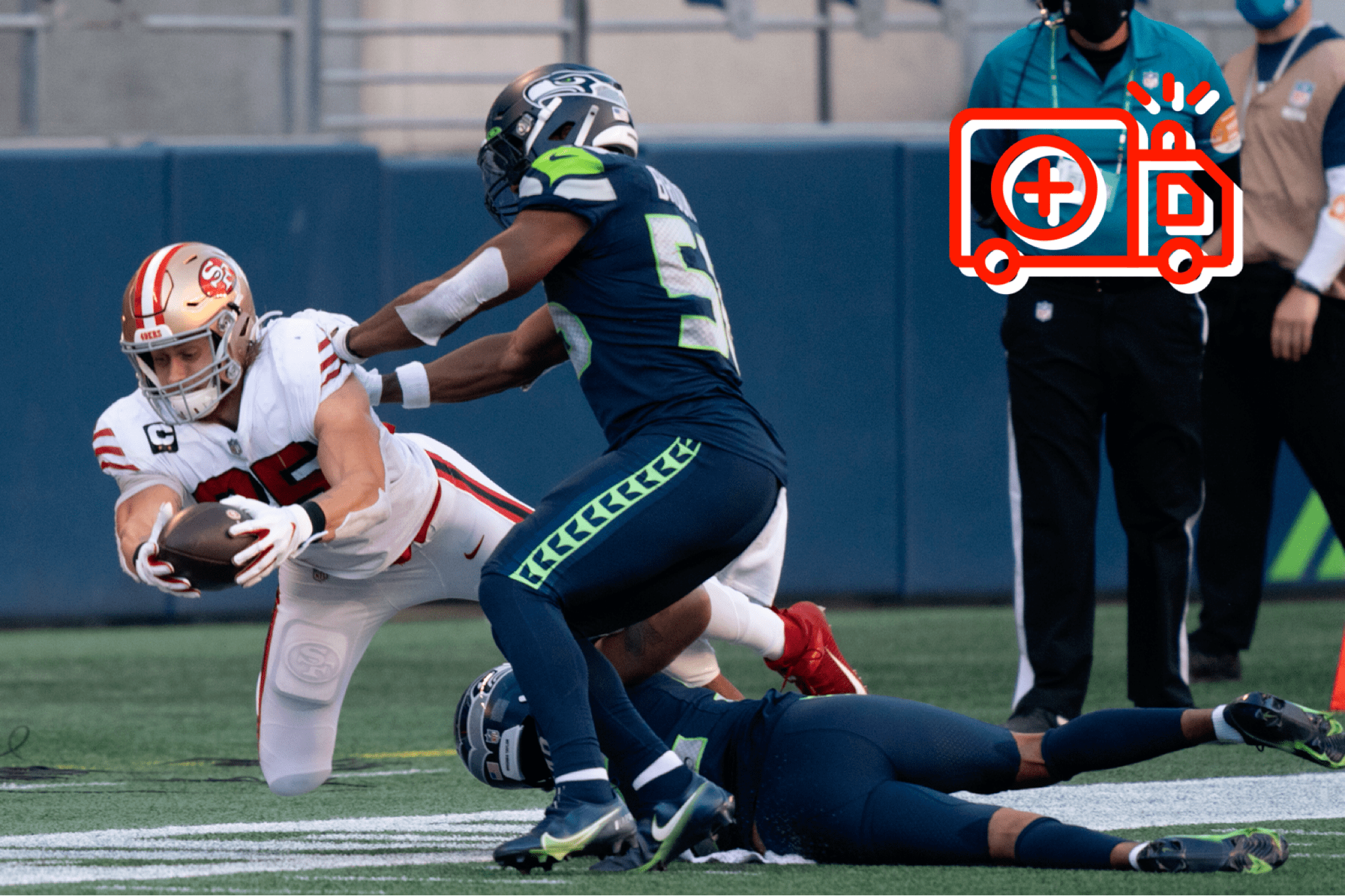 Straight from fantasy nightmares: George Kittle will miss the next eight weeks with a broken bone in his foot.
Yes, that'd mean Kittle will miss the rest of the fantasy season and, with the 49ers NFC Title Defense hopes dwindling, likely the rest of 2020. We simply cannot have nice things this year.
Beyond losing just a pure joy to watch every week, fantasy football owners also lose the only TE capable of challenging Travis Kelce's throne. The gap Kittle will leave in the 49ers and in fantasy lineups cannot be overstated.
This is doubly glaring considering how barren the TE position is yet again in fantasy.
Kelce (17.9) and Kittle (16.4) are the only TEs averaging above 15 PPR FPs per game. Comparatively, 24 WRs and 17 RBs are currently achieving this feat. Kittle was one of only two huge major edges owners could gain at the position.
Now, Kittle owners will need to scramble in the TD-or-Bust TE mud with the rest of us plebeians. Where should they turn?
Stay up to date on all the Fantasy Football Value Swings! Bookmark our Fantasy Stock Watch. Even better, consume them in our cleanest format by downloading the Roto Street App.
George Kittle Waiver Wire Replacement Plans
Obviously, there's no replacing a George Kittle, in real life or fantasy.
Still, with six weeks left until the fantasy playoffs, owners need to keep trucking. Here's the top options.
A) Other 49ers: Jordan Reed (and Ross Dwelley) Waiver Wire 
The most obvious answer remains on the same roster, within the same scheme: Jordan Reed (3% owned).
According to Matt Maiocco, Shanahan is optimistic about Reed's chances of returning in Week 9, even on a short week for TNF. Should he miss, Ross Dwelley (1%) would be an immediate Top-15 TE plug-n-play.
Yes, Reed is made of glass. No, he probably won't make it through the remaining games without an ailment.
Still, when available, Reed can still ball. In Week 2 fill-in duty, Reed snared 7 of his 8 targets for 50 yards and 2 TDs (24 PPR FPs), looking particularly explosive after the catch and using his frame well in the Red Zone.
Meanwhile, the 49ers rank fourth with 74 TE Targets on the season, 27.7% of their total share. This was with Kittle already out for two games. Seam-stretchers play a huge role under Shanahan.
Thi volume is especially apparent under Nick Mullens. In fact, QB Jimmy Garoppolo's impending absence may be a sneaky boon for Reed and the 49ers TEs. Mullens PEPPERS his TEs.  Look at Kittle's stats when alongside Mullens as compared to Jimmy G: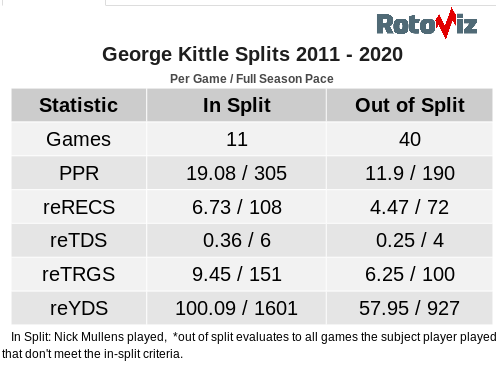 Obviously, Reed or Dwelley won't just slide into this role. Still, it's a stark contrast in Kittle's outputs with Mullens, one that could benefit to whoever slides into the role.
The icing on this (gross) cake? In four of his remaining 7 matchups, Reed and the 49ers TEs get Bottom-10 matchups in points allowed to the position:

As mentioned, Reed is bound for another IR stint. As such, Dwelley, who caught a 14 yard TD as soon as Kittle departed, should also be added where bench space allows. Dwelley would be a Top-15 Weekly option as "the guy."
B) Other Waiver Wire TE Options?
Our ScoutPan tossed out some of the top TE Streamers to consider entering Week 8, and most still apply.
My personal favorites:
Eric Ebron (46% available) 
Still out there in over half of leagues, Ebron's put together just two truly useful games in 2020.
Yet, his upcoming schedule might make him the most attractive FA option available:
If scrambling in Post-Kittle hell, check for Eric Ebron.

Available in over 50% of leagues, Ebron's upcoming schedule defines cakewalk:

DAL (9th-most FPPG allowed), CIN (2nd), JAX (6th), BAL (12th), WAS (10th), BUF (4th), CIN (2nd)

6/7 Top-10 Matchups, all Top-12.

— Wolf of Roto Street (@RotoStreetWolf) November 2, 2020
Ebron played more snaps (46) than any of the three WRs on Sunday, who all tied for 41. He's an every-down option, who's a safe bet for 5-8 targets, within one of the better passing attacks in the league.
Against those creampuff defenses, I'd pencil Ebron in for 5 TDs within the next 7 weeks.
Austin Hooper Stash (39%)
If you manage to land a direct backup (Reed, Dwelley) to stream in Week 9, they could provide a nice bridge to a potentially steady Hooper for the ROS. Impatient owners shed him everywhere, and he is available in over 60% of leagues.
This low-volume Browns attack can be frustrating. Still, without Odell Beckham, a huge share of targets remain up for grabs.
Prior to his appendectomy, Hooper saw 7, 10, and 6 targets, managing 5 receptons in all 3 contests for a highly serviceable 14.4, 10.7, and 10.2 FPs. This was with OBJ present, so Hooper's upside might be even higher.
That's especially true with a tasty upcoming schedule:

Four straight Bottom-8 Matchups? Yes please. Hooper will "definitely" be ready out of the Bye, just in time to exploit this joke of a schedule. He has the ability, available volume, and schedule to finish Top-6 over the remainder of the year.
Logan Thomas (22%)
Largely dropped due to Bye Week woes, Thomas is the steadiest widely-available waiver option. He has ran the third-most routes and seen the 10th most targets at the position, even if highly inefficient.
Yet, since Kyle Allen took over, the empty calories are starting to fill in. Thomas has averaged 51 receiving yards with a TD in both games. The schedule is far from intimidating, and LT3 could provide a tiny layer of cushion for the Kittle freefall.
Trey Burton (22%) or other Colts?
Attacking a three-headed TE committee on a mediocre passing attack isn't typically advisable. Yet this aren't typical times.
Jack Doyle led this corps with 45 snaps on Sunday, while Burton came in second with 39/77 (51%). I prefer Burton's athleticism and creative usage, evidenced by his two rushing TDs in back-to-back weeks. (Hell, I really prefer Mo Alie-Cox, but the team clearly won't unleash him anytime soon).
Frank Reich hails from the Pederson-tree of peppering TEs. In a sea of disgusting, Burton remains a pluggable patch.
Other Names: 
Dalton Schultz (26%)  
Jordan Akins (3%) and/or Darren Fells (7%)
Gerald Everett (5%)
Will Dissly (1%)
Albert Okwuegbunam (1%) – Faces ATL in Week 8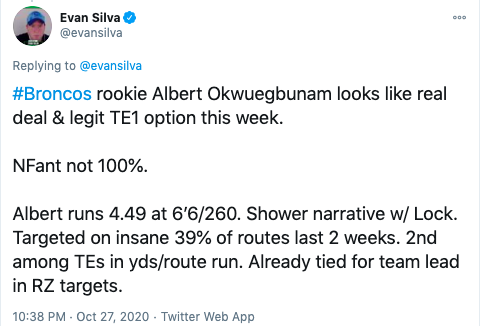 Summary: George Kittle Injury Crushing, But Waiver Wire Options Exist
Of all the players to go down, Kittle's absence might sting fantasy owners the most. He was a treat to watch every-week, all while giving you a huge leg-up at the hardest position to navigate.
Now, owners plow forward with a gaping hole, and shattered heart, into the gross waiver wire mud. Jordan Reed and Ross Dwelley present near-100% availability and immediate fill-in status. Still, Eric Ebron, Austin Hooper, and Logan Thomas present even sturdier options that can be found in over 50% of leagues.
Chin up, young Wolf. We've weather injuries all year, and we'll get out of this one too.
Stay up to date on all the Fantasy Football Value Swings! Bookmark our Fantasy Stock Watch. Even better, consume them in our cleanest format by downloading the Roto Street App.