Player Stock Ticker
NFL Week 12 Player Prop Bets to Hammer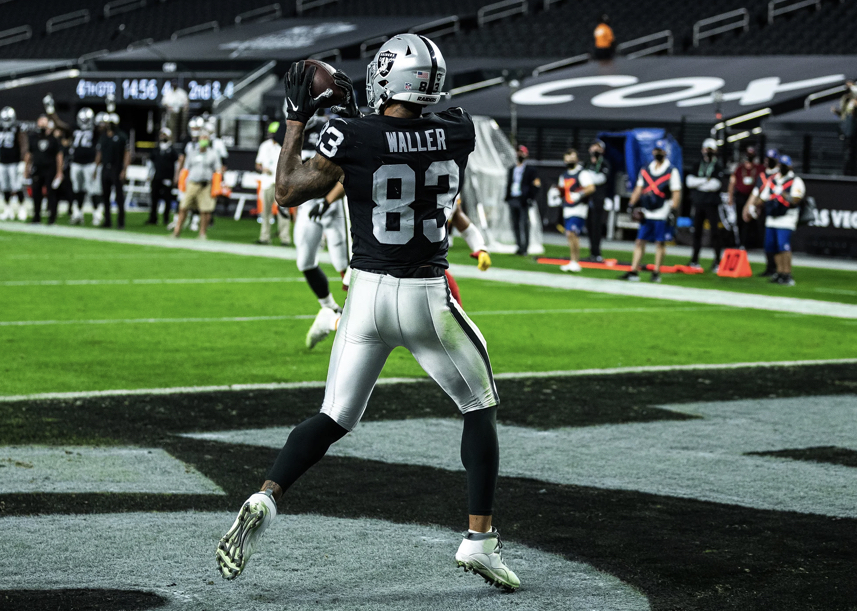 (Michael Clemens/ Las Vegas Raiders)
Hopefully everyone faded my first pick last week! To think that Giovanni Bernard would rush for over 47.5 yards behind that atrocious offensive line was objectively an insane thought by me. Get better soon Joe Burrow! After another 2-1 week, we're sitting at a 5-4 record through three weeks.
So, let's get right into the picks.
1. Darren Waller Anytime TD scorer (+110)
In honor of Black Friday, I went searching for the best value on the board in Week 12 and it turns out that DraftKings is practically giving away free money as they have Darren Waller to score a TD (+110).
I will absolutely be hammering this prop as Darren Waller is primed to have a huge week against a Falcons defense who has given up eight TDs to opposing tight ends this year (tied for most in the NFL). In fact, the Falcons have given up a TD to opposing tight ends in exactly half of their games this year, including a three TD game to Robert Tonyan and a two TD game to Jimmy Graham. If that's not a surefire sign that Waller will score at least one touchdown, then I don't know what is. No disrespect to Tonyan or Graham, but at this point they are nowhere near the same talent as Darren Waller.
So far this season, Waller is leading the Raiders in targets with 83— 17 of which have come inside the red zone. The value we are getting for Waller to score seems almost too good to be true, but I won't be scared off by that. All of my Raider bias aside, it is going to be the perfect storm for Waller on Sunday. When you combine the fact that the Falcons simply can't cover tight ends and the fact that Waller is Derek Carr's primary target in the red zone, this is as easy of a pick as they come.
If you don't trust me, just know that the Wolf has Waller sitting at TE2 this week as the Falcons allow the most fantasy points per game to opposing tight ends this year. I hope Waller didn't eat too much on Thanksgiving because he is going to feast on this terrible Atlanta defense.
2. DeAndre Hopkins under 5.5 receptions
For those of you who did not keep scrolling after reading that I'm going to take the under on receptions for the best wide receiver in football, I thank you. In the three weeks since I started these player props, I have yet to take an under. Nobody likes taking unders! They're boring and if anyone you know genuinely likes them, they might be a serial killer.
With that being said, sometimes you just lock eyes with an under and know that it's the one. That's why I am taking DeAndre Hopkins under 5.5 receptions (+125). There's no doubt that I could easily get burned with this one. That has not been lost on me. Hopkins is currently third in receptions with 72 hauled in this season. In fact, he has surpassed the 5.5 receptions total in seven of ten games this year. However, in his last five games, Hopkins has only surpassed this mark twice.
For the first time as a member of the Arizona Cardinals, Hopkins will head north to Foxborough to once again line up against Stephon Gilmore and the New England Patriots. Besides his former AFC south division rivals, Hopkins has faced the New England Patriots more than any other team in his career. In the six games he's played against them dating back to 2013, he is averaging 4.8 receptions per game. That's the second-lowest average against any team that he has faced more than once. However, since Gilmore joined New England in 2017, Hopkins has fared quite well with games of seven, eight and five receptions.  Gilmore, while not playing as well as last year, has actually only given up five receptions to an opposing receiver just once all year in a game in which he was thrown at eight times. Other than that, Gilmore has not been thrown at more than five times in any other games this year.
The Wolf has Hopkins as his WR8 this week as he takes on a New England defense that has allowed the second-fewest pass completions all season, second only to the 10-0 Pittsburgh Steelers. When it comes down to it, this one could really go either way. However, with Kyler Murray's nagging shoulder and Hopkin's recent inconsistency, I'm looking for Hopkins to have a quiet Sunday as the reigning defensive player of the year shuts him down.
3. Taysom Hill to score a TD (if you can find it)
Unfortunately, with all the news breaking regarding positive COVID-19 cases, the Saints/Broncos game and the Ravens/ Steelers games were taken off of the board. I really loved the value we were getting with Taysom Hill to score a TD, but as of Saturday night I can't take it. I tried looking for some other picks to end up with three for the week; however, I couldn't find anything I felt confident in taking. So this week, I am only going to be making two picks. You can find all these odds at DraftKings Sportsbook. Good luck everybody! Let's win some money! And, as always, bet responsibly!