Football fans, take solace in weekends like this. Whether we remain in a proverbial leftover tryptophan-induced haze or eager for family members to go away, Thanksgiving weekend is sacred to football lovers. In years like this, where the punches keep landing like the 12th round of a Rocky Balboa fight, any semblance of normalcy means everything. Grab another turkey sandwich, preferably with a scoop of gravy, and let's dive into fantasy football Week 12's tumultuous starts and sits.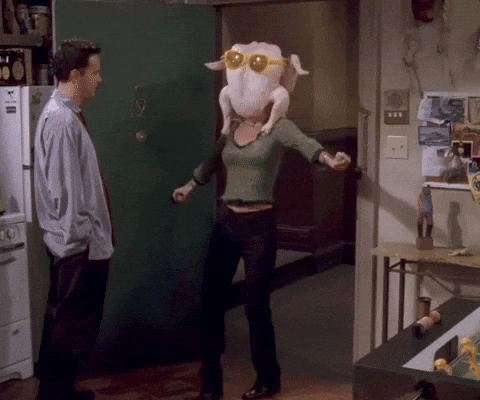 Quarterbacks
Start 'Em
Tom Brady vs Kansas City Chiefs
*Checks the NFL schedule* Yep this game starts during the day. Therefore, you can fire up Tom Brady and expect a good game. Word is that Brady is starting to get a little old and likes to be in bed by 9:30. This game starts at 4:25 EST. Brady will be alert, agile, and ready to air it out.
The Fantasy Footballers have a saying, and it universally holds true in fantasy football. The Footballers say that, as fantasy players/analysts, we should "stay water." Water has the physical property to adapt to whatever shape it is being forced into. Keyword: adapt. As fantasy players/analysts we should adapt to matchups and don't let recency bias be our downfall.
Brady put up a stinker last week. It was past his bedtime or whatever. Still, Brady, on the season has thrown for 28 touchdowns and almost 3,000 passing yards. He averages over 24 FPPG and is going against a Kansas City defense that let Teddy Bridgewater and Derek Carr to put up at least 27 FPs each of the last two weeks. With an over/under of 55.5 points, the shootout upside is there. Patrick Mahomes and Brady should air it out in abundance this week.
Honorable Mention: Teddy Bridgewater, Taysom Hill
Sit 'Em
Carson Wentz vs Seattle Seahawks
No. Staying water is important and if Wentz is your best option then feel free to roll the dice and hope for lucky seven. In Super Flex leagues, Wentz is a QB2. After all, Seattle is a quarterback's dream matchup this season.
Seattle is second in the league in points allowed to the quarterback position. However, the only real weapon worth anything in this offense is Miles Sanders. Seattle is allowing 3.7 yards per carry to opposing running backs and only 7.5 yards per reception to the position. In short, Seattle has really bottlenecked opposing running backs this season and have become a pass-funnel NFL defense.
Wentz ranks amongst the league leaders in turnover worthy plays as well as turnovers (18). In fact, Wentz has played only one clean game all season. In his last three games, Wentz has scored less than 18 fantasy points. Wentz is a huge dart throw this week, even in a dream matchup and should be started with a massive grain of salt.
Honorable Mention: Ryan Tannehill, Jared Goff
Running Backs
Start 'Em
Brian Hill vs Las Vegas Raiders
Todd Gurley is out for week 12. The rumbling touchdown tuba is sitting with a knee injury and Hill stands to inherit at least a lion's share of his touches. If there was ever a week for Hill to finally smash when the lights are on him, it would be this week.
The Raiders yield 4.6 yards per carry to opposing running backs. In fact, the Raiders rank fourth in RB fantasy points against. According to Jamey Eisenberg, the Raiders have allowed a running back to score in seven of ten games. Opposing running backs cut through the Raiders front seven like a hot knife through butter.
Hill presents high touchdown upside, even if he has to split work with Ito Smith and Qadree Ollison. He's a strong flex option.
Honorable Mention: James White, Zack Moss
Sit 'Em
Melvin Gordon/Phillip Lindsay vs New Orleans Saints
Let me pose a riddle to you. What happens when a very stoppable force collides with an immovable object? Splat. Picture a fly meandering aimlessly in the breeze before colliding with a semi trucking 70 mph down the highway. The same metaphor applies to Phillip Lindsay.
At least in Lindsay's case, he has the speed to break through a crease and rip off some chunk yardage runs. Regardless, New Orleans ranks 1st against the RB position. Gordon's historically been known for his prowess near the goal line. The Saints stalwart defensive line stops opposing RBs in their tracks at the goal line, having only allowed five total touchdowns to the position all season.
Gordon is a great stash for the playoffs, as he has a gravy schedule going forward and appears to be rounding in to form. Still, he and Lindsay belong on the pine this week. The turmoil surrounding their lack of an actual QB on their roster will cause the Saints to focus their entire defensive game plan around slowing down Gordon and Lindsay.
Live to fight another week and leave Gordon/Lindsay on the pine.
Honorable Mention: Darrell Henderson, Kenyan Drake
Wide Receivers
Start 'Em
Justin Jefferson vs Carolina Panthers
This depends largely on which narrative you subscribe to. With Adam Thielen out after being placed on the COVID-19 list, Jefferson could be in line to inherit a bump in targets. However, Jefferson will likely see more CB1 coverage.
When Jefferson has seen more than five targets this season, he has been unstoppable.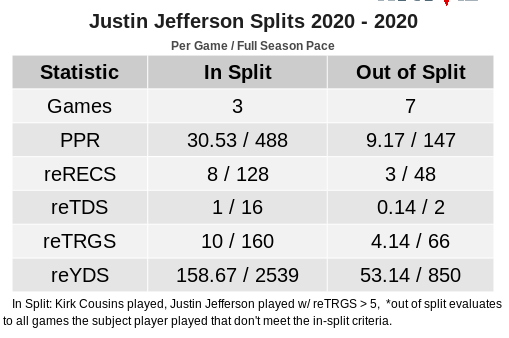 The Panthers sit as a middle of the pack pass defense on the season (15th vs WRs). Rasul Douglas projects to be the main cornerback defending Jefferson. Douglas allows 0.2 fantasy points per route while Jefferson averages 3.16 yards per route run. There's nothing to suggest that Jefferson will have much trouble taking advantage of his favorable matchup and should be considered a strong start this week.
Honorable Mention: DJ Moore, DeVante Parker
Sit 'Em
Tee Higgins vs New York Giants
Week 12 is not the week to get cute with fantasy lineups. Higgins is a high-risk, high reward play with Joe Burrow out for the rest of the season with a nasty knee injury. Higgins had been dominant prior to Burrow's injury and this is more of a wait and see what Brandon Allen brings to the table move.
Having a shadow corner like James Bradberry possibly following him around certainly doesn't help things. If Higgins and Allen show a good connection this week then, by all means, feel free to start Higgins going forward. Higgins should only be a desperation flex in week 12.
Honorable Mention: Denver Broncos WRs, Mike Williams
Tight End Streamers
Hunter Henry vs Buffalo
Austin Hooper vs Jacksonville