Player Stock Ticker
2020 Fantasy Football Week 11 Waiver Wire: Jakobi Meyers, Salvon Ahmed, Jameis Winston Lead Waiver Wire Targets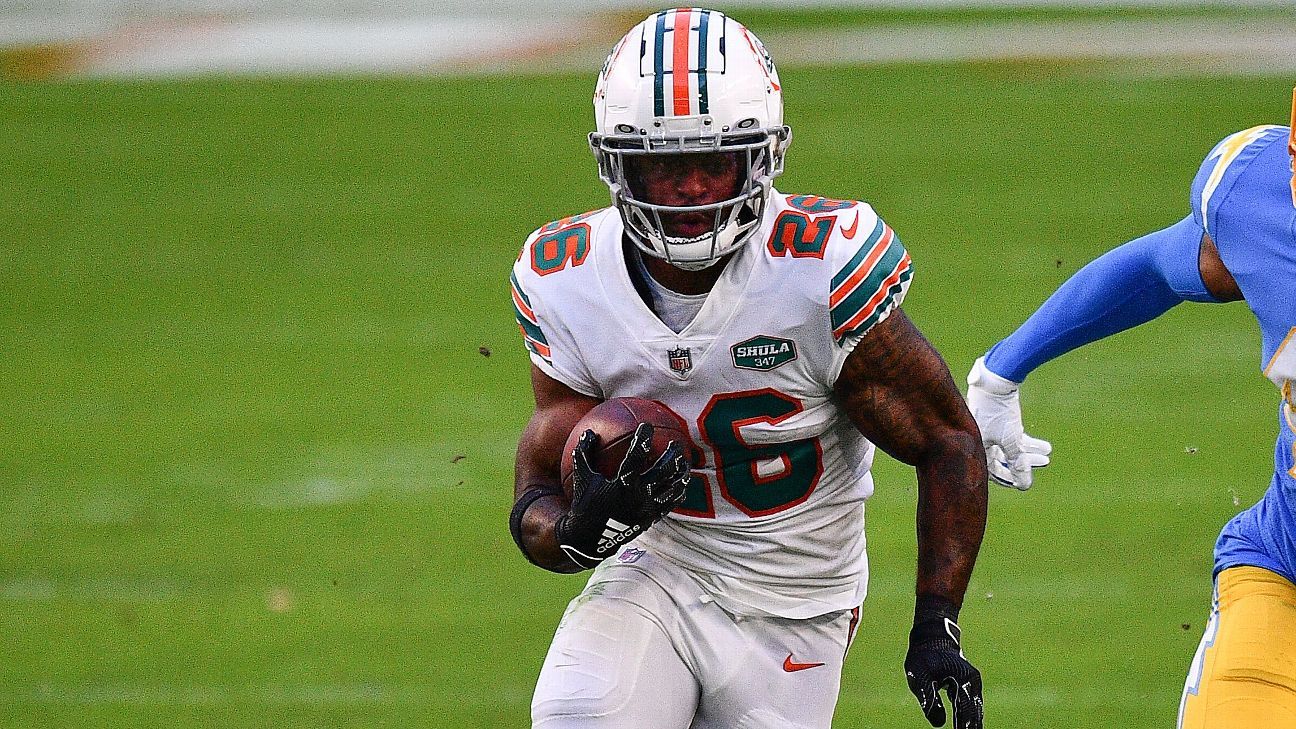 Welcome to the Fantasy Football Week 11 Waiver Wire: Start, Stash, and Stream, where we breakdown the fantasy free agent landscape and give you the best picks for the short and long haul.
We have our three groups of 'starts' 'stashes', and 'streams.' The starts can be inserted into your lineup immediately, the stash guys add depth to the end of your bench and can provide longer-term benefits, and the streamers are generally D/ST's and QBs that are matchup dependent.
Let's look back at Week 10 and see our future prospects for the Fantasy Football Week 11 Waiver Wire.
Week 11 bye weeks: Bills, Bears, Giants, 49ers
Note: Ownership % based on Yahoo and must be under 50% owned
START
Jakobi Meyers, WR New England Patriots (48% owned)
Salvon Ahmed, RB Miami Dolphins (7% owned)
Kalen Ballage, RB Los Angeles Chargers (19% owned)
Nyheim Hines, RB Indianapolis Colts (47% owned)
Michael Pittman, WR Indianapolis Colts (10% owned)
Josh Reynolds, WR Los Angeles Rams (5% owned)
Jalen Reagor, WR Philadelphia Eagles (26% owned)
Last week's waiver wire hero still meets the threshold to fall into this article, so go pick up Jakobi Meyers if you have the chance. He's the target hog in New England showing amazing chemistry with Cam Newton. He only had 5-59 on 7 targets last week, but he threw a touchdown pass on a trick play and the weather played a HUGE factor in limiting the overall offensive game.
After Miami released Jordan Howard, Salvon Ahmed is the man to own in Miami's backfield while Myles Gaskin remains sidelined. Ahmed played 75 percent of the snaps and handled 84 percent of the team's carries on the day. The Dolphins are rolling right now and with little competition in the backfield, Ahmed is approaching bell-cow status. Maybe the most unsexy bell-cow of all time, but he still fits the bill.
The latest thriving player in the post-Adam Gase world, Kalen Ballage, looks like the RB1 in LA for the time being with Justin Jackson and Austin Ekeler on the shelf. Joshua Kelley isn't getting the lead role anytime soon, and Ballage out-snapped Kelley 46-17 in Week 10. Ballage played a big role with 18 carries on the day while adding another 5 grabs. Great usage for a waiver wire back.
Who led the Colts backfield in snaps you ask? Nyheim Hines would be the answer after a massive Thursday night game in Tennessee. Hines had 39 snaps to Taylor's 17 and Wilkins' 14 in Week 10. He led all Colts players with 12 rushes, and then caught 5 balls, one of which went for a score. He seems to be the best fit at the moment for Rivers, and the coaching staff loves him.
Returning from injury and finding himself in a smash spot against a bad defense, Michael Pittman took full advantage of this week's matchup. The rookie put up 7-101-0 on 8 targets and led the Colts in all receiving categories (minus touchdowns) in Week 10. The team was thrilled to land him on draft night, and they have big plans for him in the offense now that he's back and healthy.
Despite Cooper Kupp and Robert Woods getting all the attention, Josh Reynolds has snuck his way into their company. He led the Rams in all categories this week going for 8-94 on 10 targets. He's averaged 9 targets over his last three games and has played a central role in the offense for Goff and McVay.
There wasn't much in the positive department to take away from the Eagles offense on Sunday, but Jalen Reagor is slowly progressing. He led all receivers with 7 targets while finishing with a measly 4-47 line on the day. The upside is sky-high for Reagor in this offense and he'll keep thriving alongside Fulgham moving forward.
STASH
Jameis Winston, QB New Orleans Saints (2% owned)
Rex Burkhead, RB New England Patriots (24% owned)
KJ Hamler, WR Denver Broncos (4% owned)
Jakeem Grant, WR Miami Dolphins (5% owned)
Tua Tagovailoa, QB Miami Dolphins (45% owned)
Taysom Hill, QB (QB/TE ESPN) New Orleans Saints (1% owned)
Cordarrelle Patterson, WR Chicago Bears (8% owned)
Drew Brees will be out for a while with multiple broken ribs and a collapsed lung, meaning it's Jameis Winston time down in New Orleans. Loaded with a full weapons cabinet, Winston will get the keys to an offense that consists of Alvin Kamara, Michael Thomas, Emmanuel Sanders, and a handful of other studs. It's going to be extremely annoying when Sean Payton's boy toy, Taysom Hill, is utilized in the red zone, but Winston gets three juicy matchups with the Falcons twice and the Broncos.
While Damien Harris was the star of the night for New England, Rex Burkhead is making a name for himself in the fantasy realm thanks to his sneaky goal-line usage. He's used a lot in the receiving game as he's all but replaced James White in his signature role. His power running has gotten him goal line chances along with Harris, but it's clear that Burkhead has done enough to keep him on the field more often than not.
KJ Hamler's gotten 10 targets in back to back games now, and his fantasy ceiling continues to rise in Denver's offense. While Tim Patrick offers a high floor, his ceiling is much lower than the electric rookie. Hamler actually led all Broncos receivers in snaps in Week 10, so his stock is currently on the way up.
The loss of Preston Williams swung the door wide open for Jakeem Grant to assume the WR2 role in Miami. He responded with 4-43-1 on 5 targets, and on top of that, he's always a threat to run one back in the return game for bonus points. His usage will go up with Williams hurt, and he trailed only DeVante Parker in snaps last week.
As card-carrying members of the Taysom Hill Sucks Club, our blood is already boiling to see what Payton is going to draw up for the Saints' gunner at the quarterback position. Obviously, you aren't going to throw Hill out there at QB, but he does have a QB/TE designation in ESPN leagues, which makes him a potential TE streamer against that upcoming soft schedule.
His real-life QB value is way higher than his fantasy value at the moment, but Tua Tagovailoa has the potential to be a late fantasy bloomer in Miami's offense. He had a quiet fantasy day with 14 points, but his rushing upside will keep his ceiling pretty high. The schedule coming up for Tua and Miami is favorable.
The Bears' Swiss Army knife put on a show on Monday Night Football with David Montgomery out with a concussion. Of course, we would only suggest adding Cordarrelle Patterson if Montgomery would continue to miss time, but at the time this was published (fourth quarter), Patterson led the team with 10 carries, added a reception, and returned a kick for a touchdown.
STREAM
Marques Valdez-Scantling, WR Green Bay Packers (17% owned)
Alex Collins, RB Seattle Seahawks (0% owned)
Los Angeles Chargers D/ST (42% owned)
Philip Rivers, QB Indianapolis Colts (22% owned)
Cleveland Browns D/ST (18% owned)
Should Allen Lazard miss Week 11 after not playing again in Week 10, Marques Valdez-Scantling can be of use for another week. Anyone in the WR2 spot for Green Bay offers upside at the receiver position.
It wasn't DeeJay Dallas or Travis Homer leading the Seattle backfield this week, it was the return of Alex Collins (remember him?!) as the RB1. He runs hard like Seattle and Pete Carroll prefer from their backs, and with Carson's foot injury lingering for longer than anybody would like, Collins could be used again if he's once again the lead back.
Chargers face Joe Flacco and the Jets this week.
The return of Pittman really helped Philip Rivers pad his passing stats, as well as those dump-offs to Hines. With Green Bay up next, Rivers will have to bring his A-game and be throwing more so than usual.
The Browns have a talented front seven led by sack machine Myles Garrett, and now get the Eagles offense which has just struggled so badly to take care of the ball and produce at a high level.