Player Stock Ticker
Dallas Goedert Fantasy Outlook: Top-6 Week 8 and ROS TE, Immediate Start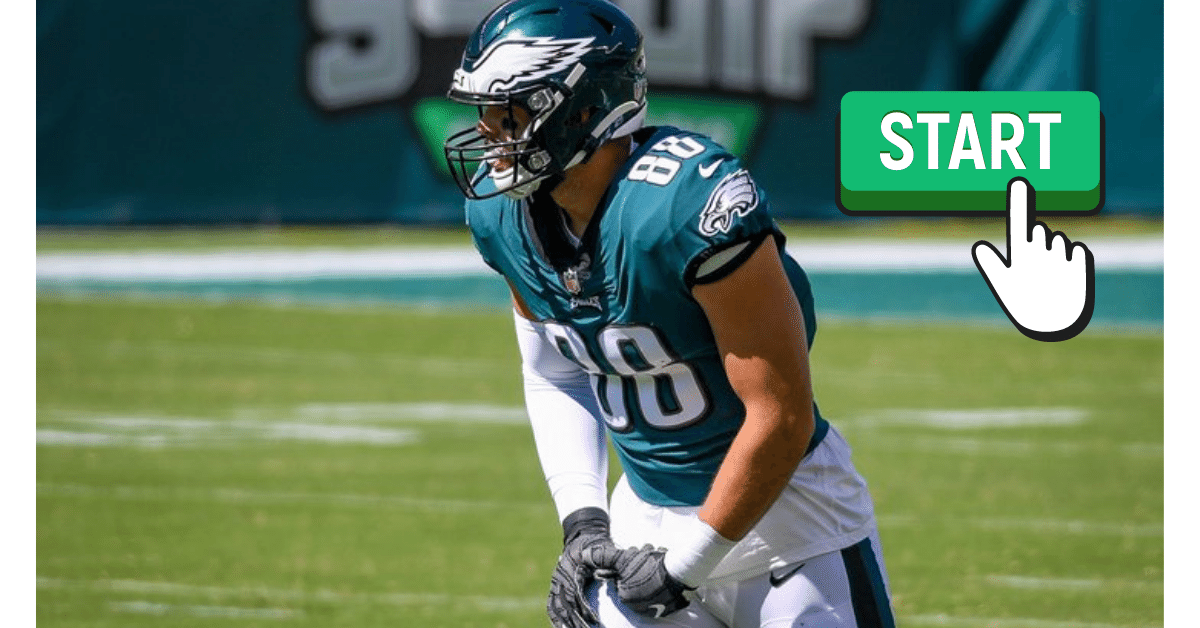 Dallas Goedert makes his return in Week 8, a pleasant fantasy surprise for all who patiently stashed him. This sparks a few fantasy questions, both for this week and beyond:
Should fantasy football owners start Dallas Goedert immediately in Week 8?
Goedert checks pretty much all the fantasy boxes for a strong Week 8 fantasy outlook.
Matchup: Well, he's facing the Cowboys. The definition of a cakewalk, to every position, including TEs (9th most FPs allowed). This offense should move the ball at will, giving Goedert very real 2 TD upside. Check.
Volume: Doug Pederson's passing game has always flowed through the TE. Zach Ertz has been a monster for years in this scheme, until now when he's both hurt and crap.
On his last year of a deal, Ertz has one foot out the door. Goedert will soon toss him out like a bouncer meeting belligerent 23 year old Wolf. Goedert is the future, and the team will seek to prove he can anchor the invaluable TE1 role for now and seasons to come.
That starts today. Travis Fulgham has netted 10+ looks for three straight weeks. Fulgham. Goedert could immediately ascend to the top of the target totem pole, even with Jalen Reagor's return. (BTW, Reagor has sneaky huge ROS upside, too).
Of course, that assumes Goedert's 100% healthy and sees a full workload.
Is Dallas Goedert healthy? Should we expect a full workload?
Dallas is down to their third-string QB. Ben DiNucci. The Eagles are 10.5 point favorites.
This game shouldn't be a problem.
As such, why would the Eagles risk Goedert, especially with a Bye Week looming, if they had any questions about his status.
When discussing his status earlier this week, Goedert himself said: "I can't go out there at 75 percent and get covered, (I'll be) just a waste."
The team wouldn't bother putting him out at less than 100% in an easily winnable game.
This game will let Goedert shake the rust off and get in a groove to build upon as the team transitions him into his role atop the TE1 Throne.
The lone risk is the Eagles get up too big, too soon, and the air gets taken out of the ball. Perhaps DiNucci slings it over the yard and keeps it close (lol). Even if not, the Eagles will want to pile on a divisional rival.
Expect Goedert to be heavily involved for most of this contest.
Summary: Dallas Goedert Week 8 & Rest of Season Outlook
Tight End is as barren as ever in 2020. As such, Goedert can and should ascend into the Top-6 TEs, both for Week 8 and Rest of Season.
Carson Wentz and Pederson love peppering the TE, at all layers of the field, and especially in the Red Zone.
Goedert, meanwhile, is a specimen of a man at 6'5″ and 256 with impressive, speed, and agility to run a full route tree or do damage after the catch.
Starting with a dreamboat matchup with the Cowboys, expect Goedert to smash in Week 8 and doing so for the rest of season. I have Goedert @ TE6, right behind Jonnu Smith.  Dick Rod loses most of his streaming appeal, but could find the end zone, so he remains in play for the TE-needy.