Player Stock Ticker
Jalen Reagor Fantasy Outlook: Waiver Wire Must-Stash, Upside to Approach Rookie Odell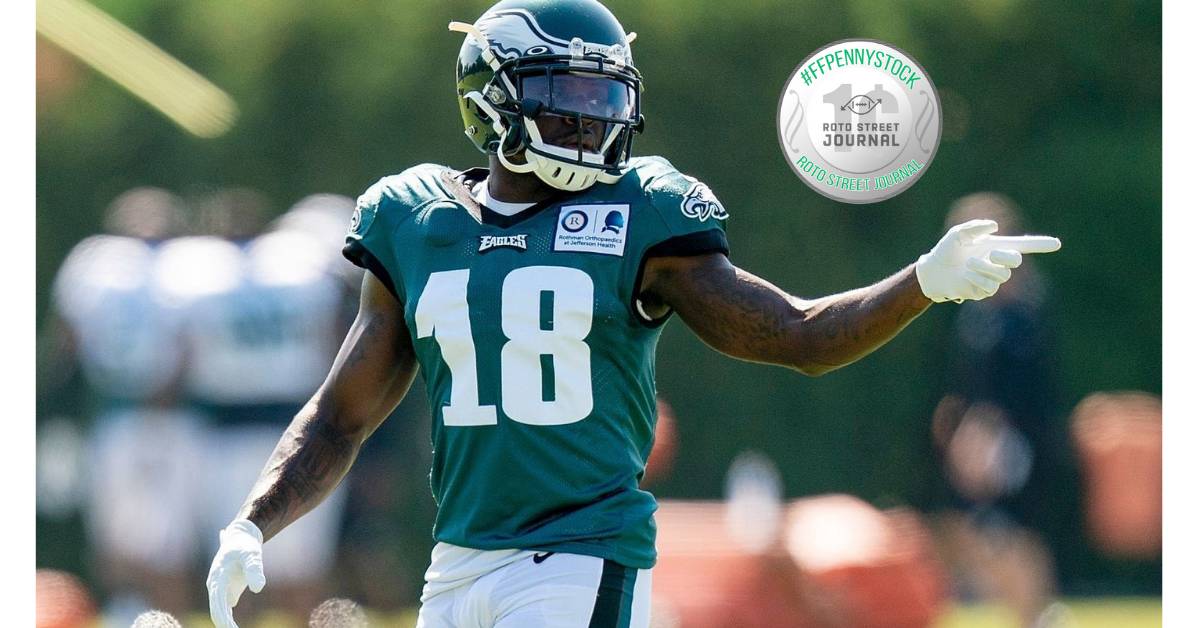 Every fantasy season, midseason heroes emerge and carry savvy owners to fantasy football championships. No examples are more obvious than Odell Beckham's torrid 2014 rookie season finish. Yet, even just last year, AJ Brown and Ryan Tannehill found themselves on over 30% of championship rosters.
In 2020, Jalen Reagor will be the Waiver Wire hero that goes completely berserk.
Currently owned in only 15% of leagues, Reagor should be stashed immediately. Now. Stop reading. Come back for the reasoning afterwards, but trust us: add him before someone else does.
Yes, Reagor's rookie season is NOT off to the start anyone would've hoped for. In Week 1, he caught only one ball, albeit a lovely 55-yarder. As an encore, Reagor tore the UCL in his thumb which required surgery and a five week stint on the IR.
Don't let this distract you from the serious (and warranted) hype he generated all preseason, nor the future production that could await Reagor down the stretch.
Stay up to date on all the Fantasy Football Value Swings! Bookmark our Fantasy Stock Watch. Even better, consume them in our cleanest format by downloading the Roto Street App.
Jalen Reagor's Preseason Fantasy Outlook / Hype Train
Here's a sampling of the hype Reagor generated, seemingly on a daily basis, during August:
On August 24th, Reagor "stood out again," first by burning top CB Darius Slay for a 50+ yard TD. He routinely made contested grabs "with defensive backs draped all over him," flashing rare strength and focus while "playing bigger than his size."
He's not only providing big "wow" plays, though. Rather, Reagor is "making catches in bulk, mostly on short throws…he's impressive as a receiver who can get yards after the catch. Reagor is rocked up, and has power to break tackles, in addition to being a burner." These YAC opportunities include slants and designed screens.
In short: Reagor was the Alpha immediately upon arrival.
This makes sense given his…
Talent: Reagor is the Complete Package
At 5'11 and under 200 lbs, Reagor may lack the "ideal prototypical" build.
Still, he's exceptionally shifty and explosive in and out of his breaks, whether with the ball or in his routes. He's a homerun threat, both before and after the catch, and can beat defenses at every level, including the catch point; Reagor can really explode up vertically and attack the ball in contested situations. He led all 2020 first-round receivers in contested catches.
Don't forget: Reagor was selected ahead of LSU's Justin Jefferson, who was considered more complete and "pro-ready." By all accounts, Jefferson has dominated, tallying the 10th most receiving yards and 15th most FPPG among WRs, despite having the Bye and a slow start.
Yet, on draft night, HC Doug Pedeson and GM Howie Roseman routinely returned to Reagor's "explosiveness and speed," Reagor's ability to separate, and his versatility, as rare.
On our Fantasy Fullback Dive podcast, The Draft Network's Trevor Sikkema praised the pick, raving: "You can get the ball to him on bubble screens, on quick slants, mesh routes over the middle, and just watch him work, because he's just so fast and dynamic, and can also stretch the field."
In short: Reagor could be a true Alpha WR1. Which is convenient, considering…
Usage: Tons of Available Volume From a Surging Carson Wentz
The Eagles WRs corps is once again in shambles. DeSean Jackson, shockingly, is on the injured reserved and expected to miss 6-8 weeks. Not sure Alshon Jeffery has been confirmed alive in 2020.
A creature named Travis Fulgham is shouldering this WRs corps with 10+ targets in three straight weeks (11.3 per game). FULGHAM: Sounds like a breed of potatoes, but is the WR8 in PPG.
Meanwhile, Zach Ertz is injured + a bag of crap. Maybe that Dallas Goedert guy could be good, if he stays on the field.
Needless to say, the Eagles have minimal viable weapons, meaning minimal viable competition for Reagor. And if Fulgham can be the WR8 for any stretch, including two brutal matchups v. PIT and BAL, Reagor could go bonkers.
For all his early season struggles, Carson Wentz has been heating up. He led the barren Eagles to 29 and 30 against the tough Steelers & Ravens defense, and is the QB3 over the past 3 weeks (25.87 PPG). Wentz could make magic with Reagor, and he himself drips in a late-season stretch-run upside.
The volume + surrounding talent certainly add up here. Plus, the Eagles defense has been largely… crap, meaning more shootouts, more points, more fantasy goodness.
Especially with….
Jalen Reagor Rest of Season Fantasy Outlook: Cakewalk Schedule
A picture can speak 1,000 words, right? Well, let this sexy babe do all the sweet-talkin'.

Yep, 50% of games versus Bottom-6 defenses against WRs. Plenty of shootout upside even in the "tougher" matchups.
Summary: Sprint to Waiver Wire for Jalen Reagor
Despite the tough breaks to begin his career, Reagor is a do-it-all WR who's landed in the perfect situation to, well, do-it-all.
A litany of injuries around Reagor should lead to massive target shares upon insertion. Wentz is stepping up. The schedule is softer than my dad bod.
Could Reagor go down in flames? Absolutely. But he also defines the type of upside we use the end of our bench for. Plus, Reagor is back in practice, and reportedly "on track for Sunday."
Under the bright Sunday Night Lights versus the Cowboys, a rookie star WR is born, and outshines the rest of a historic class. We saw how this identical narrative played out in 2014. Time is an endless loop, and history could indeed repeat itself, only his Name. Is. Reagor.
Get ahead now. Hell, even consider him for a Bye Week flex fill-in should he play.
In a season where rookie WRs are exploding unlike ever before, all the stars align for the next massive breakout, Wolves. Don't miss this one.
Stay up to date on all the Fantasy Football Value Swings! Bookmark our Fantasy Stock Watch. Even better, consume them in our cleanest format by downloading the Roto Street App.