Player Stock Ticker
Sneaky Stashes: Early Fantasy Football Week 9 Waiver Wire Adds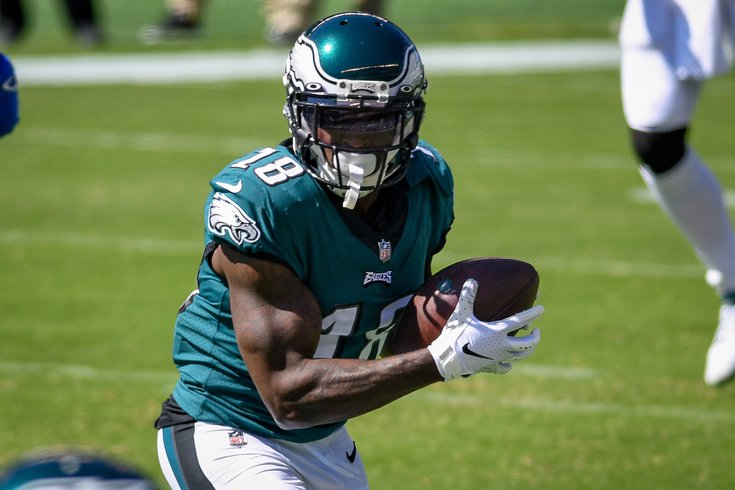 Do you want to hear something scary? After this week, we'll have already hit the halfway point in the NFL season. Happy Halloween. Now, to make the most of the remainder of our fantasy season, we'll need to refine our rosters for the home stretch. In last week's Sneaky Stashes, that meant adding Giovani Bernard, who now has multi-week value, and rookie quarterback Tua Tagovailoa, who is set to make his first start this week. Panthers' QB Teddy Bridgewater, who disappointed Thursday vs Atlanta, also made the list, but as they say, you can't win them all.
For those unfamiliar, the goal of Sneaky Stashes is to get ahead of the waiver wire. By identifying valuable players before they break out, we can avoid dipping into that precious FAAB budget or getting beat out by someone with higher priority on waivers. However your league handles it, we get a leg up by stashing fantasy assets on our bench before they become hot commodities. The players featured below are prospects who either have juicy matchups awaiting them in the weeks ahead, have immense talent that is primed to break out sooner or later, or possibly a combination of both.
Nonetheless, the guys you'll see on Sneaky Stashes are players we recommend considering if you have dead weight at the end of your bench.
Criteria for sneaky stashes require players to be available in 40% or more of Yahoo leagues.
To get our Stock Watches, Weekly Rankings, and podcast episodes directly on your iPhone, download our app in the App Store.
Week 9 Bye Weeks: Cincinnati Bengals, Cleveland Browns, Philadelphia Eagles and Los Angeles Rams
WR — Jalen Reagor — Philadelphia Eagles
Week 9 Matchup: bye
Available in 78% of leagues
Missing in action since week 2, Reagor is set to return to the field Sunday against the lowly Cowboys. The rookie first-round pick has been medically cleared of the thumb injury that cost him five games and enters an Eagles offense desperate for weapons. Talent plus opportunity equals fantasy value, right? While the Eagles have a bye in week 9, a blow-up game against Dallas' soft defense could still make Reagor a hot waiver wire commodity. In fact, The Wolf is so high on Reagor that he believes the speedster can put on a "rookie-year-Odell impression."
QB — Tua Tagovailoa — Miami Dolphins
Week 9 Matchup: vs Los Angeles Rams
Available in 68% of leagues
If you're unsatisfied with at quarterback, now might be your last chance to add a player capable of being a difference-maker at the position. Tagovailoa will start his first NFL game Sunday against the Rams, and if he impresses, the rookie will be a top add on waivers. At Alabama, Tua displayed impeccable accuracy and a quick release, but much of his fantasy upside coincides with his mobility. We've already seen rookie Justin Herbert become a top fantasy quarterback with the Chargers, and Tagovailoa has that same potential.
TE — Logan Thomas — Washington Football Team
Week 9 Matchup: vs New York Giants
Available in 78% of leagues
Those in need of a tight end should take a deep, hard look at Thomas. The college quarterback-turned-tight end is enjoying his best season as a pro with statistical career-highs across the board. In two full games with quarterback Kyle Allen, Thomas put 3-42-1 and 4-60-1 (catches-yards-touchdowns) in the box score. The 29-year-old is second on the team in targets and should see plenty of fantasy-friendly looks going forward.
K — Jason Sanders (MIA) and Daniel Carlson (LV)
Available in 86% and 72% of leagues
Hey, kickers score points too. You know that feeling when your opponent's kicker drops a 20-burger on you? It's time we flip the patty and put some mustard on it. That didn't make sense, but neither does two of fantasy's top kickers being widely available across leagues. Sanderson (11.3) trails only Atlanta's Younghoe Koo (11.6) in fantasy points per game among kickers and has put up monster performances of 18 and 22 points this season. Carlson is tied for fifth in kicker fantasy points per game with 10.7 and has nine or more points in all but one game. To top it off, both kickers have already had their bye week. Pluck one of these underrated assets from the free agent pool, and then go back to forgetting about your kicker.