Player Stock Ticker
Find a Way to Acquire JK Dobbins Before the Week 8 Fantasy Explosion, Ravens Backfield Takeover
Make no mistake about it. The time is now for JK Dobbins to take over the Ravens backfield. The Ravens are coming off a bye week, which is typically when a talented rookie gets injected into a team's game plan. Then, most importantly, Mark Ingram is currently doubtful to play in Sunday's rivalry game against the Pittsburgh Steelers. While the Steelers are as tough as it gets against the run, allowing only 58.5 rushing yards per game and ranked No. 1 in DVOA against the run, Dobbins always shined at Ohio State under the brightest spotlights and should be ready for his expanded role.
However, while Dobbins is the clear elite talent in the Ravens' backfield, John Harbaugh has a plodding veteran who he can't stop feeding.
For some reason, Gus Edwards has John Harbaugh's trust and will likely own the higher number of carries on Sunday. That's even after the Gus Bus put up a disgusting 26 yards on 14 carries when Ingram exited their Week 6 matchup against the Eagles. Luckily, Dobbins is the superior pass-catcher (RB-high 14 targets) and should own passing downs, or split with Justice Hill, but we sadly all know Edwards will get the first crack at it.
Entering Week 8, Ingram leads the team with 50 carries, Edwards is up next with 48, and Dobbins has a measly 25 on the season. But, Ingram is sneakily being phased out, as evidenced below. If the Ravens were bringing along their rookie running back slowly and keeping him fresh for the stretch run, Dobbins could absolutely feast next to Lamar Jackson in this offense.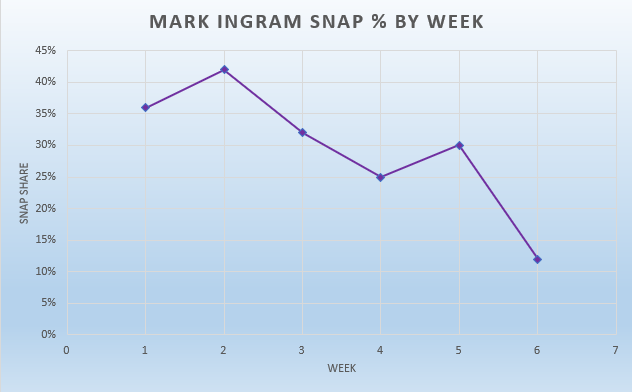 While it's too late to acquire Dobbins via trade at this stage of the week, he's still surprisingly out there in 35 percent of leagues.
Even if he doesn't necessarily explode for 20 points on Sunday, it will be a good litmus test to see how the team handles the running back situation after the bye week and if they want to take advantage of Dobbins' three-down skill-set — especially with the Steelers missing their versatile linebacker, Devin Bush.
Either way, Dobbins needs to be rostered and stashed going forward. The schematic and talent fit is too perfect for the Ravens to keep him glued to the bench any longer and this is the week it changes.
Looking forward, the Ravens get the Steelers twice, Colts, Patriots, Titans, Cowboys, Browns, Jaguars, and Giants, meaning there will be a few games for Dobbins to shine.
Dobbins comes in at RB40 on The Wolf's Rest of Season Rankings, five spots higher than the ECR.