Player Stock Ticker
2020 Daily Fantasy Football: DraftKings NFL Week 2 Stacks & Value Picks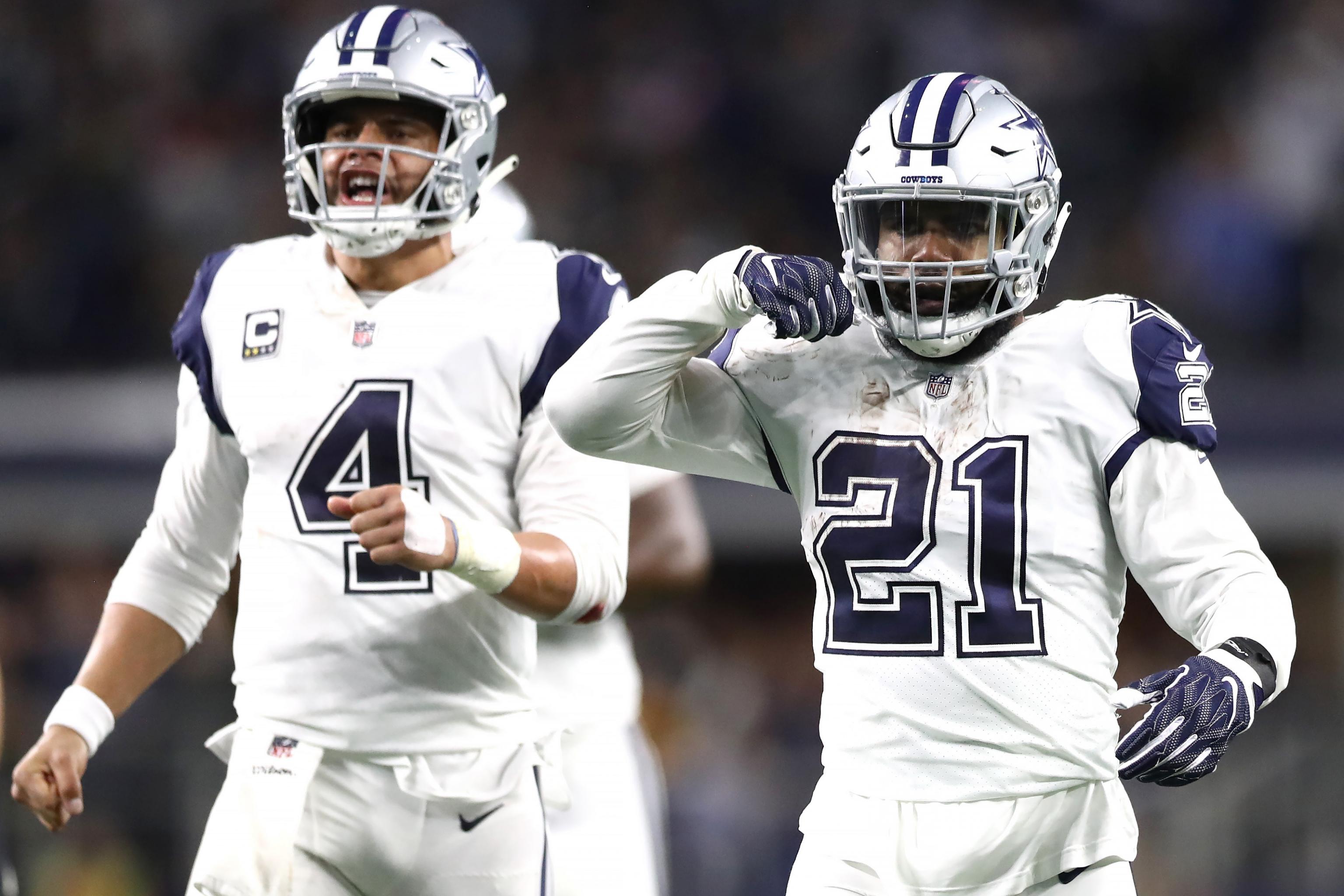 Welcome back to Week 2 of our season-long DFS battle. Week 1 had some surprising stat lines, but overall we were able to put together some money-making lineups.  No "Milly Maker" lineups, but certainly lineups that would have won the vast majority of head-to-head games and other smaller contests.
Week 1 Recap
:
Tailback Tino took the Week 1 crown on the backs of studs like Josh Allen, Josh Jacobs, and Adam Thielen. Swapping out Keenan Allen and Kenyan Drake for two more productive players would have taken a good lineup to the next level and won some serious cash.  
Kendall's lineup was solid as well but was held back by subpar performances from Hayden Hurst and Antonio Gibson.  
Without further ado, here are our Week 2 lineups:
| | | |
| --- | --- | --- |
| | Kendall's Lineup | Tino's Lineup |
| QB | Dak Prescott, $6,800 | Josh Allen, $6,700 |
| RB | Ezekiel Elliott, $8,200 | Ezekiel Elliott, $8,200 |
| RB | Jonathan Taylor, $5,700 | Jonathan Taylor, $5,700 |
| WR | Amari Cooper, $6,300 | Stefon Diggs, $6,500 |
| WR | Allen Robinson II, $6,400 | Allen Robinson, $6,400 |
| WR | Diontae Johnson, $4,500 | Diontae Johnson, $4,500 |
| TE | Hayden Hurst, $4,500 | Noah Fant, $4,400 |
| Flex | Parris Campbell, $4,500 | CeeDee Lamb, $4,700 |
| DST | Rams, $2,800 | Rams, $2,800 |
Stacks of the Week
KB: Malcom Brown and the Rams D/ST are my out-of-the-box stack of the week. The Rams D/ST is disrespectfully underpriced given the offensive line woes of the Philadelphia Eagles. They gave up eight sacks to Washington last week and I genuinely would not be surprised if Aaron Donald got three sacks himself on Sunday. If this proves to be true, then Malcom Brown, who proved to be more productive than Cam Akers in Week 1, should have nice field position to cash in. You're hoping the Rams can take a lead and run out the clock late. If you like Cam Akers here, I'm okay with him too but I lean Brown. 
JT: My stack of the week is once again coming out of the great city of Buffalo with the gunslinging dual-threat Josh Allen and his new shiny toy Stefon Diggs.  Last week, I went with Allen and John "Smokey" Brown and the duo worked perfectly against my hopeless NY Jets.  This week, Smokey Brown is banged up and I expect Allen to pepper his number one target, Stefon Diggs.  I wouldn't be surprised to see two TD's on the day for Diggs, with one of them being a long score.  If Week 1 is any indication of things to come, the Bills trust their run game less this year and want to loosen things up for Josh Allen. If that truly is the case, Allen and Diggs are a smash play in this spot.
Triple Stack of the Week
KB: For my triple stack of the week, I'm going to attack this struggling Atlanta Falcons defense. Last week, the Seahawks managed to score 38 points against them. Russell Wilson threw 4 touchdowns passes and all three skill position fantasy options (Chris Carson, Tyler Lockett, D.K Metcalf) had good fantasy games. The four of them combined for 93 fantasy points… Give me all of that. 
My stack is Dak Prescott, Ezekiel Elliott, and Amari Cooper. This game is projected to be the second-highest scoring game of the week and the Cowboys should score 30+ points on their own. Dak did not live up to the hype in Week 1 but I think he'll bounce back in a major way. Last week, Cooper saw 14 targets and if he sees that kind of target share again this week, he's going to EAT against the Falcons. Elliott had himself a good game last week as well. He managed to score two touchdowns and even saw four targets from Dak. This matchup is a favorable one with plenty of fantasy points to go around. 
I know I called this a triple stack, but it truly is a quadruple stack. Hayden Hurst got off to a slow start last week but he still got targeted 5 times in his Atlanta debut. Hurst ran the same number of routes as Julio Jones, Calvin Ridley, and Russell Gage and it's only a matter of time until more targets come his way. I think some of those Russell Gage targets could go Hursts way this week and I expect a nice bounce back game for him.
JT: I completely agree with Kendall's assessment of the Cowboy's offense being in a prime position to torch the Falcon's putrid defense.  I have a similar stack, albeit with a cheaper option at the WR position.
This week, my triple stack is Dak Prescott, Ezekiel Elliott, and CeeDee Lamb.  Last week, Cooper demanded a massive target share and looked great doing so.  Cooper was limited in Thursday's practice with a toe injury, and we have seen Cooper's ways of disappearing in spots we expect him to smash.  While I am in on Cooper in season-long leagues, I think this could be a spot where the ball is spread around more than usual.  Lamb looked shifty and explosive in his debut and was targeted six times for five receptions.  If Cooper is limited at all going into this shootout, I could see Lamb adding a few targets to his Week 1 totals and getting into the endzone for the first time in his career. While I would rather have Cooper, I believe that betting on Lamb's potential and saving $1,600 will free up more options to spend on other positions. 
Values of the Week
KB's Value of the Week: I can't believe that I'm going to say this… but Corey Davis is my value of the week. With the news that AJ Brown will miss Week 2 and after the great Week 1 performance, I think Davis is a steal at $4,000. With Brown out, Davis will be the number one passing option in this offense, with Jonnu Smith a close second. 
Tino's Value of the Week: My value of the week is a pass-catcher from the Steel City. No, it's not JuJu Smith-Schuster….. It's the criminally underrated Diontae Johnson. Big Ben targeted Johnson 10 times in last week's contest, while only throwing it in Juju's direction six times.  While Juju was more efficient and scored twice last week, Johnson is on the verge of a breakout that isn't accurately being priced in.  Johnson has both the talent and the opportunity, and it is only a matter of time until he finds the end zone multiple times in a week. He is the 1B to Juju's 1A, and simply is not being valued as such.  I have the two ranked closely going into Week 2, and Johnson is a ridiculous $2,000 cheaper on Draftkings. He's a no brainer for me this week, and every week moving forward until his cost rises in DFS play.