Raheem Mostert is falling out of the first five rounds of fantasy drafts, but has all ingredients for a genuine RB1 season. Please, stop allowing this to happen, or at least invite me to your leagues, because Mostert could be a fantasy league-winner at this price.
Sure, Mostert's undrafted. Yes, it took five seasons and six teams for the 27-year old, undrafted, ex-Eagle, Dolphin, Jet, Brown, Bear and Raven, to finally get a shot.
But holy hell, did this man ball when he finally got the chance in 2019.
Forget your eyeballs watching Mostert, a glove-like fit for Kyle Shanahan's zone blocking scheme, knife through defenses like they're hot butter — most memorably on his 29 carry, 220 yard, 4 TD playoff performance.
Instead, just consider the raw stats that emphasize his elite efficiency. In 2019, Mostert ranked:
First in yards per carry (5.6)
First in Football Outsiders, DVOA, measuring an RBs performance in the most valuable situations
First in yards per rush against 8+ defenders in the box, averaging 6.21 yards.
Third in PFF's Elusive rating (86.3), thanks to the sixth most yards after contact per attempt (3.5) and 29 missed tackles forced on only 137 carries (21% of his carries)
Third among RBs with 100+ carries in points per touch (1.12), behind only league-winners Austin Ekeler and Christian McCaffrey.
Eighth in Fantasy Points when he officially took over (Weeks 12-17)
First among RBs in average MPH when hitting line of scrimmage (11.3), behind only Lamar Jackson
These analytics illustrate exactly what Mostert's tape shows: elite vision and patience to find the hole and read his blocks, incredible acceleration once he found the grass (he really hits that 4.34 gear within a few steps), and fantastic agility to make defenders miss once in the open field.
In short, all the traits needed to thrive in a zone-blocking scheme:
Surrounding Talent: The Value of the Zone Scheme
But Wolf, isn't Mostert just a product of an elite scheme?
Well, according to him, no:
If people really watched film they would know that I'm not just a scheme back. You can put me in any offense and I'll strive. Check the tapes. Just need the opp! #TrueTBT https://t.co/RB4FwpRvY2

— Raheem Mostert (@RMos_8Ball) May 28, 2020
Still, even if he is… so what?
The Shanahan zone scheme, rooted in the concepts of the OG blocking guru Alex Gibbs, has made monsters out of far less runners than Mostert. Creatures named Mike Anderson and Reuben Droughns have ripped off nearly 1500 yards and Top-Five rushing seasons within this scheme, while actual talents like Terrell Davis, Clinton Portis, and Arian Foster broke fantasy with nearly 2k yards and 18-20 TDs.
This excellent Ringer article illustrates how a zone scheme works, and why it's so successful when executed properly, with the right players.
In short: zone blocking requires linemen to block "areas" instead of specific players. Via double-teams and releases, linemen work as a unit to block these "zones" and pick up whoever crosses their paths. This system creates massive initial lanes and cutback opportunities, using the defense's pursuit to their advantage.
This unique style requires athletic and cerebral lineman. It also necessitates a very specific type of runner, with Mostert's exact strengths, which he has honed since joining the 49ers:
"You have to have vision in order to read the holes and read the gaps," Mostert said "I worked on it. Coming in I didn't really run an offense like that coming out of college … having to transition into gap scheme and reading holes one at a time, it took a little while to work out. But it pays off once you get to it."
Indeed, Mostert benefited from the scheme. He led all running backs in yards before contact per attempt (3.5); meanwhile, fellow Niners back Matt Breida ranked second (3.3) and Tevin Coleman also cracked the top 10 (2.6). As a team, the 49ers had more rushing yards before contact than the Steelers had rushing yards total.
Still, as the aforementioned metrics suggest, Mostert also made the absolute most of his great situation. Coleman saw the same exact amount of carries, in the same offense, but posted 228 less yards, after all.
The line remains nearly fully intact, with the only change — Trent Williams for an aging Joe Staley — likely an upgrade. Williams is an absolute mammoth run blocker, who previously paved massive lanes for Alfred Morris as Shanahan's LT in Washington.
Indeed, the scheme and line are huge reasons for the 49ers second-ranked rushing offense, trailing only the record-setting Ravens.
Thankfully, both remain fully in place for Mostert in 2020.
Plus, imagine if Jimmy Garoppolo, now two years removed from ACL surgery and equipped with even more weaponry, takes his game to a new level? While unnecessary, more TD opportunities and even fewer stacked boxes would only help Mostert.
Usage: The Question Mark… Kind of
But Wolf… Shanahan has repeatedly used RBBCs. Hell, even after Mostert rushed for the second most yards (220) in a playoff game, Shanahan only gave him 12 carries in the Super Bowl, and none until the second quarter.
Can we really trust this man to give Mostert the carries he deserves?!
Indeed, this is a fair question, and likely the sole reason Mostert falls as far as he does. Coleman is still on the roster, and Jerick McKinnon somehow could still be a thorn, especially on pass downs.
Still, Mostert's elite efficiency doesn't require a standard bellcow treatment for RB1 production. Even a modest bump, to the 220-250 range (13-18 carries per game), would be enormous.
Look at what the guy has done when given just 9+ carries: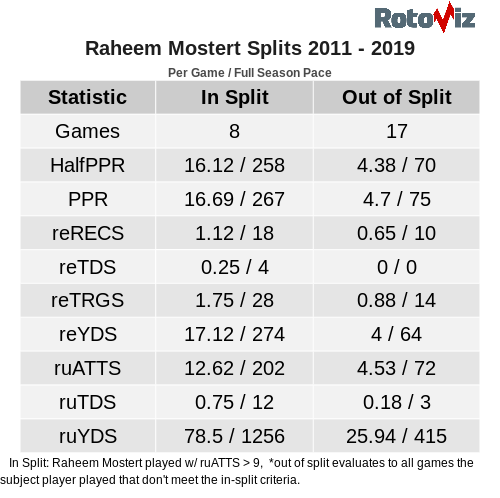 And no, this doesn't even factor in Mostert's insane playoff performance. 267 FPs would've ranked Mostert as the RB6, just ahead of Nick Chubb, Joe Mixon and *gasp* Alvin Kamara.
Are you telling me Mostert won't see 9+ carries a game in 2020 after his finish to 2019?
That's especially true with Matt Breida and his 142 touches and 743 yards now in Miami. Unless McKinnon is truly back to form and maintains health for the first time in three seasons, Mostert is likely to shoulder a significant chunk of this vacated volume.
In a worst case scenario, Mostert should see 200+ carries. He's at least prepping for this:
"Right now, I'm just building myself up," Mostert explained. "I'm actually gaining some more muscle, which is kind of bizarre just because I haven't really been able to think about gaining muscle because I've already had muscle like that.

"Just trying to incorporate those things in my daily workouts, so that way, I'm able to take those hits and be one of those guys getting 200 carries. I've got to get prepared for that, and the only way that I know how is to get bulky and stronger."
In addition to bulking up for more rushing work, Mostert's also preparing for a heavier receiving workload:
"I'm running a lot of routes because I'm trying to elevate my game," Mostert said. "I don't want to just be one dimensional. I want to catch the ball out of the backfield it's something I pride myself on, even lining up from the slot position. I have been trying to get back to my receiver days when I was at that position in college. I'm getting back to everything I was doing then, mostly in that mental state."
Yet, no one seems to be discussing the best case scenario.
While Shanahan's recent history is riddled with RBBCs, he's certainly not afraid of a true workhorse.
In fact, in 12 seasons calling plays, Shanahan has fed his lead back 280+ touches six times (50%). A handful of misses were due to early season injuries. How did his workhorses fare?
2008 – Steve Slaton: 

318 touches (50 rec on 59 tgts), 1659 YFS, 10 TDs, 275 FPs, RB7

2012 – Alfred Morris: 

346 touch (11 rec on 16 tgt), 1690 YFS, 13 TDs, 258 FPs, RB7

2013 – Alfred Morris: 

285 touch (9 rec on 12 tgts), 1353 YFS, 7 TDs, 186 FPs, RB20

2015 – D.Freeman:

338 touch (73 rec on 97 tgts), 1634 YFS 14 TDs, 320 FPs, RB1

2016 – D.Freeman:

281 touch (54 rec on 65 tgt), 1541 YFS, 13 TDs,

286 FPs, R6

Note: Coleman also solid w/ 149 touch (31 rec, 40 tgts), 941 YFS, 11 TDs, RB20

2017 – Carlos Hyde: 

299 touch (59 rec on 88 TGTs), 1288 YFS, 8 TDs, 235.8 FPs, RB8
Granted, after six years of unknown journeyman status, Mostert is unlikely to leap from 150 to 300 touches. But the upside does exist.
He certainly has earned Shanahan's approval. During Mostert's backfield takeover to end 2019, the head coach raved:
"Raheem's earned it over these last few weeks.. I mean, how many games can you go and how many years can you go averaging six yards a carry?

"We keep trying to balance it out and stuff, but what Raheem has done these last few weeks and has continued to do, we need to give him more opportunities. He's given us no choice. He's been extremely impressive… when you do it week in, and week out, it's time for people to notice. He's been pretty damn good, and he needs some more opportunities because he's making the best of it."
Indeed, while 280-300 touches is lofty, the upside does exist. Especially considering the 49ers were one of only two teams to run (51.4%) more than they pass (48.6%), ranking 2nd in total rush attempts with 32.1 per game.
Even still, Mostert won't need a bellcow treatment anyways. Just 220+ would be more than enough to facilitate low-end RB1 numbers, even if Mostert's insane efficiency takes a slight dip in 2020.
Summary: The Highest Round Five Fantasy Upside Out There
Whether you believe in analytics or film, Mostert popped when finally afforded his opportunity in 2019. In 2020, the same zone blocking scheme, excellent line (+ Trent Williams), and run-obsessed attack remain in place for another dominant 49ers "Ground Pie" that projects to again rank Top-3 in the league in volume and production.
The question remains: how large will Mostert's slice be?
Breida's hefty slice (142 touches, 743 YFS) has to go somewhere, and Mostert's preparing his body and receiving skills to shoulder the load. Even if his insane efficiency slightly dips, the added 40-50 touches should buoy his value. The floor is sneaky-high, and the ceiling is season-winning if Shanahan gives him 280+ touches — something he's done with 50% of his lead backs.
Don't be shocked if Mostert's RB8 performance as a starter carries through all of 2020. He's my RB20 (+6 ECR and ADP), worth a late third / early fourth in my eyes. The fact you can snare him towards the end of Round 5 is sheer robbery.