Player Stock Ticker
Cam Newton Provides Major Fantasy Upside to Patriots Offense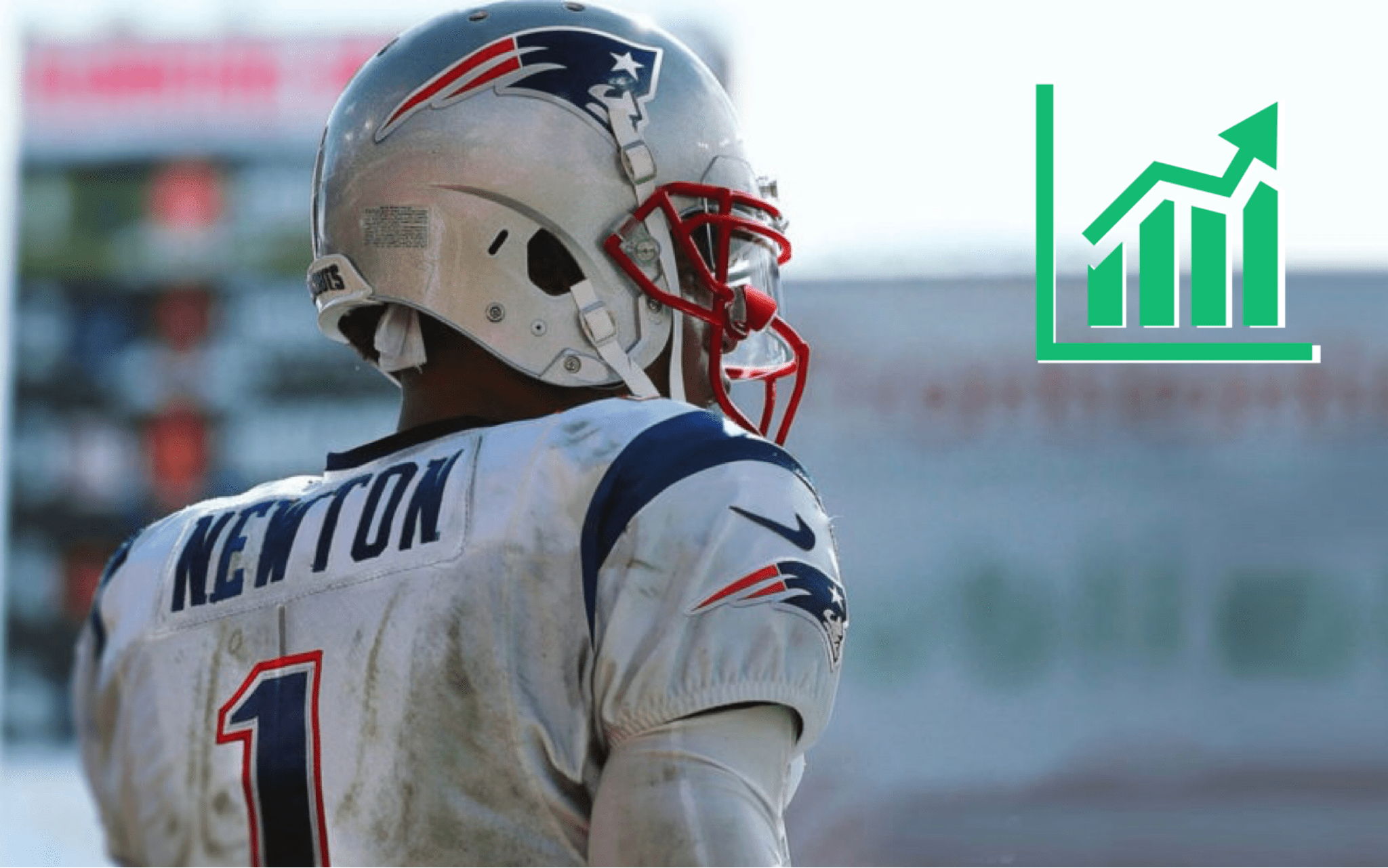 Friend of the podcast, Adam Schefter, dropped a Sunday night bomb when he announced the Patriots signed former NFL MVP, Cam Newton, to a one-year, incentive-laden deal, that is worth up to $7.5 million if he can check a list of unreported boxes from the team.
We all know Newton's ceiling and potential, but outside of a solid 2018 campaign, he has been a shell of his former MVP-self. Can he arrive to Foxborough in the best shape of his life coming off a handful of major injuries to put up numbers in Josh McDaniels' offense? Or will be succumb to those injuries and show that he's done for good?
Now, that injury list is no joke and although he looks like he's in good shape and has a chip on his shoulder, the list is a serious cause for concern. Since 2015, he's had a concussion, rotator cuff tear, knee strain, another shoulder injury, and then his 2019 season was cut short after two weeks following a Lisfranc fracture.
Still, there isn't a better real-life situation for both the post-TB12 Patriots and Newton. A one-year deal gives Newton the chance to get that last real pay day and prove his worth, and it also gives Jarrett Stidham another year to learn the offense.
If healthy, Newton is a clear fantasy upgrade for this offense. Sure, his accuracy will need to improve (59 percent career completion percentage) to effectively run the Patriots' quick-hitting offense. However, the Patriots offensive tempo has always been there and McDaniels is creative enough to adapt the offense to fit Cam's skill-set.
Julian Edelman will be the biggest question-mark. He's used to his crazy rapport with Brady, where the two could probably complete a drive together with their eyes closed. In Newton's nine-year career, he's only completed over 60 percent of his passes twice and he's not known as an accurate intermediate passer. I could see Edelman taking a slight hit in The Wolf's updated 2020 Rankings and Big Board.
Then there's second year wideout, N'Keal Harry, who could be the biggest riser following the addition. Harry possesses the size, catch radius, and strength to come down with jump balls and use his lack of elite separation as a plus with Cam under center. Think of Kelvin Benjamin's rookie season where he saw an absurd 145 targets from Newton. Those targets resulted in a 73 rec, 1,008 yd, and 9 touchdown season before eating himself out of the league. While Harry's upside is much greater, it proves he's the type of receiver who can make adjustments and make plays alongside Newton. He's a much, much better fit with Newton than he was with Brady, and he now drips in second-year blowup potential in this offense.
Because McDaniels has changed his scheme to more run-heavy protect the aging Brady, it could be similar to what we'll see with Newton under center. Outside of DFS, Mohammed Sanu, Damiere Byrd, and the rookie tight ends will mostly be useless. However, this signing could provide a slight boost to both Sony Michel and James White.
For White, Christian McCaffrey saw 113 targets and 124 targets in 2017 and 2018, respectively. If we dive into that 2018 season where Newton completed a career-high 67.9 percent of his passes, he completed 86.3 percent of his passes that were intended to CMC that season. Obviously CMC is the elite of the elite pass catching running backs, but White is right up there with passing game versatility. If Edelman's targets drop and the two can't get on the same page intermediately, then White could be the beneficiary of quick strikes in this offense.
As for Michel, who Patriots fans are counting down the seconds until his rookie deal is up, he could benefit from zone read plays alongside Newton in shotgun. He's never ran in a true zone read offense before, but it doesn't hurt at this point to try something new with Michel. But on the other hand, Newton has two seasons of double-digit rushing touchdowns and if healthy, it shouldn't shock anyone if he finds the end zone six-plus times on the ground. It might be a wash here.
Overall, the Patriots didn't bring Cam Newton into town to take 3-step drops and hit Edelman on slants. He's supremely talented, elite athletically, and was brought to New England to make plays. The upside is tremendous from a fantasy standpoint and he will be one of the most interesting fantasy developments of the 2020 season.
As of now, The Wolf has Newton ranked as his QB17 (-2 vs ECR) on his 2020 Big Board and Rankings.