The Move
 Shurmur has agreed to a five-year deal with the New York Giants, leaving behind a dramatically improved Minnesota offense in hopes for a similar turnaround in the Meadowlands. Shurmur has yet to name an offensive coordinator, but he's fully expected to call plays regardless. Though Shurmur's coaching and coordinating track record is spotty, he's been around some highly innovative minds while generally creaing explosive attacks when afforded the right talent. He'll inherit plenty in New York, making this a crucial hire to dig deep into.
General Background / Philosophy
Coaching History – What have you done for me lately?
Despite a rough start, Shurmur's recent history suggests he's absorbed plenty from the brilliant offensive minds he's been around.
Shurmur entered the NFL in 2004 as quarterbacks coach for Andy Reid's Eagles; as explored below, Reid's "West Coast" fingerprints are all over Shurmur's offensive philosophy and scheming, and his close work with Donovan McNabb certainly yielded some creative juice for the future.
Still, Shurmur's first coordinating gig didn't come until 2009 with the Rams. Lacking any semblance of firepower (Donnie Avery at WR1 lol), his offenses sputtered to 32nd and 26th rankings in total points scored. Puke start. 
So who came calling for a head coaching offer? The Cleveland Browns of course! Shurmur again had minimal talent to work with, and his offense again struggled mightily for two seasons (30th and 24th in points scored respectively). Unsurprisingly, he was fired following  5-11 2012 record.
It wasn't until 2013 where Shurmur finally experienced some offensive success, joining Chip Kelly and the Eagles. Kelly's innovative "Oregon Spread" offense took the league by storm, ranking in the top-five of nearly every single offensive category — points, total yardage, all rushing categories, passing scores and really everything outside passing yardage, which still ranked 9th. The Eagles rolled out another juggernaut in 2014, ranking 3rd in points and 5th in total yardage, before dropping to 13th and 12th in each category for 2015.
Much of this success is rightfully attributed to Kelly. Still, just as with his time under Reid, Shurmur undoubtedly absorbed plenty of offensive innovation.
Shurmur finally joined the Vikings in 2016 as the offensive coordinator. With Adrian Peterson and his suspension torpedoing this rushing attack, Shurmur again found himself with minimal talent and produced more paltry points (23rd) and yardage (28th).
2017 represents his masterpiece, however. Shurmur finally put together a highly productive offense outside of Chip Kelly's shadow, even with a journeyman in Case Keenum at QB all while enduring a devastating ACL tear to his stud workhorse in Dalvin Cook. His team ranked 10th in points for and 11th in total yardage, while ranking top-10 across all Rushing categories, plus 11th and 12th in passing yardage and scores.
Though the track record is uneven, I'm siding with the recency here. Shurmur has gained plenty from innovators like Reid and Kelly. This is his first head coaching gig since collaborating with Kelly, and definitely his first time in the lead role with a legitimate signal-caller and explosive surrounding skill talent.  With no one left to answer to and trending in the right direction, Shurmur could coordinate a juggernaut here.
Scheme / System – West Coast / Power Spread
Shurmur is an apple that doesn't fall far from his Andy Reid tree, meaning he's rooted in a "West Coast System." Yet, he's also soaked in plenty of run game concepts from Chip Kelly, and in general Shurmur's offense unfurls from the backfield outwards.
In general, West Coast offenses stretch defenses horizontally via a quick-strike passing attack that features plenty of ins and outs. Re: slants, drags, and flat patterns. The goal is to minimize the risk, get the ball in your playmakers hands, and let them do their thing. The offense is predicated on timing, rhythm, and getting the ball out of the QBs hands quickly are all general staple, and prioritizes ball-control and minimizes turnovers.
Unlike Reid, Shurmur's offenses have been far more balanced — the Vikings ranked 2nd in the NFL in rushing attempts in 2017, and their 53:47 pass-to-run ratio was the fourth lowest in the league. This, despite running three-wide receiver sets 56% of the time, suggesting Shurmur likes spreading teams but still pounding the rock. Similar to Reid, however, Shurmur does pepper his backs with targets, and will gleefully ride workhorses when provided the talent (more on this later).
The Vikings ranked towards the top of the league with two tight end sets (29%), which falls in line with their run-centric approach. Though Shurmur's system is predicate on high percentage, safe throws, he does enjoy going vertical, especially off of playaction (28.7% of Keenum's passes).
This balance and creative personnel groupings will be music to Giants' and fantasy fans ears. After a successful initial campaign, Ben McAdoo became increasingly predictable and stale in his play calling and groupings. He ran 11 personnel (3 WR sets) a whopping 92% of the time, while almost exclusively dialing up short curls and slants. A revived rushing attack and more deep emphasis, mixed into the established high-percentage, "West Coast" tendencies could work magic.
Passing Game Impact
Quarterbacks
2009 – Marc Bulger (STL, 9 GMs): 140 – 1469- 5 TDs (ew)
2010 – Sam Bradford: 354 comp – 3512 yds – 18 TDs
2011 – Colt McCoy (13 gms): 265 – 2733 – 14 TDs
2012 – Brandon Weeden (15): 297 – 3385 – 14 TDs
2013 – Nick Foles (10): 203 – 2891 – 27 TDs
2014 – Mark Sanchez (9 gms): 198 – 2418 – 14 TDs
2015 – Sam Bradford (14 gms): 346 – 3725 – 19 TDs
2016 – Sam Bradford (14 gms): 395 – 3877 – 20 TDs
2017 – Case Keenum (14 gms): 325 – 3547 – 22 TDs
Summary: Over his career, Shurmur's faced injury woes and sub-par talent, thus yielding minimal quality fantasy campaigns. His higher-percentage throws and heavily reliance on the run also limit signal caller upside, and QBs have only been true fantasy assets when in Chip Kelly's fast-paced attack. Still, the minimal turnovers have generally created a decent floor, making Shurmur's QBs fair "Blue Chip" prospects.
2018 Outlook – Eli Manning a Quality Blue Chip
Fantasy owners weren't kicking down doors to acquire Eli Manning anyways, but the Shurmur hire does minimal to move the upside needle. Still, Shurmur has been praised for squeezing productive campaigns out of guys like Case Keenum and Nick Foles, and Eli at least matches these two in talent.  One area owners can expect definite improvement, however, is on turnovers, as Shurmur's teams have finished in the top-10 in minimizing turnovers in 5 of his 9 campaigns, despite mostly garbage heap QBs. Shurmur also is known for scheming to his team's strengths, and Odell Beckham should be used far more creatively, bringing Manning along for the ride. All-in-all, Manning will likely end up a high-floor QB2 who has a few monster weeks but hovers around 15 FPs a contest.
WR1s 
2009 – Donnie Avery: 97 tgts, 47 rec, 589 yds, 5 TDs (5 people with 60+ tgts)
2010 – Danny Amendola: 123 tgts, 85 rec, 689 yds, 3 TDs
2011 – Greg Little: 119 tgts, 61 rec, 709 yds, 2 TDs
2012 – Josh Gordon (rookie, 13 GPs): 96  tgts, 50 rec, 805 yds, 5 TDs
2013 – DeSean Jackson: 126 tgts, 82 rec, 1332 yds, 9 TDs + Riley Cooper: 84 tgts, 47 rec, 835 yds, 8 TDs
2014 – Jeremy Maclin: 143 tgts, 85 rec, 1318 yards, 10 TDs
2015 – Jordan Matthews: 126 tgts, 85 rec, 997 yds, 8 TDs
2016 – Stefon Diggs (13 GP): 112 tgts, 84 rec, 904 yds, 3 TDs + Adam Thielen: 92 tgts, 69 rec, 967 yds, 5 TDs
2017 – Adam Thielen: 142 tgts, 91 rec, 1276 yds, 4 TDs + Stefon Diggs: 95 tgts, 64 rec, 849 yds, 8 TDs
Summary: The trend seems fairly clear: when he's had talent to work with, Shurmur's coached some fantastic WR seasons. When Donnie Avery is his top target, the WRs predictably flop. Shurmur specializes at getting the ball into his playmakers hands, and his wideouts run routes all over the field. He frequently moves his wideouts around the formation, and has particularly thrived with deep concepts out of the slot. In fact, his last 4 predominantly slot WRs have averaged 8.94, 7.88, 8.62, and 8.88 targets per game.
Diggs recently explained how Shurmur maximizes his playmakers and schemes to their strengths, stating:
"He's gonna call plays that work for you," Diggs said. "He's gonna do what you're good at. He's not gonna make it hard. He's gonna make it as easy on you as possible. Whatever you're good at, he's gonna let you do. That's it. As a player that's what you want. So whatever you do well, he's gonna let you do it to the best of your ability — and a lot."
2018 Summary – Beckham to return to dominance; Sterling Shepard to continue ascending?
Despite dominant campaigns since joining the league, Beckham still feels somewhat untapped. He'd inexplicably disappear for stretches under Ben McAdoo, and wasn't target deep or utilized creatively nearly enough. That's likely to change under Shurmur, who's always funneled looks to his top talents in creative manners. Beckham can be moved all over the formation, and though he's been primarily an outside threat, Beckham has proven insanely dangerous on vertical slot routes. As mentioned, Shurmur loves attacking teams deep down the seams with his slot weapons, and no one is more equipped than Beckham to capitalize on these chances. He's one of the few talents who can catch a slant and rip it 70 yards down the field for a score, and Beckham will see these chances multiply under Shurmur. Diggs himself expects a monster season, noting:
"As a player, (Beckham) does a lot of things well, so it's gonna be a fun offense for him to be in. Because Pat knows how to get people the ball. He's special. Good coach."
A notorious headcase, Beckham's already expressed his joy and approval over the hire, stating:
God really works in mysterious ways….let the journey begin…. I'm geeeked https://t.co/3tbOTPcSl1

— Odell Beckham Jr (@obj) January 15, 2018
If Shurmur can coach a WR1 monster season out of Adam Thielen, he could craft a masterpiece for the ages with Beckham, who'll be shooting up my next Big Board.
Though Brandon Marshall's status and effectiveness are fully questionable, Sterling Shepard could continue rising. He flashed his ability to carry a passing attack, posting over 130 yards three times in only 11 games, while hauling in 11 receptions on two separate occasions. He logged 55% of his snaps out of the slot, where again Shurmur has made magic happen. Of course, Beckham was also sidelined most of the year, though he only logged 1.9% of snaps from the slot last year and 11% the year prior. If Shepard maintains a stranglehold on these snaps, he could be in line for his first 1,000 yard season, health permitting. That's a major rub with Shepard, who missed 5 games and was constantly nagged or pulled early in others. The upside is rising, however.
TEs
2009 – Randy McMichael: 62 tgts, 34 rec, 332 yds, 1 TD
2010 – Daniel Fells: 65, 41, 391, 2 TDs
2011 – Ben Watson: 70, 37, 410, 2 TDs
2012 – Ben Watson: 82, 49, 501, 3 TDs
2013: Brent Celek (split with Ertz): 51 tgt, 32 rec, 502 yds, 6 TDs
2014: Zach Ertz: 89 tgts, 58 rec, 702 yds, 3 TDs
2015: Zach Ertz: 112 tgts, 75 rec, 853 yds, 2 TDs
2016: Kyle Rudolph: 132 tgts, 83 rec, 840 yds, 7 TDs
2017: Kyle Rudolph: 81 tgts, 57 rec, 532 yds, 8 TDs
Summary: Similar to his wideouts, Shurmur's track record feels pretty consistent: when he's had talent, he's put it in position to succeed. Over his last four campaigns, Shurmur has targeted his tight ends at least 80 times, including an insane 132 targets for Rudolph just two seasons ago. He loves the play action ball and sending his tight ends streaking down the seams, while also crafting up tight end screens.
2018 Outlook – Evan Engram to ascend into Elite Territory?
Rookie tight ends notoriously translate slowly to the NFL, so Evan Engram's 722 yards, 6 TDs and TE5 fantasy campaign emphasize his immense talent. Again, Shurmur crafts opportunities for his playmakers, and Engram will certainly be towards the top of his priority list. He's a true matchup nightmare with a blazing 4.42 forty at 6'3″, 234 lbs and butter smooth route running. He'll see immense red zone volume while plenty of opportunities to blaze down the field, and Beckham's return should only further shake Engram free. Expect Shurmur to capitalize upon these physical gifts, while Engram takes the usual sophomore leap himself, vaulting into Travis Kelce and Zach Ertz territory.
Pat Shurmur: The Bellcow Breeder
Running Backs:
2009 – Workhorse – Steven Jackson: 1738 total yds, 4 TDs, 51 rec (75 tgts), 324 carries
2010 – Workhorse – Steven Jackson: 1624 total yards, 6 TDs, 46 rec (62 tgts), 330 carries
2011 – Gross Committee – Peyton Hills leads gross committee with Montario Hardesty and Chris Ogbonnaya: 717 total yards, 3 TDs, 22 rec (34 tgts), 161 carries
2012 – Workhorse – Trent Richardson: 1317 total yds, 12 TDs, 51 rec (70 tgts)
2013 – Workhorse – LeSean McCoy: 2146 total yds, 11 TDs, 52 rec (64 tgts), 314 carries
2014 – Workhorse – LeSean McCoy: 1474, 5 TDs, 28 rec (37 tgts). 312 carries; Sproles – 716 yds, 40 rec (62), 57 carries; Polk steals 4 TDs
2015 – Gross Committee – DeMarco Murray: 1024 total yds, 7 TDs, 44 rec (55 tgts), 193 carries; Ryan Mathews: 685, 7 TDs, 20 rec (28 tgts), 106 carries; Sproles 705 yds, 4 TDs, 55 rec (83 tgts), 83 carries
2016 – AWFUL (AP Suspension yr) – Jerick McKinnon: 794 total yds, 4 TDs, 43 rec (53 tgts), 159 carries; Matt Asiata – 665, 6 TDs, 32 rec (38 tgts), 121 carrie
2017 – Workhorse to start (Cook), Committee to end (Murray + McKinnon): Jerick McKinnon – 991 total yds, 5 TDs, 51 rec (68 tgts), 150 carries; Latavius Murray 945 total yds, 8 TDs, 15 rec (17 tgts), 216 carries; Dalvin Cook (4 GP): 444 yds, 2 TDs, 11 rec (16 tgts), 74 carries (1776, 8 TD, 44 rec pace)
Summary: Shurmur has at least attempted to breed a workhorse in 6 of his 9 seasons (Dalvin Cook's ACL injury cut a gem campaign far too short last year). Indeed, he's had some historic talent to work with in Steven Jackson and LeSean McCoy, but Shurmur was able to churn a thoroughbred campaign out of awful Trent Richardson. Shurmur prefers a versatile power back who he can run up the gut one play, then hit for a screen on the next, keeping defense's guessing. In fact, entering last year, Shurmur ranked second among active play callers in creating "weighted opportunity" for RBs, via PFF.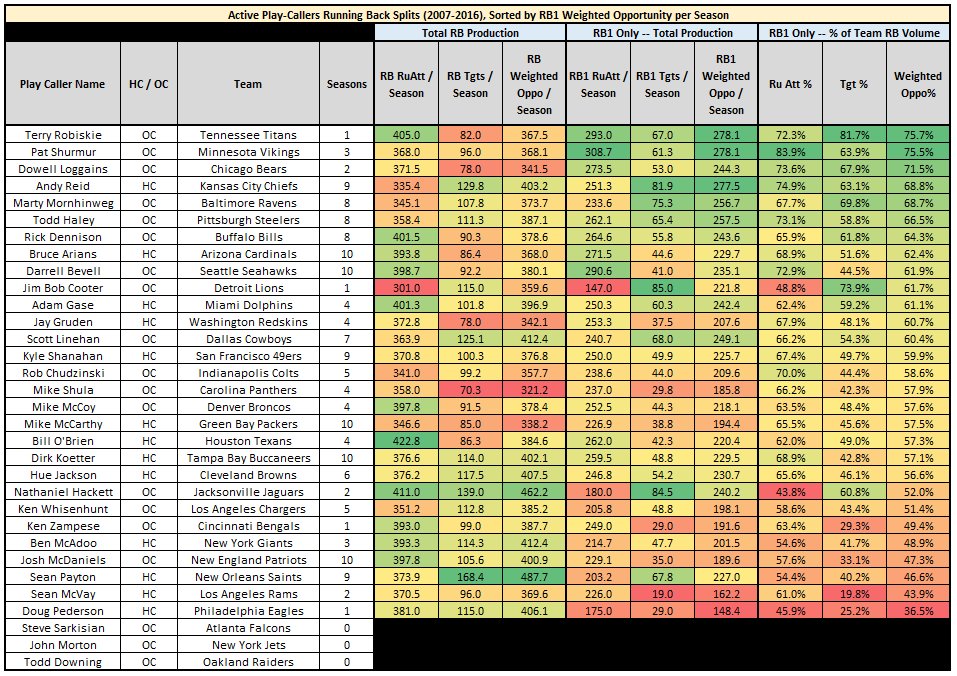 308.7 carries per season (83.9% of team's share) + 61.3 targets = insane volume, especially in a committee-plagued era.
2018 Outlook – A Massive "Value Hole" Emerges in NYG Backfield
Though Wayne Gallman had his flashes and Orleans Darkwa ripped off some chunk gains throughout 2017, neither showed the juice for that "Shurmur Horse" role. Thus, we're staring at one of the offseason's most intriguing "Value Holes."  The line is quite horrendous, but there's plenty of explosive surrounding talent in this offense to keep the ball moving. This 2018 RB draft class is arguably more stacked than last year — insane, I know — so expect Shurmur to hunt for his Giants version of Dalvin Cook. With the right talent here, we'd be looking at some very real RB1 upside.
Summary:
Though his track record appears shaky, Shurmur's recent years have flashed far more promise than his early career. Now as the head coach with the ultimate say and with arguably his most talented offensive personell yet, Shurmur seems primed to unleash his offensive mastermind in 2017.
First and foremost, a monstrous bellcow season should be in the cards if the right talent lands here. Given the insane talent and depth of this 2018 RB pool, Shurmur should have no problem finding his Giants' version of Dalvin Cook. I'm already all-in on the backfield without knowing who'll be seeing the work.
Of course, the most relevant name is Odell Beckham, who could be in line for his most dominant season yet — no light statement considering his record-setting first three seasons. Shurmur is known as a talent maximizer who sets up his players to do what they do best, and Beckham can do it all at the highest levels. Expect his vertical tree to expand, plus plenty of short game touches manufactured.
Not to be outdone, the rising Evan Engram should take a leap in his sophomore season. In addition to another year of seasoning, Engram will benefit from Shurmur's willingness to pile on tight end targets, especially in the red zone. Expect a leap into the Travis Kelce range for a 2-3 round discount.
Last but not least is Sterling Shepard. Shurmur's track record with slot WRs is golden, and Shepard has flashed game changing abilities in this role before. He should see the most volume and creative usage of his young career, and is a real threat for 1,000+ yards.
All-in-all, I'm clearly fired up for Shurmur to light off a fantastic offensive fireworks display in the Meadowlands.