Player Stock Ticker
Why Tyler Higbee is the Rams' Biggest Fantasy Gainer from Brandin Cooks' Trade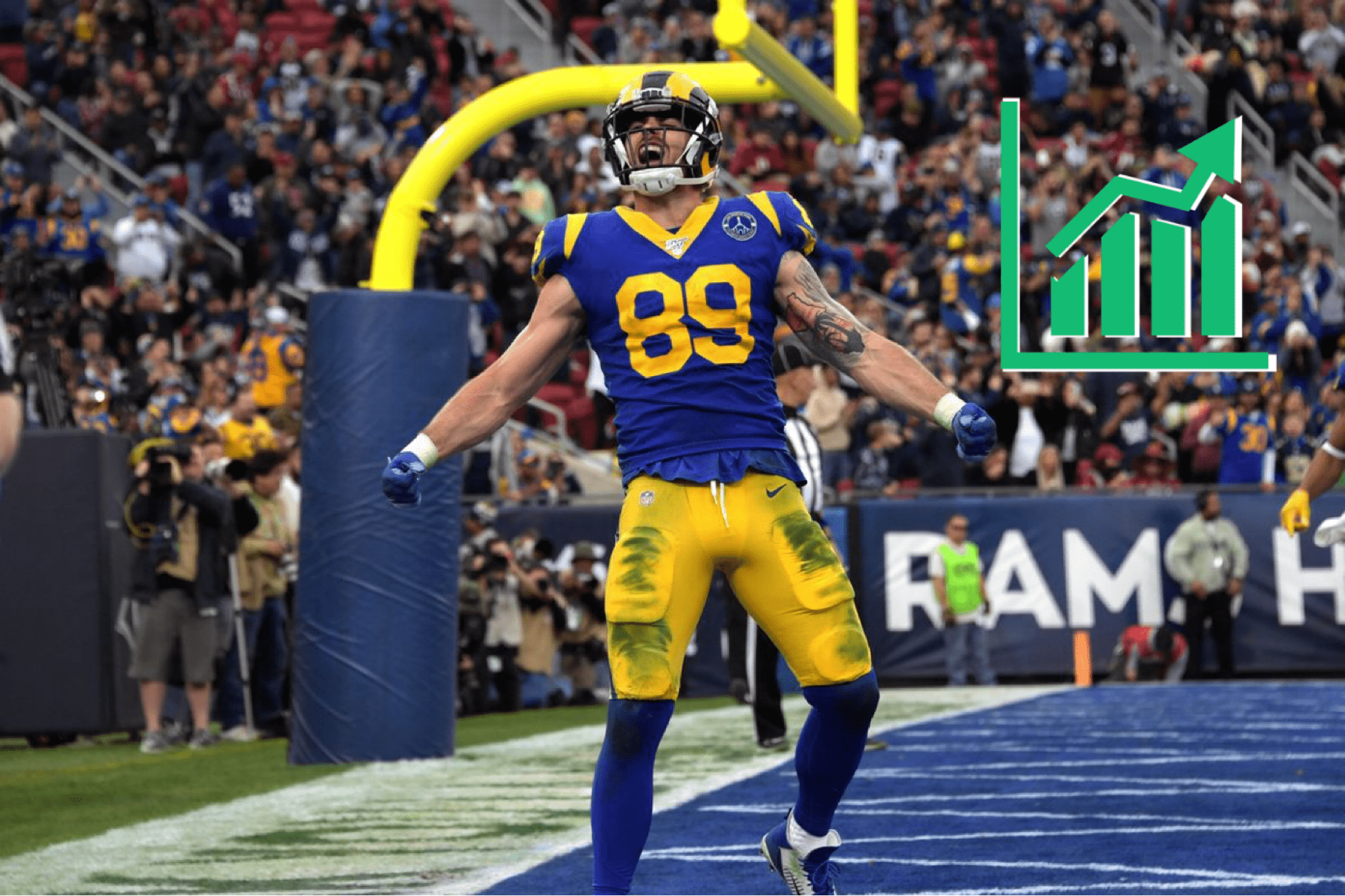 Indeed, Brandin Cooks' trade carries huge fantasy implications for him and his new QB Deshaun Watson. Yet, the fantasy ripples could be felt equally hard in Los Angeles.
Most owners will focus on figuring out where Cooks' targets will be distributed. Sure, we can expect some modest volume and clarity gains across a tricky-to-decipher Rams' Aerial Pie.
Stay up to date on all the Free Agency Fantasy Fallouts! Bookmark our Fantasy Stock Watch. Even better, consume them in our cleanest format by downloading the Roto Street App.
Yet, rather than just reprojecting a handful of looks, we should really be focused on what this move actually signals: a full commitment to the Rams' offensive shift that we saw during 2019's stretch run.
In 2017 and 2018, no team used more "11 personnel," or 3 WR sets, than the Rams. This was largely the same for most of 2019. Yet, inadequate line and RB play stalled out this previously well-oiled offensive machine.
To counter during the last five weeks, the Rams began playing far more "12 personnel," or two TE sets. In two of their top stretch wins — a hard nosed battle with the Bears and a dominant spanking of the Seahawks, the Rams used 12 personnel on over 50% of the snaps (71% vs. Seattle). Keep in mind, this was even with Gerald Everett largely unavailable, and only blocking tight end creature Johnny Mundt to hog snaps. In this specific game, Cooks was reduced to 38% of snaps while the team mowed through the 'Hawks.
Now, McVay will have both Gerald Everett and, more importantly, Tyler Higbee on the field together more than ever before.
McVay has already confessed as much in regards to Everett, gushing:
"Really, really excited about what Gerald Everett's going to do… I've got to do a better job of utilizing his skill set because he's a difference-maker. But he's got to get the opportunities."
Sure, this makes Everett a decent late TE stab. He was, afterall, the first of the Rams TEs to blossom in 2019, scoring Top-6 TE numbers in four of six games (Week 4-10).
Yet, more than anything, this trade stabilizes the packages and philosophies that led to Higbee becoming a legitimate Fantasy Cheat Code.
Over the final five weeks of 2019, Higbee was the No.1 scoring TE in fantasy football. He racked up 23.7 (TE1), 18.6 (TE5), 23.1 (TE3), 19.4 (TE7), and 22.4 (TE1) FPs across that stretch, averaging over 20 FPs per contest. The volume was particularly sexy, as Higbee hit 11+ targets in four of those five contests, racking up 100+ yards and/or a TD in all five games.
In the process, Higbee became the most likely TE to bring owners a fantasy championship. He was rostered on a position-best 21.3% of winning fantasy teams.
Just like Everett, McVay has made similar promises at expanding Higbee's role:
"He made a huge impact for us…it was great for Tyler to be able to get the opportunities and then be able to maximize that," gushed McVay, "So we've got big plans for him… we think he's got a very bright future."
Though this may have seemed like puff, Cooks' trade signals McVay is indeed scheming up more Higbee and Everett in 2020.
So yes, Cooper Kupp and Robert Woods get slight fantasy bumps up with steadier usage. Indeed, Josh Reynolds becomes a more intriguing late round sleeper, especially if an injury strikes Kupp or Woods. Sneakily, Darrell Henderson and Malcolm Brown benefit from improved blocking provided with 12 personnel.
Still, the most important gainer is Higbee, and the Rams' overall commitment to continuing his epic stretch run. He's my TE6, well worth an investment as soon as Round 5.