Player Stock Ticker
2019 Fantasy Football Waiver Wire: Week 15 Start, Stash & Stream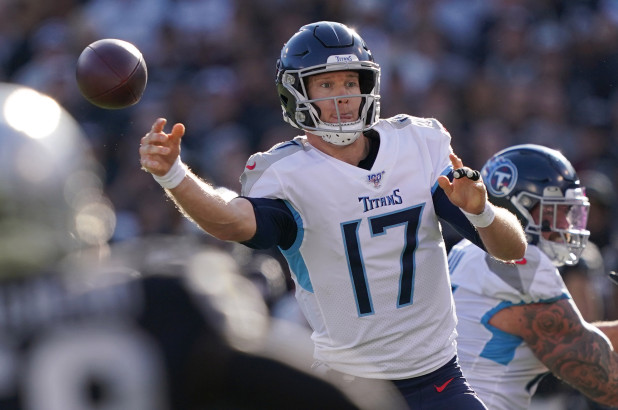 We're back for the Semi Finals edition of the 2019 Fantasy Waiver Wire Week 15 Start, Stash and Stream, where we break down the Free Agent landscape and give you the best picks for the short and long haul. We'll keep building on our Week 14 Waiver Wire momentum.
Per usual, think of this Waiver Wire set-up kind of like dating. In the first category, you've met "the one," the love of your life, and you want to keep him/her forever. Those are your "Starts."
Next, you have the person you've known for a while, but you find yourself asking: what are we? One week in, one week out, holding on for comfort and little else… they're the "Stashes." You just can't quit them.
And then you have that Tinder date that serves a one-time purpose, most often leaving you feeling dirty and hopeless, but occasionally a solo home run. These are your "Streams."
To get our Stock Watches, Weekly Rankings and Podcast episodes directly on your iPhone, download our brand-new app in the App Store.
With all that went down Week 14, here's what we can use going forward.
Note – Ownership % based on Yahoo; all players are less than 50% owned
Start
Tyler Higbee, TE Los Angeles Rams (21% owned)
DeAndre Washington, RB Oakland Raiders (7%)
Zach Pascal, WR Indianapolis Colts (35%)
Ryan Tannehill, QB Tennessee Titans (48%)
Patrick Laird, RB Miami Dolphins (20%)
Cole Beasley, WR Buffalo Bills (38%)
Ian Thomas, TE Carolina Panthers (1%)
AJ Brown, WR Tennessee Titans (26%)
Darius Slayton, WR New York Giants (25%)
Since becoming the Rams TE1, Tyler Higbee has been a staple in the team's offense. This last game saw 7 catches for 116 yards on 11 targets. The Rams offense is heating up, and Higbee is a major reason why. The team is still fighting for a playoff spot so they won't be taking their foot off the gas just yet. The tight end position is so thin, and Higbee can give you a massive boost at that spot.
DeAndre Washington operated as the Raiders lead back with Josh Jacobs sidelined with a shoulder injury. Should Jacobs have to sit longer, Washington would be a great add to throw into your flex as a guy who just handled 20 touches. He rushed 14 times for 53 yards and a score while catching an additional 6 balls for 43 yards. Of course, this is all dependent on Jacobs missing next week's action.
Colts receiver Zach Pascal had another big game in Week 14 with 5-74-1 and a two point conversion on 9 targets. TY Hilton looks like he's done for the year, meaning Pascal will be the team's WR1 moving forward. A big game against the Saints is on deck who just gave up 48 points to the 49ers last week.
This guy has been on absolute fire. Ryan Tannehill is only being outscored at the QB position by Lamar Jackson since taking over as the Titans starter. He just threw for 391 yards and 3 scores which was good for 28 points against the Raiders, and now faces a Texans defense that was just shredded by Drew Lock, of all people.
I actually can't believe I'm putting him here, but Patrick Laird can be a real life saver for those in need. He's been the Dolphins RB1 and is being worked in both the running and passing game. Last game he had 15 carries for 48 yards with another 4 catches for 38 yards. He's all over the place and faces the Giants next week in a pretty solid matchup.
All the man does is score touchdowns! Make it three in a row now for Cole Beasley who also had his third straight game of double digit fantasy points for Buffalo. High target numbers, and operating down in the red zone. What more could you ask for? Only concerning part is the schedule of tough opponents.
The absence of Greg Olsen swung open the door for Ian Thomas to capitalize. 5 catches for 57 yards and a score on 10 targets. Very good numbers for the tight end position, and if Olsen stays sidelined then Thomas could be in for another very good performance in Carolina.
The main benefactor of Tannehill's ascension to god form has been AJ Brown who is turning into a modern day Anquan Boldin as the YAC god. Dude just breaks off these massive touchdown runs after the catch and is an absolute freak to try and tackle. 5 catches for 153 yards and 2 scores on 7 targets. Next up is the Texans defense so the hot streak shouldn't be stopping soon.
He's currently taking over this MNF game as I'm writing the article, as Darius Slayton currently has 5-154-2 on 6 targets at HALFTIME! He hasn't missed a step with Eli thrust back under center and has been consistently carving out a role in this Giants offense. Up next, the Dolphins defense who have surrendered tons of big plays to opposing receivers as we just saw with Robby Anderson. Slayton is this team's big play weapon.
Stash
Diontae Johnson, WR Pittsburgh Steelers (12% owned)
OJ Howard/Cameron Brate, TE Tampa Bay Buccaneers (32%)/(5%)
Adrian Peterson, RB Washington Redskins (39%)
Kendrick Bourne, WR San Francisco 49ers (1%)
Diontae Johnson emerged as the WR1 in Pittsburgh with JuJu Smith-Schuster out. He had chemistry with Duck Hodges and turned in a 6-60-1 line with 8 targets on the day. He's a stash because I don't feel great about the matchup with the Bills next, but after that if you make it far enough the Jets would be solid.
With Mike Evans going down with a hamstring injury, the tight ends OJ Howard and Cameron Brate stepped up as pass catchers for Tampa Bay. Howard had 4 catches for 73 yards while Brate caught the touchdown in a 4-30-1 stat line. You never know which of these two is gonna be the guy, so flip a coin and good luck.
Unfortunately Derrius Guice went down again with a knee injury which leaves the backfield to Adrian Peterson for the most part. Chris Thompson will still operate, but Peterson will be the lead guy getting majority of the touches and goal line work. He's got touchdowns and double digit points in back-to-back games with a 20-76-1 performance last week against Green Bay. Next up, Philly.
The Hail Mary play in the 49ers offense, Kendrick Bourne had 3-18-2 on 4 targets working as a red zone threat against the Saints. Five touchdowns in his last six games, Bourne is making his mark for a solid offense that takes on the Falcons next.
Stream
Derek Carr, QB Oakland Raiders (45% owned)
Kansas City Chiefs D/ST (31% owned)
What better way to rebound than a game against the Jaguars defense. That's what Derek Carr has on deck here after a 20 point game throwing for 263 yards and 2 touchdowns. He should be used on an emergency basis here, but isn't the worst option to have.
The streaming defense of the week could be the Kansas City Chiefs who would face the Broncos in Week 15. Sure Denver just put up 38 points on the Texans who were subject to the typical Patriots hangover. The same could be true for the Chiefs this week but double digit fantasy points in three straight is a good run.