Player Stock Ticker
NFL Preseason Week 1: Fantasy Football Risers, Fallers, Sleepers and Takeaways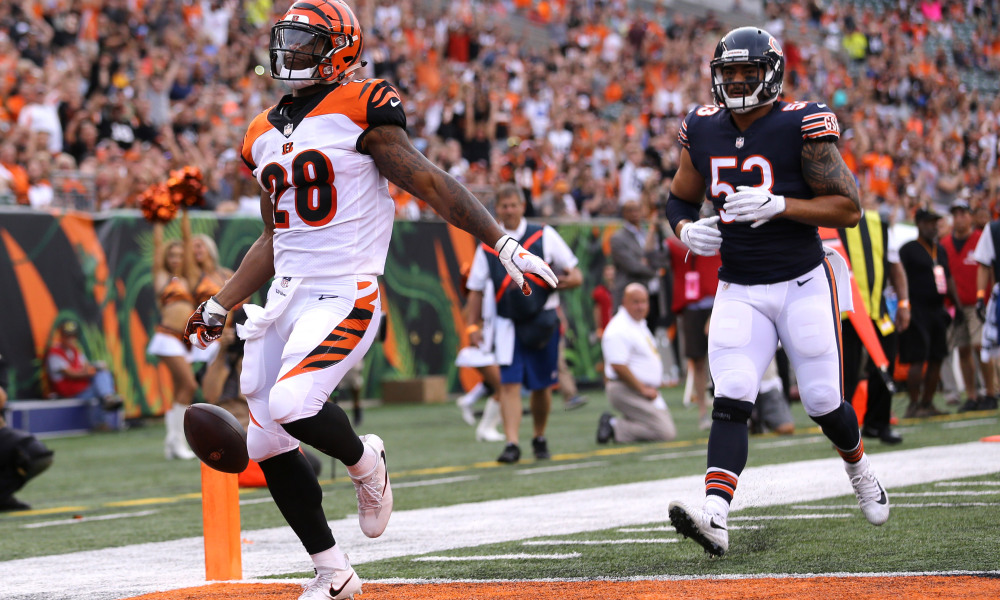 Though overreacting to Preseason Play and Training Camp Puff is a sheepish move, so too would be ignoring actually meaningful developments — Fantasy Wolves consider all possible evidence. From rapport building, to role development and unexpected usage, to overall team performances and glimpses at new schemes, plenty of important trends emerge that cannot be ignored. Below, find out the meaningful  Fantasy Football Risers, Fallers, Sleepers and Takeaways from Preseason Week 1. 
*Note – if you prefer more timely updates, be sure to bookmark our Fantasy Football Stock Watch.
Injuries
BRUTAL: Derrius Guice Tears ACL, Season Done Before it Begins
Before we begin with Week 1's Risers and Fallers, the most pressing (and depressing) development was Derrius Guice's heartbreaking ACL tear. Originally thought to be just an MCL Sprain, Guice will now miss the entire season, devastatingly opening up a massive hole in the Redskins Backfield — which unfortunately, this becomes a must-monitor situation.
Early in Training Camp, Guice had been, by far, the fastest riser on my Big Board. From excelling both physically and, more importantly, mentally in early Training Camp, to inheriting a more defined 3-down role with Chris Thompson still on the mend, Guice had flown up to No.23 overall, above even Devontae Freeman. 
Unfortunately, that has all come crashing down, as Guice's rookie year ends before it could begin. The Redskins return to Square One with this backfield, although Chris Thompson recently said he wouldn't be fully recovered from his broken fibula until November.
Thus, the team will likely be forced to again turn to their sluggish plodders Rob Kelley and/or Samaje Perine. Kelley was listed atop the first official Week 1 Depth Chart, and now seems likely to stay there. He has reportedly slimmed down to 221 lbs, as compared to the 249 he weighed when drafted, and has been working on his pass-catching.
But we've seen what he can bring, and it's not pretty.
Expect the Redskins to remain highly airborne in 2018, with perhaps the biggest sneak beneficiaries here being the pass-catching corps (Jamison Crowder, Jordan Reed, Paul Richardson, and Alex Smith). Thompson's health is also now even more crucial to monitor, as he may once again receive the Lion's Share of work that he rode to the 11th most RB PPG in 2017. Lastly, potentially more "exciting"options like Kapri Bibbs or Byron Marshall now need to be on radars… but let's just hope the team makes some sort of backfield moves.
Regardless, this one is a true heartbreaker, and an unfortunate reminder to never draft before Week 3 of the Preseason has passed.
With those tears shed and one poured out for Guice, let's move onto more positive notes…
Risers
1) Joe Mixon, AJ Green, Andy Dalton Rising as Bengals Clicking Under Bill Lazor in Year 2
We're -10 vs the ECR on #Bengals RB Joe Mixon, but if he's going to split out wide and make plays like this… pic.twitter.com/J3TTLew5cf

— Roto Street Journal (@RotoStJournal) August 9, 2018
Though I entered 2018 down on the Bengals offense as a whole, the unit looked downright explosive in their Preseason Opener. The first-team offense posted two 1st Quarter TDs while moving the ball with ease, ultimately winning a 30-27 contest against the Bears. After taking over the as OC in Week 3 last season, Bill Lazor seems fully settled in and is putting his stamp on the attack — and the results showed. AJ Green, Joe Mixon, and even Penny Stocks John Ross and Andy Dalton all rise with the "Coaching Scheme" and "Surrounding Talent" boosts, especially along the line.
Simply put, the Bengals flashed creativity, aggressiveness, and pace we haven't seen out of Cincinnati in quite some time. Lazor, who coached alongside Chip Kelly as his QBs coach long ago, seems to finally have found his play-calling groove, as does Dalton within the scheme. The Red Rifle went a highly-impressive 6/8, 103 yds, with 2 TDs while tossing an INT on a slip from J.Ross (116.7 Passer Rating). With the OC and QB clicking, this offense seems primed for a sturdy leap forward in 2018.
Especially two key cogs inside it in AJ Green and Joe Mixon, who both looked flatout dominant Thusay night.
Green caught Dalton's first pass, a short crossing out to the left, and galloped upfield for an impressive 22-catch-and-run. The two also connected on a beautiful contested back-shoulder throw for a 26-yard gain, and look in midseason form already. He's a tremendous, high-floor WR in Round 2, perfect to pair with a Round 1 Horse like Saquon Barkley.
Meanwhile, Mixon looks to be used far more creatively in Year 2. He scored on a 24-yard TD reception in which he was split out wide — a snap that most often went to  Gio Bernard last year. Lazor sent all the wideouts streaking downfield, before dumping a short pass down to Mixon, who took it to the house by shedding two tackles — one with a slippery stiff arm, and another with an even more impressive spin move, before darting upfield for the score. Though the run lanes were unimpressive, this type of creative usage will undoubtedly help Mixon find space, where his elite lateral agility makes him insanely dangerous. He rises from 35 overall up a tier to No.29 on my latest Big Board.
Dalton himself needs to be on the late round QB radar, and is yet another shining example of why you need to wait on the position. In his last two full seasons, Dalton was the QB17 (2017) and QB13 (2016), while tieing Aaron Rodgers  for the 10th most PPG (18.8) in 2015. The three years before, Dalton was the QB18, QB5, and QB12. He's currently drafted as the QB27, and should be a high-floor, high-ceiling QB2 if this offense continues clicking.
Meanwhile, former first-round WR Ross flashed his huge play ability on a wildly impressive catch-and-run, and has a clear path to targets as the obvious No.2 with Brandon LaFell removed. All parties should benefit from a beefed up offensive line, sporting new LT Cordy Glenn from the Browns and first-round rookie center Billy Price.
When asked about the offense, Dalton was full of praise for Lazor, noting, "We wanted to come in and march the ball downfield and score and that's what we did… that's what we see everyday in practice." It's time to reconsider these Bengals, especially if the offensive outpours continue all preseason.
2) Kelvin Benjamin Flashes Target Hog Upside, Rising Fast
A target-hog seems to be brewing in Buffalo, as Kelvin Benjamin dominated against his former team to open up the Bills' first preseason drive. He finished the night with 4 receptions, 59 yards, and a TD in under a quarter of play, looking like an "Alpha X" Target ready to be unleashed.
Though Benjamin's final stats were highly impressive, the manner in which he compiled them was equally imposing. On the Bills' opening drive, QB Nathan Peterman went 7/7 for 65 Yds + 1 TD, and Benjamin accounted for the vast majority of his looks and production. After opening with a 10-yard completion, Peterman looked to Benjamin on his next three passes, which the monstrous target hauled in for 31 total yards — including a 14 yard pick-up on a 3rd-and-7.
After a few dink-and-dunks and a missed deep ball to other targets, Peterman returned to his man, lobbing a beautiful fade ball to hit Benjamin right in the bread-basket and in stride for the score. This gorgeous 28-yard TD capped off a highly impressive opening drive, and suggested the Bills might not be the dumpster fire offense we'd previously expected.
Encouragingly, five of Petermans' first eight throws traveled 10+ yards, and the Bills continued attacking vertically all game, especially when cannon-armed Josh Allen entered the game. If this offense can maintain this momentum and remain aggressive, expect Benjamin to flourish, especially if he continues receiving Target Showers like last night.
Via our Fantasy Stock Formula, Benjamin's "Usage" and "Surrounding Talent" scores receive a healthy boost, as well as "Coaching Scheme" after the Bills flashed overall aggressiveness on offense.  Already, Benjamin rises from 110 to 82 overall (+28 spots) on the Big Board, with room to continue climbing if this dominance continues.
3) Stefon Diggs and Kirk Cousins Flash Dangerous Rapport; WR1 Upside is Very Real
Though the starters only played one drive, Kirk Cousins and Stefon Diggs were deadly in-sync to kick off 2018. Cousins went 4/4 for 42 yards and 1 TD — with Diggs hauling in 3 of the completions for 35 yards and the score. New OC John DeFilippo's offense looked as explosive as can be, and Diggs appears primed for a Target Hog role in this juggernaut. Barring health, Diggs seems locked-in for a WR1 season.
Yes, overreacting to Preseason Box Scores is sheepish, spotting rapport is necessary– especially between a new QB-WR duo. The Cousins-Diggs connection was in midseason form, especially on a beautiful 28-yard reception; here, Diggs destroyed the coverage with a pristine double-move, and Cousins tossed a dime down the sideline, over the defender's shoulder and right into Diggs' outstretched arms. Just two failed rushes later, and the pair connected once more for the 1-yard TD after Diggs shielded the defender with his body on a deadly slant.
Post-game, Cousins suggested this chemistry is nothing new, while hinting he'll deliver weekly target baths:
"[Diggs] makes plays," Cousins said. "He makes plays and gives you the motivation to give him the ball more and more. To trust him and throw him open and make the contested catch. Once again tonight, he proved me right." We've long been recommending Diggs over last-year's breakout star Adam Thielen, and this early showing only further validates our case.
With some Antonio Brown-lite to his game, Diggs has always been a strong "Individual Talent." Now, this should fully flourish thanks to the "Surrounding Talent" upgrade in Cousins, and a "Coaching Scheme" boost in DeFilippo — an aggressive play-caller who's a master in the Red Zone (perfect, considering Diggs was PFF's top-graded WR in contested situations).
Health is an admitted question mark, as Diggs has missed time each year and played banged up through others. Still, with every other factor on the Fantasy Stock Formula grading out to perfection, Diggs seems ready for the WR1 Elite Leap. He's up to 24 overall and WR10 on my latest Big Board, while Cousins fully validated my QB6 ranking.
4) The Most Important 2-Yard Carry in all of Fantasy Football Goes to…
Christian McCaffrey.
Though we originally listed the sophomore standout among our Most Overpriced Players in the 2018 Preseason Kickoff Guide, we may need to reconsider. McCaffrey wasn't pulled from the field during the Panthers two opening drives, which became especially noteworthy at the goal-line. Here, he powered through a congested pile for a 2-yard score, all while suggesting he may indeed get a workhorse treatment.
All offseason we've laughed at reports that it's "realistic" that McCaffrey could receive 25-30 touches a week. Between the return of Greg Olsen and addition of DJ Moore to eat into his receiving work, plus CJ Anderson's arrival to gobble up short yardage and early-down rushing, we've been expecting McCaffrey's weekly workload to hover right around his 12 touches per game from last season.
If Thursday's Preseason opener is any indication, however, we may need to reconsider. Between the full-time status with the starters to the GL carry, McCaffrey sure looked like a workhorse to begin 2018.  Per usual, McCaffrey was also heavily involved as a WR, hauling in an 11-yard screen and 18-yard crossing pattern.
Contrastingly, CJ Anderson didn't enter the game until most starters were resting, and also played deep into the fourth quarter. Though you should never overreact to one 2-yard carry, this one could mean a whole lot for McCaffrey moving forward. His 18 overall ADP is still too rich for our blood — especially with the Panthers losing two starting linemen already this camp — but he rises 5 spots from 39 to 34 on the newest Big Board. 
5) The Beast is Reawakened
Though negated by a penalty, Marshawn Lynch ripped a 60-yard TD run and flashed his underappreciated fantasy upside during the Raiders' Preseason Opener. On the play, we saw two crucial developments:
A) Lynch is in incredible shape.
B) The Raiders are returning to a power-gap blocking scheme under Jon Gruden.
Combined, both could make Lynch the Fantasy RB1 most envisioned last season, but at a far discounted price (70 ADP).
Though 32-years old and coming off a (by his standards) sluggish 2017, Lynch is a sneakily massive rebound candidate under new HC Jon Gruden. For one, Gruden hasn't hid his love for The Beast, nor his intentions to ride him:
"I said to him, 'I need Marshawn Lynch," Gruden told Sports Illustrated in February. 'I don't need this part-time Lynch. I need full-time Lynch… We don't need another back, we need a feature back… I'm counting on him being a big part of our football team."
Meanwhile, Lynch's family and friends reported the back "loves Gruden" and answered the above challenge by working himself into "the best condition I've seen him in in a long time." This was full on display during his 60-yard TD run, as Lynch looked faster than he has in years, perhaps even ever.
There's some very real "Unsexy Upside" here. For one, Lynch openly admits he wasn't in game-shape until midseason last year. When finally in peak form, following the team's bye and during their final 8 weeks, Lynch rushed for 625 of 891 yards (70%), as well as 5 of 7 TDs (71%). A Pro-Bowl level 1250 yds and 10 TDs pace. Already looking in phenomenal shape, Lynch should avoid the slow start and pick up right where he left off… mauling people.
Beyond his physical form, Lynch also benefited from the team's midseason switch from a zone-based attack to a power-heavy blocking scheme last year. In this misfitted zone-blocking scheme, PFF had the Raiders' offensive line affording the RB's only 1.42 yards before contact collectively. In 2016 with power-blocking, the Raiders O-line allowed 1.9 yards before contact.
This is fantastic news, as Gruden has historically deployed a power-blocking scheme — ideal for the absolute bruisers along the Raiders line. Moreover, new o-line coach Tom Cable worked with Lynch in Seattle, and, despite a history in zone schemes, Cable fully understands the concepts and assignments in which Lynch thrives. This one play displayed the gap-blocks and multiple blockers that Lynch has run wild with before.
Combined, both developments suggest Lynch offers enormous, underappreciated Fantasy Football upside. He rises up to 48 on my Big Board, and is a Flex I'd love to own in 2018.
 (For more on Gruden's new-look offense, click here)
6) Royce Freeman Makes Case for Lion's Share of Broncos Backfield
Though he didn't start, rookie RB Royce Freeman was Denver's best back by a mile during his NFL debut, notching 38 yards and a TD on just 4 carries (9.5 YPC). He saw some time with the ones, and never went under 4 yards on a single carry, which included a highly-impressive 23 yard score.
On the score, Freeman displayed excellent vision and acceleration. First, he found a clean cut back lane with the play-side congested, before bouncing to the outside and scampering around the entire defense into the end zone. He showed well in pass-protection as well, and brings rare three-down ability for his massive 234 pound frame.
Meanwhile, "starter" Devontae Booker was his usual unimpressive self, notching just 7 yards on 2 carries. In fact, over 253 career carries, Booker's tallied just one run over 20 yards. Freeman needed just four carries to tie his accomplishments.
Still, Freeman's own talent was never the main question here — that's his role and usage. HC Vance Joseph has already said the team will "use 2-3 'main' backs" each week. This suggests a definite committee no matter who emerges atop the depth chart — nevermind that the top spot currently belongs to Booker, with in-tune beat writers projecting him to open as the "Week 1 starter," and this backfield featuring "a heavy dosage of Booker" regardless of depth chart labels.
Should he continue this impressive preseason play, however, Freeman may force them to change their tune. If he does indeed secure the main gig, Freeman would be running behind an "improved offensive line" now featuring the stable Jared Veldheer at RT, and in an offense that should progress with Case Keenum now under center. He gets a slight +11 bump up my Big Board for now, but remains below the ECR and ADP until this RBBC situation clears up.
For Week 1's Fallers and Emerging "Penny Stock" Late Round Explosion Candidates, check out Page 2 Now!