Player Stock Ticker
Lamar Miller Faces Minimal Competition in Juicy Fantasy Spot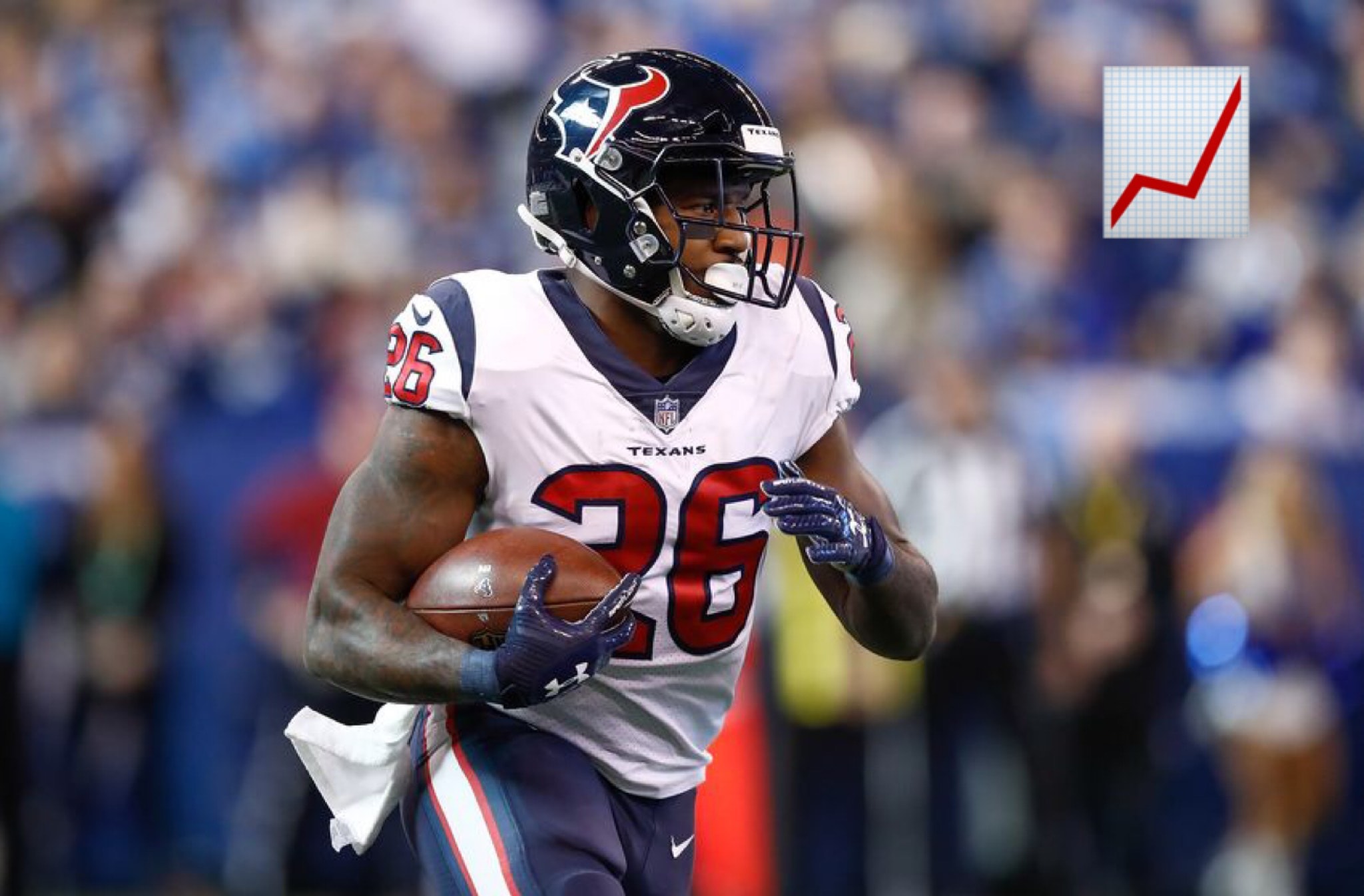 Even if we feel Lamar Miller is a pedestrian Talent, he's once again staring at serious Volume in what projects to be a juggernaut offense, assuming Deshaun Watson returns to full health. This is especially true after the team bypassed any rookie RBs from one of the deepest classes in years.
Miller's done nothing to suggest he warrants serious usage since joining the Texans. His YPC has been a meager 3.88, he's caught only 34 passes a year, and he's been perhaps the least elusive back in the entire league, forcing a meager 44 missed tackles over 506 carries (a pathetic 8.7%). Amidst these struggles, he's still received the 8th most carries over the past two seasons, and (unfortunately) is again set up to keep heavily adding to this total in 2018.
Whether he likes it or not, The Wolf must reevaluate his 83rd overall ranking (-35 from ECR) on sheer opportunity and situation alone. Earlier this offseason, sophomore bulldozer D'Onta Foreman appeared destined to push for a starting role, but the latest reports suggest he's a candidate for the PUP. Meanwhile, the Texans only offseason backfield move was re-signing Alfred Blue — equally plod-worthy.
Thus, Miller sees a healthy rise. On the positive front, he was able to ride the Deshaun Watson explosion to RB1 fantasy value, scoring the 8th most RB points over the rookie QBs six starts. Additionally, Miller's shown well as a receiver, tallying a 120.1 wide receiver rating on non-screen RB passes according to PFF. Even if the Individual Talent is missing, Miller benefits from a tremendous combination of Usage,  Surrounding Talent and a creative, run-heavy Offensive Scheme. Thus, Miller remains a quality RB2… until Foreman can finally return and steal this valuable throne.