Everything that's gone wrong in 2017? The most injury-plagued season in the history of the NFL? MVP, Offensive ROY, studs at all positions dropping like flies and not just on the offensive side of the ball?
All Roger Goodell's fault.
I'm serious. The NFL and Fantasy Gods alike have combined their forces to smite all of us peons who are merciless slaves to Goodell's buffoonery. Every questionable suspension (or lack thereof), every ruling with no rhyme or reason, every witch hunt against his star players, all rewarded with a five-year, $200 million dollar extension.
The carnage is no coincidence. Goodell's idiocy and the owner's willingness to throw it under the carpet will not stand amidst the higher powers.
Carson Wentz was just another marquee name on a far too long list of sacrifices in the name of Goodell. The news is devastating for Philadelphia fans and fantasy owners alike, with both championship bids growing far drearier in this wake.
🙏 for #Eagles Fans and Carson Wentz's fantasy owners. Tag either 😔 pic.twitter.com/pImiXLcBSd

— Roto Street Journal (@RotoStJournal) December 11, 2017
Below, read on to find out:
Carson Wentz Replacement Plans: A few intriguing options truly exist to help keep hope alive (or block your league mate while he's down).
Genuine Skill Position Difference Makers : Plenty of under-50% owned (Yahoo) options are out there to propel your team to a 2017 title.
Week 15 Waiver Wire Pickups
Genuine Skill Position Difference Makers:
If you're still alive and looking for an infusion of talent, the following guys have the talent, opportunity, and schedule to make a real impact for Weeks 15 and/or 16. 
1) Dede Westbrook (WR – JAX, 30%)
FAAB: It's Week 15. Everything.
Stat Line: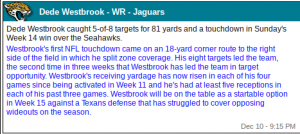 Schedule:

Breakdown
Oh, so you haven't heard us the first 1,203 times on Dede Westbrook? After a 5 catch, 81 yard, TD dominant effort, we hope he finally has everyone's attention.
We've been unwaveringly touting the talented speedster — first as a stash and then as a potential playoff stretch hero — since he first came off the IR in Week 9. He was my personal favorite WR talent coming out of this class, something Westbrook had validated by leading the league in preseason yardage. Since stepping onto the NFL field, he's  amassed 33 targets in four games (over 8 per contest), while leading the team in looks in 2 of his last 3.
Seattle was where it all came together and Westbrook put together a  masterpiece. He made numerous tough, in-traffic catches and while running some gorgeous routes. Plenty were timing-based, "trust" throws from Blake Bortles, showing the chemistry is down.
Best part? This "Playoff Hero Stretch Run" prediction is just getting started. Seattle marked his hardest matchup through Weeks 14-16, and up next? The creampuff Texans. We still haven't seen Westbrook burn a team for an enormous big play, and my feeling is it comes here. I expect over 100 yards and a score next week, and, just like Marquise Goodwin was my top value play of Week 14 versus this defense, Dede will be higher on my list than anyone else. San Francisco, who just surrendered 3 TDs to creatures named TJ Yates and Tom Savage, follow for your championship. Ride this young stallion to a 2017 title.
2) Mike Davis (RB – SEA, 38%)
FAAB: Did you miss the memo above? SPEND ALL YOUR $$
Stat Line: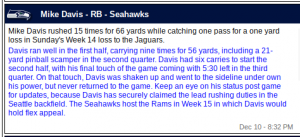 Schedule:

Breakdown:
Before leaving with a third quarter injury (and falling victim to game flow), Davis was absolutely feasting against one of the most ferocious run defenses in the league — at least since acquiring Marcell Dareus.  He singlehandedly threw the team on his back at one point, amassing 49 yards on four straight run calls during the second quarter to drive the Seahawks into scoring range. Most importantly, he clearly remained "the guy" here, with Thomas Rawls not logging a single carry, Eddie Lacy a healthy scratch, and JD McKissic only involved once Davis had left.
Though the king of "coachspeak," Pete Carroll continued effusing praise for his newfound bellcow, stating, "I thought he looked great. I thought he ran like crazy… Mike was ripping, and he did a nice job with these guys and that means the guys up front did a nice job too. I thought Mike looked really good."
Even in back-to-back tough matchups, Davis has set career highs in rushing both weeks. Assuming he's healthy, he should do the same for a third straight time against a Rams defense getting completely gashed on the ground (2nd most FPs to RBs). That's the obvious rub here, as Davis did leave the game and never return, so tracking this news is crucial. If he is active and in his same lead role, however, Davis will be among my top-20 RBs, easily, and could throw RB-needy fantasy teams on his back.
3) Jonathan Stewart (RB – CAR, 38%)
FAAB: $30
Stat Line: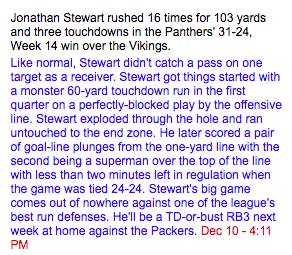 Schedule:

Breakdown:
Raise your hand if you saw this 100+ yard, 3 TD coming from The Plodder against the top run defense in the league? Yup, no one… oh put your hand down back there you lying sack of shit.
Regardless of how impossible this was to predict, Stewart's day was incredibly impressive. Sure, this may have been more a product of the offensive line paving gashing lanes, but no one has done that to Minnesota's tough front-seven all season. Imagine just how gaping the holes will be against two bottom-10 defenses against the run in Green Bay and Tampa Bay? Only the CraigsList Confidentials can rival that.
In all seriousness, JStew needs to be universally owned. The Panthers offense is moving the ball at will, and he's benefiting from plenty of end zone capping chances. Interestingly, he's also only one of 9 backs (including Todd Gurley, Mark Ingram, Le'Veon Bell, and Melvin Gordon) who has at least 10+ combined carries inside the 5 yard line and targets inside the 10. Simply put, Stewart sees massive work around the stripe, for a team that'll frequently be visiting there for the remainder of 2017.
This makes him arguably the highest floor RB that's widely available, and the ceiling goes without saying after his last explosion. I side with the talent of Davis (if healthy), but only very slightly. Stewart needs to be targeted wherever available.
Tier 2
4) Theo Riddick (RB – DET, 41%)
FAAB: $20
Stat Line: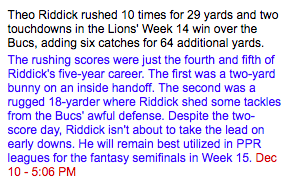 Schedule:

Breakdown:
One of my worst predictions of 2017 will be my Week 14 Hail Mary: "Tion Fuckin' Green, fresh off an 11 carry, 51 yard, TD day, would be a beastly flex stream facing a TB defense that allows the 7th most FPs to RBs after Ameer Abdullah was a healthy scratch."
The main reason this didn't work out (besides Green being a plodder that makes Eddie Lacy and Rob Kelley proud)? Theo Riddick. The diminutive back was the guy at the stripe, converting from two yards out (WTF!!!) for his first score, while knifing through the defense on an 18 yard scamper.
Over his past two without Abdullah in the lineup, Riddick's usage has skyrocketed beyond what we expected. He's seen 19 carries and 11 receptions over those two, notching three scores in that span and topping 14 FPs in both contests. Assuming Abdullah remains riding the pine, Riddick would again be a solid flex play against a Chicago team that got destroyed for over 120 total yards by the similarly built Giovani Bernard, and then gets a date with a Cincy team that Jordan Howard and Tarik Cohen enforced their wills against.
Simply put, Riddick's riding some serious momentum, and has the set up to continue this wave through the remainder of the fantasy playoffs.
5) Kerwynn Williams (RB – ARI, 11%)
FAAB: $15-20
Stat Line: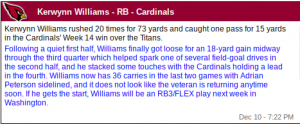 Schedule:

Breakdown:
Though purely speculative, I doubt Adrian Peterson steps onto the NFL field again in 2017. This leaves the generally unexciting Kerwynn Williams in a position to actually make some real noise considering the volume he's about to get and the opponents it'll come against.
Though it wasn't pretty, Williams topped 80 total yards for the second straight week, largely due to favorable game flow. He's amassed 36 carries in that span, and is in prime position to rack up a similar 18-20 touches against a floundering Washington team and the obviously hapless Giants in coming weeks. I'd expect him to approach, if not crush, double digit FPs in both contests, as neither opponent should force the Cardinals into pass-happy mode.
Annoyingly, Williams has been pulled around the stripe for two straight games. The ceiling is quite capped, but the floor is steady at this point. If you have RB2 or flex woes and are looking for a sure 9-12 FPs, Williams is your guy for these last couple of games.
6) Peyton Barber (RB – TB, 35%)
FAAB: $15-20
Stat Line:

Schedule:

Breakdown:
Karma seemed fully in effect Sunday. By all means, Barber deserved to start after racking up over 140 total yards in his only game as the lead back… but Dirk Koetter somehow felt the need to keep the vastly disappointing Doug Martin in as his guy. His reward? A costly soft fumble in the second period.
From then on, Barber came in and continued showing well, topping nearly 5 yards a carry once again on his 12 totes. The safe assumption is Barber will be given the chance to shine now, but nothing is safe to assume in Tampa these days. On talent alone, Barber would be worth a flex gander if you miss out on the higher floor options above him.  Atlanta's nothing special versus the RB.
Other Quick Hits:
Not a whole lot more out there, but Ricky Seals-Jones (43%) is coming off two straight duds, which may find him square on some waivers. With matchups versus WAS (4th most FPs) and NYG (most FPs), he still has more explosion upside for stretch runs. Keep your eyes peeled.
Tyler Lockett (39%) is also widely available and brings huge play potential to desperate flexes. He's obviously boom-or-bust and not someone you'd want to roll out, but if Westbrook is gone and you've got nowhere else to turn, Lockett might have another monster day in him — Week 16 versus DAL (3rd most FPs to WRs) is especially enticing, given the way slot WRs with speed have demolished them.
Tyrell Wiliams (WR – LAC, 35%) exploded for 132 and a TD. I'd have to be very desperate to roll him out in Week 15, given he's alternated double digit games with 1 catch outputs. Yet, against KC (most FPs to WRs), the potential for an explosion is there. Severe underdogs needing an injection of 20 FP upside can look here. His highest value, though, remains as Keenan Allen's handcuff.
Cordarrelle Patterson (WR – OAK, 11%) tallied 97 yards last time Amari Cooper was out of the lineup, and Cooper looks likely to miss another game. Of course, Michael Crabtree was also absent during that contest, but Patterson brings some upside versus the poor tackling Cowboys.
I'm not going all in on…
Look, my love for Rod Smith (RB – DAL, 14%) has been effusive since Zeke went down. It was finally rewarded with a 162 total yard, 2 TD, 30 FP monster this Sunday.
But anyone calling this explosion anything but a fluke is insane. If the Giants had anyone who could tackle (they don't), there's no way Smith rumbles for an 81 yard, quick slant TD.
There's some definite Week 15 streaming appeal versus a Raiders D giving up the 15th most FPs to RBs. Still, Ezekiel Elliott will be back Week 16, so you need to understand Smith is nothing more than a one week rental. I like both the Week 15 and long term upside of every other back listed more than Smith, even if he's been my boy since Week 10.
Stash of the Week
Trey Burton (TE – PHI, 8%)
FAAB: $15 
Stat Line: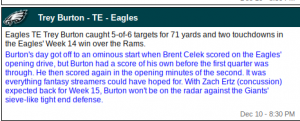 Schedule:

Breakdown: 
Though Zach Ertz is fully expected back, he was still experiencing a "dull headache" as of Sunday. This makes his status somewhat cloudier than most might expect, and could make Trey Burton a Week 15 streaming legend you'll tell your grandchildren about.
Granted, Burton's usefulness has come with the now-gone Carson Wentz behind center. But he's extremely athletic, and should get open at will against a Giants defense surrendering the most FPs to TEs on the season. Nick Foles isn't special, but he can deliver the mail accurately enough and historically prefers high-percentage throws down the seams and over the middle. The way this offense is clicking, Burton would be a shoe-in Top 8 tight end play for Week 15 if Ertz is unable to go.
Wentz Replacement Plan
1) Blake Bortles (QB – JAX, 35%)
FAAB: If you lost Wentz (or are facing the owner who did), you need to spend it all here.
Stat Line: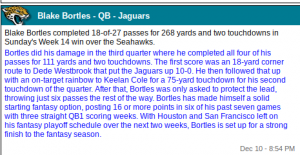 Schedule:

Breakdown:
Bortles may have forgotten he's on American Soil, because he's playing like his London God Self right now. He's topped 18 points in 4 of his last 5 (80% hit rate), while going for over 23 twice in that span. Bortles is dropping beautiful dimes, making plays with his legs, and being particularly helped after the catch from his speedy wideouts. The recent emergence of future superstar Dede Westbrook certainly hasn't hurt.
Even better? Look at the cake schedule for his next two matchups. Two bottom three teams versus QBs! With this type of set up, the former Garbage Man will continue scorching the virtual gridiron. I'm predicting 20+ in both weeks.
After a heroic stretch run in these fantasy playoffs, Bortles won't need to travel across the pond to have his ground kissed and D Blown (while Allen Hurns watches). He'll go down as a Red, White and Blue Legend for his late 2017 efforts, and is the ultimate life vest for the QB Needy right now.
2) Jimmy Garoppolo (QB – SF, 20%) **FOR WEEK 15 ONLY***
Stat Line: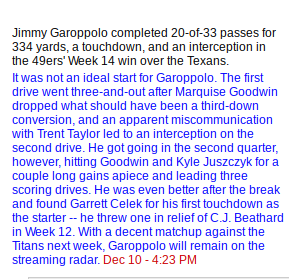 Schedule:

Breakdown
Jimmy's flashed some serious real-life sack in his first two SF starts. Two wins, on the road, despite multiple drops and weak weapons, constant pressure, all while learning as complex a playbook that exists in the NFL? SACK.
Still, real life and fantasy are definitely two different beasts. Even if Jimmy's The Truth, this does not mean he's an amazing guy to lead your fantasy squad. The lack of surrounding cast and horrendous line limit his true statistical ceiling, which is further capped by an unappealing late schedule.
Sure, Week 15 he's highly usable against an inconsistent Tennessee secondary (though I'd still go Bortles x10000). If he carries you to a win, however, Garoppolo will be impossible to roll out versus the ferocious Jaguars defense. If investing in Jimmy, you'll need to burn another spot on a potential Week 16 streamer. Perhaps a pairing with Joe Flacco (14%, INDY Week 16) and/or Nick Foles (2%, OAK Wk 16) makes sense if Bortles has been scooped.
3) Nick Foles
Stat Line:

Schedule: @NYG (4th) and vs. OAK (11th)
Breakdown:
This is far more a bet on matchups, surrounding talent, and an offensive system that's been humming all season than a bet on Foles himself. Still, when you're facing the Giants, anything is possible. Foles has gotten it done on an NFL field before, and is in the best-case scenario behind a sturdy line and surrounded by talent all over the field. I would not be surprised at all to see 270+ yards and multiple TDs. He's always been known for one of the stronger arms, and should have weapons open at all levels of the field come Sunday.  Plus, if a win versus the pathetic Giants gets his confidence clicking, Foles faces the highly unintimidating Raiders the following week. There's a real case for some late season magic here.
Others to consider
Joe Flacco (QB – BAL, 14%), fresh off two straight 269 yards and 2 TD days, gets dates with Cleveland (7th most FPs) and Indy (9th most) to round out the Fantasy Playoffs. There's legitimately 0 ceiling here, but Flacco could be a safe 15-18 FPs in these soft matchups if you're desperate.
DeShone Kizer (QB – CLE, 4%) drips with it. He's gone 19 or more in three of five, and is especially clicking with his twin towers of Josh Gordon and Corey Coleman on the outside. The schedule looks atrocious with Baltimore (31st easiest) and Chicago (24th easiest). Yet, the Ravens are far more susceptible without Jimmy Smith, as evidenced by a 503 yard bombing from Big Ben this past week. Kizer won't do anything similar on the road, but he could put a sneaky 18-20 up thanks to his beefy WRs.
Defensive Stream of the Week:
New Orleans (39%) vs. NYJ
FAAB: All of it.
I've been recommending them as the "Bye Week Stash" defense even before Josh McCown had gone done, but now? With Bryce Petty leading the charge?! The Saints will trail only Jacksonville and Baltimore for my Week 15 D/ST rankings, and definitely have enough upside to outscore those ahead of them. They've had some monster 20+ days on the season, and should notch at least 3 turnovers, ideally bringing one to the house, while potentially shutting out New York at home. This will be a blood bath, and even if you own Jacksonville or Baltimore, the Saints are worth a pickup so you're opponent can't use them either. I would genuinely blow all my waiver money on them if I didn't need a starter off the wire. The Falcons at home in Week 16 aren't intimidating either, so this can be more than just a one week rental.
Week 15 Waiver Wire Big Board
Tier 1
1) Dede Westbrook (WR – JAX, 30%
2) Mike Davis (RB – SEA, 38%)
3) Jonathan Stewart (RB – CAR, 38%)
4) New Orleans D/ST (not a joke, if you don't need a starter elsewhere, spend all your $$ now).
5) Blake Bortles (QB – JAX, 35%) * Move to clear No.1 if you lost Wentz or are facing his owner 
Tier 2
6) Theo Riddick (RB – DET, 41%)
7) Kerwynn Williams (RB – ARI, 11%)
8) Trey Burton (TE – PHI, 8%)
9) Peyton Barber (RB – TB, 35%)
Tier 3
10) Jimmy Garoppolo (QB – SF, 20%)
11) Tyrell Williams (WR – LAC, 35%)
12) Ricky Seals-Jones (TE – ARI, 43%)
13) Rod Smith (RB – DAL, 12%) *one week rental
Tier 4
14) Cordarelle Patterson (WR – OAK, 11%)
15) Nick Foles (QB – PHI, 2%)
Don't miss out on Waiver Wire WIlly on The Wolf's SnapChat   Also, have questions about the Waiver Wire? Drop Player X for Player Y? How much of XX FAAB Budget? Did he miss anybody?
Sound off below or hit The Wolf up on Twitter.