Though the rays of light from above Bye Week Hell are starting to creep in for fantasy football owners, we are far from through yet. Indeed, "6 team byes" are over with, but plenty of superstars will be off the gridiron as the potent Eagles, Chiefs, and Raiders (as well as the Ravens) are all off for Week 10.
Unlike last week, where a bevy of interesting Waiver Wire replacements awaited us, Week 10 is a barren wasteland. Some interesting streams, a few "Hail Mary" stashes, and a couple of potential long-termers exist. But you're going to have to dig real deep into heaping piles of dog shit to find any kind of treasure. Thankfully, no one likes mudslinging quite like The Wolf, so lets get those paws dirtied and find some gold.
I'm going to experiment with a new organization this week, going by position rather than general ranks. I'l still list out a Top 20 list at the end for owners where positional needs don't matter, but I figured this could help owners out with more specific needs and budgets. Sound off below, or hit me up on SnapChat or Twitter to let me know your thoughts.
Week 10 Waiver Wire
I. Quarterbacks
A) Long Term Options:
1) Josh McCown (QB – NYJ, 34%)
FAAB: $12 
Stat Line: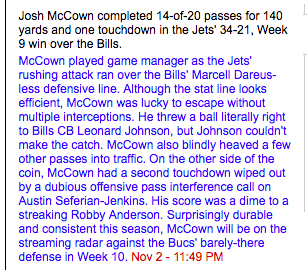 Key Stat: Over the past 4 weeks, only Carson Wentz has scored more FPs than Josh McCown, who hasn't dipped below 16 over that span and has topped 20 twice.
Schedule Analysis: 20th easiest among QBs

Breakdown:
Remove all preconceived notions about McCown, the Jets, their shitty offense, and just look at what matters: the stats. McCown has been balling out harder than any one not named Wentz over the past four weeks — literally, Wentz is the only player who's outscored him. He's topped 20 twice and hasn't dipped below 16, a Week 9 contest against a Buffalo defense that surrenders the 3rd fewest FPs to QBs and saw his team get up huge early.
Robby Anderson has emerged as a legitimate deep threat who can pop one every single week, especially with McCown dropping dimes into his pass-catchers' bread baskets. Meanwhile, the running game is also churning, while new offensive coordinator John Morton has brought some of his Saints magic dust with him here. The system is excellent, the fit is perfect, and the weapons are better than expected.
Best of all? A matchup with the non-existent secondary of Tampa Bay awaits in Week 10. McCown should easily push for top-5 QB numbers yet again, and should be a stable option for anyone who lost Deshaun Watson or just needs some reliable depth. No, the long term schedule isn't wholly appetizing, but McCown has proven dependable and should be treated like the QB1 he is.
2) Blake Bortles (QB – JAX, 30%)
FAAB: $5
Stat Line: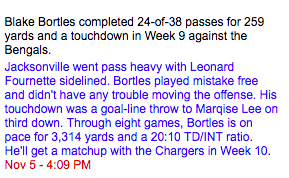 Schedule Analysis: 5th easiest among QBs

Breakdown:
Unless playing over the pond where he is a Demi-God, Bortles' ceiling is always going to be capped. The offense is run-obsessed, and his weapons are bleh.
Still, the floor could also prove quite appetizing from here on out. Just look at all the green on that schedule breakdown: 5 of 7 matchups come against bottom-10 defenses, including 4 of them against bottom 5.
Moreover, Marquise Lee is proving very legitimate (more on him later), plus the explosive Dede Westbrook is about to be added to Bortles' arsenal. If Westbrook carries his preseason magic over (led the league in receiving), more big plays could be in Bortles' future. I like Bortles to round out 2017 as a top-15 guy here on out, which is something desperate owners need to have rostered.
Honorable Mention: Jay Cutler (QB – MIA, 14%)
FAAB: A crusty booger
Stat Line:

Schedule Analysis: 4th easiest among QBs

Breakdown:
I feel the scum growing on me as I type this, but Cutler is coming off his game of 2017 (25 FPs) and has the schedule to produce at least a coupel more monsters. Granted, he hadn't topped 13 FPs before this outing, and this is Jay Cutler. Just as soon as you think you can stream him, he'll score 5 FPs and make you ponder if the jail time would be worth his murder.
Still, perhaps it's not a coincidence his top effort came after Jay Ajayi had been traded away. The offensive philosophy was clearly more pass heavy and high-percentage routes, and Cutler thrived. With Julius Thomas also emerging this week (80+ yds and a TD), the weapons cabinet is certainly there, and Adam Gase coached a record-breaking offense back in Denver. The stars are aligned, but Cutler is the type of guy to fuck that up. I'd at least stream Ryan Fitzpatrick for this week, and then look Cutler's way moving forward.
I'm not buying…
Jacoby Brissett (QB – IND, 24%)
Indeed, Brissett was one of my favorite Week 9 streamers against a porous Houston secondary, and he delivered: over 300 yards and 2 TDs. He drips in some initial Waiver Wire appeal too, particularly because of his mobility.
But take one glance at his remaining  "Murderer's Row" slate (which includes a Bye), and tell me when you'd play Brissett:

He'll make a nice stream in Week 12 versus Tennessee, sure. But are you going to stash him for two weeks while anticipating that? There's better ways to use a roster spot, so just play the stream game. Speaking of which…
B) Week 10 Streamer(s)
1) Ryan Fitzpatrick (QB-TB, 1%) vs. NYJ (11th Easiest)
It's #RevengeGame time, baby!
Yes, Fitz was pretty pathetic against the Saints in relief this Sunday (65 yards, 1 TD in a half). Still, New Orleans has emerged as one of the better pass defenses in the leagues. Meanwhile, the Jets have surrendered the most passing TDs in the league and 4th most FPs over the past four weeks.
In his last extensive action, FitzMagic brewed up 290 yards and 3 TDs. Mike Evans might be suspended, which would lay an obvious blow. But this defense can be carved, and the motivations for carving will be there. I love Fitzpatrick as a spot-start this week.
C) Hail Mary Homerun Stashes
Teddy Bridgewater (QB – MIN, 5%): Expected to be activated this week, Bridgewater could change seasons down the stretch. Adam Thielen's development, Stefon Diggs' WR1 flashes, and a vastly improved line give Bridgewater his best supporting cast of his career. Meanwhile, he has the arm and athleticism to rack up points in bunches. The schedule is tough (29th easiest), but the upside is real if you have the bench space.
Colin Kaepernick (FA, 1%): Obviously this is pure speculation. But if the Texans can get over the political BS, Kaepernick could truly emerge as a "Watson-lite" type of talent. The weapons are obvious, Kaepernick has similar mobility to allow them to break free,  and there's oodles of cream puff matchups awaiting him. He probably won't be added, I'm just saying he'll be a Top-10 Fantasy QB no doubt if he ever was.
Continue on for Running Backs & Wide Receivers: