First off, I am back. After a sabbatical from writing to troll strangers on Twitter, I have pleaded and begged my way out of the broom closet (no, Shamus) and into your hearts…for now. Thank you Almighty and Ever-Gracious Wolf for this chance. This means a few things, however:
If My Idol The Wolf enjoys this and so do you, I will be allowed to make this a continuous series. As you see on Twitter (follow @InternRSJ), proving my point is what I live for. Players are being taken way too high while others are being grossly undervalued in every single draft, and experts are consistently wrong. Three and Out will give you what you need to know in three crucial points and get you out into your draft ready to exploit the market and capitalize on other fantasy owners (and experts) mistakes.
2. To prove this is worthwhile, this first post needs to be read and shared. If this gets only two views after The Wolf so mercifully allowed me out, I'm screwed. I'd enjoy keeping the four fingers and two toes I have left, and might even get a slice of cheese if this is well received (fingers crossed).
3. The Intern's stock is rising. After hearing the cry for my voice to be heard, I got to spread my wings and get back onto The Fantasy Fullback Dive Podcast (on iTunes or Stitcher) So tune weekly to see if/when I'm allowed back on.
The Three and Out: Lamar Miller's RB1 Case
The Market Mistake
So now to the reason we are all here: Lamar Miller. I know that last season wasn't pretty. He finished 10th in yards on the ground, only had five touchdowns, and averaged only four yards per rush while costing you a late first, early second round pick. PLEASE! WAIT! DON'T LEAVE! I SWEAR WE CAN JUST BLAME IT ON BROCK! 
I understand that Brock ruined a lot of our faith in Lamar, but he is being downright dragged through the mud. I mean look at what places like Pro Football Focus (RB16), along with the poor souls that have the pleasure of reading my typos (this poll included) say: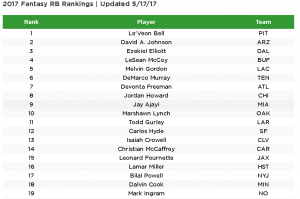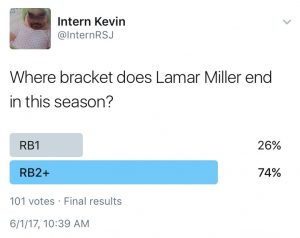 Is this a sick joke? Miller is currently ranked and being drafted after guys like Jordan Howard, Todd Gurley, and even Carlos Hyde.  He's clearly viewed as an RB2 by all of you. By the end of this post, you should feel comfortable taking him over any of those, and possibly even guys like Devonta Freeman or Demarco Murray.  He's an absolute steal at his current late second ADP, and will give you first round quality because…
1. Brock is gone
Here is the good news: Brock Osweiler is gone. Even better news is that I can show you that Miller will be great because of the loss of Osweiler. No stats are needed for this point, ask any fantasy owner who had any stock in the Texans last year and they will tell you one thing: Brock sucks.
I see last season as the floor for Miller: his offense stunk, the Texans played behind almost every game, and he wasn't thrown to nearly enough. So there is risk in this pick, just like any other, but I feel that Tom Savage or Deshaun Watson can be good enough to catapult Miller firmly in the RB1 category. He's a stone cold lock to improve upon his paltry five TDs with a more efficient offense that's in the red zone more often.
2. Deshaun Watson is the real deal.
This season, the mobility and versatility of Deshaun Watson will clear the way for Miller. The read option is obvious when looking at Watson and Miller behind the line, but the arm of Watson also gives defenses a reason to be wary.
http://gph.is/2cz9Pk9
Plus, explosive receiving options for Watson in DeAndre Hopkins and Will Fuller can finally be maximized with a competent QB, thus taking defenders out of the box and opening up lanes for Miller. This will undoubtedly improve the quality of each of Miller's rushing attempts
3. Lamar is (really) good when he's fed… and trim
Last season, Miller had seven games where he touched the ball 20+ times. In these games, he averaged 99 yards per game. These games also accounted for 80% of his touchdowns on the season. He did this all playing at the heaviest he ever has, and he knows it too. As The Wolf has quoted before:
"What's next is just staying healthy, taking care of my body, and building off last year to take that next step. Last year was the heaviest I played at. Last year I was playing at about 224. I was 216, 217 [with the Dolphins]. I gained some weight but during this offseason I've been losing some weight."
In Miami, Miller was one of the league's most efficient backs in both the running and receiving game — just look at his 2015 game against the team he currently plays for:  14 carries, 175 rushing yards, 1 TD + 3 catches, 61 yards, 1 TD = 38.6 PPR fantasy points….in one half.  Returning to his playing weight that allowed such massive outputs should mean more monster efforts are on the way in 2017.
Bottom Line: Miller will be waiting for you in the end of the second round, so take him. He will have more quality opportunities thanks to a more explosive offense under Watson or Savage. He will be more efficient thanks to his weight loss. He will be fed because this is Bill O'Brien and he loves workhorses.  You will have a true RB1 gifted to you and will walk out of the draft feeling like: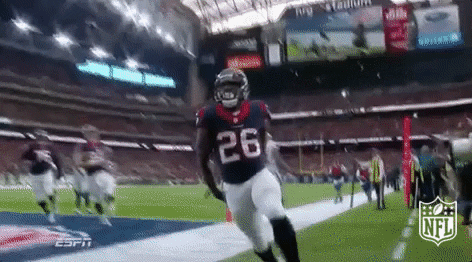 Miller is workhorse. He is a stallion. But the only way to let stallions sprint instead of gallop is to give them the ball. The proof is in Da Puddin, and like Bill Crosby himself, Lamar Miller will take full advantage when given the opportunity.
Well, as all good writers do, I'm leaving you with confidence and a rape joke. Follow me on twitter at @InternRSJ to take my polls for future Three and Outs… assuming this one goes OK and I'm allowed to permanently write these. To make sure that happens, please share out and comment below on whether you agree or disagree that Miller is a true RB1.