Giovani Bernard (ACL) could sit out "first couple of regular season games," which would make for a one-on-one battle for the RB1 spot between veteran Jeremy Hill and rookie Joe Mixon.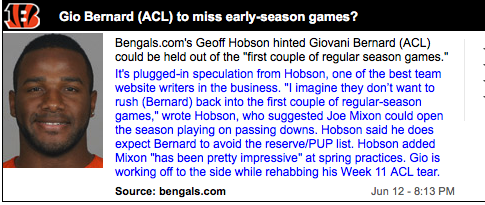 CJay's Take
Although Gio Bernard is progressing with his ACL rehab, it looks like the Bengals aren't rushing back their pass-catching RB by potentially sitting him out a few regular season games. Typically we would take beat writer blabber with a grain of salt at this stage of the season, but Geoff Hobson is a writer who is employed by the Bengals and is not looking for clicks. He has team connections, works in the building and is most likely very informed. Here's what he had to say:
Running back Giovani Bernard is looking great in his ACL rehab, but I imagine they don't want to rush him back into the first couple of regular-season games. I don't think he's looking at the PUP list, but if rookie Joe Mixon knows what he's doing in pass protection he would figure to start out as the third-down back until Gio gets back. And that's an early one to keep an eye on because Mixon, the second-round pick, has been pretty impressive.
This is major news regarding Joe Mixon's year-one fantasy impact. If Bernard were to sit out the first few games, Mixon would immediately take the pass-catching role and if he performs, he may never give it back. Even better, Mixon would be in a day-one competition for the lead-back role with Jeremy Hill, who's had a roller coaster career for the Bengals.
Hill is coming off back-to-back seasons where he averaged less than 3.9 yards per carry, and has had little-to-no chunk plays. Even with Bernard sidelined for the final six weeks of last season, Hill was only able to crack 44 rushing yards one time in his final five games (he sat out Week 17).
On the other hand, Mixon is a legit three-down back who possesses multiple elite attributes. The former Sooner finished his two-year career with 2,027 rushing yards and 894 receiving yards on 65 catches. He also reached the end zone 26 times, and that's with Samaje Perine taking a bunch of touchdowns from Mixon. It was said numerous times throughout the draft process that Mixon was actually the most talented back in the draft, if not for his major off-field issues.
Even if Marvin Lewis initially gives the starting job to Hill, Mixon will get a handful of touches in both the running and passing game. If I'm The Wolf, I'm bumping up Mixon a few spots in my running back rankings after hearing this news. Right now, Wolf has Mixon as his RB26, but I would bump him above Mike Gillislee, who is fighting off about 100 other backs in New England, and Rob Kelley, who is just an average talent and will lose receptions to Chris Thompson and touchdowns to Perine.
Joe Mixon will be the every-down back for the Bengals, it's just a matter of when, not if.
We are the 'Watchers on the RotoWall,' and indeed, the RotoWorld Blurbs can be dark and full of terrors (re: nonsense on backup right guards and their contract disputes). Instead, bookmark our Fantasy Football Stock Watch, and let us sift through the nonsense to bring you the blurbs that actually matter, with the in-depth analysis we're known for.  A Fantasy Wolf doesn't miss a single stock market move, so don't be a sheep.