Player Stock Ticker
2017 Fantasy Football Wide Receiver Rankings: WR3s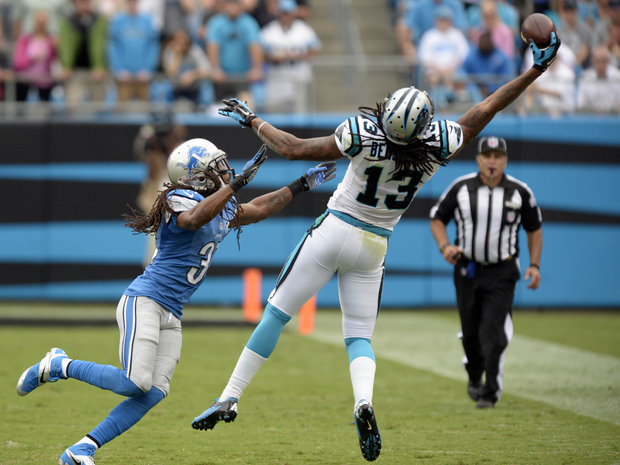 Enough of this "way too early" garbage. With Scott Hanson and his quad boxes of delight now three weeks removed, the fantasy football withdrawals are hitting harder than ever.  Fill the void and jump into our "not soon enough" 2017 Fantasy Football rankings.
Of course, values will change as the dust from free agency and the draft begins to settle. Still, it's crucial to recognize your original thoughts BEFORE all of the other "expert" rankings pollute and bias your mind.  This way, you have a base of your own, independent gut feelings (a "Stream of Gut" if you will), before beginning your offseason research.
Blabber cease. On to the 2017 Fantasy Football rankings.  These assume 1/2 point PPR scoring to achieve a happy medium between the two formats (it's also the best, most common format). As a huge sucker for tiers, I'll be releasing different positional groups each day (i.e. RB1s, RB2s, Flex plays) before ultimately combining them all into a final Big Board by the beginning of February.
If you missed last week be sure to catch up on 2017's fantasy football WR1s, the upside WR2s to target, and the safe WR2s to balance out a riskier roster. We also released our RB Rankings last week, don't miss it.
Tier 5 – Upside WR3s
Though uncertainty and risk surround many of these wideouts, the ceilings are undeniable.  As such, these guys make sexier targets than many of the names above them (i.e. Jarvis Landry, Larry Fitzgerald) if you've already secured two high-floor wideouts. 
26. Rishard Matthews (TEN) 
The Titans offense lived up to its name and exotically smashed mouths all 2016, but some passing game value emerged, most prominently Matthews.  Though he slugged through a WR committee to open 2016, Matthews soon emerged as the Titans clear #1 option in Week 5.  Rishard instantly became one of the most consistent fantasy options among wideouts to close the year, topping double digit half PPR points in 10 of 12 weeks — for the record, more times than Amari Cooper in 16 contests. Matthews ranked as the WR12 over this span.
Even in a run heavy scheme, Rishard was better than a 50 / 50 shot at a TD, and exploded on weeks the Titans found themselves in a hole.  Marcus Mariota will need to prove healthy, but this is fully the expectation. Now operating as the clear #1 all year + with Kendall Wright likely to depart, Matthews has a real chance to surpass his WR19 finish.
27. Kelvin Benjamin (CAR)
Despite reports that he was out of shape and falling behind Devin Funchess after his ACL surgery, Benjamin exploded out of the 2016 gate, hauling in 6 catches for 91 yards and a TD versus the vaunted Broncos secondary, followed by a 7 catch, 108 yard, 2 TD thrashing of San Francisco. He looked like a bonafide WR1 ready to build off a wildly successful rookie campaign.
Unfortunately, Benjamin faded fast.  He only scored twice over the next 12 weeks, though Benjamin still mustered eight double digit scoring games (.5 PPR) amidst four complete duds.   Another year removed from surgery, Benjamin is fully capable of returning to high-end form with a strong offseason; plus, Ted Ginn Jr. is expected to depart in free agency, giving Benjamin the unquestioned top WR role.  If the massive Benjamin enters camp motivated and in-shape, he could shoot up these rankings, well above the likes of Jarvis Landry and Larry Fitzgerald. With his size and Cam Newton's willingness to chuck, Benjamin's WR1 upside is very real.
28. Donte Moncrief (IND)
Well, our "Next Allen Robinson" prediction was half right.  Given Moncrief's parallels to Robinson's long build, insane ups, and high-pointing abilities, we called Moncrief a real candidate for 14+ TDs. Though health derailed this prediction, a full season would've been damn close to netting this, as Moncrief has now tallied 12 TDs in 15 full games (!) with Andrew Luck. 
Unfortunately, the story doesn't travel much farther. Moncrief never once topped 70 yards in 2016, and has only done so twice in his career; despite training camp reports that he was becoming a go-t0 reception hog, the athletic freak has yet to become anything more than a red zone aficionado.  Given his rawness entering the league + the fact he's only in Year Four, Moncrief could definitely still make this leap, and his sturdy TD floor make this upside very easy to invest in.  Still, owners expecting a WR1 emergence are more than likely to be disappointed.
29. Terrelle Pryor (FA)
Similar to Alshon Jeffery, Pryor's 2017 fantasy value is obviously tied to his ultimate landing spot. His size and speed even surpass Jeffery's, and while the converted QB might not yet have Alshon's polish, Pryor took some major strides in his route running throughout 2016.  He has the measurable to be a dominant force in this league, and his stock could soar depending who's slinging him the rock and who he's competing for targets with. WR27 assumes Pryor returns to Cleveland with a marginal QB upgrade, which seems the likely scenario with the team leaning towards franchise tagging him:
Browns are now very likely to place franchise tag on Pryor, who would be crazy to sign something now. As reported last week

— Jason La Canfora (@JasonLaCanfora) January 23, 2017
If this ends up the case, hopefully those Jimmy Garoppolo rumors also pan out.
30. Jamison Crowder (WAS)
With Desean Jackson banged up, Crowder got off to a scorching 2016 start.  From Week 1 through Week 13, the sophomore breakout ranked #16 among WRs in PPR points. Indeed, he cooled considerably once his speedy complement returned, but the good news? Both Jackson and Pierre Garcon are free agents in 2017, and at least one should be expected gone.  Crowder could very well emerge as the #1 passing game option in a high-volume aerial attack, making him a candidate for a serious bump in these ranks once player homes are established.
31. Stefon Diggs (MIN)
At first glance, nothing about the Vikings passing attack appears sexy; however, Diggs a little deeper (so punny!!) and you'll unearth some sneaky ceiling. Diggs was limited to only 13 games, but scored double digits in six of those contests, while also ranking 14th in PPR points per game among WRs (14.9).  Even more promising, Diggs really exploded from Weeks 8 through 10, when new offensive coordinator Pat Shurmur took over ran the offense through Diggs and the dink and dunk  passing game:
Week 8 @ CHI: 13 targets, 8 receptions, 76 yards, 1 TD, 17.6 half PPR points
Week 9 vs. DET: 14 targets, 13 receptions, 80 yards, 15.7 FPs
Week 10 @ WAS: 15 targets, 13 catches, 164 yards, 22.9 FPs
Unfortunately, Diggs got dinged up and never looked quite the same for the remainder of 2016, plus Adam Thielen really emerged in his absence. Nonetheless, Diggs is a fantastic slot WR, silky smooth in and out of his breaks, and is known as a football diehard and gym rat — my kind of guy.  With Adrian Peterson expected to depart, there's a real chance Shurmur funnels the offense through Diggs again, giving him a shockingly real WR1 ceiling for a WR3 price. Diggs in! (knee slappers all night).
Tier 5.5
Many of these guys come with equally high ceilings as those above, but the floor is far lower
32. Brandon Marshall (NYJ) 
On the heels of one of his worst professional seasons, Marshall recently came out and "promised" to finish 2017 among the top five wide receivers in yardage:
"Last year was a down year for several reasons," the Jets' wideout said on ESPN's First Take, "I'm not even in the top 30 (best receivers in NFL right now). I had 700-and-something yards.

"But this year, I promise you, I'll be in the top five."
While his confidence is admirable, Marshall's insane to believe this while a member of the hapless Jets.  He had only four legitimately useful weeks in all of 2016, and as of now their QB situation is among the league's darkest.  Of course, a change of scenery (rumored to be a likely outcome) or a New York QB upgrade such as Tony Romo could send Marshall soaring up. With so much uncertainty, however, Marshall remains nothing more than a WR3, despite his top-ten talent.
33. Tyrell Williams (LAC)
Despite Keenan Allen's season-ending injury, Williams never operated as a bonafide #1 WR, ranking outside the top-20 in targets.  What he did with these targets, however, was highly impressive: tops in the NFL for catches of 40+ yards and top-five in catches of 25+, ultimately facilitating a WR16 finish. Williams is clearly a bonafide deep threat with huge play ability, and, at 6'4″ and 205 lbs, he has the potential to develop into a red zone mismatch. Though he'll be relegated into a clear No. 2 behind Allen, this might ultimately help Williams; his deep ball skillset could flourish with less defensive attention.
34. Emmanuel Sanders (DEN) 
Sanders final 2016 numbers of 79 catches, 1032 yards and 5 TDs look solid, but they were so densely concentrated into a few games. Sanders only topped double digit FPs in six games, and while three of those efforts were 20+ point explosions, he was a week-costing non factor far more often than a week-winner.  A legitimate quarterback upgrade would obviously improve his consistency and maximize his high-end natural talent, but if that Trevor Siemian creature is delivering the mail, Sanders will be easy to avoid. Along with Jordan Matthews and Jeremy Maclin, I'm just not a Sanders guy.
35. Martavis Bryant (PIT)
Obviously, this one is a complete unknown, with Bryant currently out of the league.  Nonetheless, he's taken some positive steps, officially applying for reinstatement:
Agent Tom Santanello confirms what league sources told me: Martavis Bryant has now officially applied for reinstatement to NFL

— Aaron Wilson (@AaronWilson_NFL) January 28, 2017
When on the field, Bryant is the long, speedy, athletic freak talent that owners drool over. He's a red zone monster, deep ball aficionado, and sneakily dangerous after the catch. In short, Bryant's got a chance to score every time he touches the ball, which makes him one of the highest ceiling players to own when he's in lineups.  If he's officially reinstated and his head seems on straight, Bryant will shoot up into the Upside WR2s.  For now, we play the wait-and-see game.
36. Eric Decker (NYJ)
Mystery surrounds Decker's 2017 fantasy value. Will he be fully recovered from his shoulder surgery? (Late October reports suggested a mid-summer return). Will Brandon Marshall be back? (Early January reports suggest no). Who will be the Jets quarterback? (Early February reports suggest a pile of dog mess).
Depending how these questions are answered, Decker and his big ole d  could rise into the 20-25 range, or plummet down even further.  He's been a consistent red zone maven throughout his career, and should continue this if he has a half competent signal caller… far from the expectation though.
Where is The Wolf spot on? Where is he psychotic? Sound off and let us know your thoughts! 
And check back in tomorrow, as we polish off our WRs with the final names worth flex consideration.