Let me preface this by saying I don't hate Eli Manning at all, I'm actually in love with him.  I've been a Giants fan since birth, Manning to Mario Manningham might have been the most beautiful throw I've ever seen.
But when it comes to fantasy, I hate Eli Manning.  It hurts to say it, but it's true.
For years, I've been an Eli apologist…
His Dad made him refuse San Diego.
ALL of his interceptions are tip drills off his receivers' hands.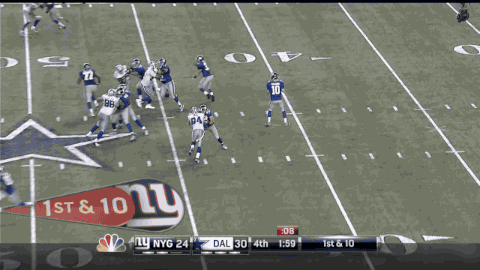 His O-line sucks.
They haven't had a run game since Tiki retired.
They don't open up the playbook for him.
He's not a mouth breather, damn it!
Yes, he does sometimes look clueless, but his wife is a smoke
But after all these years I've finally run out of excuses.  Three games in and Easy E is currently 7th in passing yards (925), but fantasy leagues are won with touchdowns and he has just 4, which ties him for 16th in the league.  QBs with more passing TDs than Eli include: Well, pretty much every other QB who has started all three games besides, Alex Smith and Ryan Fitzpatrick. Obviously there's some hyperbole there, but even in a 12 team league, having the guy who is 16th in touchdowns is like pulling out a Chipotle gift card at Moe's, it's fucking useless. Even more so when his touchdown to turnover ratio is a fucking 1!
Maybe new head coach Ben Macadoo holding him back — is that an excuse? Old habits die hard, what can I say. Eli after all has just 107 attempts this year, which puts him 17th and behind guys like Brock Osweiler, Joe Flacco, and even Alex Smith.  Yes you read that correctly, Eli Manning has less pass attempts than Alex Smith. But honestly, when he does throw it, he's making horrible decisions. Will Tye in the redzone?  I understand Tye put in about as much effort as Geno Smith did learning a playbook, but the question remains, why are you throwing to Will Tye in the redzone?
1st-and-goal, throw to Odell Beckham, Jr.
2nd-and-goal, throw to Odell Beckham, Jr.
3rd-and-goal, throw to Odell fucking Beckham, Jr!
In fairness, I know that OBJ is seeing 30% of Eli's redzone targets, but he has only 1 completion in the green zone — as Tom Coughlan used to call it — and it wasn't for 6. Those numbers just aren't good for business. Nor are Eli's turnovers. And he doesn't just throw bad picks, he throws gut wrenching, back breaking, make me throw up on my couch because I'm sick to my stomach, interceptions.
I don't know, maybe I'm over reacting from the Giants blowing an easy win to Washington, or maybe Eli simply isn't as good as I want him to be — except for when he's playing the Patriots.  Either way, in the words of the iconic Mark Cuban, "I'm out."
I'll continue to root for him and the Giants, I'll continue to throw up all over mine and my friends' furniture, but I can't continue to let Eli sink the ship that is my fantasy season.