Player Stock Ticker
Daily Fantasy Stock Report: Adrian Peterson suffers torn meniscus in knee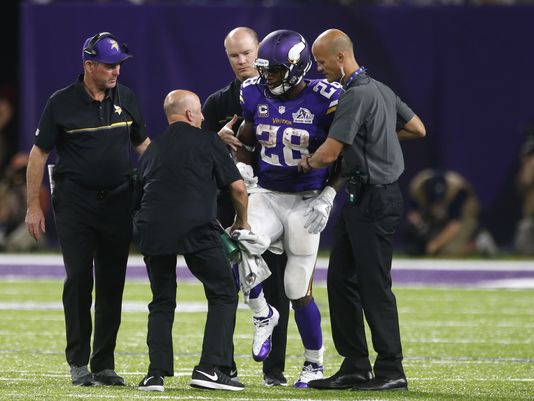 Every morning we compile the most important fantasy football links of the day for you to stay up-to-date and ahead of your fantasy opponents… This is your number one place for beat writer blabber, injury news, transaction tracking, and fantasy analysis from the experts who taught us a thing or two.
THIS JUST IN: Adrian Peterson has torn meniscus in his right knee. (via Mike Zimmer/ KFAN Radio Minneapolis) pic.twitter.com/4ltvWn0H49

— SportsCenter (@SportsCenter) September 19, 2016
As you've likely seen today, Vikings running back Adrian Peterson tore his meniscus in Sunday night's game against the Packers. He was already off to a rough start this season after totaling only 50 yards on 31 carries through two games. Running back Matt Asiata received the bulk of the carries once Peterson went down and becomes an intriguing option on the Waiver Wire. Asiata has had past success in Peterson's absence, and Sam Bradford has made the Vikings offense look somewhat respectable.
Rivera said he thinks "at least a week or two" for Stewart to recover from hamstring injury. But still waiting for more info from doctors.

— Max Henson (@PanthersMax) September 19, 2016
Panthers running back Jonathan Stewart also suffered an injury Sunday when he went out with hamstring problems in the first quarter. If he does indeed miss multiple weeks, Fozzy Whitaker is the guy to grab from the Waiver Wire if you are looking for running backs. Cam Newton will likely go into Superman form while completely taking over the offense. He could be in for some monster weeks going forward.
Chargers awaiting official MRI results but they are "pretty certain" RB Danny Woodhead tore his ACL, per source. https://t.co/qSeIi6P4A6

— Adam Schefter (@AdamSchefter) September 19, 2016
Tough news for grit captain Danny Woodhead as it looks like an ACL injury will be cutting his season short. Woodhead was due for an influx of touches in Keenan Allen's absence solidifying his PPR value. Now it looks like Melvin Gordon will be asked to shoulder even more work as the lone back left in San Diego. Hopefully Gordon can use this opportunity to finally make his mother proud.
Browns rookie QB Cody Kessler will start Sunday vs. Miami, per league sources. Josh McCown dealing w/ shoulder… https://t.co/IovtZEvpA1

— Adam Schefter (@AdamSchefter) September 19, 2016
Typical Browns to be moving onto another starting quarterback. At least this time it wasn't by choice, but by  necessity. The USC product will be thrown into the fire against the Miami Dolphins defense that was just SHREDDED by Jimmy Garoppolo in the first half. With Kessler under center, you can take Corey Coleman out of your lineups after his awesome Week 2 showing.
Quick Hits:
Jets coach Todd Bowles says that receiver Brandon Marshall is not dealing with a sprained MCL. Marshall wasn't at practice Monday, so keep close watch on him this week to determine his status for Sunday.
Andy Reid was non-commital when asked about Jamaal Charles in Week 3. If he does return, it would likely be in a timeshare with Spencer Ware
The Raiders are planning to continue with their backfield rotation, limiting the ceiling of Latavius Murray
Ameer Adbullah suffered a foot sprain in Week 2 against the Titans. He will fly to North Carolina to see a foot specialist.
Giants running back Rashad Jennings left Sunday's game with his wrist heavily taped. His Week 3 status is uncertain at the moment.